5 Most Common Misconceptions and Excuses of STDs
There are many types of STDs. From the common ones like herpes, warts, and syphilis, to more rare or complicated cases like parasitic infections and of course, HIV/AIDS.
Many of us feel worried or embarrassed about having an STD, because of its connection to sexual activities, and also because many of us think that STD is a very rare disease.
Sometimes, these worries or embarrassment also came from misconceptions, due to popular beliefs or wrong information found on the internet.
Last week, Dr Peter Ch'ng, our dermatologist, took his time to give a detailed explanation on the nature of STDs and gave his insights on how to handle the common STDs here: Patient Mailbox: What Should I Do If I Have STD
Today, we shall take a look at some of the common myths and excuses about STDs, so that you are not misguided anymore!
Myth #1: No penetration = No STDs?
This is one of the top excuses of STDs.
There is a popular belief that as long as we don't engage in penetration in sexual intercourse, other sexual acts like oral or anal sex keep us safe from STDs.
However, it is actually not true. STDs can be transmitted via semen, blood or genital contact.
For viral warts, it is pretty hard to prevent. You cannot prevent viral warts with the use of condom, because viral warts can be present around the genitals. So as long as there is skin-to-skin contact, the virus can be transmitted.
Syphilis is also transmitted through genitals, but could be prevented to a certain extent with the use of condoms, though it is never a 100% prevention. Oral sex can also transfer the bacteria of syphilis from one to another.
Myth #2: I won't get the same STD if I have had it before?
Some of the patients may think that once we have been treated with an STD, we gain an immunity and there's no chance of getting it again.
However, there are some STDs that remain dormant in our body continuously after treatment, like herpes and HIV.
STDs like chlamydia and gonorrhea can be treated, but you may get infected again if you have sexual contact with someone who has these diseases.
One important tip: If you get diagnosed with an STD, your partner should also be treated at the same time that you are, and vice versa. This helps to avoid future problems of reinfection and complications.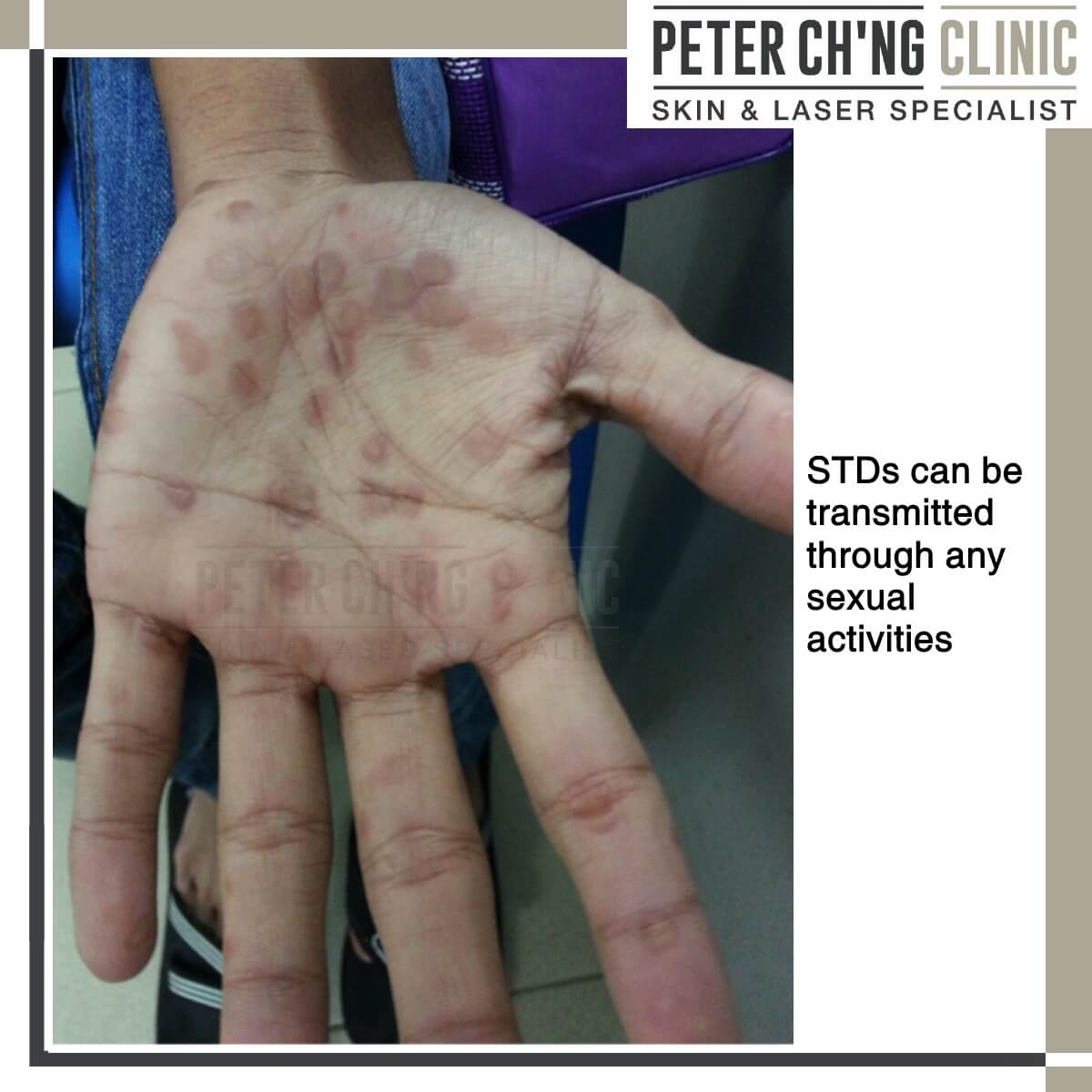 Myth #3: Herpes can only be transmitted when there's an outbreak?
Some patients said that, they were aware of themselves or their partner having herpes, but because there were no outbreaks (meaning the virus was dormant in their body showing no signs on the skin), they thought that it was safe and the virus wouldn't be transmitted.
In fact, you can actually still get herpes even if there are no visible signs.
While it is true that people with an active herpes virus (with outbreaks) are the most infectious, those with a dormant virus can also transmit the virus in the absence of the symptoms.
Myth #4: I get an STD from a shared toilet seat?
There is actually no scientific evidence that STDs can be transmitted through skin contact on toilet seats.
This is because bacteria and viruses that cause STDs generally do not live outside of the body for very long.
STDs are most commonly transmitted through direct skin-to-skin contact and bodily fluids during sexual activities.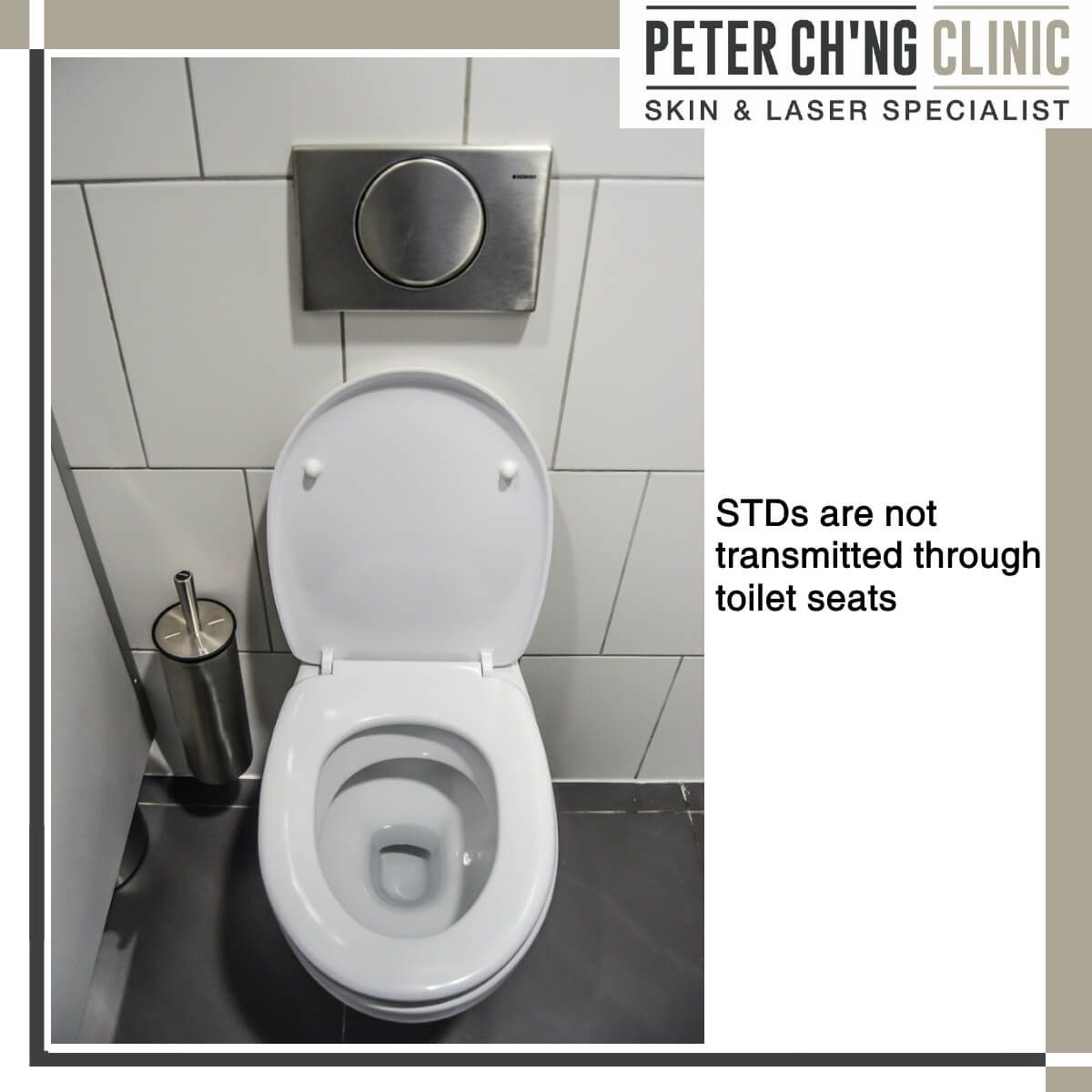 Myth #5: STDs cannot be treated?
Firstly, we have to understand that, "treat" and "cure" are 2 different situations.
STDs can always be treated, but not all STDs can be cured completely.
For example, herpes are treatable but viruses will remain dormant inside patients' body even after all signs of the infection have gone away.
Meanwhile, HIV/AIDS can be treated with health management to improve the patients' quality of life.
In above 2 cases, viruses cannot be eliminated from patients' body, but there are treatments available to control and reduce the risk of complications.
Others, like syphilis, chlamydia and gonorrhea, can be treated and cured, unless they get infected again.
Most bacterial-infected STDs can be treated with antibiotic medications.
Genital warts can be removed using carbon dioxide (CO2) laser, electrocautery, or cryotherapy. Sometimes, repeated treatments may be needed until the lesion is completely resolved.
Syphilis can be treated by injecting antibiotics (Benzathine penicillin G) into the muscles.
Being an experienced dermatologist of many years, Dr Peter always reminds patients that it is important to ensure the treatments to be done under an accurate diagnosis by a verified specialist, and also to make sure patients' safety and wellbeing are always upheld, including having these myths and misconceptions about any skin diseases – so make sure you care for your skin not only diligently, but at the same time, in the right way too.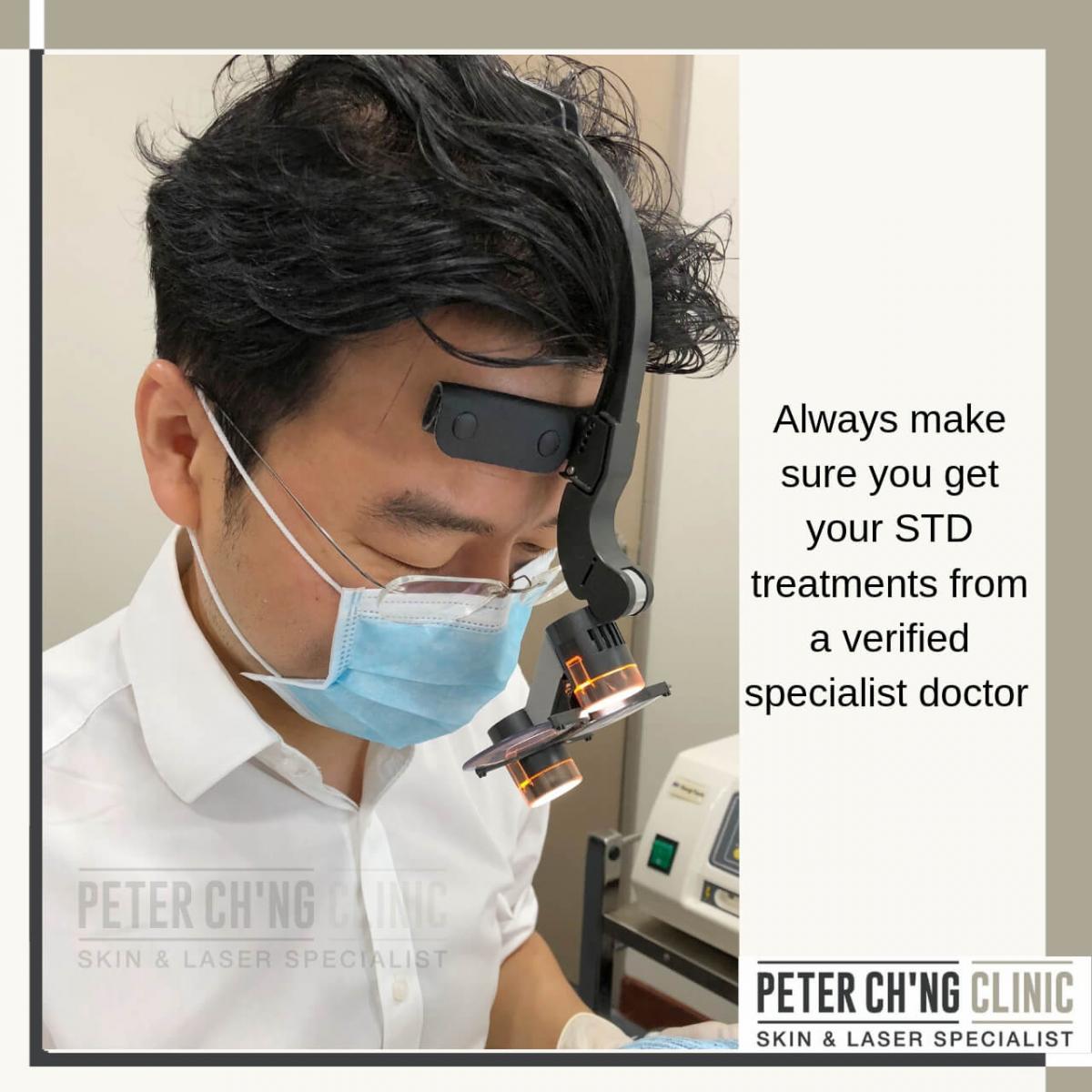 Lastly, we do hope the above 5 common misconceptions and excuses about STDs can help you to clarify some facts. However, we do not encourage self-diagnosis, which is very common when it comes to sensitive and private topics. Please consult a dermatologist as soon as possible if you have any STD-like symptom(s).
We'll be going back to the Patient Mailbox series next week with Dr Loo, so stay tuned!
---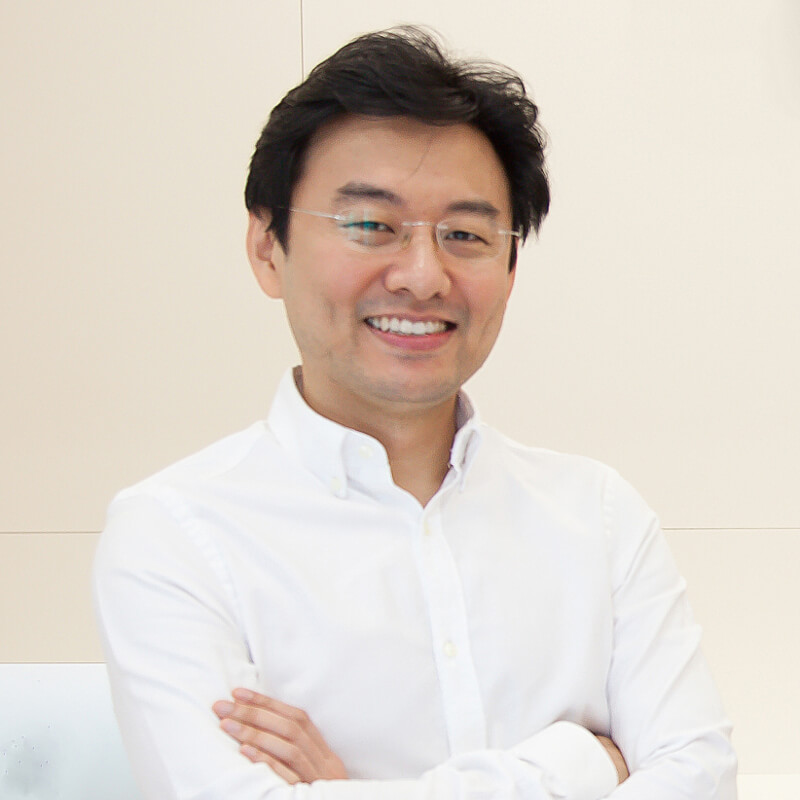 Dr. Peter Ch'ng Wee Beng
Dr Peter Ch'ng is a consultant dermatologist who always put his patients' safety and wellbeing as his top priority. As an esteemed dermatologist and skin specialist, Dr Peter prides himself in being able to treat acne patients of all types, with a 100% acne treatment success record.
If you'd like to ask more about your skin condition or have a discussion with Dr Peter, you can contact us at
+6011-22882299
,
Whatsapp
us, or
book an appointment with Dr Peter here
!
---
Treatments mentioned in this article :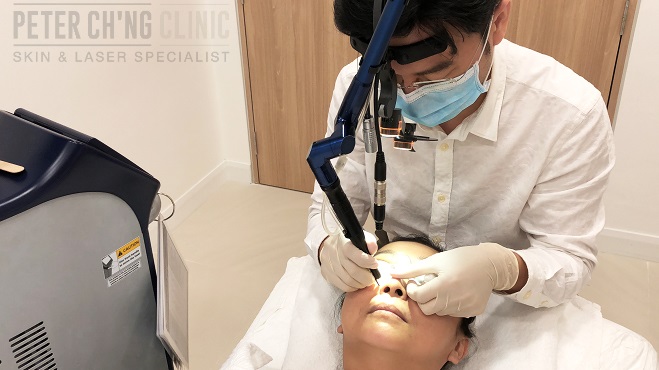 Treatment for Warts & Skin Tags
Warts or skin tags can be benign growths or caused by virus and infection. There are different types of treatments that will be able to target the treatment area accurately.