beyond SKIN DEEP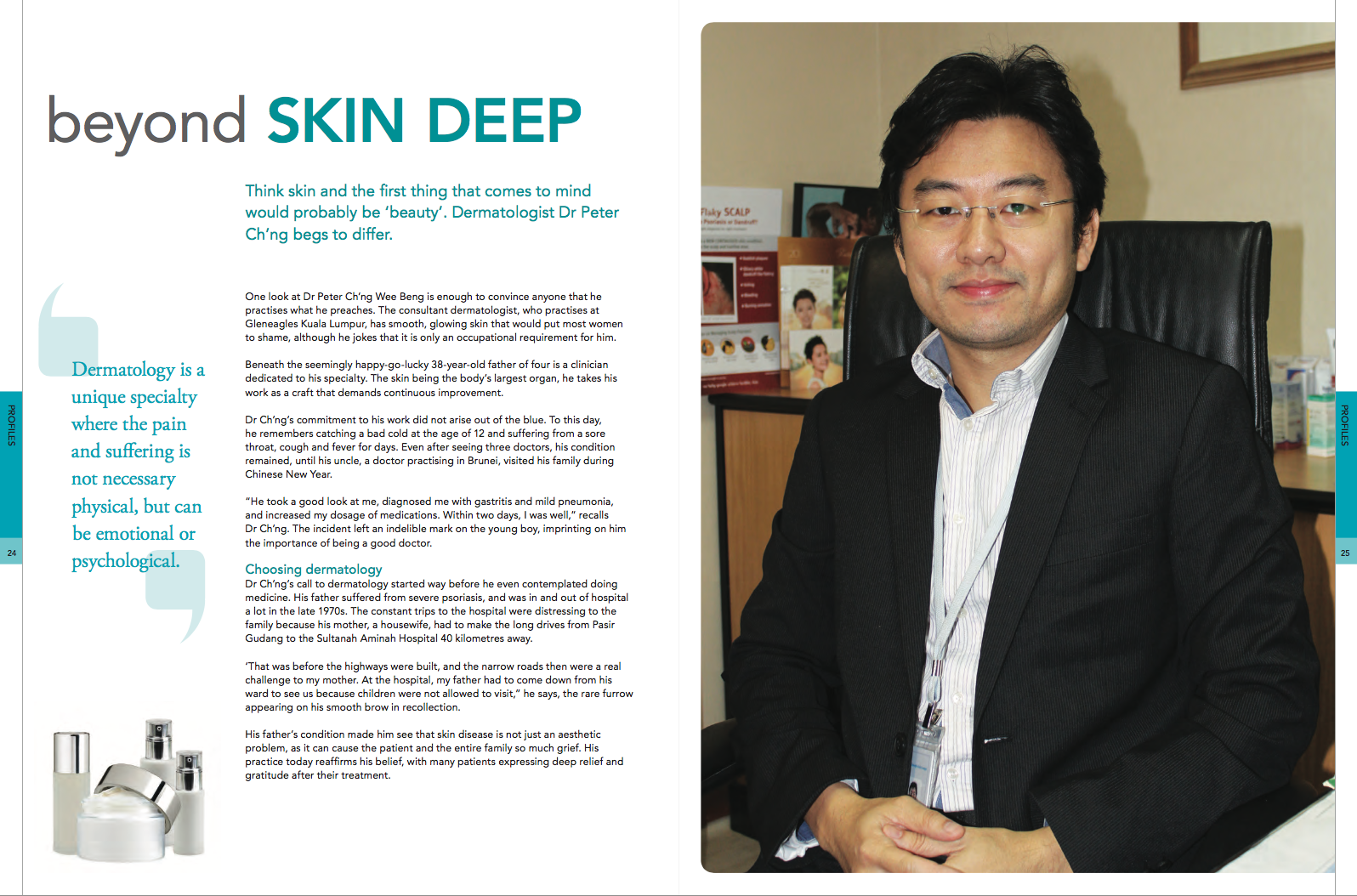 Think skin and the first thing that comes to mind would probably be 'beauty'. Dermatologist Dr Peter Ch'ng begs to differ.
One look at Dr Peter Ch'ng Wee Beng is enough to convince anyone that he practises what he preaches. The consultant dermatologist, who practises at Gleneagles Kuala Lumpur, has smooth, glowing skin that would put most women to shame, although he jokes that it is only an occupational requirement for him.
Beneath the seemingly happy-go-lucky 38-year-old father of four is a clinician dedicated to his specialty. The skin being the body's largest organ, he takes his work as a craft that demands continuous improvement.
Dr Ch'ng's commitment to his work did not arise out of the blue. To this day, he remembers catching a bad cold at the age of 12 and suffering from a sore throat, cough and fever for days. Even after seeing three doctors, his condition remained, until his uncle, a doctor practising in Brunei, visited his family during Chinese New Year.
"He took a good look at me, diagnosed me with gastritis and mild pneumonia, and increased my dosage of medications. Within two days, I was well," recalls Dr Ch'ng. The incident left an indelible mark on the young boy, imprinting on him the importance of being a good doctor.
Choosing dermatology
Dr Ch'ng's call to dermatology started way before he even contemplated doing medicine. His father suffered from severe psoriasis, and was in and out of hospital a lot in the late 1970s. The constant trips to the hospital were distressing to the family because his mother, a housewife, had to make the long drives from Pasir Gudang to the Sultanah Aminah Hospital 40 kilometres away.
"That was before the highways were built, and the narrow roads then were a real challenge to my mother. At the hospital, my father had to come down from his ward to see us because children were not allowed to visit, " he says, the rare furrow appearing on his smooth brow in recollection.
His father's condition made him see that skin disease is not just an aesthetic problem, as it can cause the patient and the entire family so much grief. His practice today reaffirms his belief, with many patients expressing deep relief and gratitude after their treatment.
Success stories
"Skin problems can have a deep impact on the quality of life," he shares.
One of his patients from Turkey, for instance, had been suffering from bad trichoepithelioma (lesions or bumps on face with unknown causes) and had seen countless doctors before coming to him. With laser treatments, the bumps are gone and she could not thank him enough for solving her major woe.
Another patient had a plantar wart at the sole of her foot since childhood. In United Kingdom where she sought treatment, the wart kept growing back even after removal, each time becoming more painful than before. What was more painful was her spouse's sarcasm and jokes over the years, not realising how much it was affecting her. After Dr Ch'ng successfully removed the wart, the patient was happy at last.
Similarly, the mother of a 14-year-old patient with severe acne felt so indebted to the good doctor for changing her son's life that she always brought prized produce for him from her village, such as salted fish and fresh sea cucumber!
"Skin problems can affect one's self-esteem and confidence levels, which will have an indirect impact upon one's personal, career and social development. What's more, dermatology is exciting because new discoveries are always being made about skin diseases," he says.
'Skin problems can affect one's self-esteem and confidence levels, which will have an indirect impact upon one's personal, career and social development.'
Clinical excellence vs simplicity
With only 90 certified dermatologists in Malaysia, Dr Ch'ng feels a need to be in the forefront of new developments in the field. He constantly keeps himself updated on advancements in dermatology, most recently being awarded a prestigious two-week clinical updates scholarship to the United States sponsored by the America Association of Dermatology.
Pursuing excellence in his field is one thing; living a modest, simple life is Dr Ch'ng's philosophy. His own family are among the few in the Klang Valley who do not own a television set.
"I want my children to play and learn, just like what we did as children. Gadget time strictly restricted by my wife, a general practitioner, and me. We want our children to have a real childhood, playing with toys which help in hand-eye coordination and brain development," he explains.
There is also a skin-related reason behind his reluctance to get the 'idiot-box'. "More people are getting skin problems such as eczema, psoriasis and skin cancer these days. This can be attributed to the Hygiene Hypothesis, where surroundings that are too clean deprives the immune system of a natural build-up of immunity against common irritants such as dust, fungus, viruses or pathogens in the air," he notes. "Holing up indoors all the time is actually a bad thing," he says.
The dermatologist, who is in his dream job, knows that the impact of troubled skin goes beyond skin deep. "Dermatology is a unique specialty where the pain and suffering is not necessary physical, but can be emotional or psychological," Dr Ch'ng shares.
Being treated by someone who understands that well is already half of the therapy.
---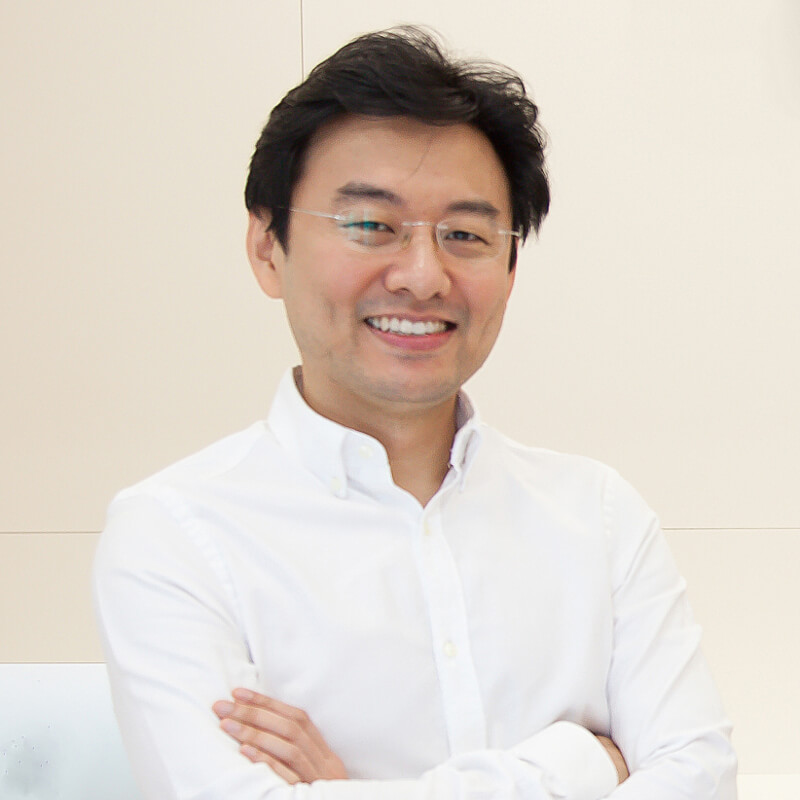 Dr. Peter Ch'ng Wee Beng
Dr Peter Ch'ng is a consultant dermatologist who always put his patients' safety and wellbeing as his top priority. As an esteemed dermatologist and skin specialist, Dr Peter prides himself in being able to treat acne patients of all types, with a 100% acne treatment success record.
If you'd like to ask more about your skin condition or have a discussion with Dr Peter, you can contact us at
+6011-22882299
,
Whatsapp
us, or
book an appointment with Dr Peter here
!
---