Patient Mailbox: Can I Get Rid of An Aged Colour Tattoo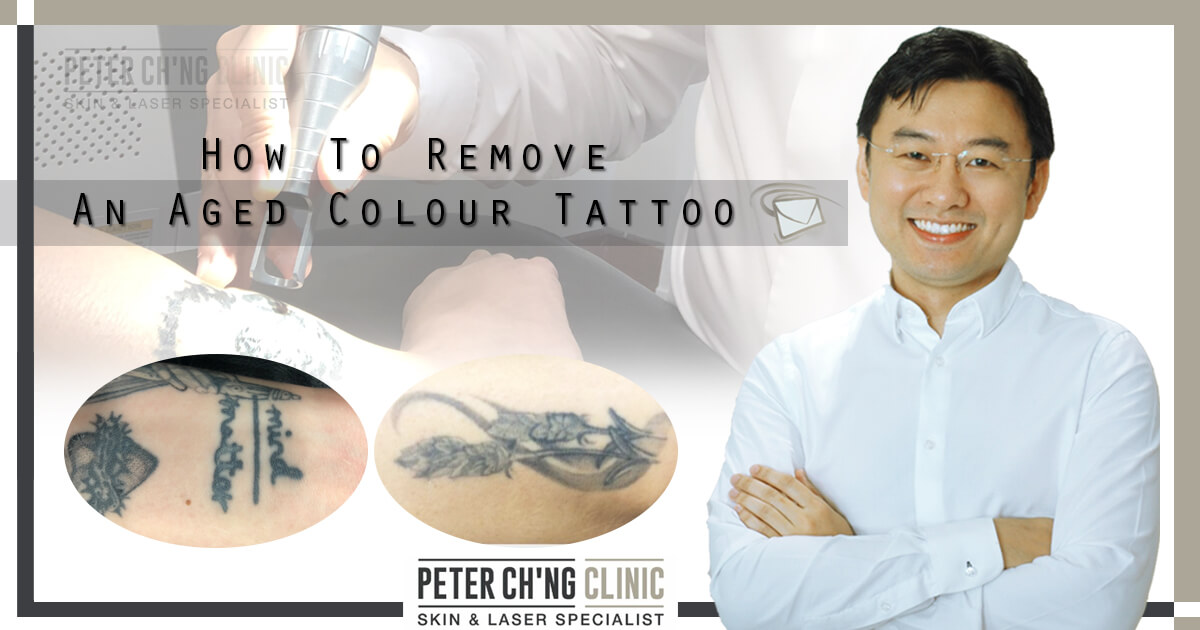 Hi! I'm Dr. Peter.
Here's Episode 26 of the Patient Mailbox series, where we collect handpicked questions submitted by patients suffering from various skin diseases and conditions, and personally answer them with our best efforts. I hope this will be helpful to those of you who faces challenges from similar situations.
Editor's Note: Dr Peter Ch'ng is a Consultant Dermatologist actively involved in numerous talks and workshops. He is also an esteemed contributor to dermatology research and publication internationally. Dr Peter Ch'ng practices at both Peter Ch'ng Clinic Skin & Laser Specialist in Desa Park City and Gleneagles Hospital Kuala Lumpur.
Question:
Hi Dr. Peter,
I'm Vincent, 34 years old. I have this tattoo at my back shoulder since I was 19. It is a colored tattoo with mostly dark red, yellow, green and black lines. Covering quite a big area, about the size of a quarter of an A4 paper.
Can my tattoo be fully removed? If not, up to what extent can it be lightened? Could you please advice me on the most effective and efficient tattoo removal method as per my situation? I recently came across an advertisement of tattoo removal cream on Facebook, does that work?
Also, I would like to know roughly how long it would take for the entire process, as I am planning to go on a road trip with my future in-laws 3 months from now.
Answer:
Hi Vincent,
To start off, the extent to which a tattoo can be erased depends on various factors, so it is difficult for me to give you an exact answer on that. Personally, I would not guarantee my patients that their tattoos can be removed completely without leaving any pigment at all. However, with the advanced picosecond laser tattoo removal method, the remaining pigment color can be very light.
Picosecond Laser Tattoo Removal
The picosecond laser tattoo removal method is by far the most effective and safest way to remove tattoos.
Traditionally, the nanosecond laser is used for tattoo removal. This older laser uses the photothermal effect, in which the laser light is absorbed by tattoo pigments and converted then into heat, which in turn breaks the pigments. The downside is that the produced heat may also damage the surrounding tissues, leading to complications such as post-inflammatory hyperpigmentation (darkening of the skin), blistering and scarring.
The newer and more advanced picosecond laser uses another effect called the photoacoustic effect. When picosecond laser is used, the laser light absorbed by tattoo pigments is converted into acoustic (sound) vibrations instead of heat. Pigments broken down by these acoustic vibrations are then collected and removed from the body by the macrophages, or the "garbage collector cells".
In terms of effectiveness, the picosecond laser is roughly twice as effective as the older nanosecond laser. For example, while it may take a nanosecond laser 8-10 sessions to lighten a simple, black colored tattoo, a picosecond laser may achieve the same effect in only 3-4 sessions. Also, since the photoacoustic effect induces less thermal effect, it has a lower risk of complications in general.
Reminder: Laser treatments should only be done by certified medical doctors and professionals. Getting a laser treatment from an unqualified practitioner can lead to serious problems including burning and scarring of the skin!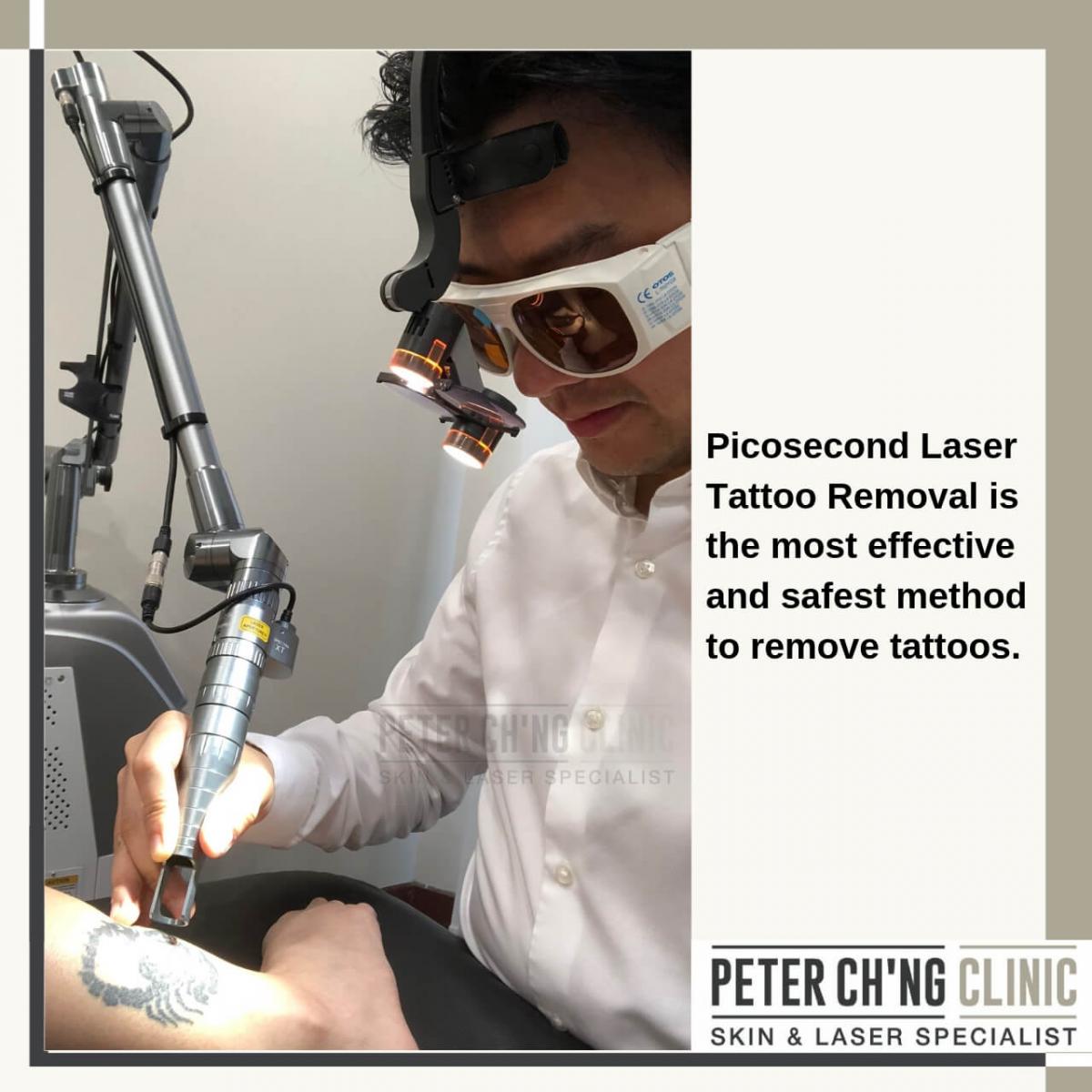 How long does it take?
Generally speaking, laser tattoo removal is a quick procedure. Before each session, numbing cream is applied to the tattoo. It takes about 30 minutes for the numbing effect to begin. How long each session takes depend on the size of the tattoo.
The number of sessions needed also depends on various factors:
(1) The bigger the tattoo, the longer it takes to remove it.
(2) Tattoos that use multiple colors are more difficult to remove.
Tattoo pigments of a specific color can only be removed by a laser with a certain wavelength. For example, a 532-nanometre-wavelength laser is used to remove red pigments, whereas a 1,064-nanometre-wavelength laser is used for black pigments.
(3) Tattoos with pigments in multiple layers of the skin are more difficult to remove.
In order for laser tattoo removal to work, the laser needs to be directed to the correct depth where the pigments are located. Hence, the removal process will be more difficult if the pigments are spread at different depths.
It should also be noted that tattoos done by non-professional tattoo artists may be more difficult to remove, as some of these artists have the practice of mixing up different types of tattoo pigments and injecting them into different layers of the skin.
All said, it is very difficult for me to estimate how many sessions it would take to remove your tattoo; I will need to access and examine it to make a good estimation. Removing a black colored tattoo typically takes 4-5 sessions, each with one month apart. Since yours is multicolored, it will probably take longer than that.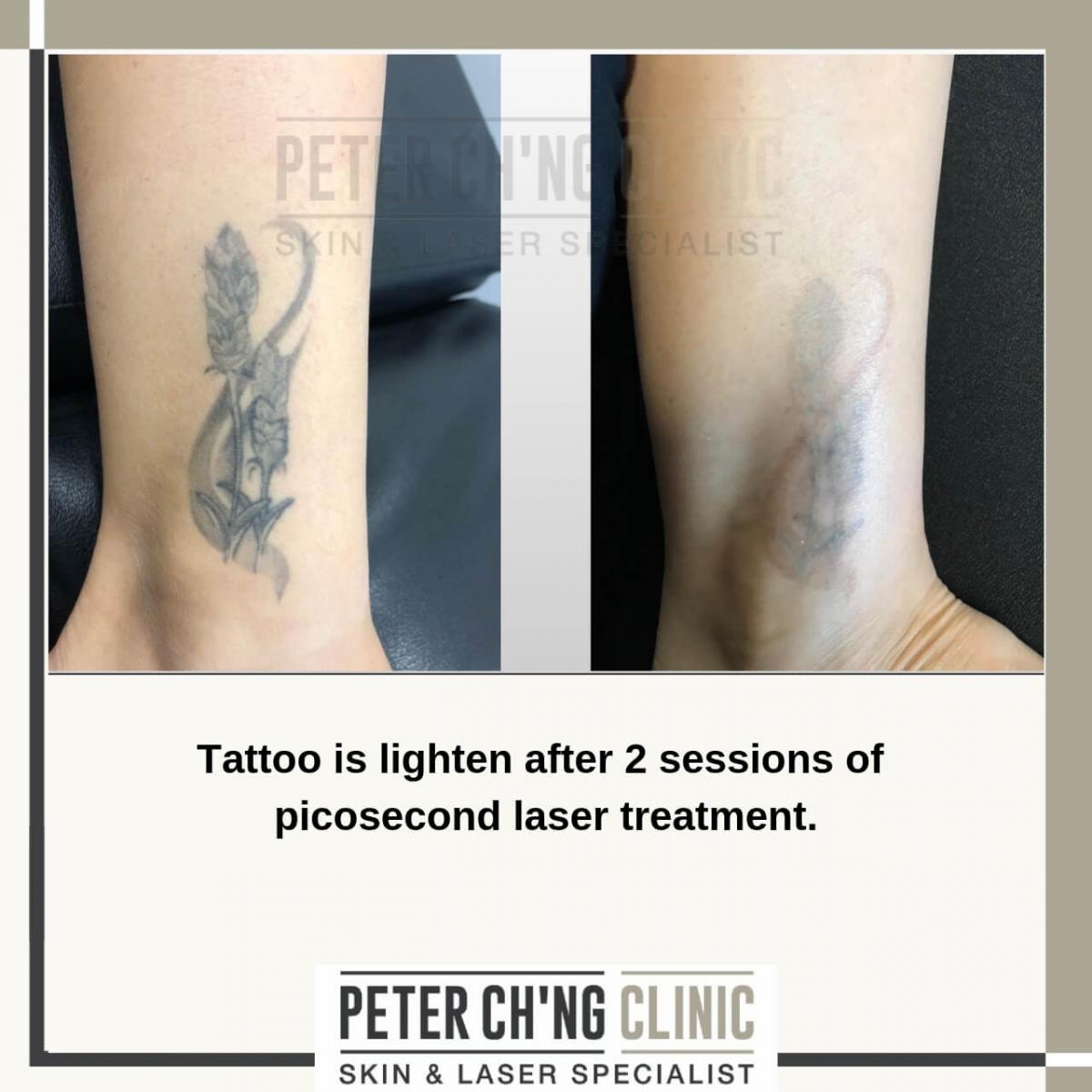 Other notes:
Some patients may have the wrong idea that you can easily speed up the process by doing more sessions in a shorter period of time. This is not true since the one-month downtime is necessary for the broken-down pigments to be removed from the skin before the next session can begin.
Another misconception is that using stronger or more powerful laser can shorten the process. This cannot actually be done because increasing the power will also increase the risk of various complications such as pigmentation, blistering, scarring etc.
Tattoo Removal Creams are Scam Products!
There are creams that promise to lighten or erase tattoos? Don't even bother to try them out. Those are definitely scam products, and here is why:
Topical creams can only diffuse into the epidermis, which is the outermost layer of the skin. Tattoo pigments, on the other hand, are injected into the dermis, or the middle layer of the skin. Hence, you cannot possibly erase a tattoo by applying some cream on it. Even with a very strong lightening cream, before it could lighten the tattoo, it would have first reduced your skin pigmentation and lightened your original skin color.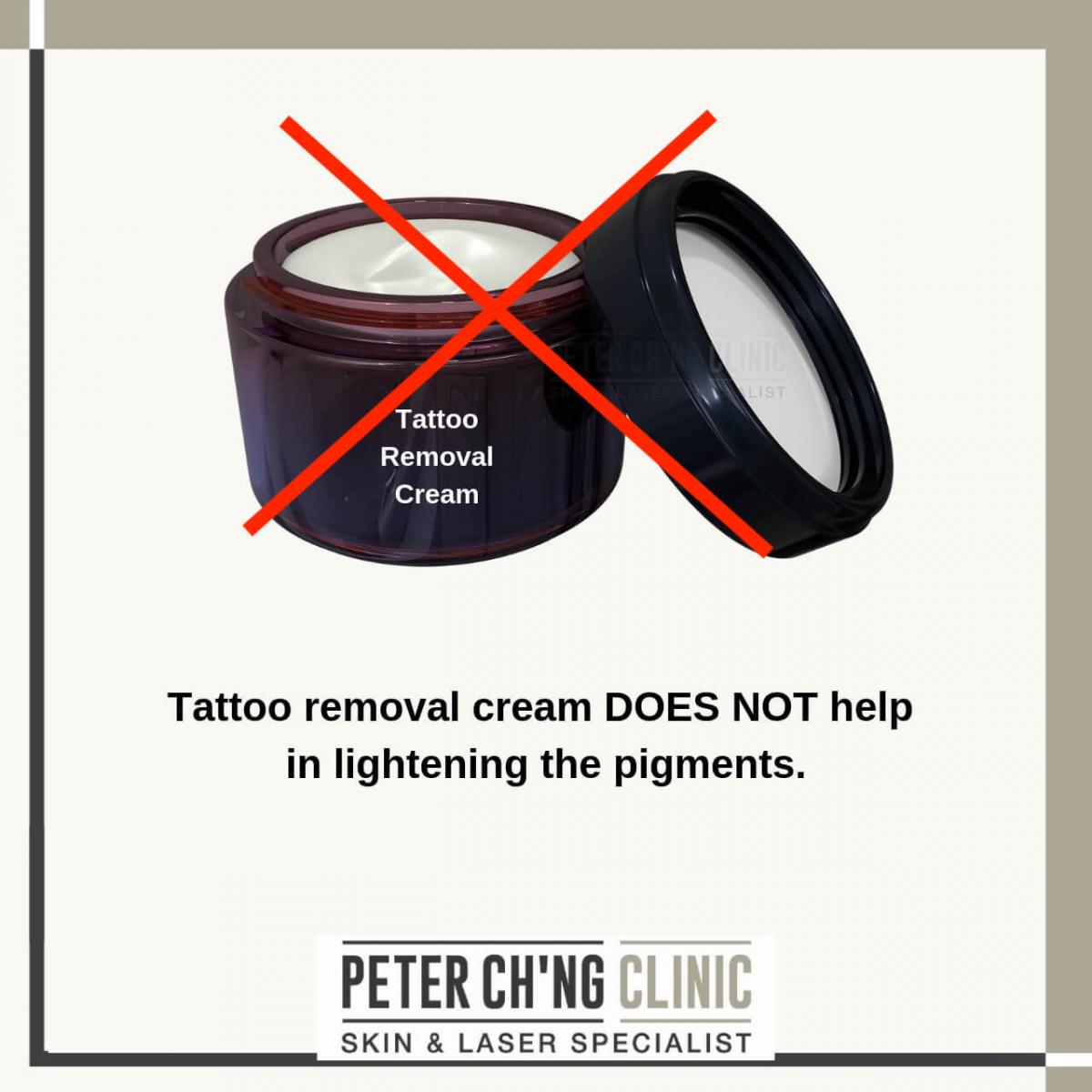 For the exact same reason, dermabrasion (a procedure that removes the superficial layer of the skin by scraping and wearing) and other procedures that mainly affect the epidermis are not effective methods of tattoo removal.
One last note: Skin excision, which is the removal of tattooed skin by surgery, is no longer a common tattoo removal procedure. While it is 100% effective, it has a very high risk of leaving a scar, and is really only realistic for very small tattoo.
Hope this helps! Also, look out for next week's entry as we look at some complications of tattoos. Stay tuned!
---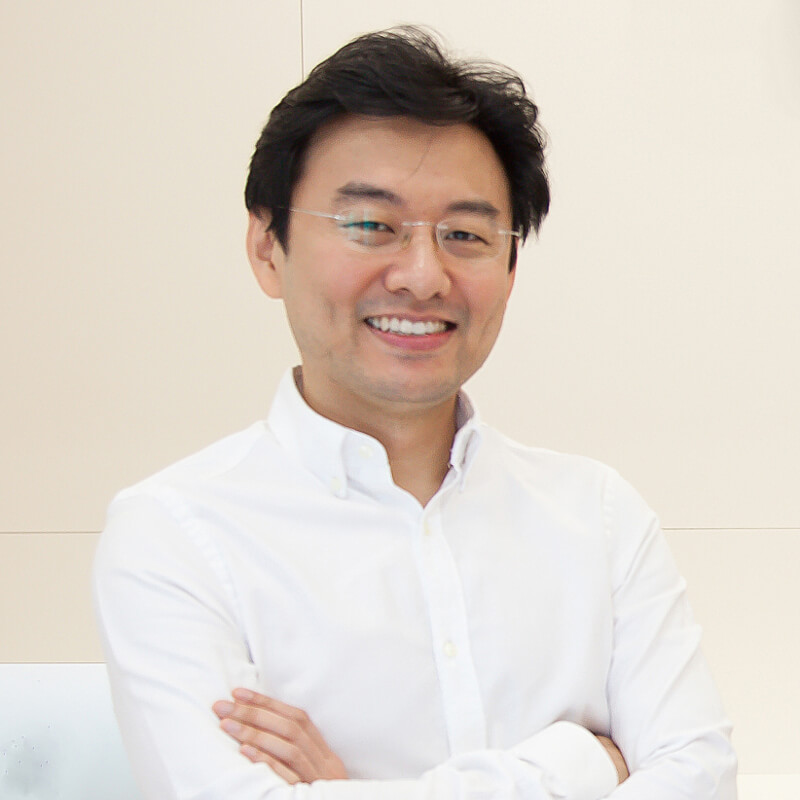 Dr. Peter Ch'ng Wee Beng
Dr Peter Ch'ng is a consultant dermatologist who always put his patients' safety and wellbeing as his top priority. As an esteemed dermatologist and skin specialist, Dr Peter prides himself in being able to treat acne patients of all types, with a 100% acne treatment success record.
If you'd like to ask more about your skin condition or have a discussion with Dr Peter, you can contact us at
+6011-22882299
,
Whatsapp
us, or
book an appointment with Dr Peter here
!
---
Treatments mentioned in this article :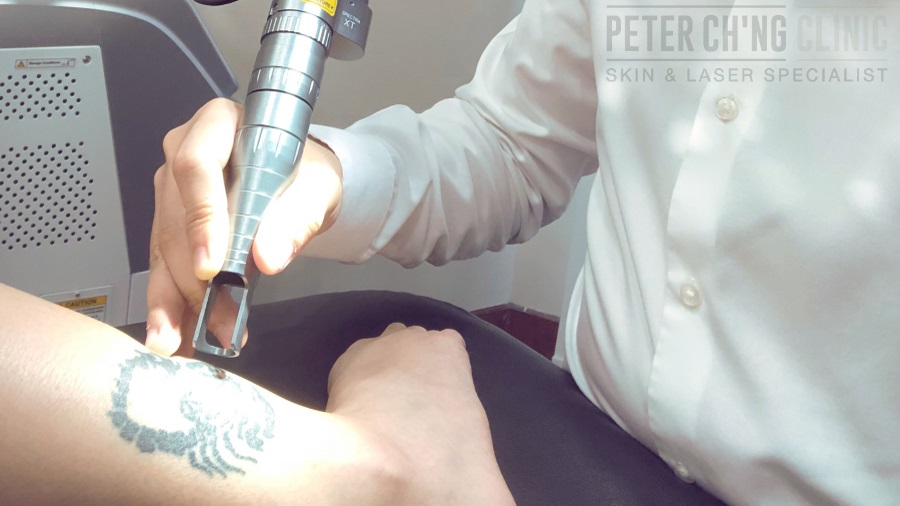 Laser Treatments for Moles, Birthmarks & Tattoo
Moles, birthmarks and tattoos all require treatment at the inner layer of our skin. For these conditions, laser treatments are usually the safest and most effective options for removal.