Top 5 Causes of these Annoying Stretch Marks on Our Skin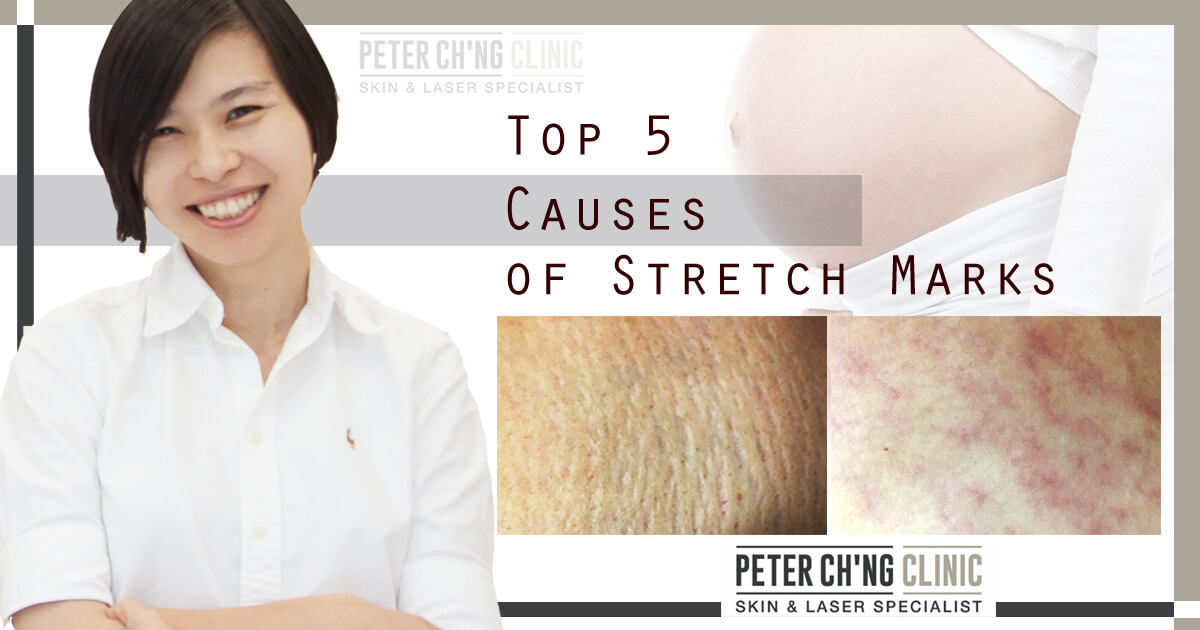 Stretch marks - one of the most talked about problem in women aesthetics. I mean, we've achieved our ideal weight, our ideal health, and our ideal body shape - but why are these stretch marks still here on my thighs and my tummy?!
An estimated 50% - 90% of women have stretch marks. Last week, Dr Loo also wrote about how to treat stretch marks and C-sec scars, giving her advice for women facing this problem on how to get rid of them.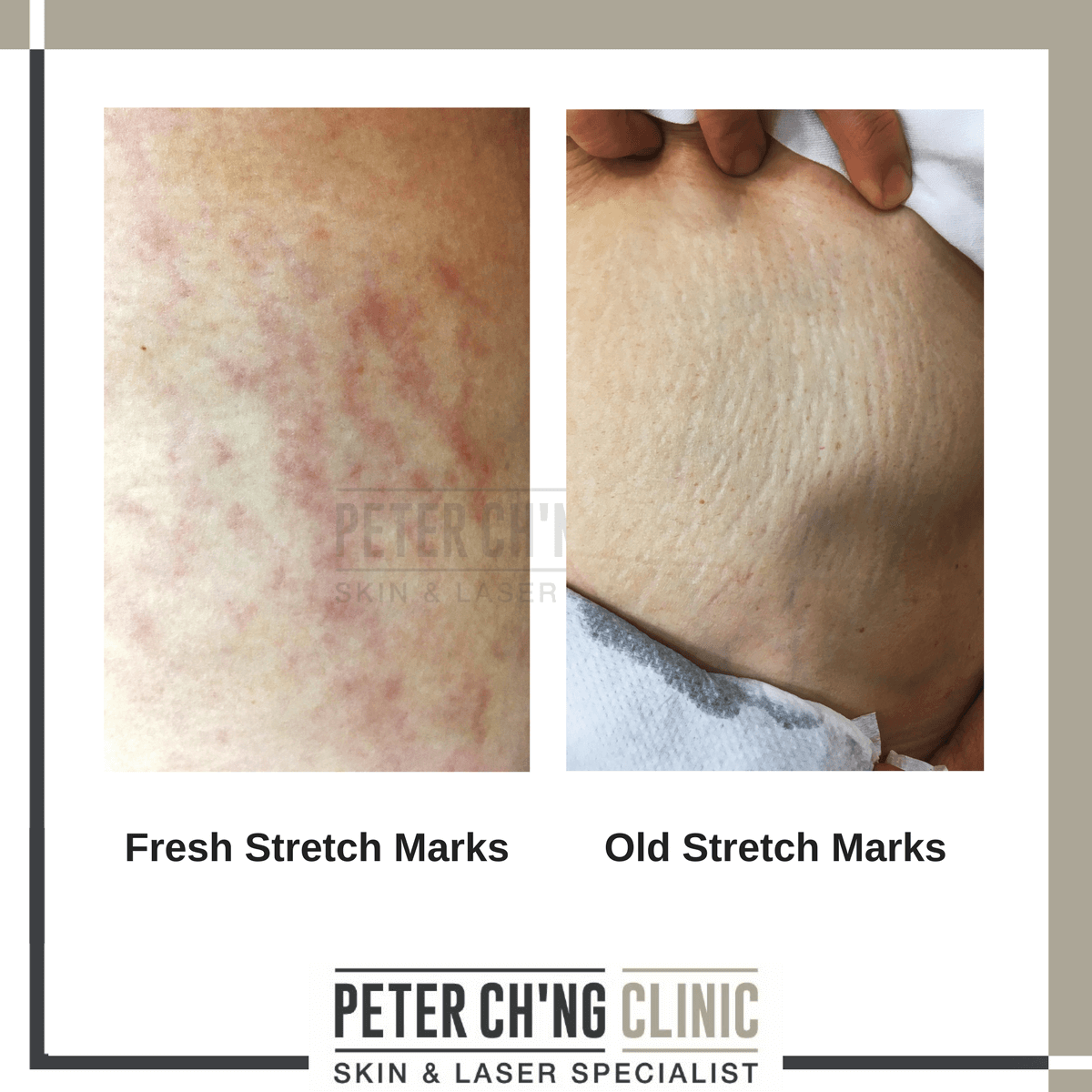 Pregnancy is the main cause of stretch marks, but are all stretch marks caused by pregnancy?
There may also be other causes that leave these stretch marks on your skin, and together with Dr Loo, we have compiled this list of top 5 causes of stretch marks, together with stories shared by some of our patients!
Dr Loo Keng Shien is a Consultant Aesthetic Physician with a special interest in Dermatology and Aesthetic Medicine. She has highly certified qualifications from the American Academy of Aesthetic Medicine, American Academy of Anti-aging Medicine, and in Practical Dermatology from Cardiff University. She currently practices at Peter Ch'ng Clinic Skin & Laser Specialist in Desa Park City.
1. Pregnancy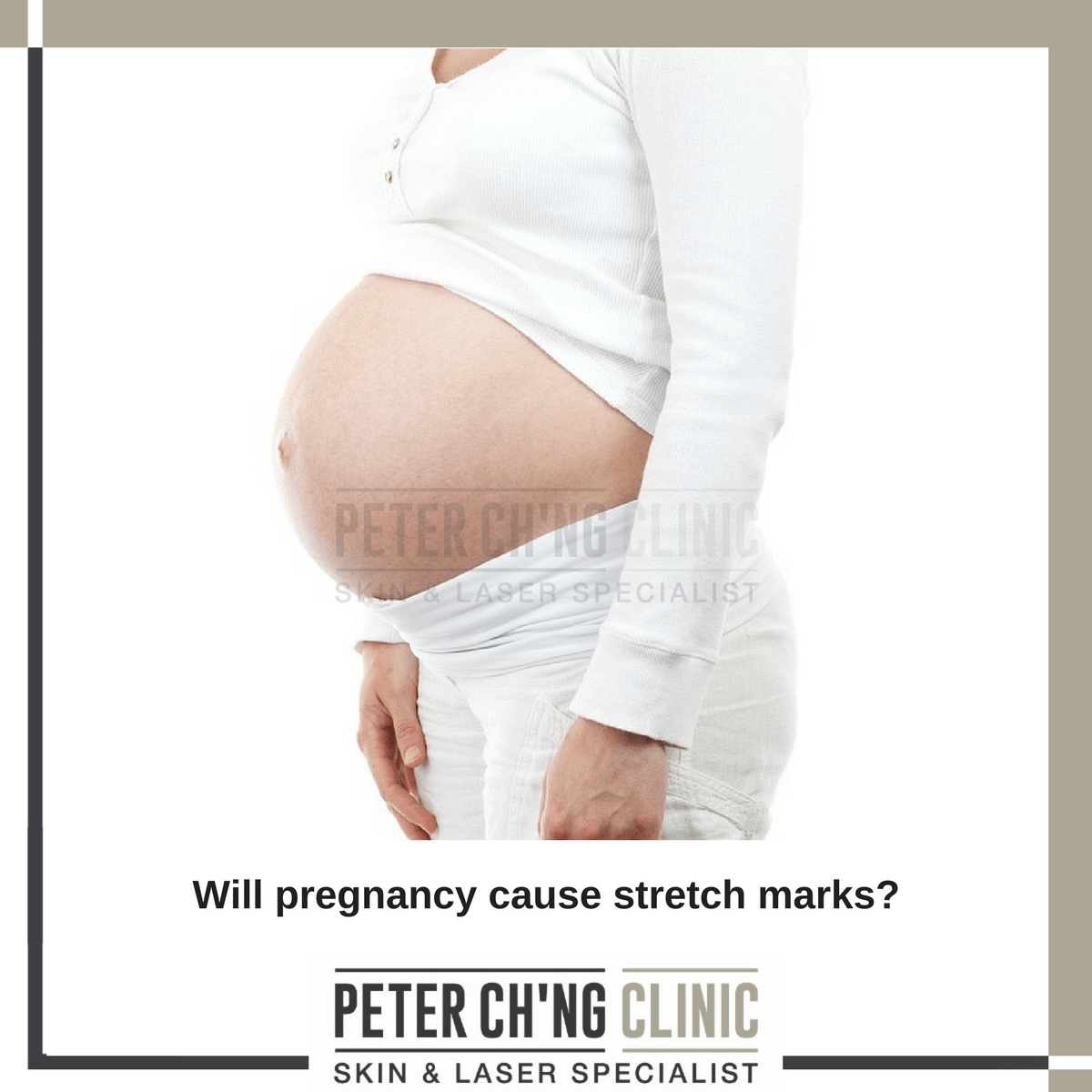 The most common cause of stretch marks - affecting about 8 out of 10 pregnant women. . These stretch marks usually appear during the later stages of pregnancy, around your sixth month onwards, depending on your skin type and how elastic your skin is.
As your baby grows bigger, the skin on your tummy stretches to accommodate the growth, and these stretches can cause stretch marks on your tummy.
It is also common for our thighs and breasts to get bigger when we are pregnant, and these are also areas where stretch marks can develop.
Other than the growth of your baby, your hormones produced during pregnancy also soften your skin fibres. These hormones are actually produced to soften the ligaments on your pelvis, so that they are more flexible when you give birth. But at the same time, your skin fibres that have also been soften are prone to stretch marks as well.
Are all stretch marks caused by pregnancy? I've never given birth before, but why do I have these stretch marks on my tummy?
2. Rapid weight gain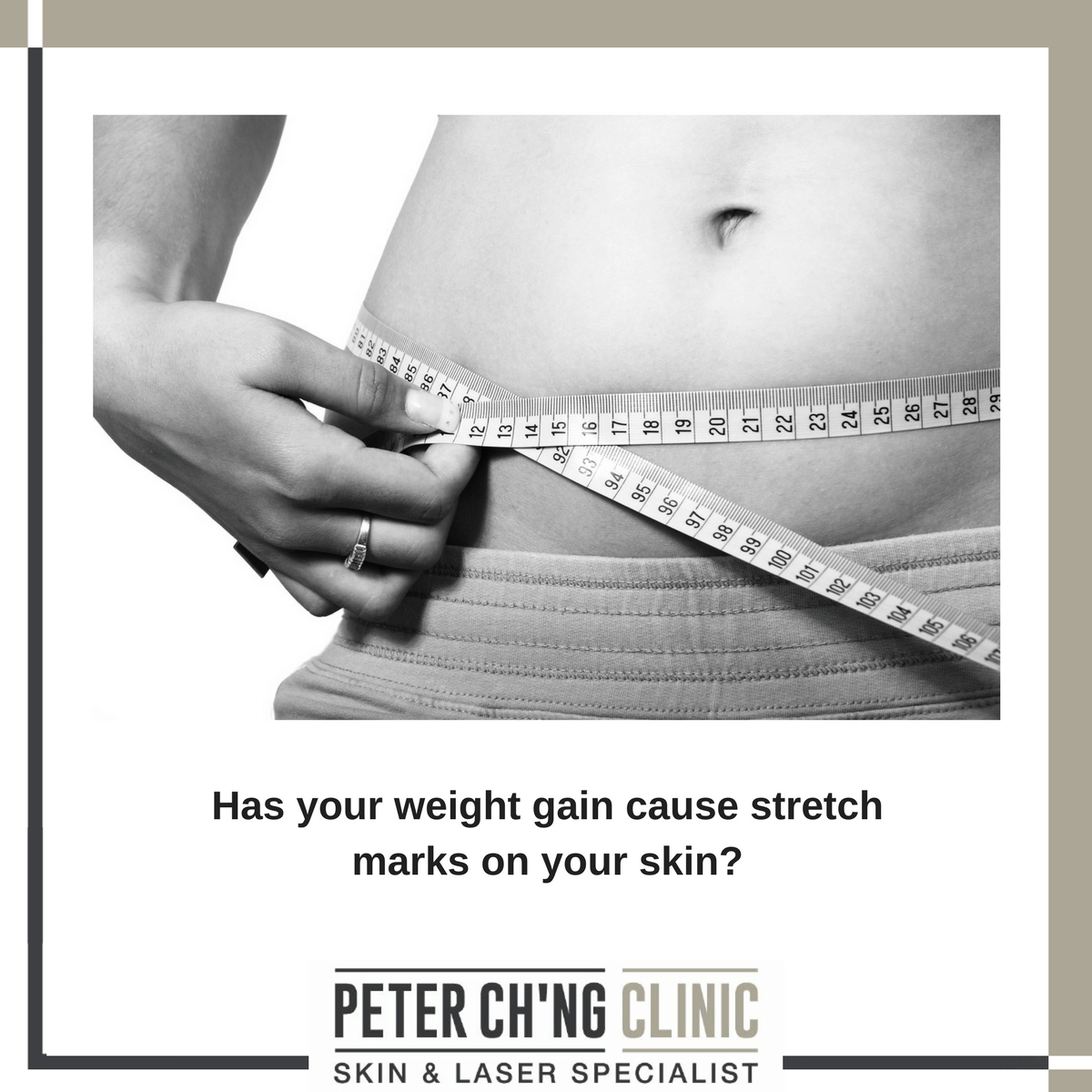 To no surprise, stretch marks got its name due to it being caused by the stretching of our skin, so rapid weight gain in a short space of time can cause the appearance of stretch marks.
These stretch marks are actually scars - damage or tears to your elastic fibres as your skin stretches due to your increase in size.
You will find these stretch marks at body parts where fat is stored, like your tummy, hips, thighs, breasts, and buttocks.
Weight gain isn't just limited to fat gain, but an increase in muscle mass as well, especially when within a short period of time. And this means that men can get stretch marks, too.
"I joined workout sessions and took part in intense bodybuilding workouts. After putting on muscle mass quickly, I was surprised to find stretch marks on my chest and thighs. I thought only women get them." - Male, 33, frequent gym goer
Frequently changing or adjusting your diet plans (i.e. going on a diet to lose weight, then eat as usual again after losing weight, causing weight gain) can also cause stretch marks, as your weight keeps going up and down. So it's usually advisable for you to lose or gain weight slowly instead of rapidly so that your skin isn't strained.
3. Growth spurt/puberty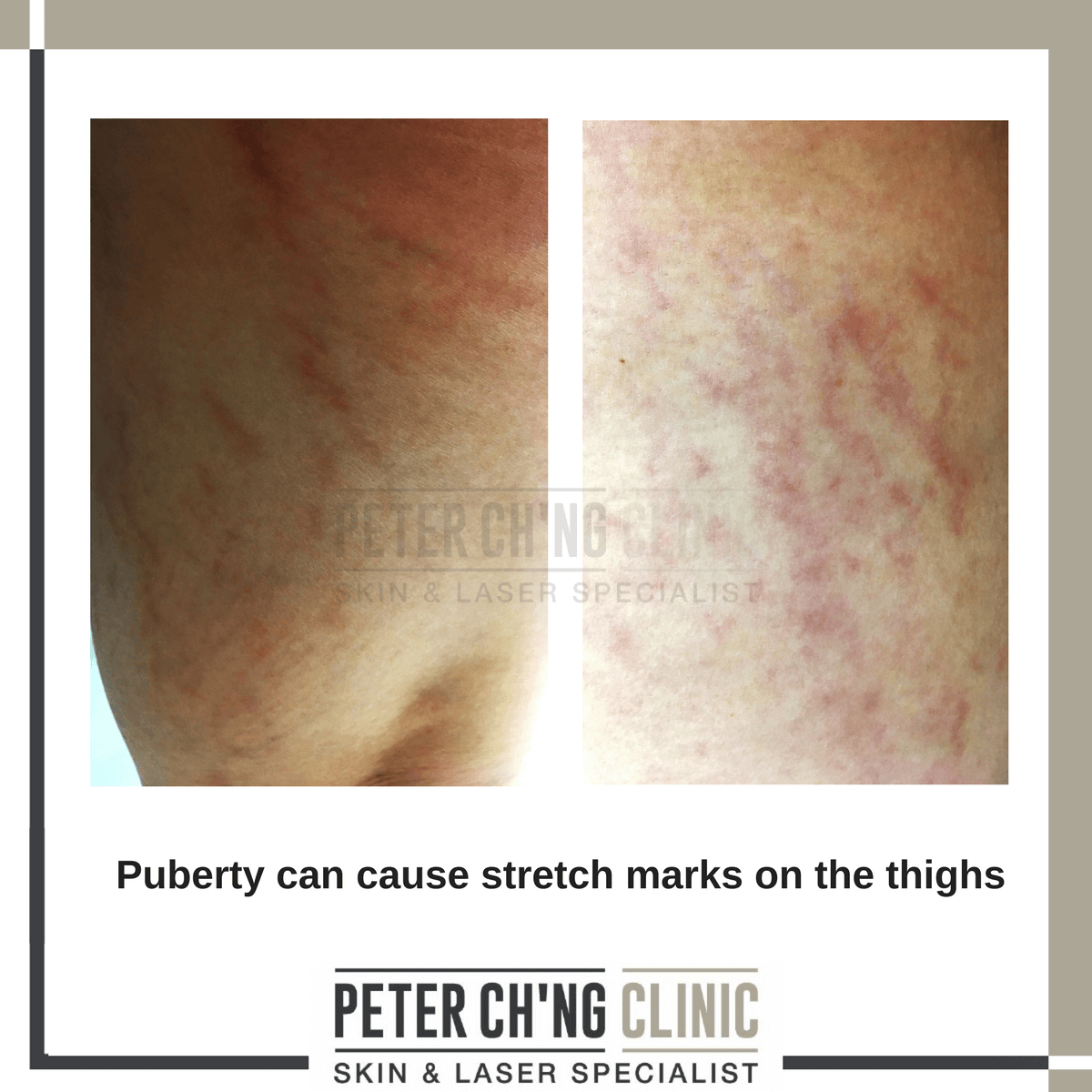 "My daughter is really self-conscious of her skin, especially on thighs, after developing stretch marks due to her growth spurt during puberty. She has even stopped going swimming, which she used to love, due to this." - (daughter) Female, 15, student
Due to the rapid growth in young people like teenages during puberty, stretch marks can occur due the growth spurts causing our skin to stretch in a short period of time.
As our body grows, the connecting fibers in our skin slowly stretches and accommodate to the growth in size of our muscles and bones.
However, quick, rapid growth like growth spurts in puberty can lead to sudden stretching of our skin, causing these connecting fibres to tear, hence the stretch marks appearing.
For boys, stretch marks usually appear on the shoulders or on the back, while for girls, these marks are common on the hips, thighs and breasts.
4. Family history/genetics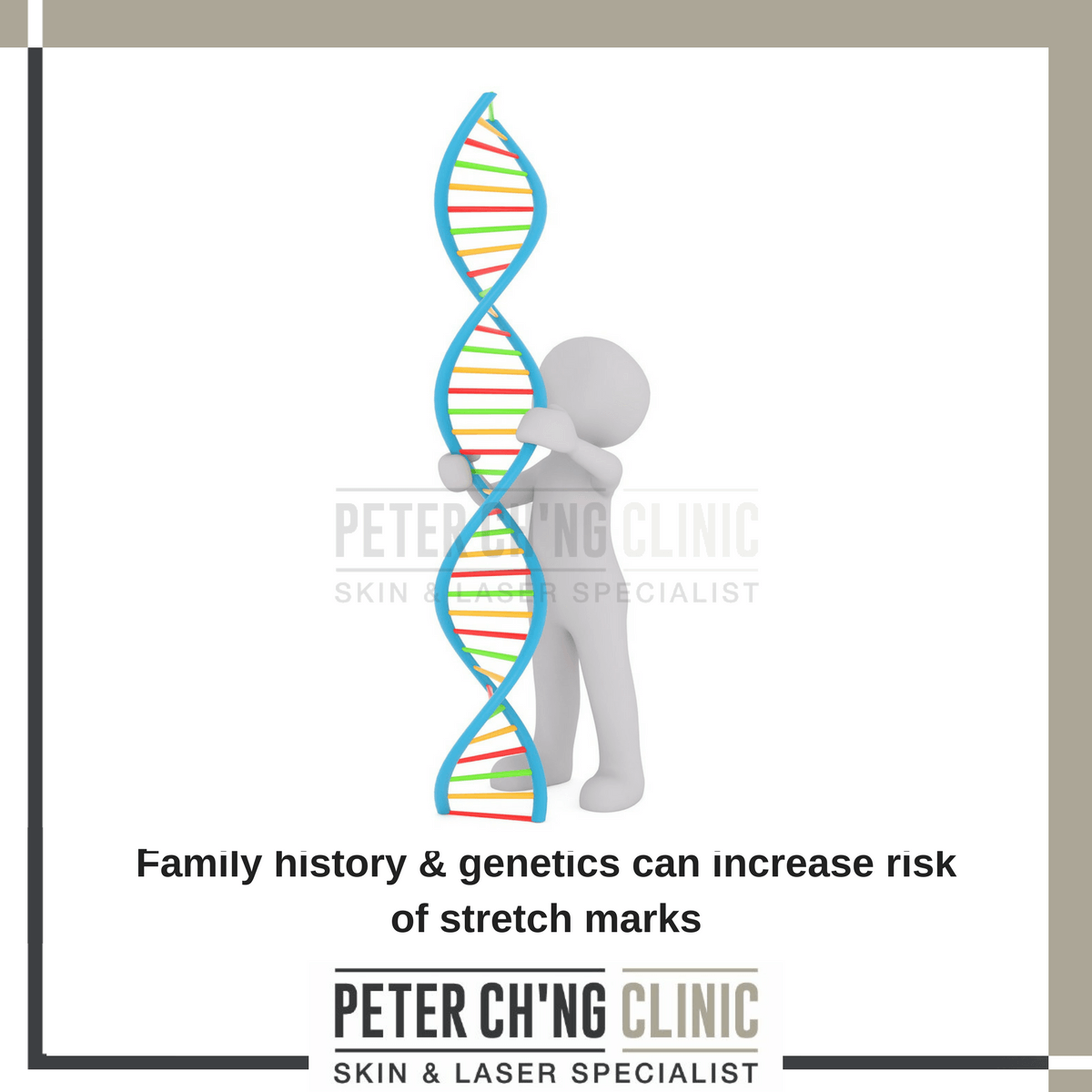 One unavoidable risk factor of stretch marks is family history. If you have a family member or a close relative who has stretch marks, you are also likely to be prone to stretch marks developing in cases where you experience weight gain or a change in body shape and size.
"I have friends who didn't develop stretch marks after their pregnancy, but I had, and a lot of them, too, after my firstborn. My mum had them too, so I guess it runs in the family." - Female, 29, new mum this year
Speaking about genetics, some genetic diseases like Cushing's syndrome and Marfan syndrome can also cause stretch marks, or make you more likely to get them.
Although these aren't common, but it's good to know about them, too:
Cushing's syndrome
Mostly affects people who take steroid medicine, causes the body to produce too much cortisol hormone (the main hormone that causes stretch marks)
Marfan syndrome
A hereditary disorder of the body's connective tissues, causing a disordered distribution of body structures, like having abnormally tall height, or long and slender limbs
5. Medication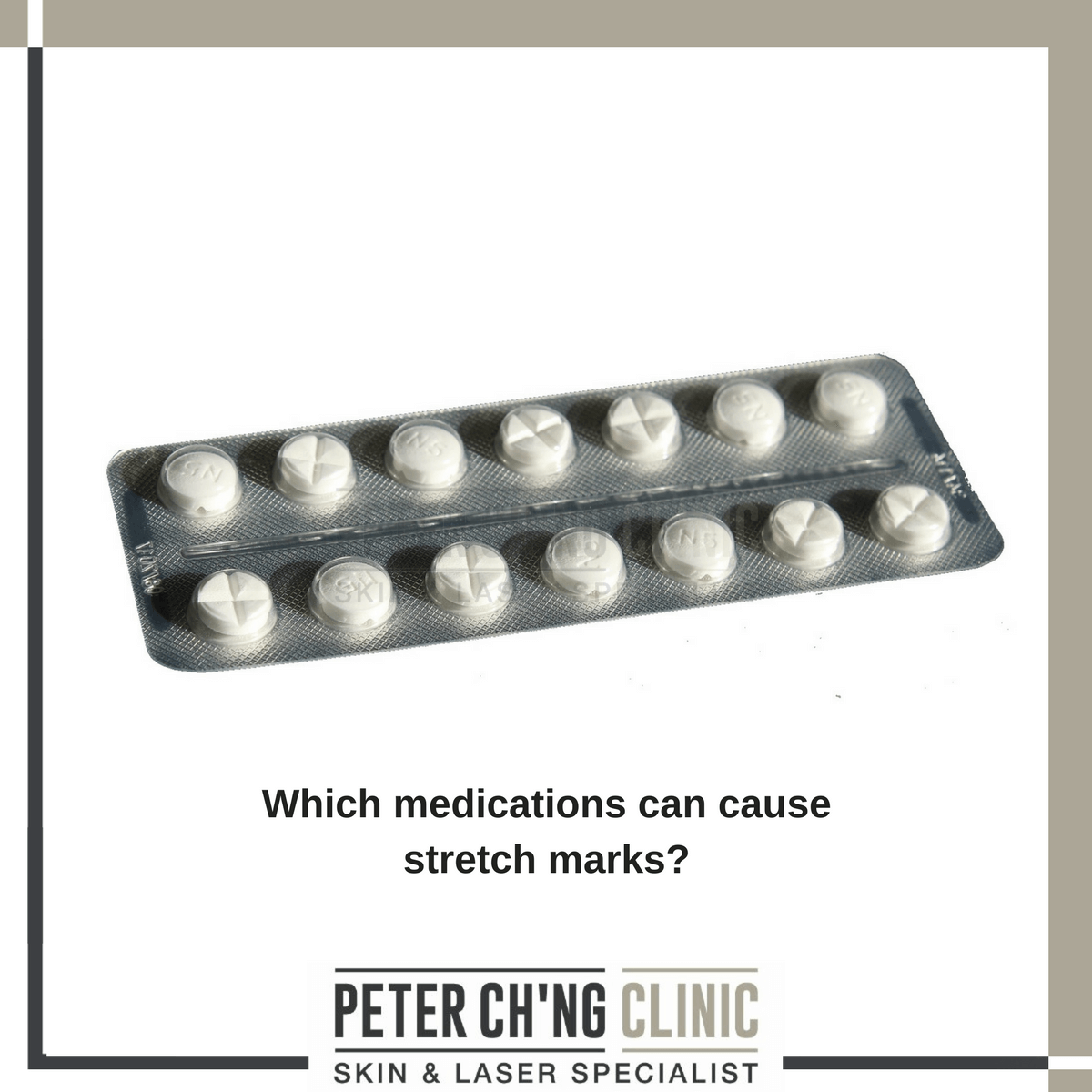 Although not causing stretch marks directly, some medications can cause conditions like weight gain, swelling, bloating, or physical changes that lead to the development of stretch marks.
Some examples of these medications include:
Birth control pills
Affect hormones, including those that causes your skin fibres to soften
Corticosteroids (creams or lotions used to soothe skin inflammation)
Decreases the level of collagen that strengthens and supports your skin.
Remember to talk to your doctor about any medicine you take if you're concerned about it causing stretch marks!
Although in some cases stretch marks can disappear on their own, they don't usually do, and most of them are permanent.
But worry not, as there are treatments that can help you in getting rid of stretch marks. Do you want to know how you can treat your stretch marks? See Dr Loo's entry last week on how we can treat stretch marks and C-sec scars here: Patient Mailbox: Pregnancy Stretch Marks + C-Sec Scars, No More Wearing Swimsuits?
We'll be returning to the 3rd episode of the Patient Mailbox series next week with Dr Peter Ch'ng, so remember to check it out next week!
As an esteemed aesthetic physician, Dr Loo is well known for always putting patient's safety and satisfaction as her number one priority. If you'd like to ask more about stretch marks or C-sec scars, or have a discussion with Dr Loo, call us at +6011-22882299, Whatsapp us here, or book an appointment with Dr Loo here!
---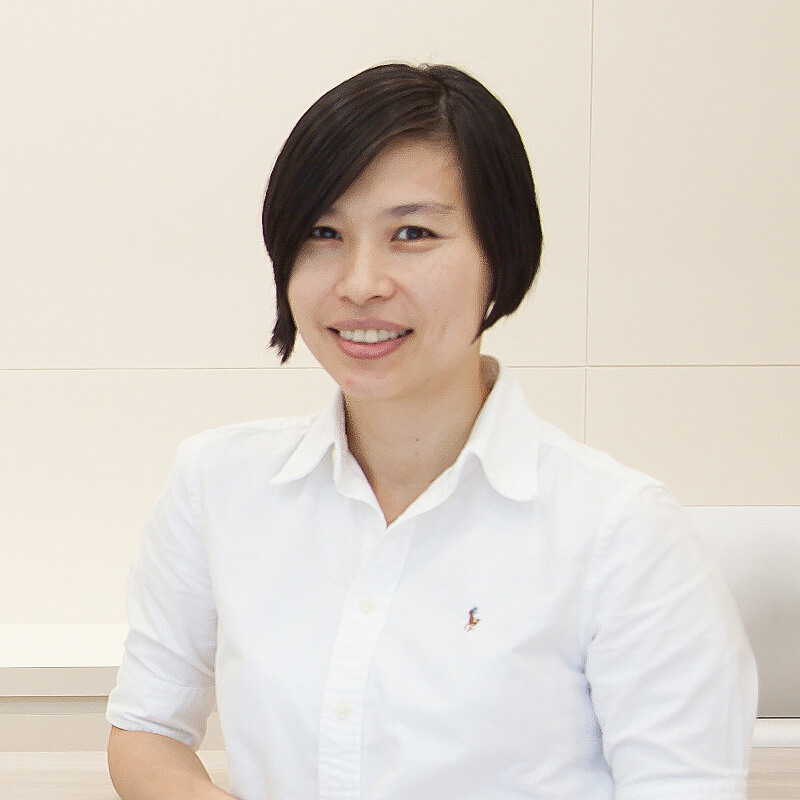 Dr. Loo Keng Shien
Dr Loo Keng Shien is a consultant aesthetic physician who loves to listen to patients' problems and find medical solutions to help in their skin and aesthetics journey. Dr Loo practises evidence-based medicine, and with her experience, she has listened to and helped numerous patients solve their skin problems or achieve their aesthetic expectations safely and effectively.
If you'd like to ask more about your skin condition or have a discussion with Dr Loo, call us at
+6011-22882299
,
Whatsapp
us, or
book an appointment with Dr Loo here
!
---
READ MORE ARTICLES
Treatments mentioned in this article :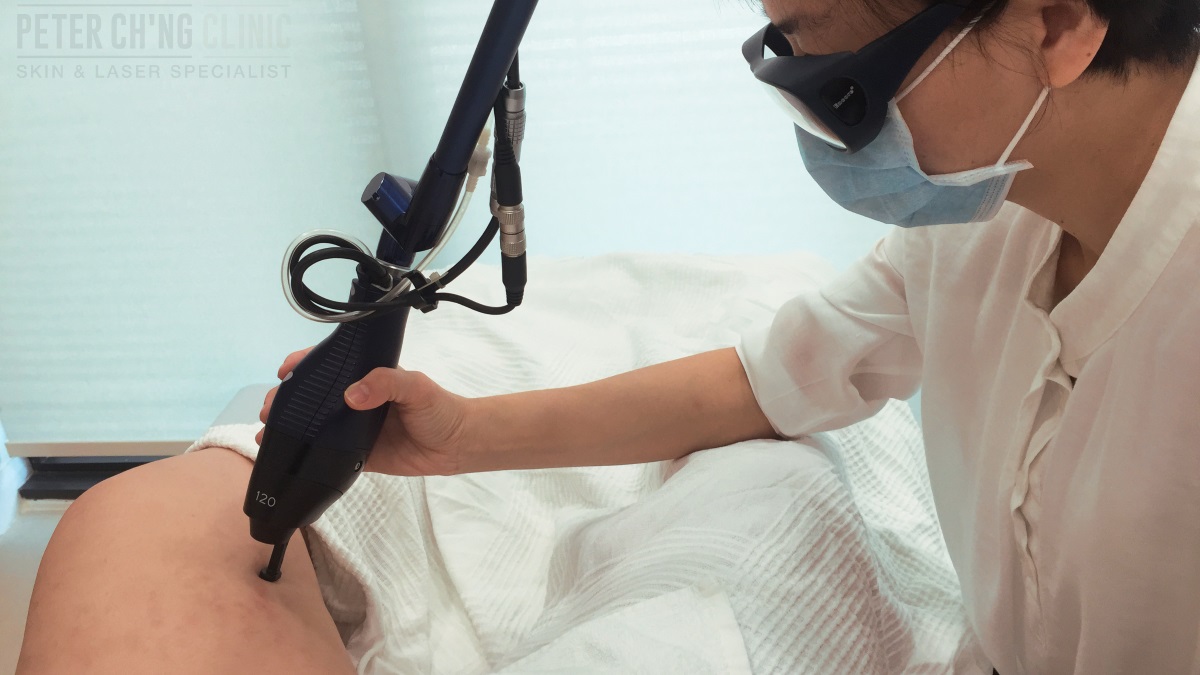 Laser Treatment for Stretch Marks
Stretch marks can appear anywhere where the skin has been stretched, but they usually affect areas where fat is stored, such as the tummy, breasts, upper arms, buttocks, thighs and shoulders. Honestly, it is actually impossible for our skin to return to its original condition once we develop stretch marks, but we can improve the condition via laser treatments.