Treatment for Eczema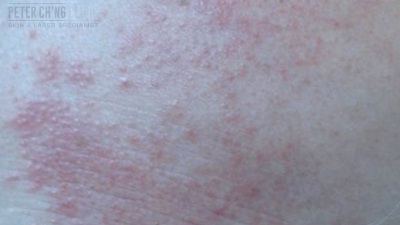 Atopic eczema or atopic dermatitis is the commonest skin condition in children. Almost 1 in 5 of the children in Malaysia are suffering from atopic eczema. It is definitely a condition that not only affects the quality of life of the patient but also the caretaker. I simplified the management of atopic eczema into 5 'I's.
"I" for Inborn
Atopic eczema is a genetic condition sometimes associated with other atopic diseases such as asthma and allergic rhinitis. However not every patient will have a family history of atopy. Although atopic eczema is not curable, more than 50% of the patients grow out of it by the time they are teenagers. The aim of managing atopic eczema is to control the disease well and minimized the severity and frequency of flares.
This genetic condition makes the child's skin dry and it has to be replaced with moisturizing bath gel followed by moisturizer. The moisturizing bath gel and moisturizer should be free from preservatives and fragrance, which could worsen the eczema. Moisturizers should be continued regardless whether there is any flare of eczema or not.
"I" for Inflammation
Inflammation is when the skin is red, itchy and sometimes warm. When the skin is inflamed, it is not going to go away no matter what moisturizer is being used. The child will need topical steroids. Topical steroids when use appropriately and judiciously will not harm the child.
In general, only topical steroid class IV-VI is used for children and it also depends on the severity and site of the eczema.
There is also a group of topical treatment without steroid, which is known as calcineurin inhibitor that can be used to reduce the inflammation.
"I" for Infection
Patients with atopic eczema are more prone to getting bacterial, fungal or viral skin infection. Whenever there is crust over the raw eczema, expanding lesion despite appropriate topical steroid or the child is unwell, bring to see a doctor. The child will need to be treated appropriately according to the type of infection.
"I" for Itch
Untreated eczema is itchy. The more the child scratches, the itchier it gets and the vicious cycle goes on and on. Sometimes the child will be given antihistamine to partially reduce the itchiness. Moisturizer is also important to reduce the itch because when our skin is dry, it tends to be itchy. Sometimes we may also provide and teach the child with a special kind of dressing known as wet wrap. Always keep the child's nails short.
"I" for Irritation or trigger
Most of the grandparents or parents will blame food as the cause or trigger of the eczema. Although certain food may contribute to the worsening of eczema in some patients especially the younger ones, it is definitely not the only cause of the eczema. By just eliminating the particular food without managing the other "I"s above, the eczema will not be controlled. The most common food allergens are egg, soy, milk, wheat, fish and shellfish.
Patients with atopic eczema are also more prone to getting contact eczema. They should avoid applying liniments, perfumes or any topical agents that contain fragrance or preservative. Sometimes it is the caretaker that applies the items above and indirectly passes it to the child through contact or air.
Mites can also irritate or trigger eczema. Therefore a child with atopic eczema should avoid contact with soft toys, carpets and pets that may contain dust mites. Bed sheets should also be washed regularly.
Prolonged skin contact with sweat will irritate eczema. In humid country like Malaysia, it is all right to have quick bath frequently.
The above 5 "I" s is just a simplified way of managing patients with atopic eczema. The overall management of the patient still needs to be individualized and tailored accordingly.
To enquire more about Treatment for Eczema, contact us or book an appointment here!
This treatment can treat the following conditions: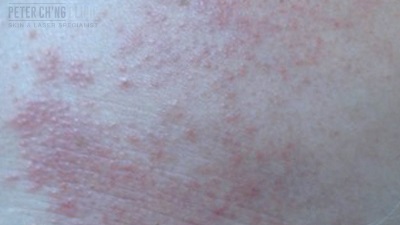 Eczema
Eczema is a chronic skin condition that occurs due to skin hypersensitivity reaction, producing red, inflamed, peeling, cracked, blistered or pus-filled skin. It can be caused by contact with allergic substances or genetic.
Related treatments and services: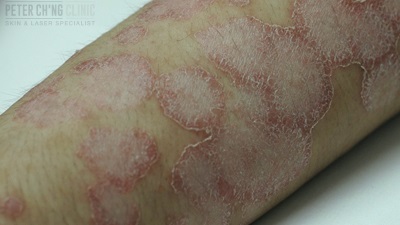 Treatment for Psoriasis
People with psoriasis know that this condition is no mere skin disease. Their skin forms red patches with thick, silvery scales, and these plaques are accompanied by itch, irritation and even joint pain.