Patient Mailbox: Enhancing Your Chin with Fillers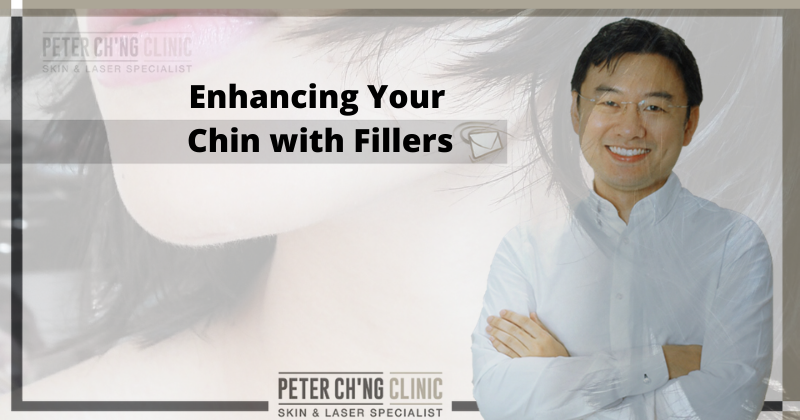 Question
Hi Dr. Peter,
I am a 35 years old brand manager. My chin appears weak and somewhat recess. This causes my jawline to look less defined, and my lower face looks heavier. I would also like to achieve a V-shaped chin and stronger projection of my chin.
I'm not ready for chin implants or other surgical procedures at this stage. What non-invasive options are there to enhance my chin? Please share the process, its longevity, and post-treatment aftercare. Thank you.
Anita
Answer
A beautiful chin is probably one of the most undervalued features of the face. In fact, improving the projection of a weak chin, and reshaping the chin can make a person look more appealing instantly. The best part about chin fillers is that the effect is visibly powerful yet subtle enough to make others guessing what was done to improve one's appearance.
Before we delve further, do you know what causes a weak chin?
What Causes of a Weak Chin?
A weak chin is an under-projected chin whereby the chin tip is not projected forward enough in relation to the nose, lip, and forehead. To ascertain whether you have a weak chin, take a look at your face from a side view. If your chin does not end on the same vertical plane as your lower lip, then you are said to have a weak or recess chin.
There are several causes of a weak chin.
If a patient has a small or recess chin since young, then the bone is genetically small. On the other continuum, some patients are born with a long or over-projected chin.
Apart from genetics, aging can weaken a once balanced chin. As we age, our bone undergoes bone resorption. What happens is that the chin tends to move backward (or posteriorly), resulting in reduced structural support in the lower face.
To make matters worse, our muscles and soft tissue will shrink with advancing age. This causes fat at the chin to lessen.
All these factors contribute towards a smaller, retracted chin.
How can chin fillers improve my appearance?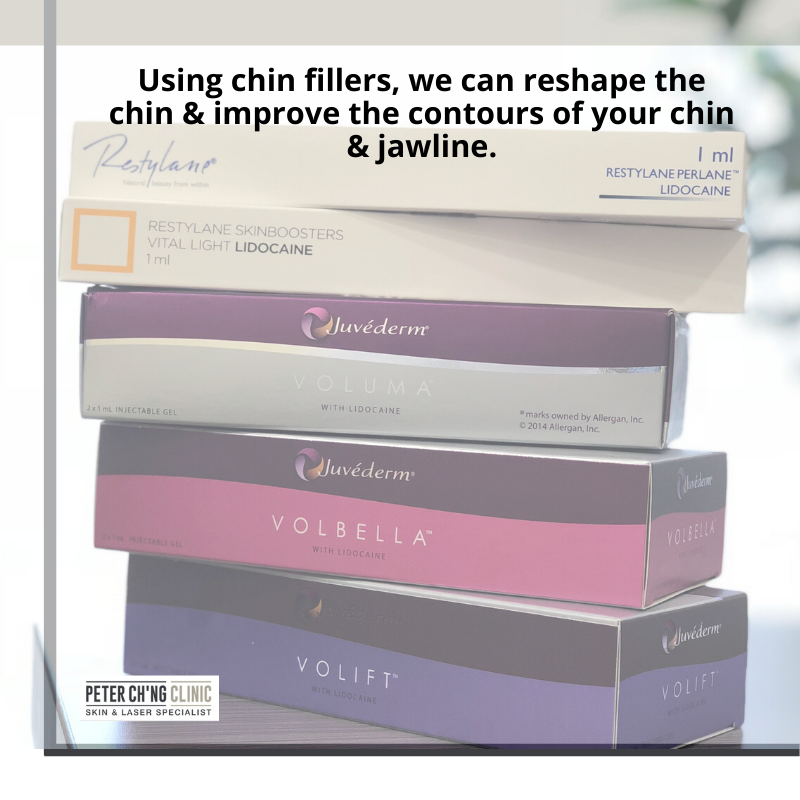 Using chin fillers, we can reshape the chin and improve the contours of your chin and jawline.
Most female patients want to have a softer, pointier chin often referred to as a V-shaped face. Hence can use chin fillers to add more length and definition to improve chin projection.
For patients who desire a less pointy or long face, we use fillers to make the face appear rounder. For patients with a square-like face, we can soften the angles to make it look rounder with fillers.
Generally, male patients do not like a heart-shaped face or roundish chin. Most men lean towards having a more chiseled and square-shaped chin. However, recently I had a male patient who requested to have a sharper chin. At the end of the day, beauty is in the eye of the beholder. We can only suggest what the aesthetic ideals of the general population are. But the decision ultimately lies with the patient.
Can you share the process of getting chin filler?
Firstly, we will assess the patient's face and identify areas that need to be filled to create balance and symmetry. The chin is a "landmine" of blood vessels. Hence the injector must know where the "safe zone" is. Ultimately, we want to avoid vessels and inject into places that need projection.
Moreover, filler injection must be performed in a sterile environment to eliminate any risk of infection.
The entire process takes between 10 to 30 minutes, depending on how much filler is needed.
Will I see immediate results after chin filler augmentation?
Yes. You will see immediate improvements after chin filler augmentation.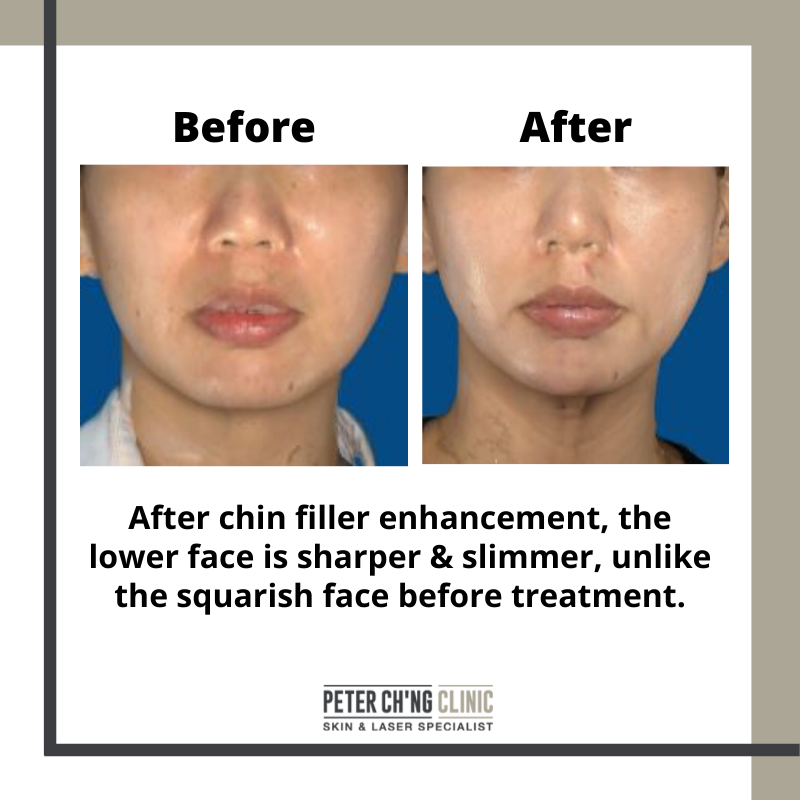 Are there any dos and don'ts after chin reshaping with filler?
Chin filler enhancement is a zero-downtime procedure. Hence, you can resume daily activity immediately after treatment. Contrary to popular belief, you can wash your face as usual. The heat from cooking will not compromise your results either. Should you wish to exercise, light workouts are fine.
Just remember not to vigorously massage the filler on the day of treatment. This is important as you do not want to displace the filler that was just injected.
How long do chin fillers last?
As chin fillers are injected deep into the bone, chin fillers last between 1½ years to 2 years. Unlike under eye filler, another reason why chin fillers tend to last longer is that a harder filler is used for the chin. These fillers are more elastic as the filler is injected deep into the bone.
You will find that after several days, the chin filler feels like soft bone. This is an important feature as chin fillers must hold its shape to improve projection.
Hyaluronic acid (HA) fillers can last up to 1½ years. Patients with significant bone deficits are best treated with calcium hydroxylapatite (CaHa). CaHa is synthetic filler that dissolves after one year but continues to stimulate collagen production beyond this period. CaHa can last up to 2 years.
How much filler is required for the chin to see noticeable results?
Because chin fillers are injected deep, a slightly larger amount is needed as compared to the under-eye area. The goal of chin augmentation is to create more projection or symmetry in the chin area.
How many cc of filler needed differs from patient to patient. Patients with a shorter chin will benefit from more volume. For patients who do not desire such pointy chins or if less volume is needed, then we will inject less.
Do chin fillers hurt?
Most of our patients do not need local anesthesia for this treatment. This is because the filler already contains lidocaine that helps to make the treatment very tolerable. You will feel mild pressure as the filler is injected close to the bone. Otherwise, chin filler augmentations is generally a painless procedure.
Can chin fillers give me a more defined jawline and reduce jowling?
Yes, chin fillers can give you a more defined jawline. The jawline starts from the front of the ear right down to the chin. To create a crisp, defined jawline, we don't just enhance the posterior chin by injecting filler there. Instead, we enhance the entire jawline right up to the ear.
Fillers can help improve jowling to a certain extent. But if the jowls are too saggy, then other lifting devices are needed. Energy-based devices or threads lifts will help to tighten jowls.
We do not want to inject fillers into a saggy jowl. This will create more volume in the jowl area, causing gravity to pull the jowls further down. Instead of having a tighter jawline, you will end up having more obvious jowls!
Will the chin look less define once the swelling goes down?
Post-treatment swelling is quite mild with chin filler enhancement. It's safe to say that what you see is what you get immediately after the injection.
I accidentally bumped into my chin a day after chin filler reshaping. Will this affect my results or cause asymmetry?
If you accidentally bumped your chin a day after the treatment, don't worry as it will not cause any problems. There is no risk of the chin filler migrating either. Just remember not to forcefully massage your chin on the day after treatment.
Conclusion
Minor enhancements to the chin area can significantly restore balance and harmony on one's facial appearance.
To achieve optimum results, we always encourage our patients to maintain an open dialogue with their doctors. This is important as we have to understand your aesthetic desires and concerns. Paired with our scientific medical know-how and individualized perception of beauty, we can then help you be your best version of you.
---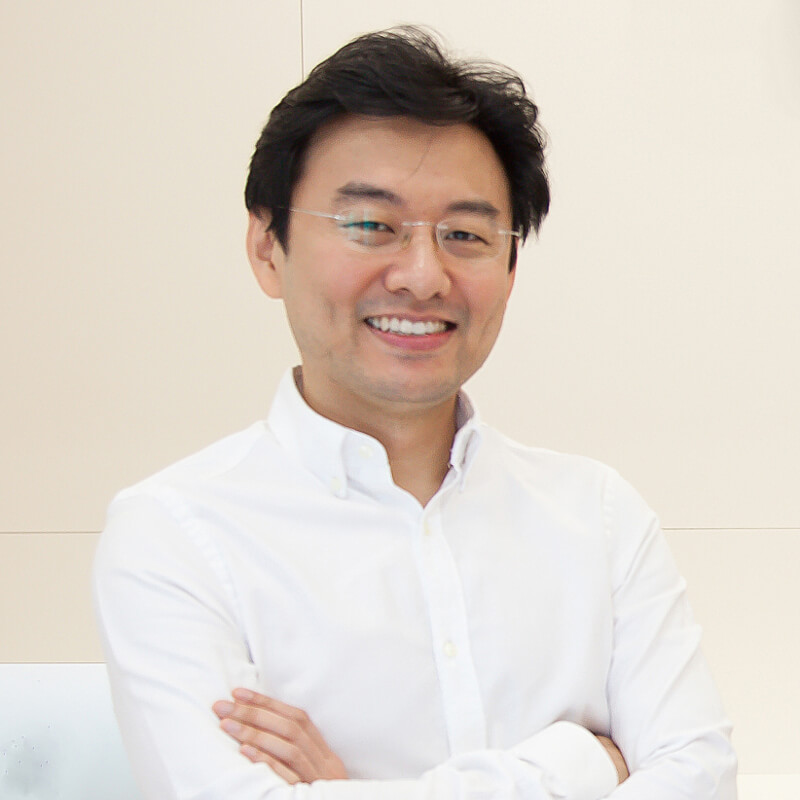 Dr. Peter Ch'ng Wee Beng
Dr Peter Ch'ng is a consultant dermatologist who always put his patients' safety and wellbeing as his top priority. As an esteemed dermatologist and skin specialist, Dr Peter prides himself in being able to treat acne patients of all types, with a 100% acne treatment success record.
If you'd like to ask more about your skin condition or have a discussion with Dr Peter, you can contact us at
+6011-22882299
,
Whatsapp
us, or
book an appointment with Dr Peter here
!
---
Treatments mentioned in this article :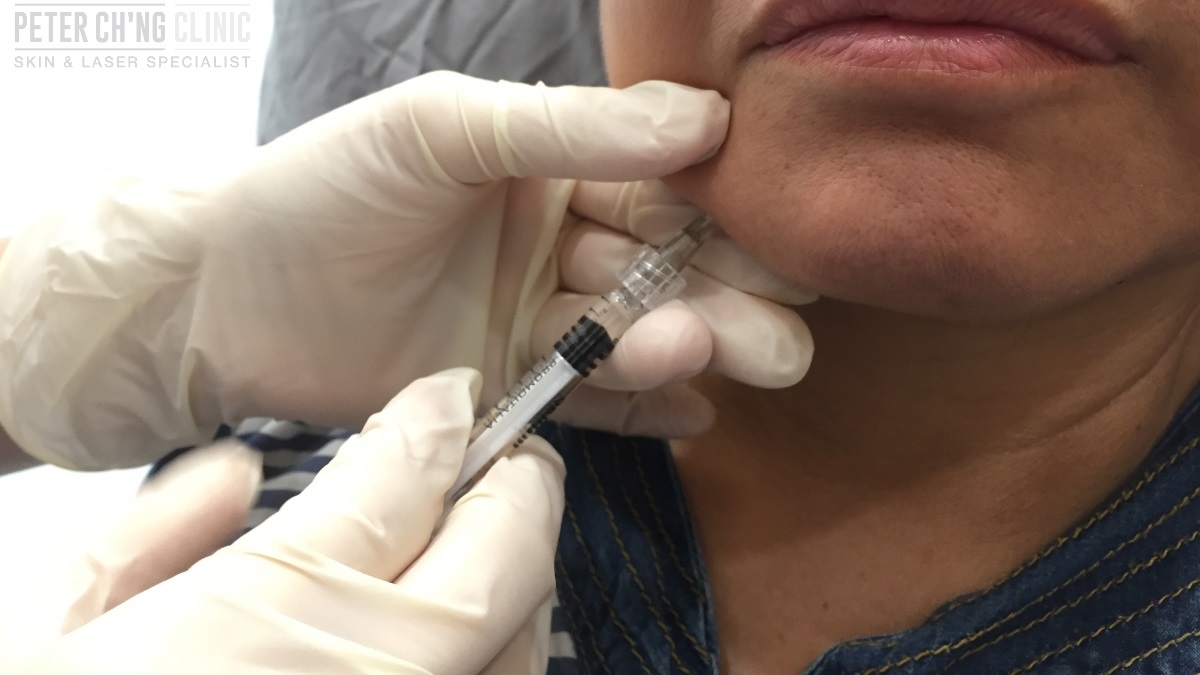 Filler / BOTOX Injection
Fillers like hyaluronic acid filler can be used to fill in the spaces in the skin where fat had been lost (the cause of the skin to sag) and volumize the skin to make it tight.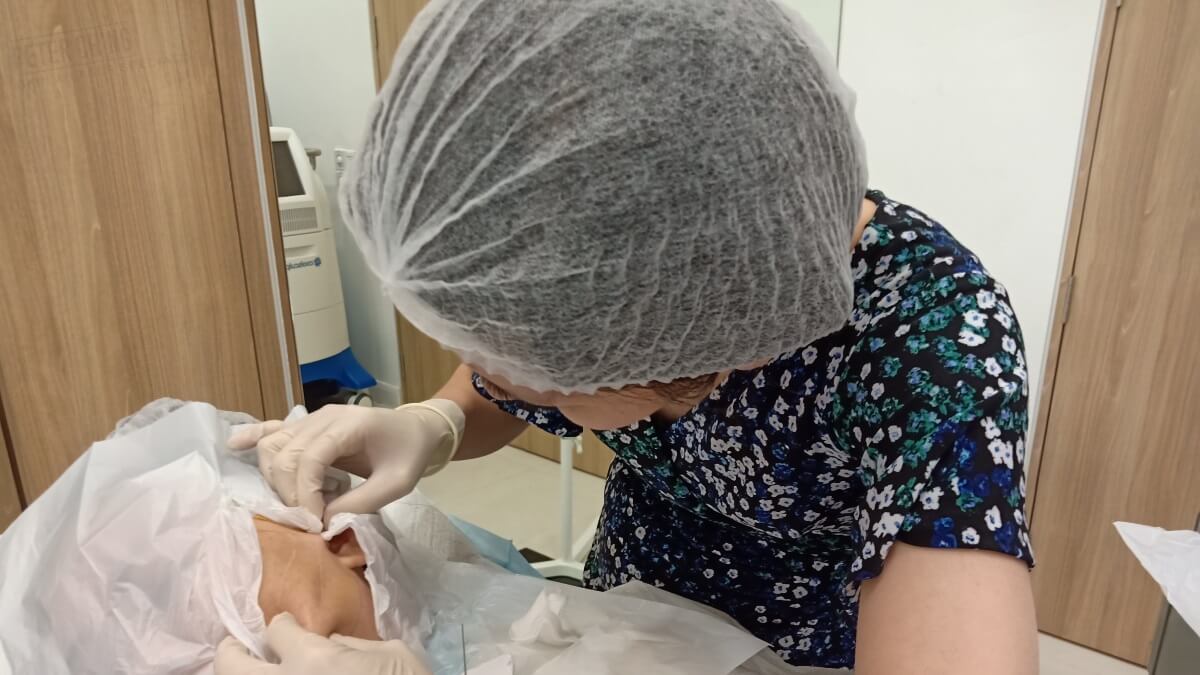 Facelift/Thread Lift
Facelift helps give your face a more youthful appearance. During a facelift process, some of the procedures involved are the removing excess facial skin, tightening tissues, and reshaping the skin on your face and neck.