Patient Mailbox: Facial Rejuvenation with Picosecond Laser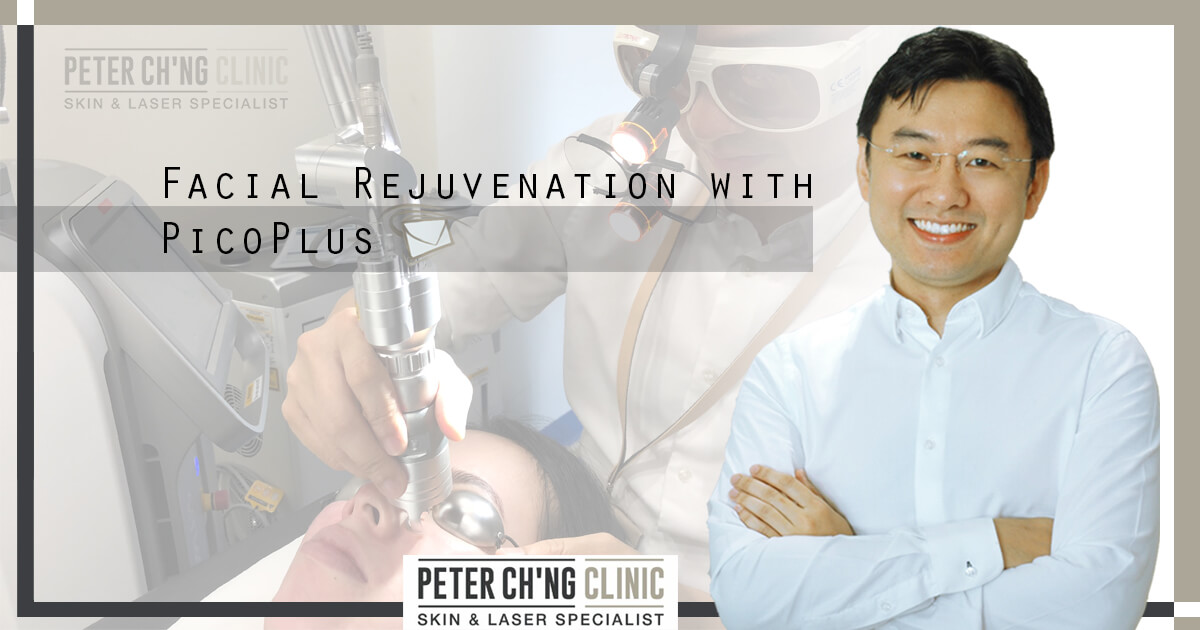 Hi! I'm Dr. Peter.
Here's Episode 34 of the Patient Mailbox series, where we collect handpicked questions submitted by patients suffering from various skin diseases and conditions, and personally answer them with our best efforts. I hope to help any one of you who faces challenges from similar situations.
Editor's Note: Dr. Peter Ch'ng is a Consultant Dermatologist actively involved in numerous talks and workshops. He is also an esteemed contributor to dermatology research and publication internationally. He practices at both Peter Ch'ng Clinic Skin & Laser Specialist in Desa Park City and Gleneagles Hospital Kuala Lumpur.
Question:
Hi Dr. Ch'ng,
I'm Chloe. I am 45 years old and I love the outdoors. When I was younger, I never bothered to apply sunblock before golfing, hiking, or swimming. Due to unprotected exposure to the sun, I have developed patches of pigmentation on my cheeks. Besides, my skin looks uneven.
I want to look younger and more refreshed. Could you tell me what facial rejuvenation options are suitable for me? I prefer treatments with zero downtime. Please also share the risks and the side effects of the treatment modalities. Thank you.
Answer:
When patients present with problems related to pigmentation, it is important to accurately diagnose the cause and type of pigmentation. Freckles, solar lentigines, and melasma are common skin conditions when skin produces more melanin than normal. Once this happens, dark patches or spots appear.
To identify the best treatment for pigmentation problems, let us first understand the different skin conditions related to pigmentation.
Freckles
Can you tell what Lindsay Lohan, Demi Lovato, and Gigi Hadid have in common? All three celebrities have prominent freckles on their faces!
Freckles are tiny brown pigments symmetrically distributed over the face and arm. As freckles get worse due to overexposure to UV rays, freckles increases over summer and winter. Patients who have freckles since young do not want to remove them. These brown spots instead are their trademark beauty and displayed in its full glory.
Lentigines
Solar lentigines or age spots are similar to freckles. The difference is in its size, whereby lentigines are bigger patches of pigmentation. Lentigines tend to multiply with extended sun exposure and age.
Lentigines do not develop at a young age. Instead, it is triggered by an accumulation of exposure to UV rays over the years. Simply said, it is a good measure of one's lifetime exposure to the sun.
Both freckles and lentigines are superficial. This means that these pigmentations develop on the skin surface.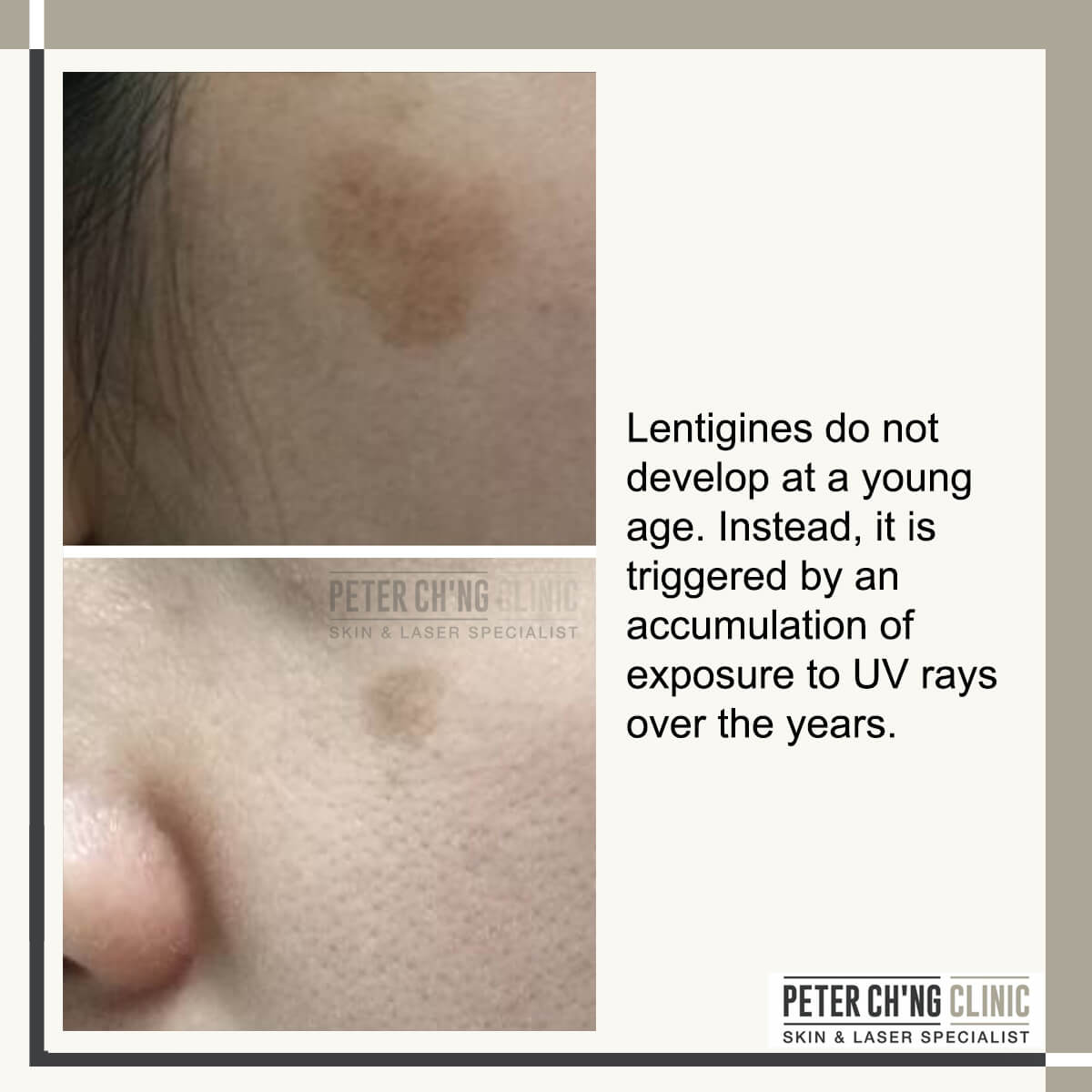 Melasma
Melasma is another common skin problem. Denoted as brown spots, melasma is mostly seen at the center of the face and is symmetrical. Melasma can be superficial or can be entrenched deep in the skin.
There are many causes of melasma. Among them includes genetics and overexposure to UV rays. Pregnant women, women who consume oral contraceptive pills or hormone replacement medicine are at a higher risk of developing melasma. And melasma under such circumstances are caused by hormonal changes.
Other Forms of Pigmentation
There is another rarer type of pigmentation known as acanthosis nigricans. Individuals with this skin condition have skin that is darker at body folds such as armpits, groin, and behind the neck.
Acanthosis nigricans is often associated with diabetes, obesity, and polycystic ovary syndrome (PCOS).
How to Treat Hyperpigmentation and Rejuvenate Skin
An effective treatment plan starts with an accurate diagnosis. This is because a different diagnosis warrants different treatments. And a misdiagnosis makes the treatment ineffective in addressing the patient's concern.
For mild and superficial hyperpigmentation, I recommend starting with topical lightening moisturizes and cleansers. This is followed by a gentle chemical peel. Finally, lasers such as picosecond lasers or vascular lasers are used to address deeper pigmentation.
Besides an accurate diagnosis, patient safety is equally as important. Laser treatments must be individualized to suit each patient. For patients with darker skin, the laser setting must be milder. This is because the risk of post-inflammatory hyperpigmentation will be greater.
To treat patients with sensitive skin, we avoid introducing irritants and overly acidic products as it will cause flare-ups.
Why is PicoPlus the best laser rejuvenation treatment for Asian skin?
PicoPlus is an FDA-approved picosecond laser used for skin rejuvenation, acne treatment and removal of pigmentation. PicoPlus can also be used to treat uneven skin tone caused by the appearance of blood vessels.
What sets PicoPlus apart from other laser rejuvenation treatments is its superior technology.
Traditional nanosecond lasers such as Q-Switch delivers energy at a slower rate compared to picosecond lasers. Besides, nanosecond lasers generate heat and cause a photothermal effect. This effect increases the risk of post-inflammatory hyperpigmentation common among Asian skin types. Due to the heat emitted from Q-Switch lasers, the risk of complication is higher. One of the downsides of the Q-Switch laser is the formation of white patches on the treated area. This happens when the pigmented cells are completely wiped out by over-treating.
On the other hand, picosecond lasers have a higher photo-acoustic effect. Besides, the picosecond laser shatters pigmentation so rapidly. And this is why most patients tolerate the treatment very well, simply because it is painless!
Once the pigments are shattered into smaller fragments, our body's immune system is activated and naturally removes the pigmentation.
In short, the picosecond laser is safer, has a lower risk of complication and suitable for darker skin.
Apart from treating pigmentation, picosecond lasers can be used to rejuvenate aging skin. The picosecond laser stimulates collagen production by creating cavities in the dermis layer. These "controlled-wounds" will induce optical breakdown, thus stimulating collagen synthesis and tightening of the skin. Eventually, skin looks plumper and fine lines are eliminated.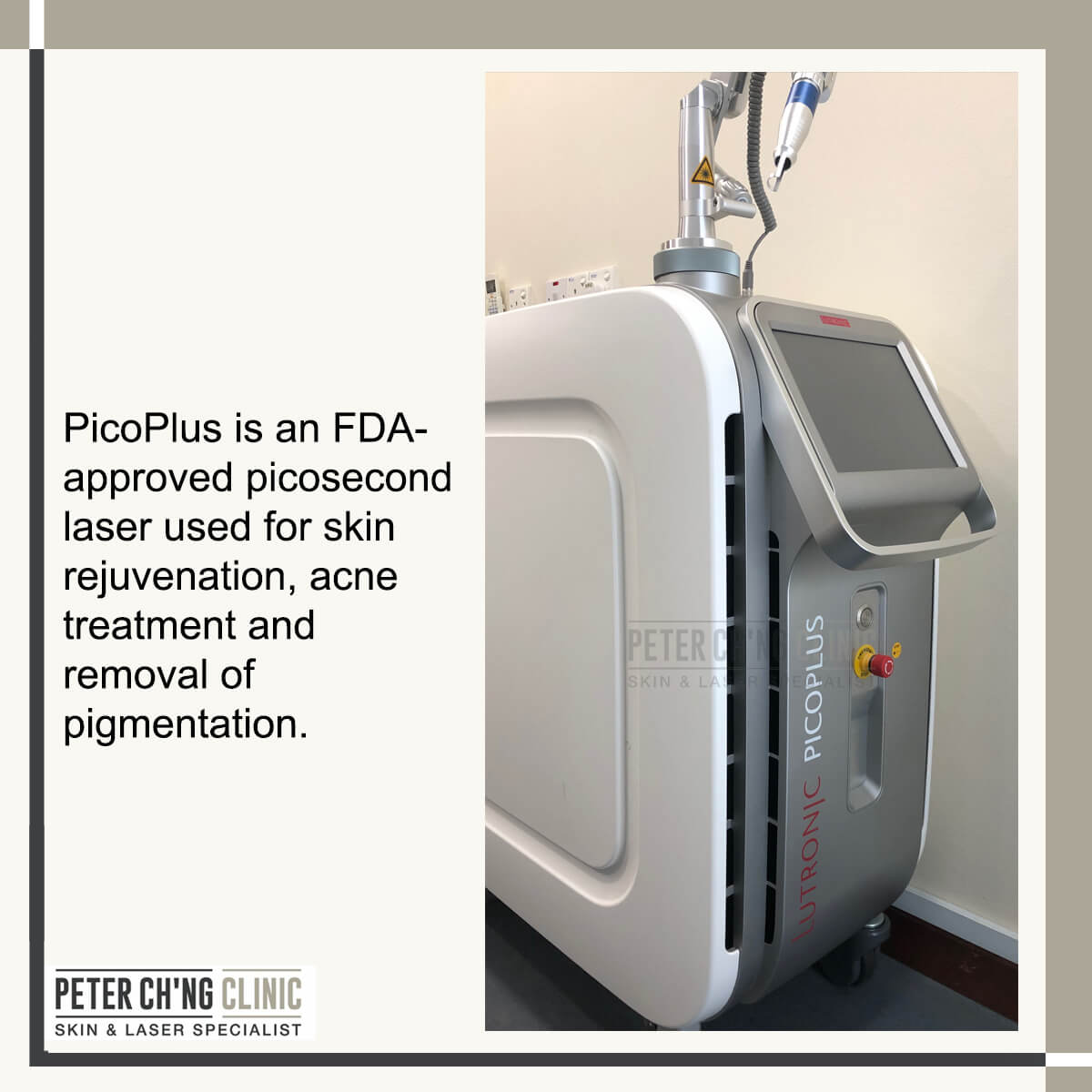 Can you share what happens before, during and after the picosecond treatment?
The picosecond treatment for facial rejuvenation is a zero-downtime procedure. No numbing cream is required before treatment. This is a very comfortable treatment, whereby patients will only feel a warm sensation during therapy. Some patients may develop a pinkish rash or mild redness on the face post-treatment. But this normally subsides in the next 24 hours.
To treat freckles or lentigines, patients can expect mild peeling.
How long do the effects of picosecond facial rejuvenation last?
The effects of picosecond facial rejuvenation are permanent and long-lasting. Fine lines are removed and skin is lifted with visible results after 3 sessions.
While these flaws can be removed, we cannot stop the body from aging. Positive results can be prolonged if the patient minimizes sun exposure and leads a healthy lifestyle.
As our collagen reserve depletes yearly, a follow-up treatment is needed to boost collagen production for from time to time.
Are there any dos and don'ts after PicoPlus treatment?
There are no restrictions post-Picosecond treatment for skin rejuvenation. In fact, you can resume normal activity immediately after treatment. Feel free to go back to your exercise regime. Do not hesitate to walk in public and attend social events. And go back to work instantly. Also, you can eat anything your heart desires.
How many sessions of PicoPlus treatment is needed to see results?
Typically, our patients see improvements after 3 sessions. If you don't see results within this time frame, then the treatment should be discontinued, as your body may not be responding positively to the treatment.
In our practice, all our patients see results and continue with the course of treatment as prescribed. Once improvement has plateaued, we tell patients that they need only come back for periodic maintenance.
Different patients have different timeframes in which their skin relapses. Some may come back after 6 months for maintenance. While others may come back years later. This is because each person's exposure to UV rays can be poles apart. And the accumulative ultraviolet exposure since young varies from one person to another.
Conclusion
Picosecond lasers such as PicoPLus set the benchmark as a gold standard for skin rejuvenation treatment. It is a non-invasive treatment that stimulates collagen production, resulting in smoother, glowing skin. When it comes to laser treatment, even the mightiest tool can be damaging in the hands of an inexperienced user.
Think of the laser machine as a stove, and the patient as a piece of beef. The chef must know how much energy to use, and when to turn off the stove. If the heat is too intense, the steak will be overcooked, and this cannot be undone. And different meat requires a different energy setting. So buying the best gas stove (or machine) does not guarantee plating Michelin-star steaks.
In the context of skin rejuvenation, a precise diagnosis is very important in determining the right energy setting. Plus, the operator of the machine must know when to stop firing the laser to prevent complications. Therefore, we strongly recommend seeking treatment from a board-certified dermatologist or aesthetic practitioner for the best results. After all, a rejuvenated, youthful complexion can do wonders to revitalize your soul.
---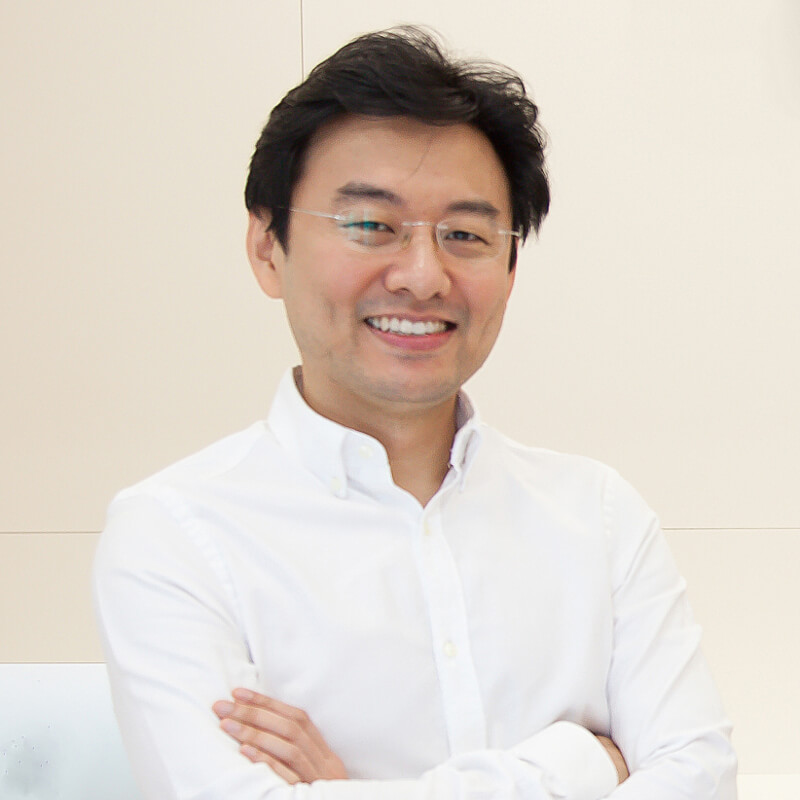 Dr. Peter Ch'ng Wee Beng
Dr Peter Ch'ng is a consultant dermatologist who always put his patients' safety and wellbeing as his top priority. As an esteemed dermatologist and skin specialist, Dr Peter prides himself in being able to treat acne patients of all types, with a 100% acne treatment success record.
If you'd like to ask more about your skin condition or have a discussion with Dr Peter, you can contact us at
+6011-22882299
,
Whatsapp
us, or
book an appointment with Dr Peter here
!
---
Treatments mentioned in this article :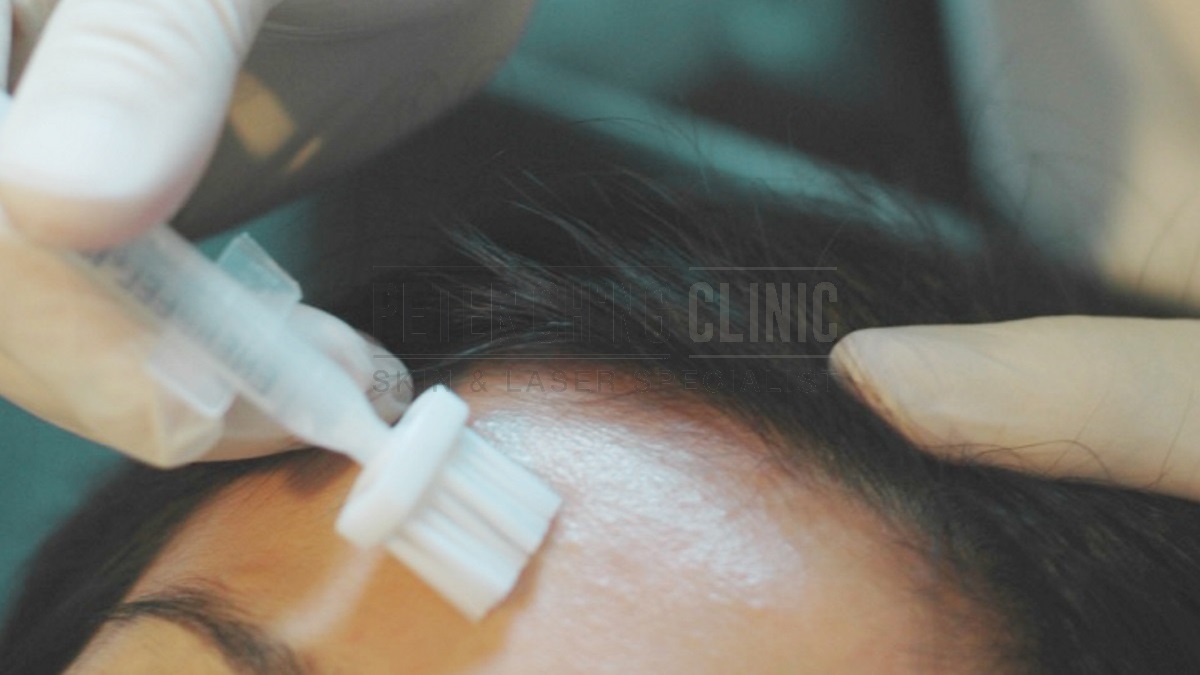 Chemical Peel
Chemical peels are acids that are applied on the skin to cause the skin to peel. This process stimulates the skin cells to regenerate faster and thus fastening the process of skin healing.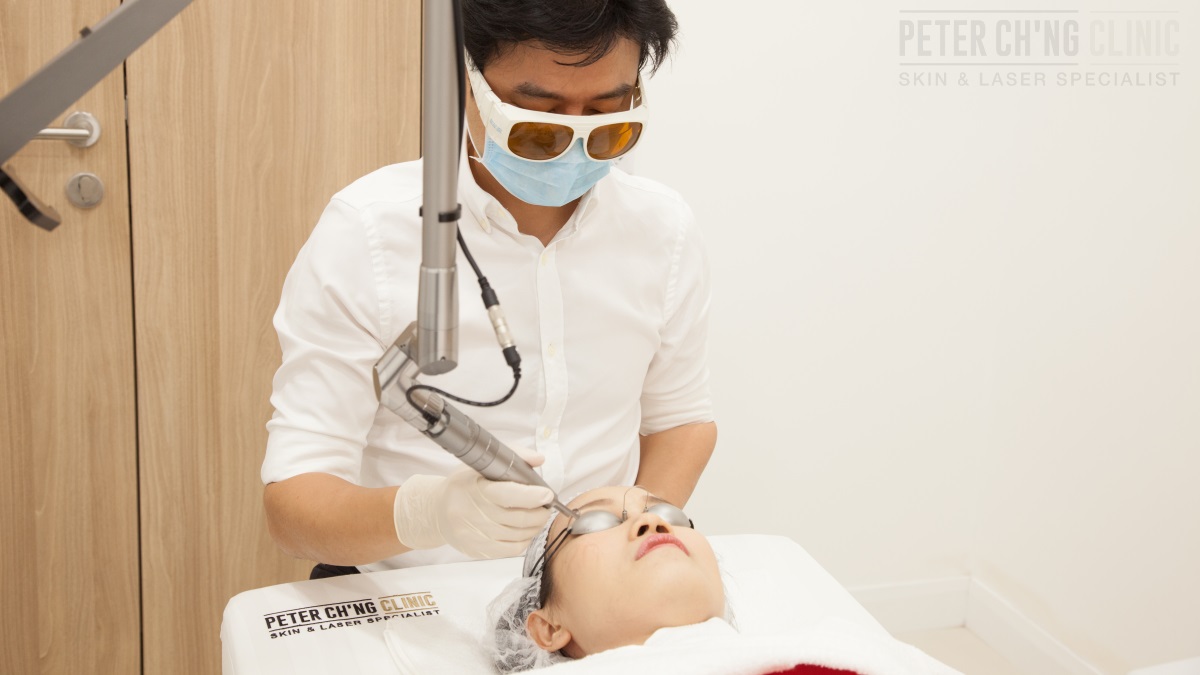 Pigment Laser
Laser treatments are always one of the most effective treatments to get rid of pigmentation on the skin. Pigment lasers can penetrate deep into the skin and remove the pigments beneath the skin to make the spots on the skin surface disappear.