Patient Mailbox: How to Treat Hair Loss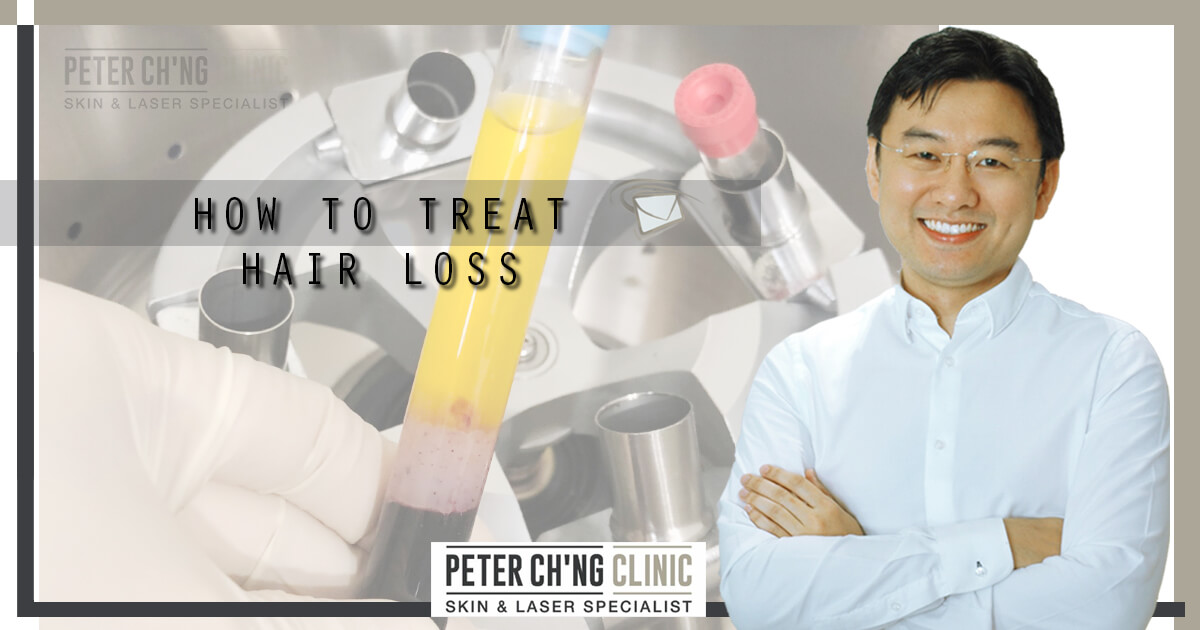 Hello there! How are you doing?
I'm Dr Peter Ch'ng and here's Episode 21 of our Patient Mailbox series. We collect handpicked questions submitted by patients suffering from various skin diseases and condition, and personally answer them with our best efforts. I hope to help any one of you who face challenges from similar situations.
Editor's Note: Dr Peter Ch'ng is a Consultant Dermatologist actively involved in numerous talks and workshops, and is an esteemed contributor to dermatology research and publishing internationally. He practices at both Peter Ch'ng Clinic Skin & Laser Specialist in Desa Park City and Gleneagles Hospital Kuala Lumpur.
Question:
I'm Jude, and I'm experiencing hair loss at an age that I believe is still premature to be facing this problem.
First of all, is it normal for me to be experiencing hair loss this early (I'm 36)? My dad also has hair loss problems, but he started balding only in his late 40s. How do I know if there is any underlying sickness causing my hair loss?
But no matter, I wish to get my hair back. Can they grow back naturally or do I need implants? There are so many advertisements on hair growing miracle serums or drugs and treatments, so much that I don't know how to decide, because none of those are cheap?
So I hope that I could get the most verified answer from a dermatologist, how to get my hair back?
Answer:
When it comes to hair loss, we always need to find out what the cause of hair loss is first, because the relevant treatment method is highly dependable on the cause.
We don't want to be just treating the hair loss symptom on the surface, but to treat the hair loss condition based on its root cause.
So what causes hair loss?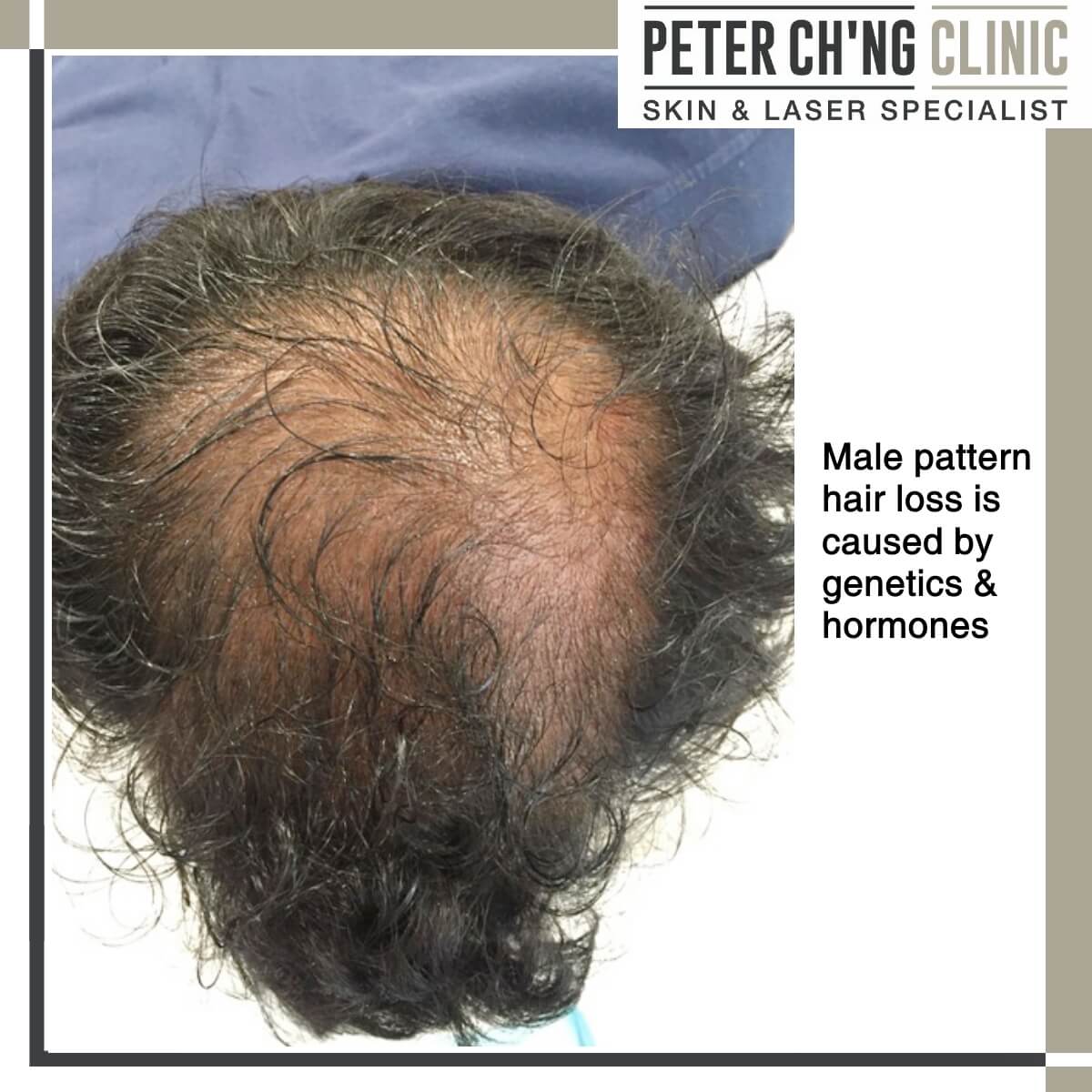 Hair loss can be divided into scarring hair loss and non-scarring hair loss. Hair loss is also known as alopecia medically, so in this case we have scarring alopecia and non-scarring alopecia.
Scarring alopecia, or scarring hair loss
When we look at your scalp under the dermatoscope, we determine that you have scarring alopecia if there are no more hair follicles on the affected area. In other words, your scalp is smooth instead of having small littles holes which are your hair follicles.
Scarring alopecia may be caused by an injury or trauma to the scalp, or by autoimmune diseases like lichen planus or lupus, and may lead to permanent hair loss.
Non-scarring alopecia, or non-scarring hair loss
Non-scarring alopecia means that there are still hair follicles on your scalp, but no hair is growing out of it. This can be caused by hair loss due to physical stress like the aftermath of a virus infection, or after birth delivery, where there is severe stress placed on the scalp.
For these conditions, I usually tell my patients that they don't have to do anything, because the hair will naturally grow back after 3 months after the physical stress is gone.
Some other causes of this condition are iron deficiency anaemia, thyroid disease, and anorexia or a sudden weight loss without exercising.
However, the most common cause of non-scarring alopecia, or hair loss as a whole, is male or female pattern hair loss.
Male and female pattern hair loss
"Is it normal for me to be experiencing hair loss this early (I'm 36)?"
In a general case, the age of 36 is too early to have significant hair loss problems. However, if you find yourself beginning to experience early signs of hair loss, this can be due to family history, meaning that you have the genetic components that cause hair loss.
How do we diagnose male and female pattern hair loss?
First, we need to determine if the hair loss problem is a scarring or non-scarring one.
If it is non-scarring, then we can see the pattern of the hair loss to determine the type of hair loss.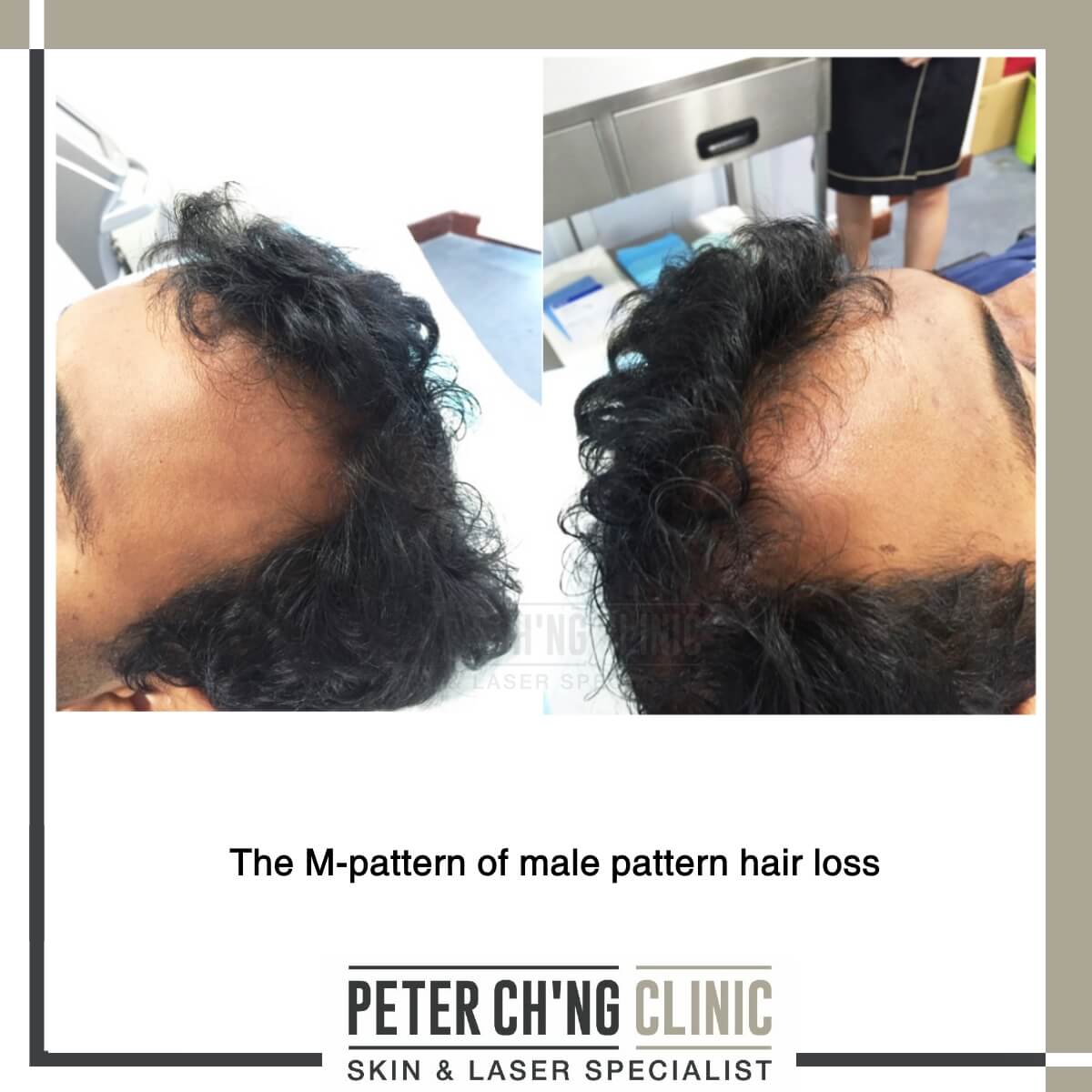 For male pattern hair loss, we can see an M-pattern from the front of the head with the hair loss, creating an M-shape when seen from the front or the top of the head.
For female pattern hair loss, the usual sign is hair loss starting from the central parting spreading wider.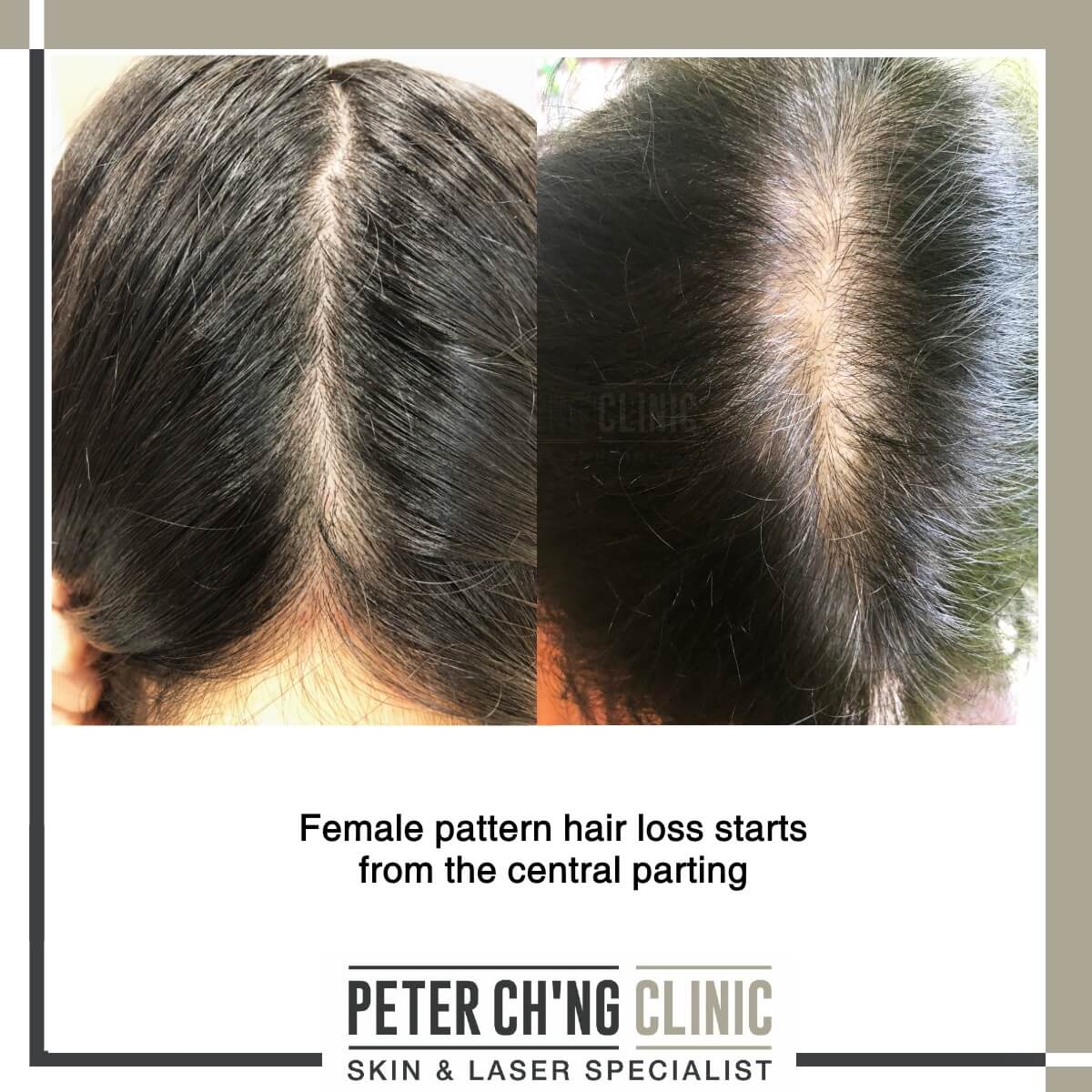 Male and female pattern hair loss is caused by genetics and hormones.
How to treat hair loss: Medications
The treatment for hair loss depends on the diagnosis of the condition. Therefore, in any case, you should always get your condition checked thoroughly by a certified dermatologist before undergoing any treatments.
Editor's note: It is always safer to consult a verified dermatologist on your condition rather than any unverified beauty centres or sources. To get your condition diagnosed by Dr Peter, call us at +6011-22882299, WhatsApp us here, or book an appointment with Dr Peter here!
For pattern hair loss of both male and female, we usually start with topicals like minoxidil, or specific shampoo that contains copper to help with hair growth. Specific medications for male and female pattern hair loss can also be administered.
How to treat hair loss: PRP (Platelet Rich Plasma)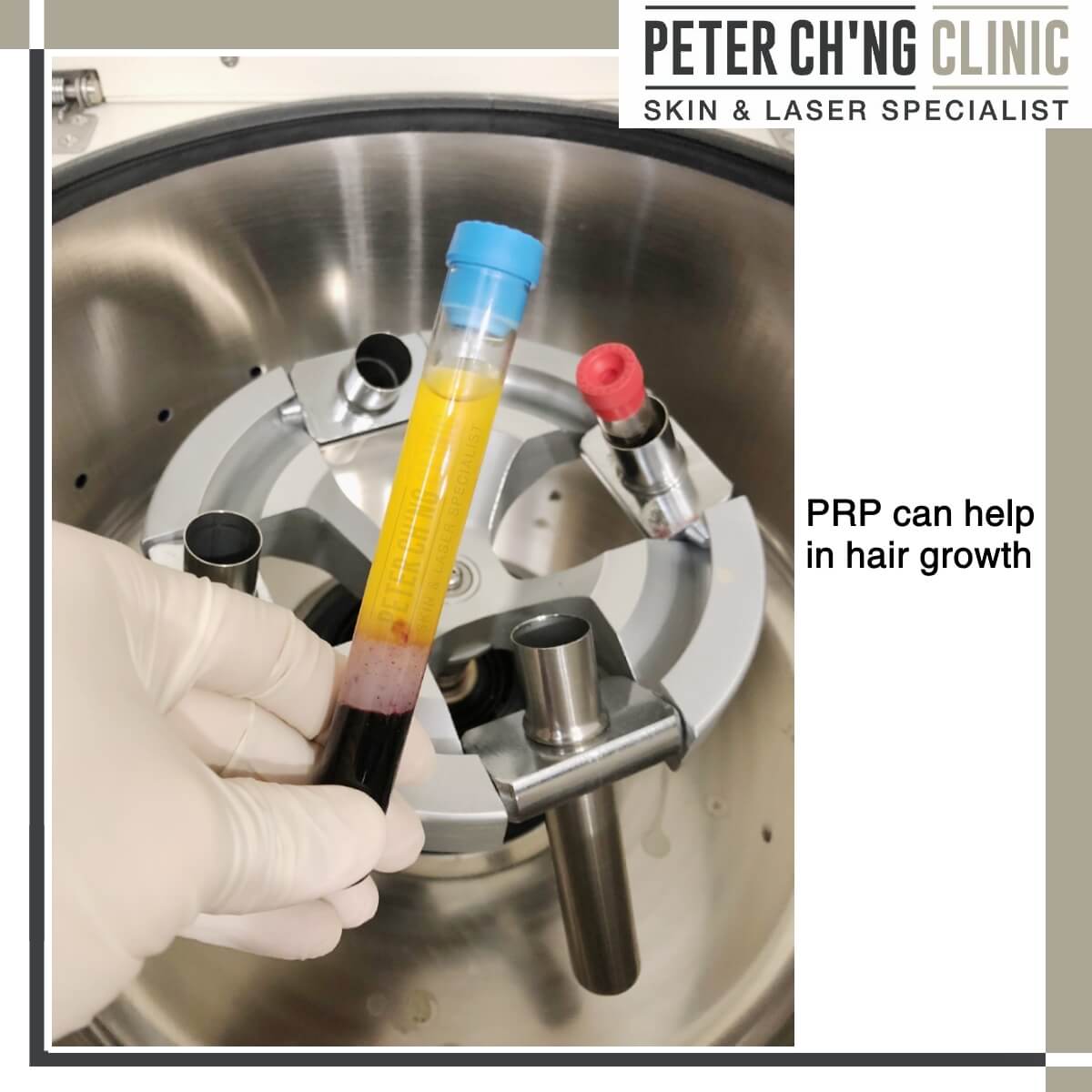 The PRP procedure is done by drawing the patient's own blood and having the blood processed to get the top layer of the blood with contains the PRP that we are looking for. This PRP has a growth factor, so it helps to rejuvenate the skin, and can also help in hair growth.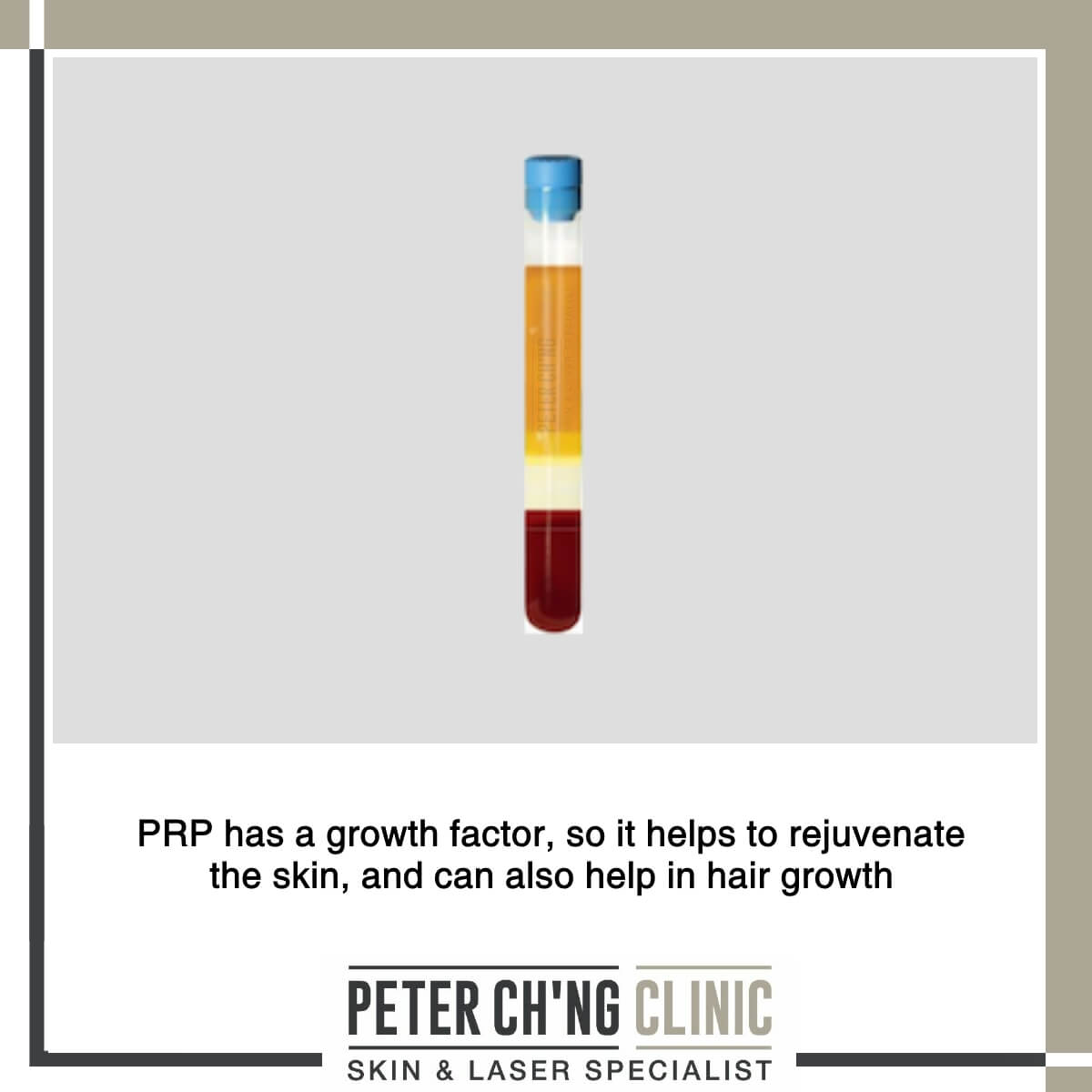 After the blood has been drawn, it is placed in a specific PRP test tube which is sterile. After the blood components have been separated, the PRP from the blood is injected into the treatment area.
How to treat hair loss: Stem cell treatment
In a stem cell treatment, We take a few hair follicles from the back of your scalp, usually behind the ears. The stem cells of the hair are then extracted using specific high technology machines.
After that, these extracted stem cells are re-injected back into the bald area of the scalp so that hair can grow.
How to treat hair loss: Hair transplant
Hair transplant is mainly for stable alopecia condition where there is no more hair follicles, meaning that any medication or other treatments cannot stimulate anymore hair growth out of the hair follicles which are not present.
However, the success rate of hair transplant is not 100%. It depends on how the scalp uptakes the hair transplant.
If the condition of the hair loss on the scalp is not stable, the patient can still have hair loss despite hair transplant.
So before the procedure, the dermatologist has to make sure of the hair loss condition and determine if the alopecia is stable to undergo a transplant.
After a hair loss treatment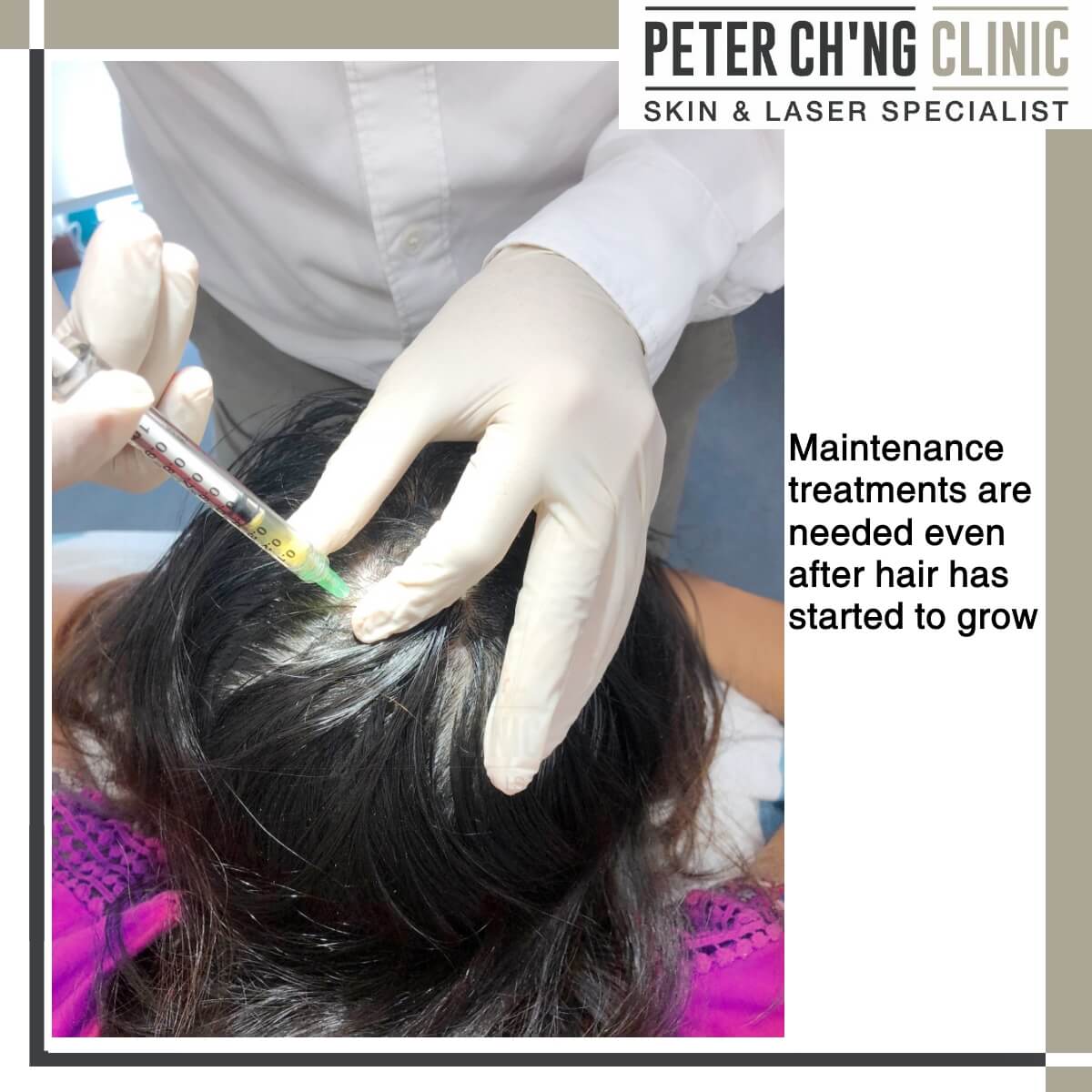 Generally I'll tell my patients to continue the treatment that is being prescribed for at least another 3 months, and expect any significant treatment results only from the 2nd or 3rd month onwards.
Patients should continue the treatment at home using topicals, specific shampoo, medications, or come for regular treatments like PRP if it is prescribed.
This is because hair loss is hugely affected by our hormones. So if we stop all treatments abruptly, we would also lose whatever that has been gained through all the treatments.
Therefore, patients should be on maintenance treatments even after hair has started to grow after the initial treatment.
Getting the right treatment for hair loss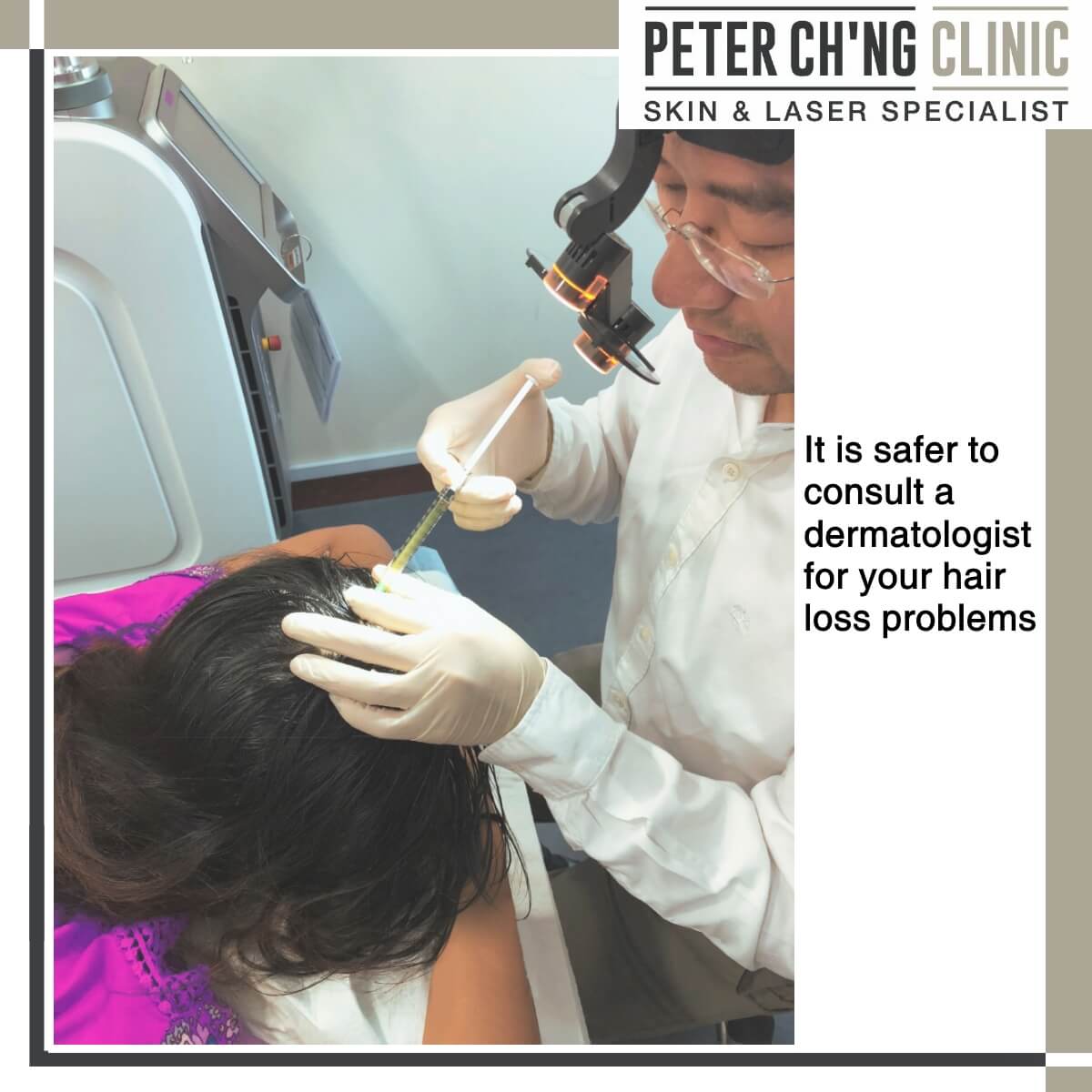 How do I know if there is any underlying sickness causing my hair loss?
All treatments for hair loss go back to the diagnosis of the condition.
First we have to examine the scalp thoroughly to determine the exact problem the patient has. Then we need to ask the proper history of the patient regarding hair loss like family history and medical history.
Only then we start to find the underlying cause of hair loss. Is it due to physical trauma? Is it a pattern hair loss condition? Is it due to diseases like iron deficiency anemia or thyroid disease?
Sometimes, we also need blood test to accurately diagnose the problem if necessary.
This is why it is always safer to consult a certified dermatologist for your condition. Because while beauty centres or treatment centres focus on treating your symptoms, we want to help you treat not only your symptom, but also find out the root cause of your symptom, and treat it from there.
A common myth: Mites causes hair loss?
Mites will not cause hair loss, unless the mites cause itchiness on our scalp and we scratch our scalp, which would then only cause temporary hair loss which will grow back. But mites in itself won't cause permanent hair loss.
This is a common myth in beauty centres and hair salons, where after a scan of your scalp, they would find that you have mites on your scalp causing your hair loss problems, and proceed to recommend you hair loss packages without any medical procedures.
However, without treating the exact cause of the condition with proper diagnosis, these treatments wouldn't be effective, especially when they are done on the basis of mites causing your hair loss which isn't a true claim in the first place.
There are many other myths about hair loss that many people have misunderstood. We'll go through some of these common hair loss myths next week, so stay tuned!
Cheers.
---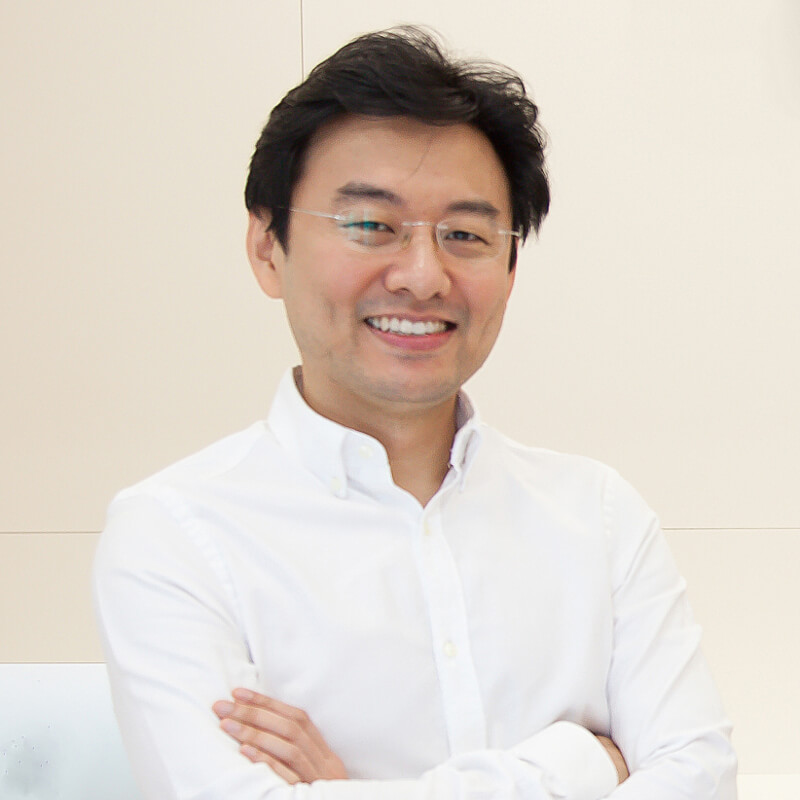 Dr. Peter Ch'ng Wee Beng
Dr Peter Ch'ng is a consultant dermatologist who always put his patients' safety and wellbeing as his top priority. As an esteemed dermatologist and skin specialist, Dr Peter prides himself in being able to treat acne patients of all types, with a 100% acne treatment success record.
If you'd like to ask more about your skin condition or have a discussion with Dr Peter, you can contact us at
+6011-22882299
,
Whatsapp
us, or
book an appointment with Dr Peter here
!
---
Treatments mentioned in this article :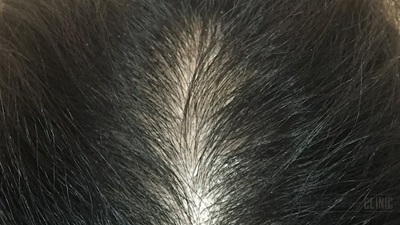 Hair Loss Treatment
Too many or too little hair is not good for your skin or scalp. There are many causes of hair loss or excessive hair growth. Identifying the cause is very important in order to prescribe the accurate treatment for the condition.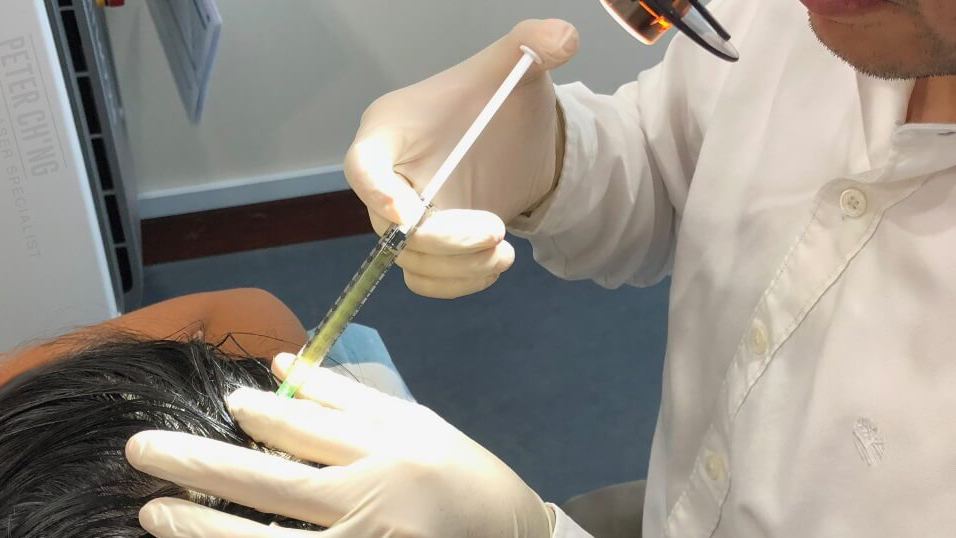 Platelet Rich Plasma (PRP)
Platelet Rich Plasma contains growth factor that is able to stimulate growth of collagen and healthy skin cells. It can be used to rejuvenate the skin, treat scars as well as hair loss.