Patient Mailbox: I Avoid Short Skirts Because Of My Leg Veins
Hi! I'm Dr Loo Keng Shien.
Here's Episode 13 of the Patient Mailbox series, where we collect handpicked questions submitted by patients suffering from various skin diseases and condition, and personally answer them with our best efforts. I hope to help any one of you who face challenges from similar situations.
Editor's Note: Dr Loo Keng Shien is a Consultant Aesthetic Physician with a special interest in Dermatology and Aesthetic Medicine. She has highly certified qualifications from the American Academy of Aesthetic Medicine, American Academy of Anti-aging Medicine, and in Practical Dermatology from Cardiff University. She currently practices at Peter Ch'ng Clinic Skin & Laser Specialist in Desa Park City.
Question:
Hi Dr Loo,
I'm Stella. I have an annual party coming up later this year, and to go with the dress code set during the party I plan to wear a skirt or a dress on that day. However, I have a problem - my legs have very visible blue-ish veins!
I looked it up and asked around, and it seems that I have spider veins on my legs. I have always avoided wearing shorts or skirts because of this, and have almost always wear only long pants and jeans to cover my legs.
Is there any way that I can get rid of these veins on my legs by the end of this year? Will they reappear after that?
Answer:
It is frustrating to have to adjust our fashion and clothing options because of our skin conditions, especially in social events, and with dress codes no less!
Spider veins on the legs is one such situation that often causes trouble for people who want to wear shorts or skirts, but are conscious about the veins on the legs being visible.
What are these spider veins? Why are they here?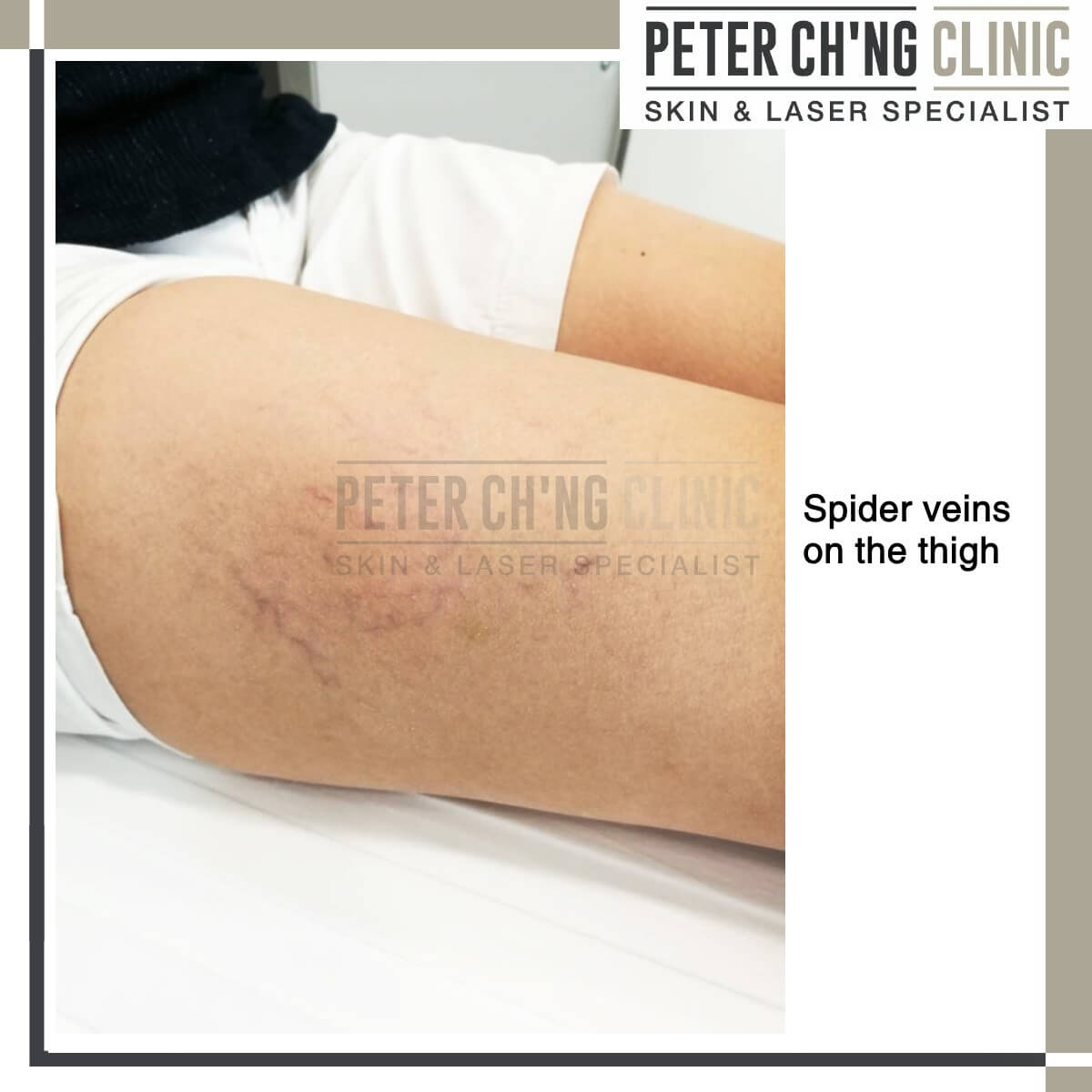 Spider veins, or also called dilated veins, commonly appear at lower extremities of our body. Although they can also appear on our face, neck, or on our body, it is usually found on the legs.
Spider veins appear as red, purple, or green coloured visible veins beneath the skin, and can vary from light coloured veins to very visible dark coloured veins.
One common cause of spider veins is prolonged standing. This is because standing for long periods of time can cause our blood to pool up in the leg veins. This increases the pressure within the veins on the legs. And when this is repeatedly done for long, the veins become enlarged and more visible.
Another cause of spider veins is the increased abdominal pressure applied on the legs due to pregnancy or obesity. The increased weight on the abdomen during pregnancy, or during when you are overweight and have a heavy tummy, can increase the pressure on the leg veins, causing them to enlarge as well.
However, it is important to differentiate spider veins from varicose veins, which is caused by damage at the level of a different valve, the femoral junction valve, and may require surgical intervention for treatment.
*Editor's note: It is best to get a precise diagnosis from the doctor to find out what type of visible veins you have on your skin. To do that, you can always call us at +6011-22882299, WhatsApp us here, or book an appointment with Dr Loo here!
Is there any way that I can get rid of these veins on my legs?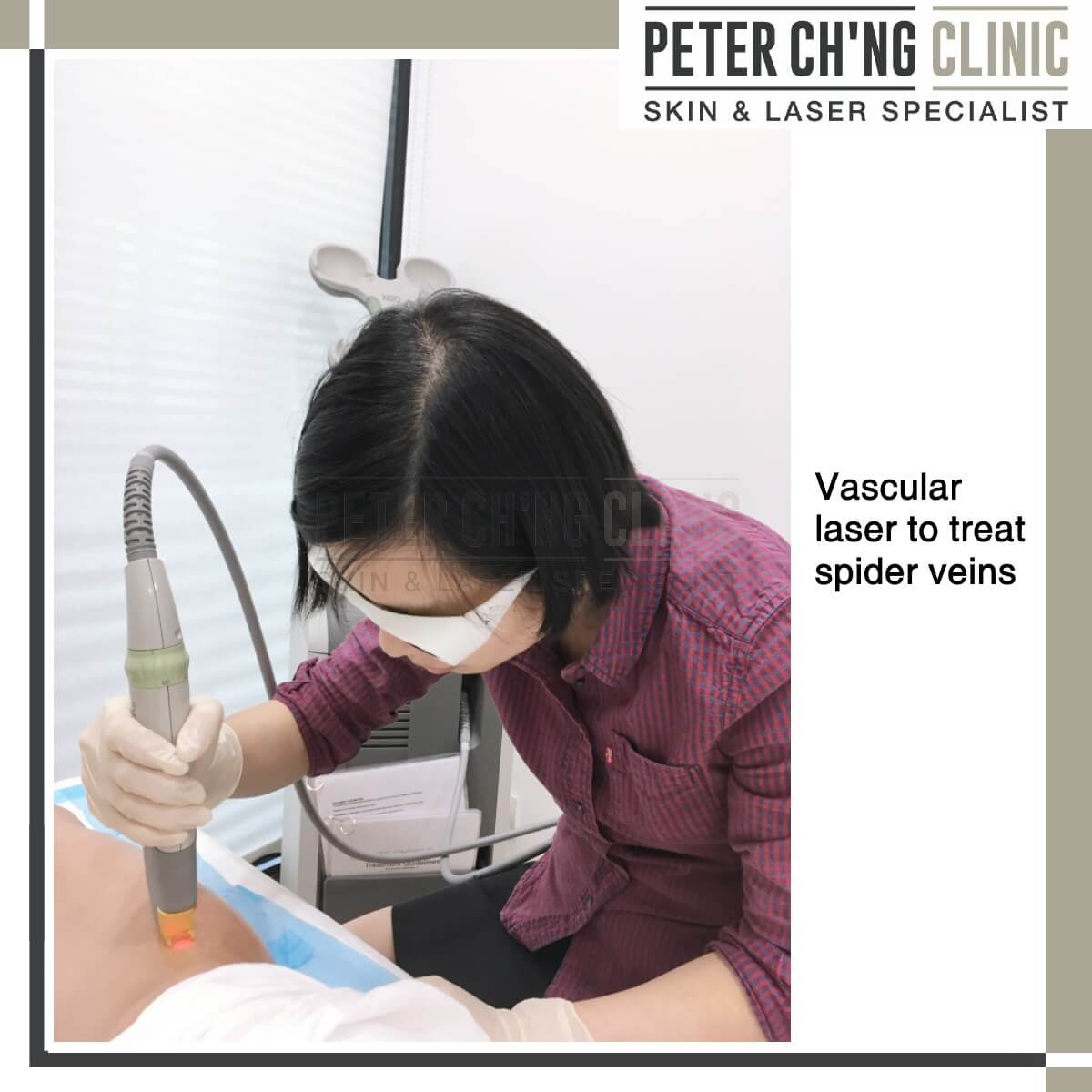 Even though some may recommend topical applications to apply on the site of spider veins, they are actually not helpful in treating these veins.
Lifestyle changes
There are some lifestyle changes that can help you avoid having spider veins on your legs. The simplest and most obvious habitual change would be to avoid prolonged standing.
This decreases the pressure on the veins on your legs, and prevents any pooling of blood at the leg area.
We can also wear compression stockings to prevent pooling of blood at the superficial system of our lower body. You can wear compression stockings throughout the day, especially when walking or standing, but not during sleeping!
Laser treatment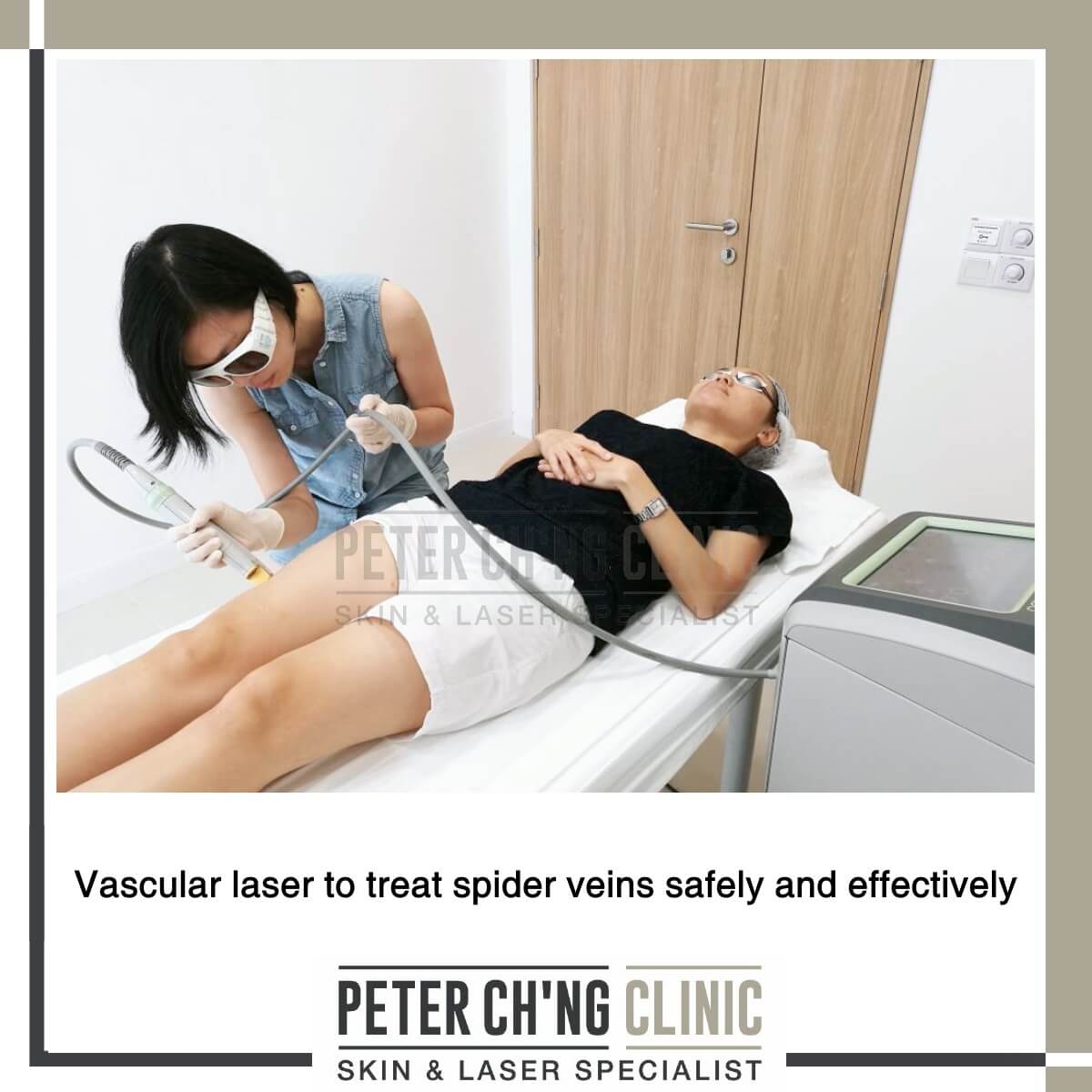 To get rid of spider veins quickly, especially if you have an event coming up or just simply can't bear with them anymore, we can opt for laser treatments.
Dilated veins or spider veins can be treated with vascular lasers. During this treatment process, the laser energy from the vascular laser is absorbed by the hemoglobin in the blood vessels at the affected area. This causes the hemoglobins to heat up the blood vessels that are visible on the skin surface.
Because this procedure involves the heating up of the blood vessels, cooling of the affected area before and after the treatment is important to prevent any pain. At the clinic, we always do our best to keep you comfortable and avoid any pain or discomfort before, during, and after the treatment.
*Editor's note: To know more about laser treatments for your spider veins to finally go away, you can always call us at +6011-22882299, WhatsApp us here, or book an appointment with Dr Loo here!
Will they reappear after that?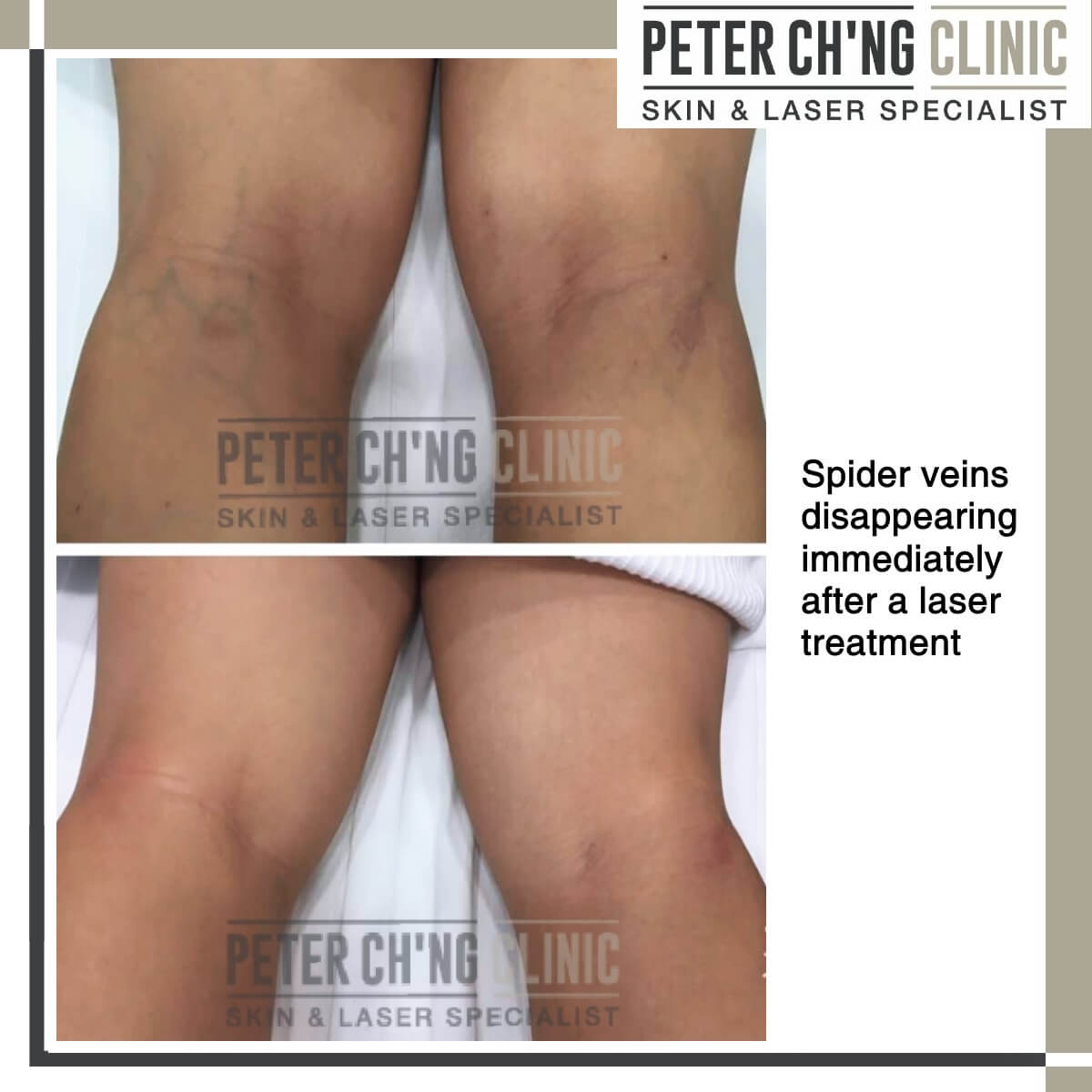 Immediately after the treatment, we can notice visible difference at the skin area where the spider veins are.
However, some patients may experience pain or bruises at the treatment site which may last for 1 to 2 weeks. This is completely normal due to the veins being destroyed during the laser treatment process.
After the treatment, it is also recommended to wear compression stockings for a better result, and also to prevent any recurrence of the blood pooling at the legs and causing spider veins again.
Laser treatments can also be repeated at monthly intervals until the dilated veins become less visible or close up completely. But be assured, they CAN be gotten rid of with the right treatments!
*Editor's note: Get your spider veins condition checked by the doctor, so that you know what to expect from any treatments and how you can get rid of spider veins! You can always call us at +6011-22882299, WhatsApp us here, or book an appointment with Dr Loo here!
Stay tuned next week as we take a closer look at what exactly these spider veins are.
See ya!
---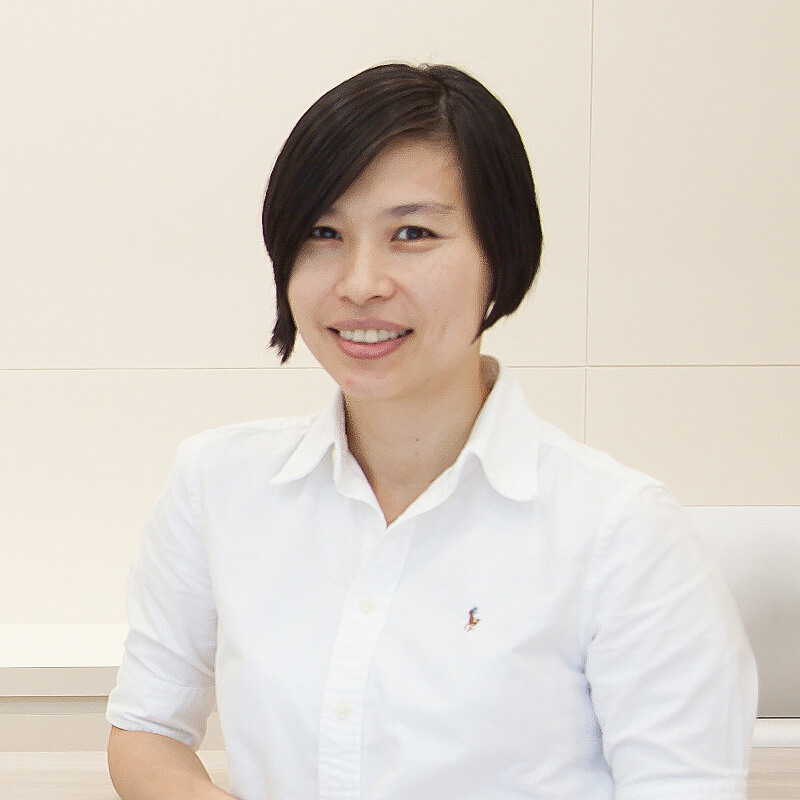 Dr. Loo Keng Shien
Dr Loo Keng Shien is a consultant aesthetic physician who loves to listen to patients' problems and find medical solutions to help in their skin and aesthetics journey. Dr Loo practises evidence-based medicine, and with her experience, she has listened to and helped numerous patients solve their skin problems or achieve their aesthetic expectations safely and effectively.
If you'd like to ask more about your skin condition or have a discussion with Dr Loo, call us at
+6011-22882299
,
Whatsapp
us, or
book an appointment with Dr Loo here
!
---
Treatments mentioned in this article :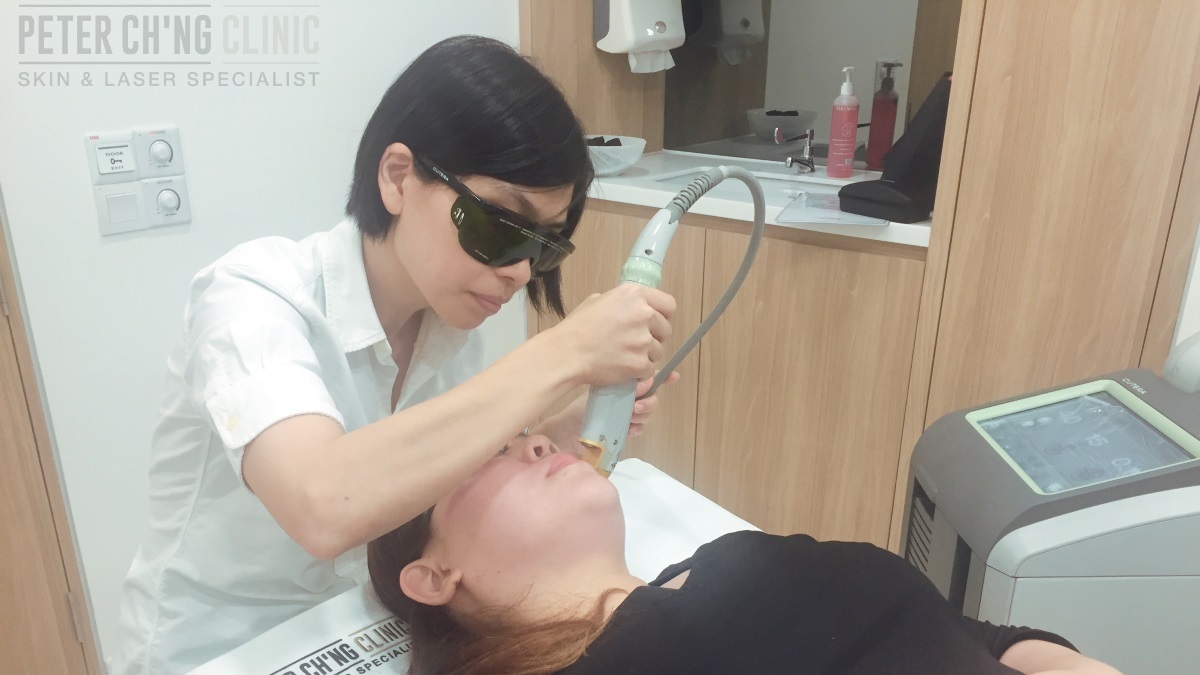 Laser Genesis
Laser genesis is a laser treatment that is non-invasive, that is, no surgery is involved. The heat from the laser penetrates our body and stimulates collagen growth, filling in the collagen loss due to the aging process.