Patient Mailbox: Large Pores on My Face like Orange Peels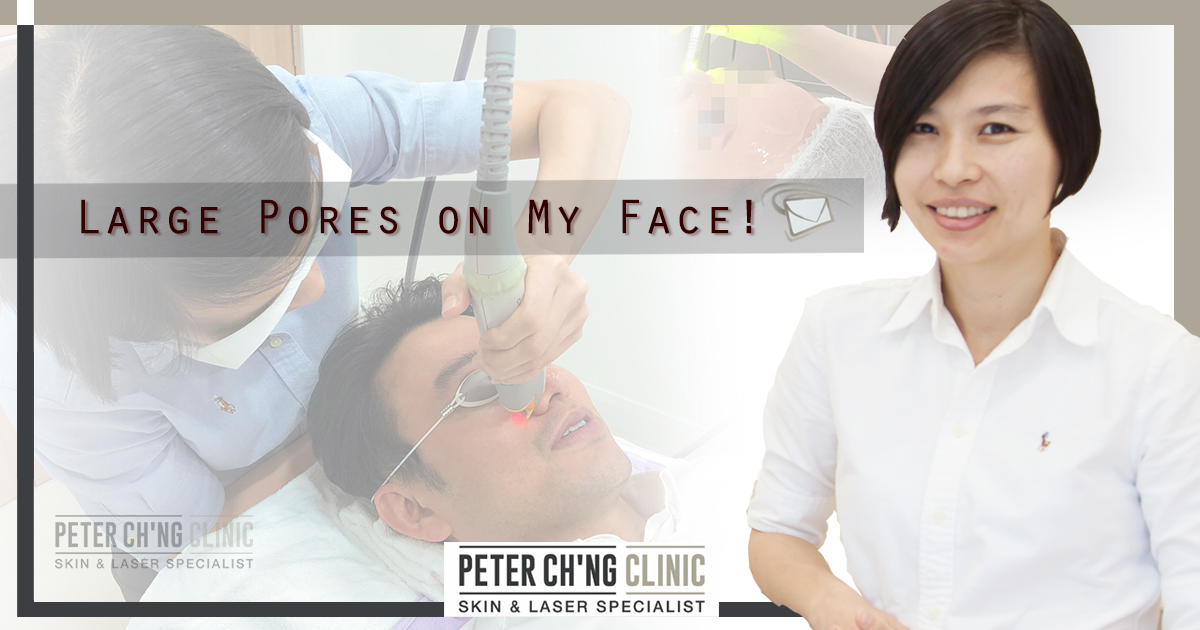 Hi! I'm Dr Loo Keng Shien.
Here's Episode 15 of the Patient Mailbox series, where we collect handpicked questions submitted by patients suffering from various skin diseases and condition, and personally answer them with our best efforts. I hope to help any one of you who face challenges from similar situations.
Editor's Note: Dr Loo Keng Shien is a Consultant Aesthetic Physician with a special interest in Dermatology and Aesthetic Medicine. She has highly certified qualifications from the American Academy of Aesthetic Medicine, American Academy of Anti-aging Medicine, and in Practical Dermatology from Cardiff University. She currently practices at Peter Ch'ng Clinic Skin & Laser Specialist in Desa Park City.
QUESTION:
Hi Dr Loo, I'm Angel, 31 this year. I have had large pores problem on my face for a long time now, possibly since high school. I always cover them up with thick makeup, but I have also read online thatcovering large pores with makeup all the time can actually make them worse. Is this true?
There are also always dirty substances in these pores, like blackheads or sebum which I squeeze out sometimes. Should I continue doing that?
I have tried facial masks and clay products as advertised, and while they do help in minimizing my pores and help me feel better after using them, my large pores return after a few days.
Why do I have such large pores? How can I minimize them to normal-sized pores without them returning again?
ANSWER:
Having large pores is a pretty common problem. All of us have skin pores on our facial skin, but the problem arises when these pores become large and visible.
Why do I have such large pores?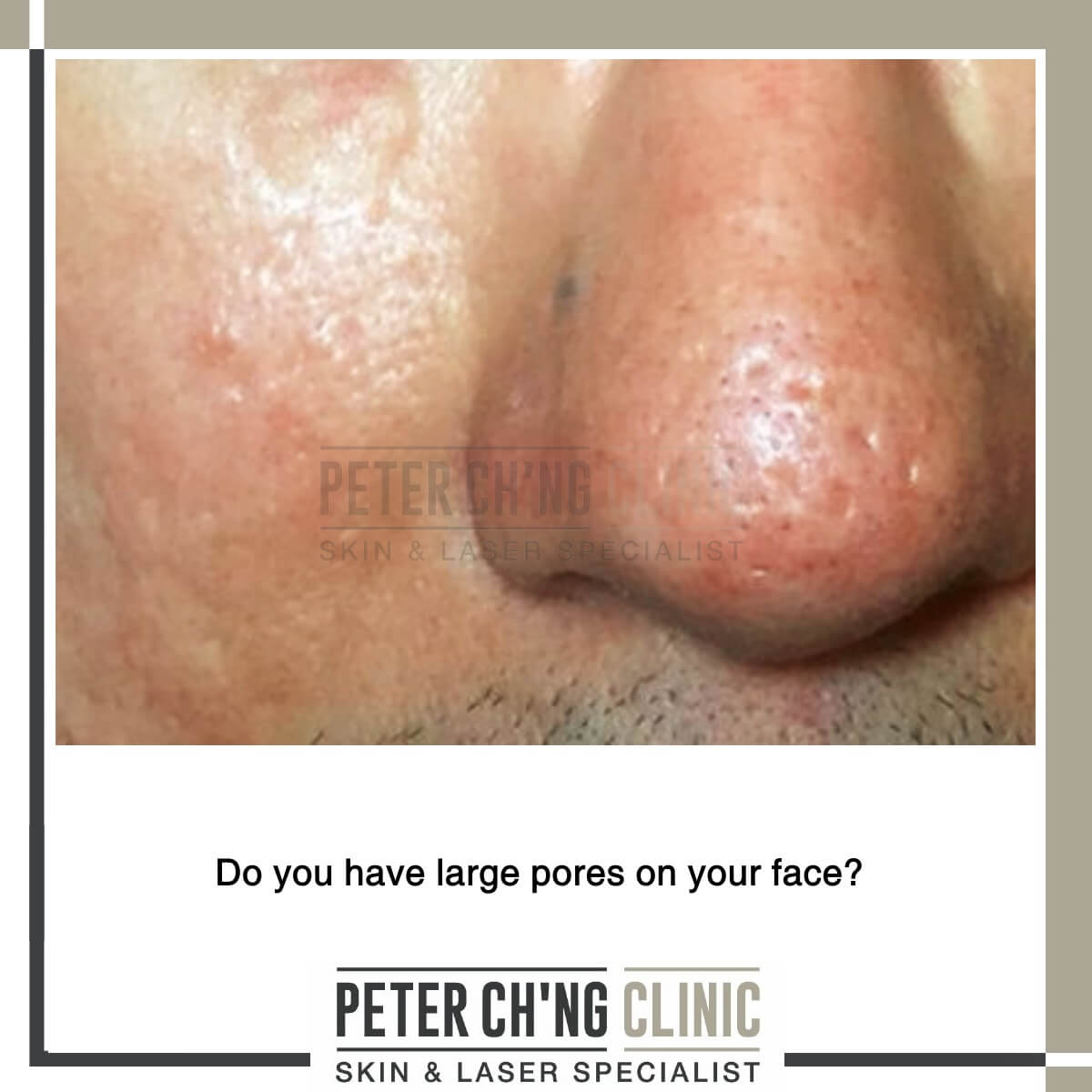 Large pores on our face happen due to a blockage of the pores, either externally (from the outside), or internally (from the inside).
External blockages can be caused be comedogenic products, which are products like cream or makeup that can block the pores. Internal blockages are caused by excessive production of sebum or oil from within our skin.
The main factor of our oily skin is due to the sebaceous glands under our skin, which are like the oil factories under our skin. These glands are the ones that produce the oil, or sebum, that appear on our face.
So when these blockages happen, our pores become enlarged.
There are always dirty substances in these pores, like blackheads or sebum which I squeeze out sometimes. Should I do that?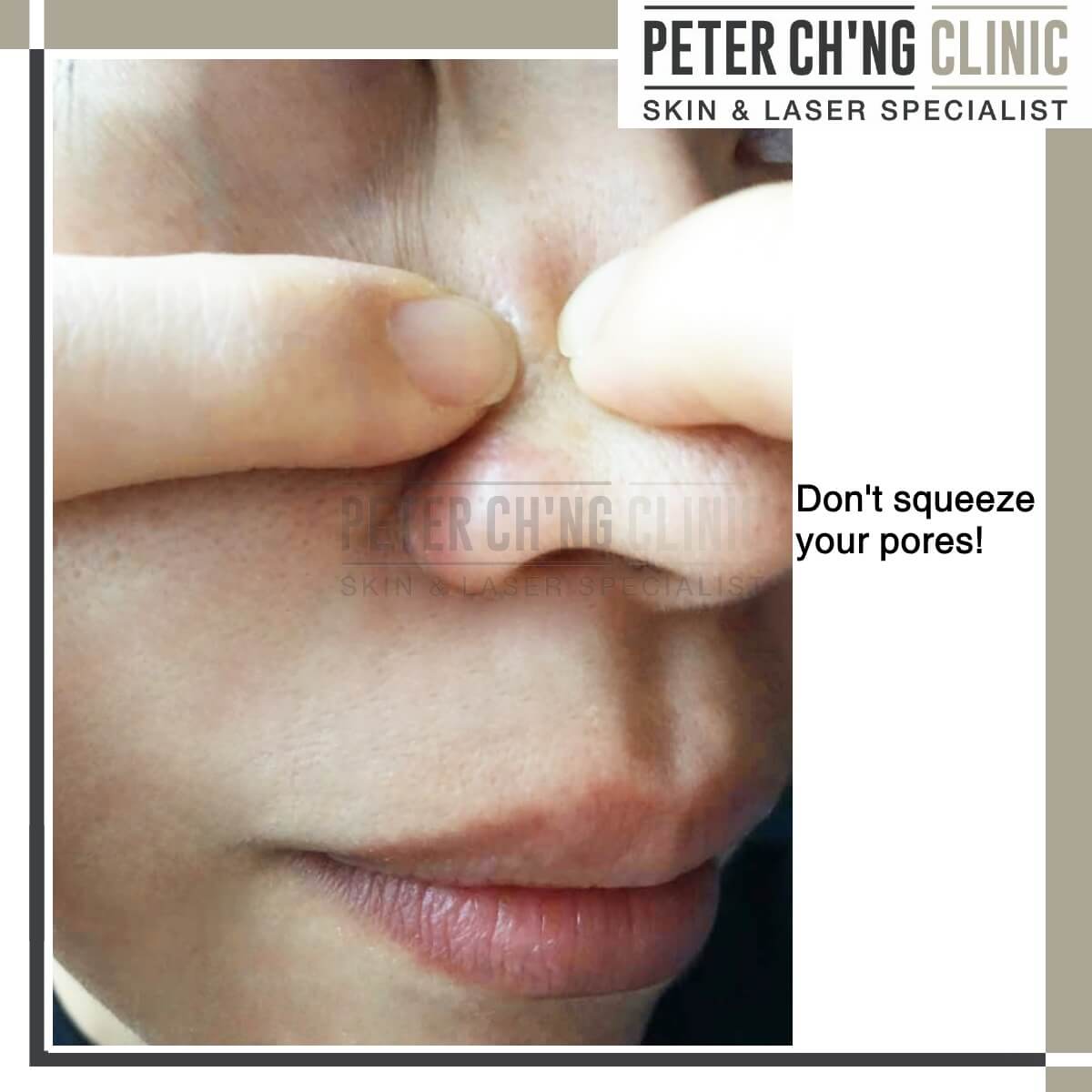 Sebum, or oil, is trapped in our pores. And when the oil gets oxidised along with the pores, they become blackpores, and if not, they turn into white pores. Recurrent black and white pores also cause enlarged pores on our skin.
However, it is NOT ADVISABLE to squeeze these substances out of your pores. This is because you run the risk of injuring the skin on both the outer and inner layer, while doing so, and may potentially lead to inflammation.
Is it true that makeup can make large pores worse?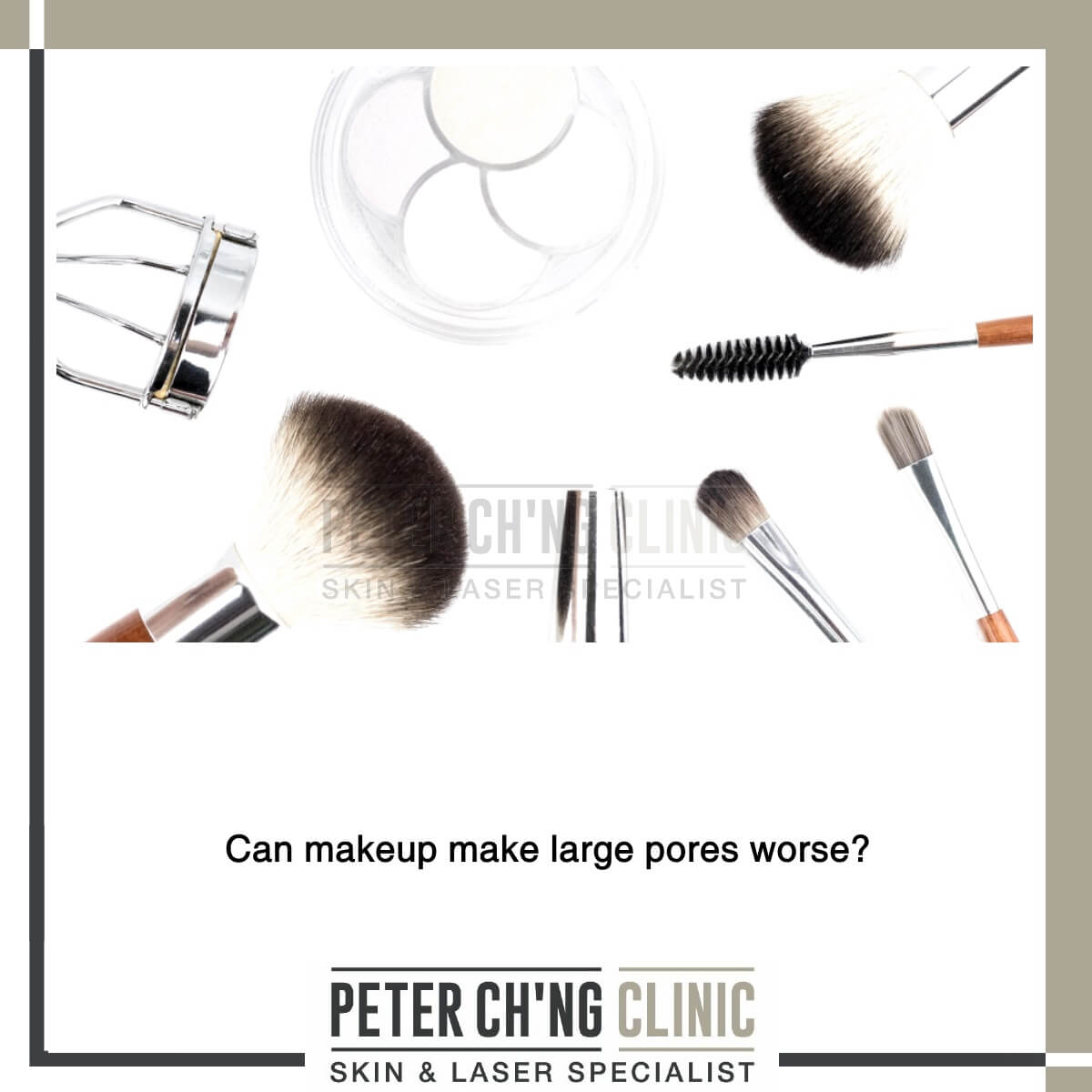 If you have large pores on your face, it is also not encouraged to use excessive make up on the surface of your skin. This is because makeup can cause even more blockages of the pores, worsening the clogging of substances in these enlarged pores.
If you really have to use makeup, make sure you cleanse your face thoroughly after that, immediately after any event in which the makeup was required.
DO NOT LEAVE YOUR MAKEUP ON OVERNIGHT.
How can I minimize large pores to normal sized pores?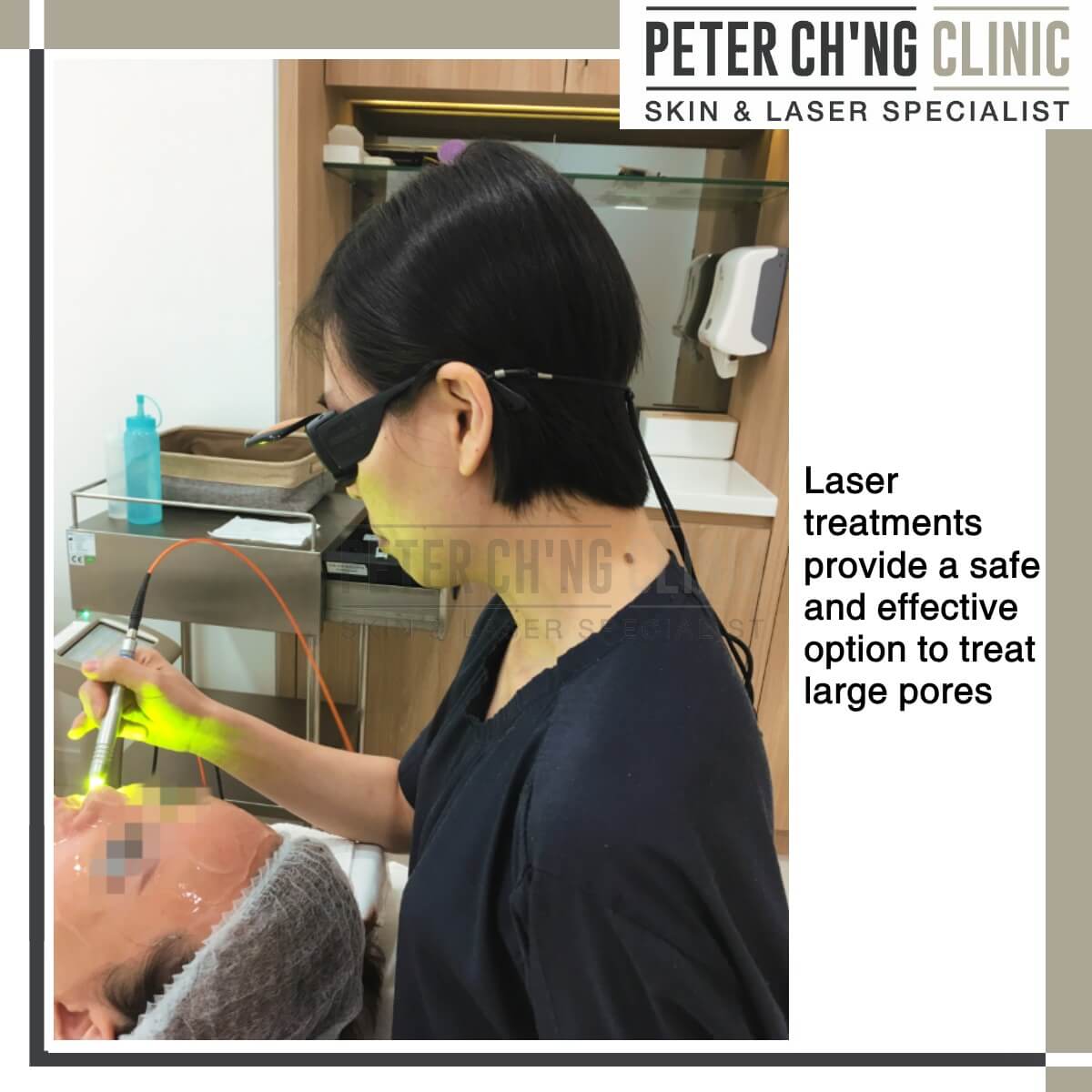 Skincare
Skincare for large pores goes hand in hand with caring for oily skin, which starts from cleansing your facial skin at home.
Choose facial cleanser products that contains salicylic acid. This is because salicylic acid is lipophilic, which means that it is attracted to oil. So during the cleaning process, your cleansing can help to clean and reduce the oil on your skin.
Use non-comedogenic products when choosing cleansers, toners, moisturisers, or makeup, so that you don't block your pores externally.
If you have excessive sebum or oil production on your face together with your large pores, it is best that you refer to a dermatologist, because oral treatments may be needed for sebum control.
It is, however, important to diagnose your skin condition precisely by a verified dermatologist before starting any oral treatments!
Editor's note: Get your large pores condition checked by the doctor, so that you know what to expect from any treatments and how you can get rid of large pores! You can always call us at +6011-22882299, WhatsApp us here, or book an appointment with Dr Loo here!
Laser treatments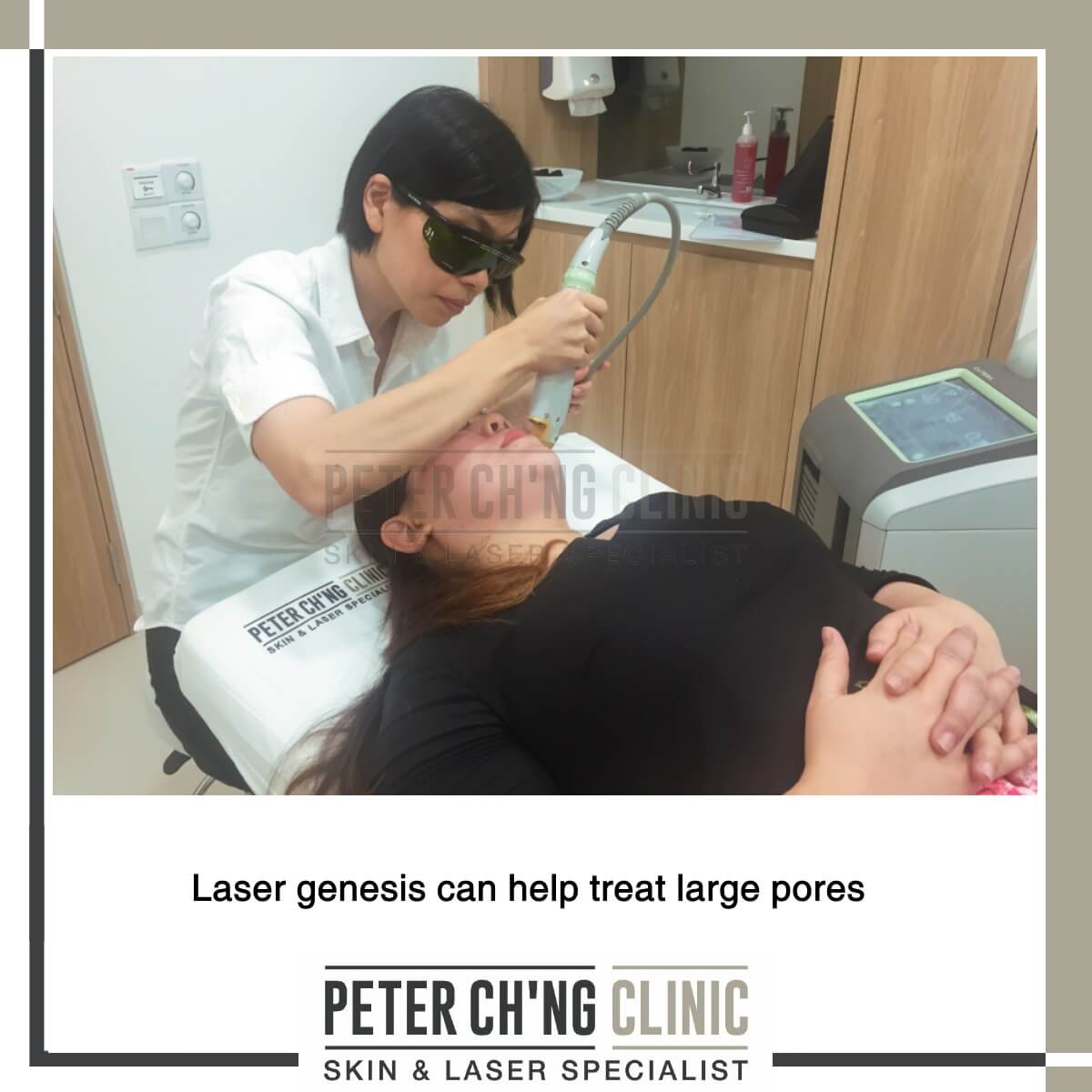 The most effective treatments to minimize large pores involve exfoliating the skin and infusing salicylic acid to remove the oil trapped in the pores.
Laser treatments help in resurfacing our skin. This happens via the laser beams creating micro injuries into our skin (like a destroy-and-rebuild process). These injuries are so small that we can't see with our naked eye.
The laser then assist in the delivery of plasma, and at the same time tightens our skin and stimulates collagen production to give our skin a new, smooth surface following the micro injuries created.
As a result, we can have a smoother complexion without large pores, because the blocked pores have been unclogged, the sebum production has been controlled, and the skin surface has been renewed following the laser treatment.
Will they come back?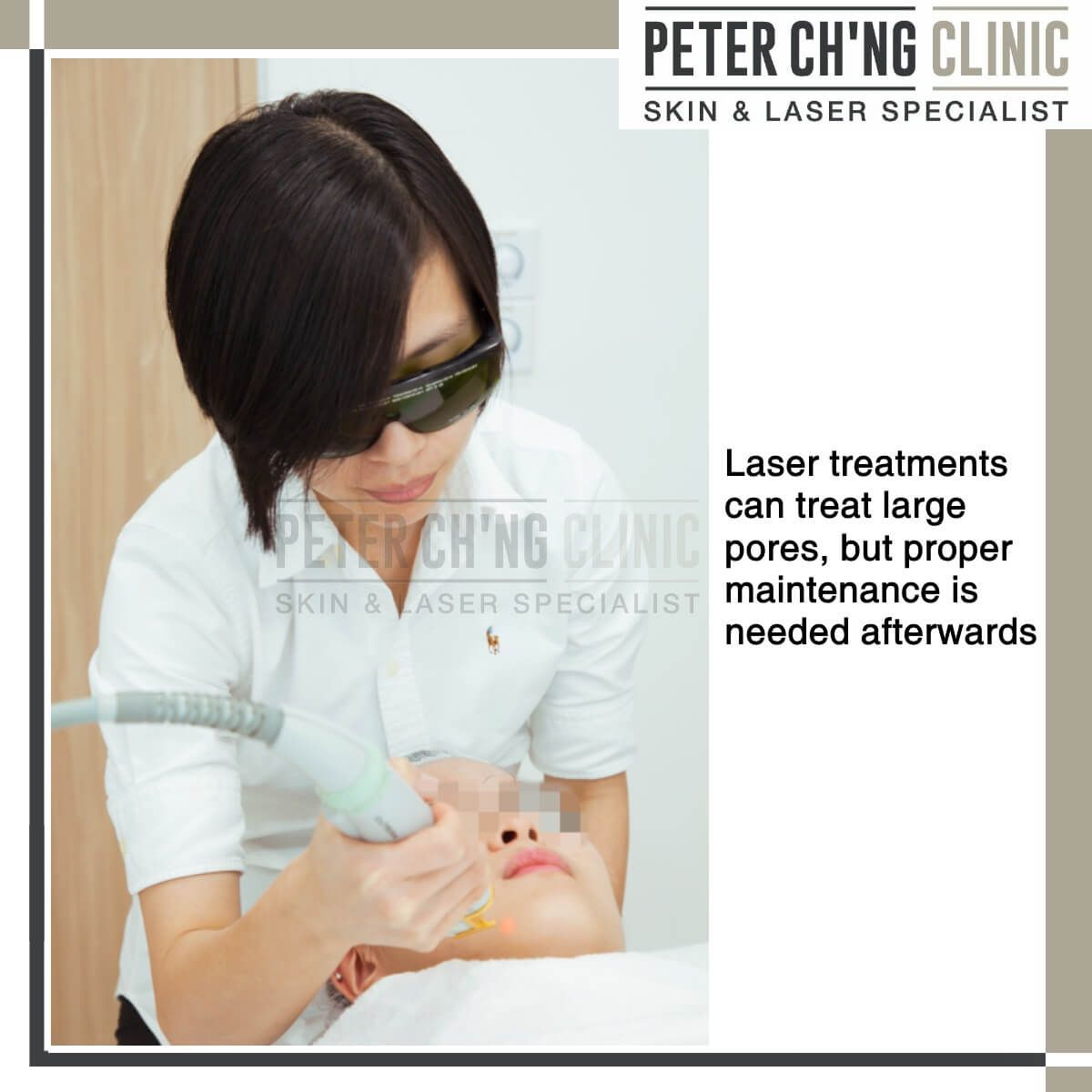 It is entirely possible for the large pores to reappear if our pores are blocked again, either internally or externally.
Therefore, proper maintenance and care after a laser treatment for large pores is needed.
Always practise proper cleansing of your facial skin with good medical grade cleansers, best if they contain salicylic acid or lactic acid, which can control sebum production in our skin, and prevent blocked pores internally.
Continue using non-comedogenic products to also prevent any blockages externally!
So as long as we keep our pores clean and don't block them out, we can prevent these large pores from reappearing!
*Editor's note: For starters, we need to treat our current large pores on our face first. For a safe and effective laser treatment, you can always call us at +6011-22882299, WhatsApp us here, or book an appointment with Dr Loo here!
Stay tuned next week as we take a look at some misconceptions about large pores.
See ya!
---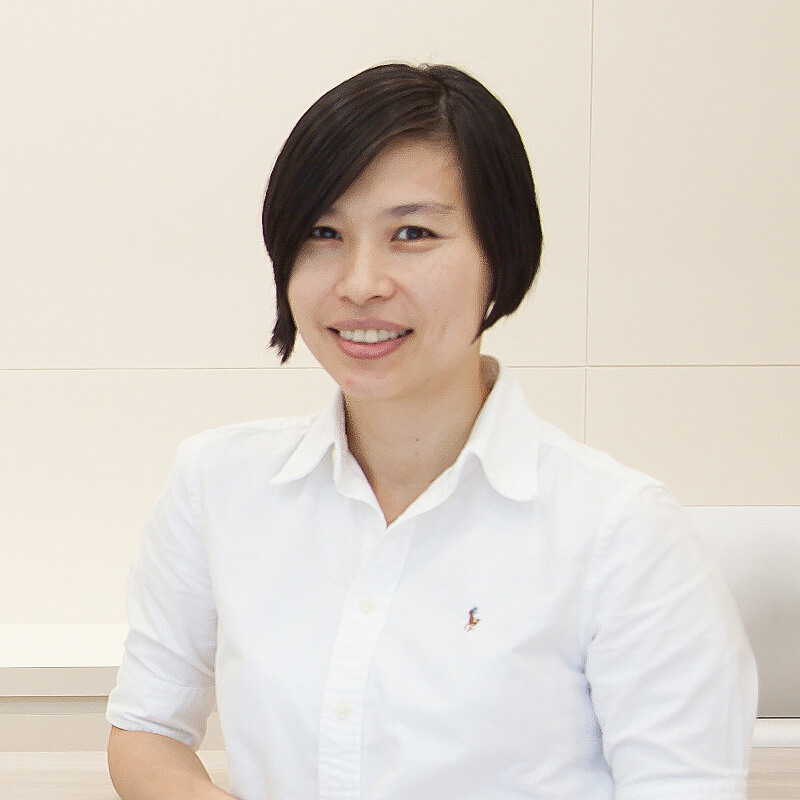 Dr. Loo Keng Shien
Dr Loo Keng Shien is a consultant aesthetic physician who loves to listen to patients' problems and find medical solutions to help in their skin and aesthetics journey. Dr Loo practises evidence-based medicine, and with her experience, she has listened to and helped numerous patients solve their skin problems or achieve their aesthetic expectations safely and effectively.
If you'd like to ask more about your skin condition or have a discussion with Dr Loo, call us at
+6011-22882299
,
Whatsapp
us, or
book an appointment with Dr Loo here
!
---
Treatments mentioned in this article :
Laser Treatments for Acne and Acne Scars
Laser treatments can reduce inflammation, as the laser light is absorbed by the haemoglobin (our red blood cells), and is useful for treating inflammatory acne.