4 Dermatologist-Approved Methods to Manage and Prevent Pigmentation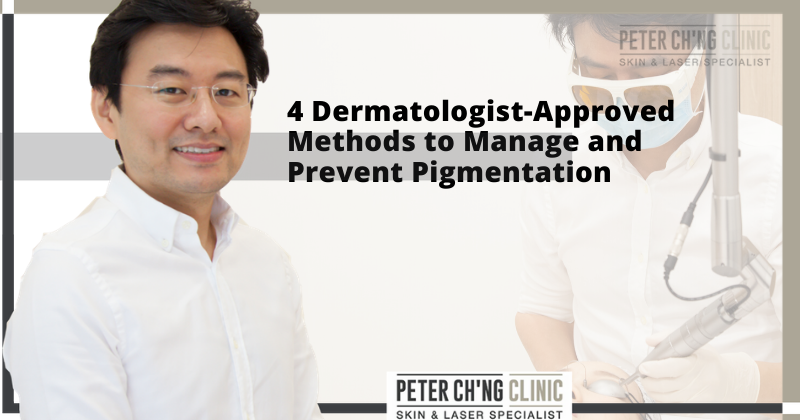 We love Malaysia's all-year-round sun-kissed weather, don't we? But the UV rays from the sun can wreak havoc on our skin. Overexposure to the sun is one of the main causes of pigmentation. Throw in other factors like hormonal changes, acne, and hereditary pigmentary issues and you have all the ingredients needed for stubborn, recurring pigmentation.
To aggravate matters, slacking on our skincare and aesthetic treatment worsens pigmentation. Ever wondered if there are any dermatologist-approved methods on how to manage and prevent pigmentation? Read on to find out more about how to achieve a spotless complexion.
1. Don't Pick Your Face
If you feel tempted to pop that unsightly acne or squeeze that blackhead, hold that thought and spare yourself from scarring.
As we pick and pop spots, the melanocytes in the skin tissue are destroyed. This causes the skin pigments to shatter or "fall" from the epidermal junction into the dermis.
As a result, skin becomes marred with darker patches also known as post-inflammatory hyperpigmentation (PIH). So as tempting as picking the pimple may seem, refrain from doing it.
2. Use Topical Whitening Cream to Manage Pigmentation
To lighten post-inflammatory hyperpigmentation and other pigmentary concerns, start by using topical whitening creams.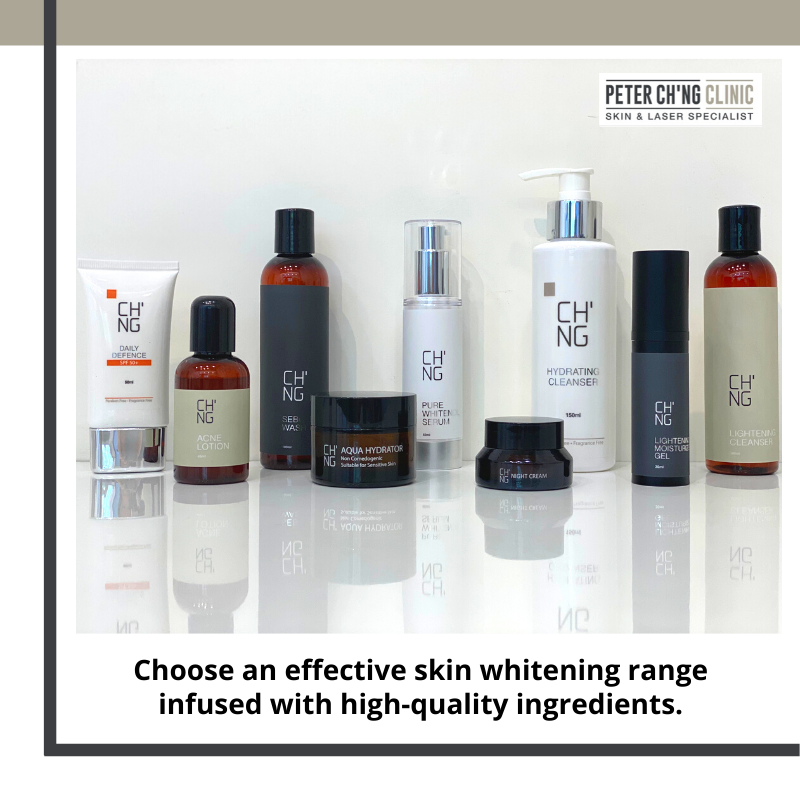 Look out for a skin whitening range that is infused with high-quality ingredients that will deliver whitening benefits effectively and safely.
Our skin lightening range is enriched with active ingredients such as arbutin, tranexamic acid, salicylic acid, and vitamin C to help reduce pigmentation. Let us decipher how each ingredient can help you lighten those dark patches.
Arbutin is a botanical whitening powerhouse that slows down tyrosinase activity. Whenever we are exposed to UV light, our body naturally produces tyrosinase, which controls the production of melanin. Arbutin works by preventing the production of melanin right from the start so that you can halt pigmentation.
Tranexamic acid improves skin tone and works in harmony with vitamin C to lighten melanin gradually.
Vitamin C is a potent antioxidant that helps our skin fight free radicals. Vitamin C also stimulates collagen and elastin production, thus preventing the formation of dark spots.
Finally, salicylic acid penetrates deep into the skin to exfoliate dead skin on the skin surface. As some of the pigments on the surface of the skin, your skin will look brighter once the skin's superficial layer is removed.
Essentially, all the ingredients in our whitening skincare range pack a punch to deliver brighter, clearer skin.
3. Pigment Lasers For Stubborn Pigmentation
If you are plagued by stubborn pigmentation that resists topical whitening creams, then it's time to have a conversation with your dermatologist on more aggressive treatment methods.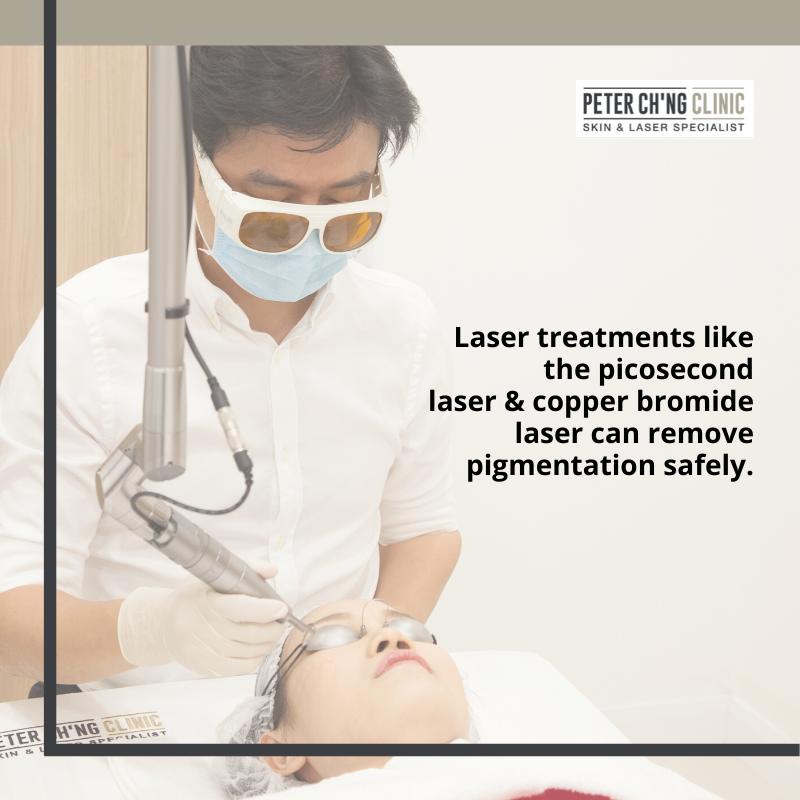 Laser treatments such as picosecond laser and copper bromide laser are effective in removing pigmentation safely.
PicoPlus is an FDA-approved picosecond laser used to remove pigmentation, treat acne, and for overall facial rejuvenation. Picosecond lasers are superior over traditional nanosecond lasers like Q-Switch Lasers in many ways. Firstly, picosecond lasers have a higher photo-acoustic effect. This laser shatters pigmentation so rapidly. It's not surprising that most patients tolerate the treatment very well because it is painless!
Secondly, there is no risk of over-treating the pigmented cells with picosecond lasers. An over treated area looks like white patches. This happens when the pigments are completely wiped out by the nanosecond laser.
To summarize, treatment outcomes with picosecond lasers are more predictable and results are far better.
Copper bromide laser is used to treat hyperpigmentation and age spots. Copper bromide laser works by emitting two lasers at differing wavelengths. Yellow and green wavelengths are delivered with utmost precision, targeting only the melanin under the skin without damaging the skin's outer layer. Besides combating sunspots, copper bromide laser is also used to shrink the sebaceous gland and manage active acne.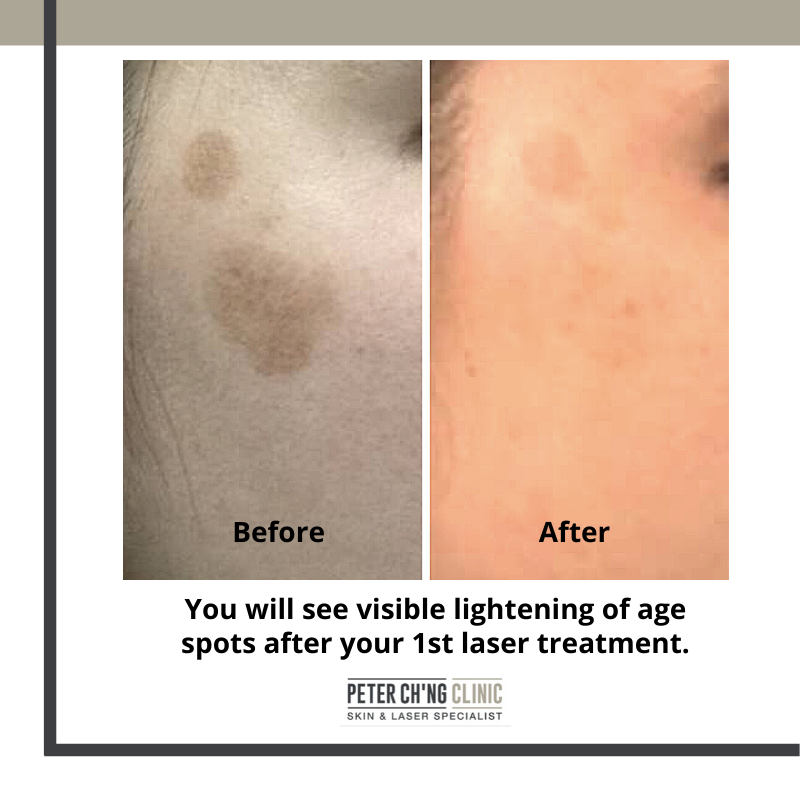 Under the expert care of a certified dermatologist, you can enjoy visible lightening after your first laser treatment.
The laser must be adjusted to an optimum setting, striking a perfect balance between removal efficacy and the safety of our patient's skin.
Hence, it is very important to seek treatment from a dermatologist or skilled medical practitioner. Simply because this will determine your treatment results, and the number of sessions you require.
To put things into perspective, home chefs can probably attest to the following. The laser is merely the "wok" or your barbecue grill. Fire up too intensively and it can cause discoloration. And if you adjust the setting too low, your meal will never be ready. So take your time and choose your medical practitioner carefully.
4. Prevent Future Damage with Sun Protection
The most effective way to prevent future sun-induced discoloration is to apply a broad-spectrum sunscreen. Your sunscreen should have a minimum sun protection factor (SPF) of 30 or greater.
And don't let your guard down on cloudy or cool days. Applying sunblock is still mandatory as the UV rays are present. These rays can cause the pigments to go into overdrive and turn darker without protection.
You can pair your chemical sunscreen block with a physical block for better defense. Wear long-sleeved shirts, put on a broad brim hat, shade your eyes with sunglasses, or use an umbrella during sweltering hot days.
Conclusion
A lot of times, pigmentary concerns need a combination approach to treat it and keep it in remission.
You should adopt a good whitening skincare routine and sun protection for maintenance purposes.
For patients with family-inherited pigmentation issues, pigment lasers will improve skin clarity a notch higher. To know which treatment course is best for you, start with a formal consultation with a medical expert that has vast experience treating pigmentation.
---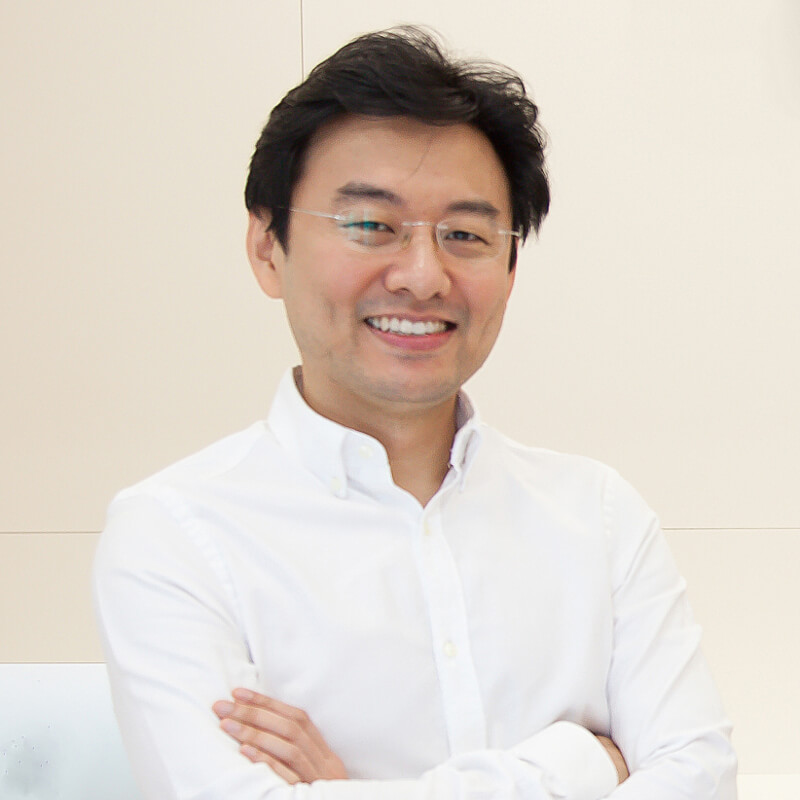 Dr. Peter Ch'ng Wee Beng
Dr Peter Ch'ng is a consultant dermatologist who always put his patients' safety and wellbeing as his top priority. As an esteemed dermatologist and skin specialist, Dr Peter prides himself in being able to treat acne patients of all types, with a 100% acne treatment success record.
If you'd like to ask more about your skin condition or have a discussion with Dr Peter, you can contact us at
+6011-22882299
,
Whatsapp
us, or
book an appointment with Dr Peter here
!
---
Treatments mentioned in this article :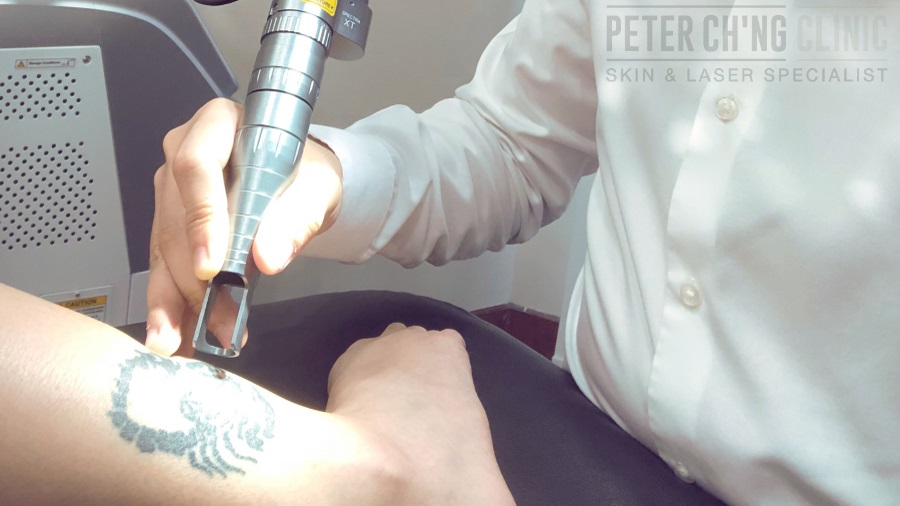 Laser Treatments for Moles, Birthmarks & Tattoo
Moles, birthmarks and tattoos all require treatment at the inner layer of our skin. For these conditions, laser treatments are usually the safest and most effective options for removal.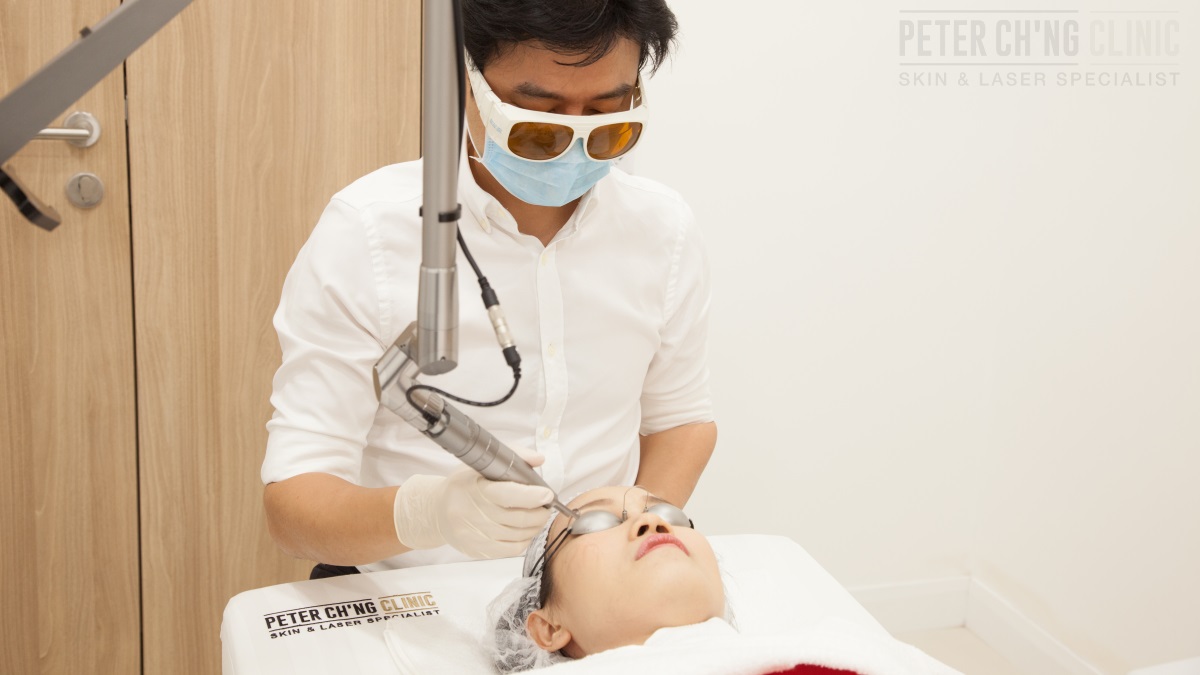 Pigment Laser
Laser treatments are always one of the most effective treatments to get rid of pigmentation on the skin. Pigment lasers can penetrate deep into the skin and remove the pigments beneath the skin to make the spots on the skin surface disappear.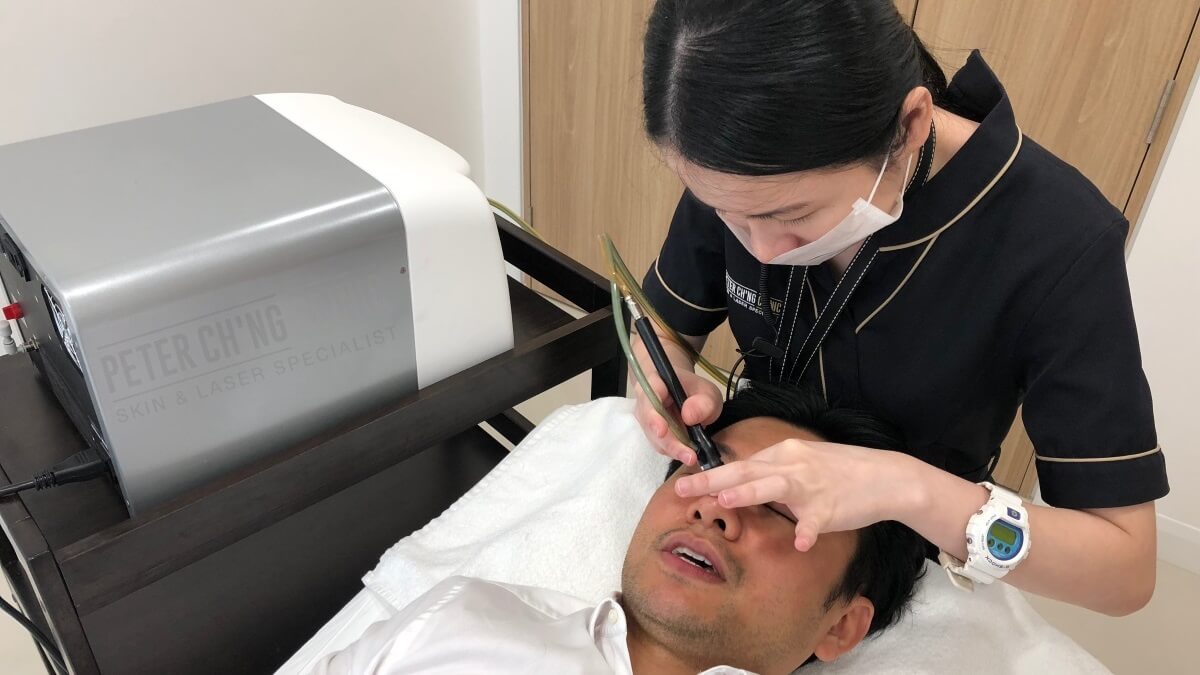 Microdermabrasion/SilkPeel
Microdermabrasion is a treatment that rejuvenates your skin by removing the dead skin on the surface.