Patient Mailbox: How To Manage Pigmentation During Quarantine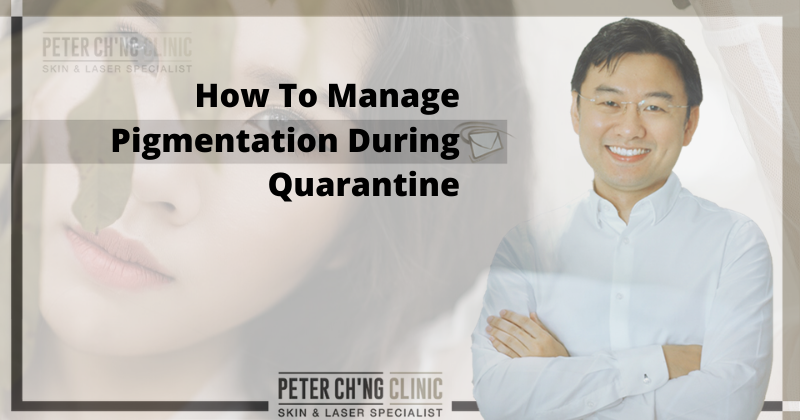 Question
Hi Dr. Peter,
I am prone to pigmentation on my cheeks. To prevent pigmentation spots on my face, I regularly have chemical peels and laser therapy to keep my skin clear and spot-free. With the Enhanced Movement Control Order in place, it is difficult to reach out to my medical practitioner to treat my pigmentation. As such, I'm starting to see pigmentation surfacing on my face.
Is there anything that I can do to manage pigmentation with skincare products during this period? My current range of lightening moisturizers does not seem effective in lightening these sunspots.
Thank you.
Rahimah
Answer
In our fight to break the chain of Covid-19 transmission, we are all somewhat holed-in at home to varying degrees. We are safe from the virus. And at the same time, we discover skin issues caused by prolonged periods of not having aesthetic treatments. Pigmentation is one of the common concerns patients seek treatment for at my practice.
Dark patches on the skin or pigmentation can show up anywhere on our bodies. Pigmentation form in areas where the skin is exposed to the sun. This causes our skin tone to look uneven and patchy.
Pigmentation-prone skin is a chronic skin condition that requires regular treatment. If you are susceptible to pigmentation, you must consistently apply topical creams to maintain a spot-free complexion.
We recognize that you may be anxious to combat the effects of not getting regular aesthetic treatments. Fret not. You can stave off the darkening effects of pigmentation from the comfort of your home with an effective lightening skincare range.
What are pigmentation, hyperpigmentation and melasma?
Pigmentation, hyperpigmentation, and melasma are a group of pigmentary diseases. Hyperpigmentation means an increase in pigment or darkening of the skin. Contrastingly, hypopigmentation means that the skin becomes lighter in colour.
In the big group of hyperpigmentation, we have melasma, lentigines, freckles, Hori's nevus, Nevus of Ota, and Nevus of Ito.
To determine the diagnosis of hyperpigmentation, we then zoom down and examine the distribution of pigments, how deep the pigments are, and pigment colour.
Post-inflammatory hyperpigmentation (PIH) occurs when the melanocytes in the skin tissue have been destroyed causing the pigments to shatter or "fall down" from the epidermal junction into the dermis. As a consequence, skin becomes marred with darker patches.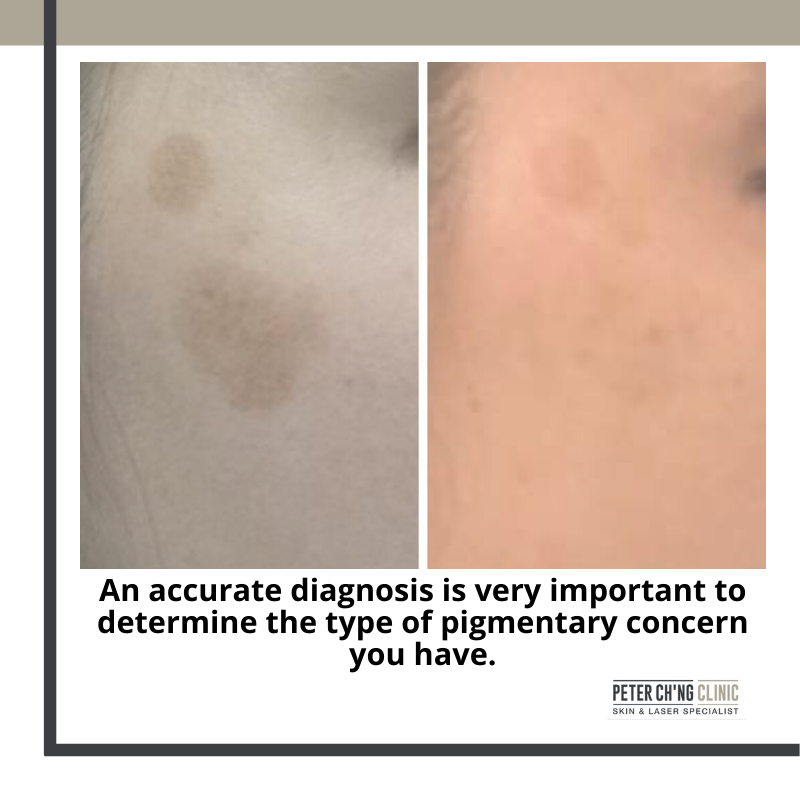 In order to effectively treat all three skin conditions, it is important to pinpoint the correct diagnosis.
How can skin care help manage my pigmentation?
To lighten pigmentation, you should opt for a skincare range with lightening or whitening properties.
Not all lightening products are made equal. So how do you identify an effective and safe skincare brightening range? Look out for products with high quality and safe ingredients.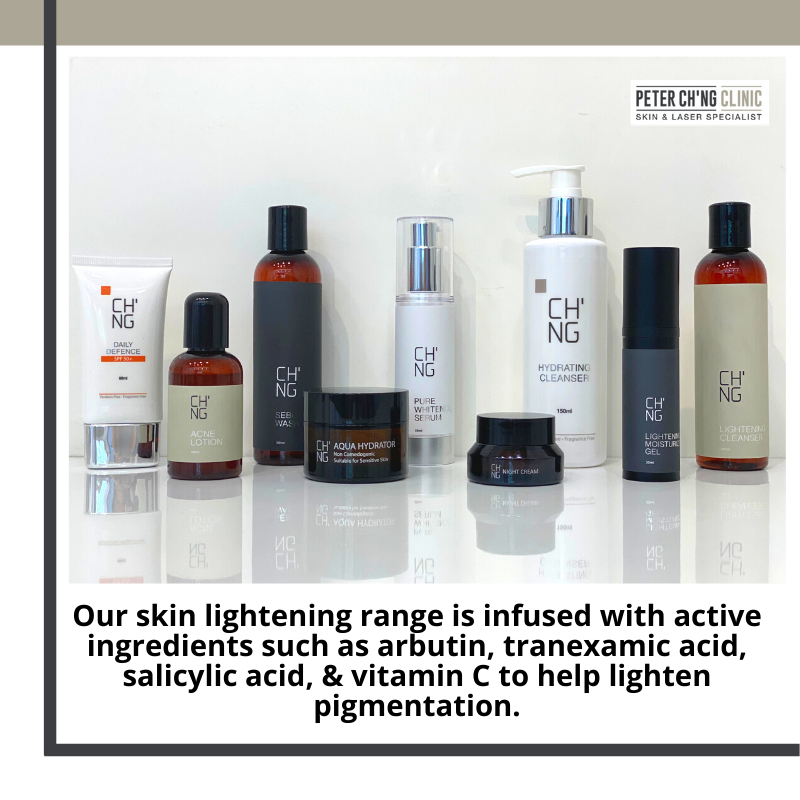 Our skin lightening range is infused with active ingredients such as arbutin, tranexamic acid, salicylic acid, and vitamin C to help lighten pigmentation.
Let us breakdown how each of the ingredients in the range contributes towards maintaining clearer skin.
Arbutin - A Botanical Whitening Powerhouse
Arbutin is a natural substance found in plants such as blueberries, cranberries, pears, and wheat. Arbutin is the safe "cousin" to the popular and synthetic substance, hydroquinone. Unlike hydroquinone that causes adverse effects such as ochronosis, arbutin is a botanical compound that is safe even for sensitive skin.
Arbutin works by slowing the activity of tyrosinase. Tyronise production is triggered when we are exposed to UV light. Arbutin acts by preventing the production of melanin right from the start, therefore minimizing pigmentation.
As a dermatologist, I do not prescribe hydroquinone at all. Simply because the prolonged use of hydroquinone triggers another pigmentary disease known as ochronosis. Ochronosis appears as bluish-black discoloration on the skin.
Tranexamic acid – Underdog Brightening Agent
Tranexamic acid is a humble medication and is in fact, a lesser-known brightening powerhouse.
Tranexamic acid was originally used to stop postpartum bleeding in the field of obstetrics and gynecology. It was accidentally discovered that patients given an IV infusion of tranexamic benefited from visibly improved skin discoloration.
Tranexamic acid works even better when paired with other skin-repairing saviors such as vitamin C. That is why our skin lightening range is manufactured to include these wholesome ingredients. Both vitamin C and tranexamic acid work in harmony to lighten melanin gradually.
Vitamin C
Vitamin C is a potent antioxidant that helps your skin fight free radicals. Vitamin C aids cell regeneration and neutralizes the negative effects of free radicals that our body produces.
When Vitamin C is infused into skincare products, it helps to stimulate collagen and elastin production.
Vitamin C also helps to inhibit melanin production. With continued use of topical vitamin C in skin care products, you can prevent the formation of dark spots. A good skincare range should help you achieve this, especially during quarantine when we cannot treat pigmentation with lasers or chemical peels.
On the other hand, research has proven that vitamin C injections do not help to improve one's cosmetic appearance. Intravenous Vitamin C or IV Vitamin C is not proven to be effective. Plus, it can cause kidney damage in high doses. This why IV Vitamin C is banned by our Ministry of Health.
So don't be influenced by social media testimonials or beauty salon operators who proclaim that vitamin C infusions can make your skin look whiter, younger, and wrinkle-free. Even if a registered doctor offers you this service, you should be alarmed because this is a banned procedure. Moreover, any kind of vitamin C injection for cosmetic use is strictly prohibited in Malaysia.
Salicylic Acid
Salicylic acid is a type of acid widely used in whitening and anti-acne skincare products. Belonging to a class of beta hydroxyl acid, salicylic acid is more oil-soluble and penetrates deeper into the skin.
Salicylic acid is an excellent exfoliator to remove the dead skin on the surface of the skin. Some of the pigments are at this superficial layer. Once you remove the superficial layer of the skin, your skin will look naturally lighter.
How long will it take to see results?
The key to achieving successful brightening is consistency. Realistically, you should not expect a magical transformation in one week. Most importantly, do not give up on your brightening products prematurely!
Topical creams work best and gently over time. So give your skin at least 3-4 months to see a noticeable change as your skin completes its renewal process over several cycles.
As always, diligently apply a broad-spectrum sunscreen as long as you are exposed to the sun. You must supplement your skincare regime by wearing sun protection of at least SPF 30 daily.
Avoid prolonged sun exposure and try to stay indoors when the sun is most intense, between 11 am to 4 pm. You can also opt for a "physical block" by wearing a hat, putting on long sleeve shirts, or carrying an umbrella.
What harmful ingredients are often found in whitening products? Could you share whitening ingredients that I should avoid?
Unscrupulous manufacturers tend to use strong ingredients that disrupt the harmony and pH of the skin, just to deliver their whitening promise. These products are mostly illegal and were never approved by the Ministry of Health.
And betamethasone valerate and clobetasol propionate are two types of stronger topical steroids you should avoid in whitening creams. Let's first talk about betamethasone valerate, a class of potent topical steroid.
Betamethasone valerate thins the skin, making it prone to irritation, acne, and changes skin tone. Worst of all, the thinner skin puts the body at a higher risk of absorbing harmful elements of the banned substance.
Clobetasol propionate is a super-potent topical steroid. While it will lighten the skin, I consider it as a "nuclear bomb", just waiting to explode. Yes, your skin will clear by skincare products with this ingredient. But the long term side effect is permanent thinning of the skin.
It disturbs me because I've treated so many patients who became dependent on skincare with clobetasol propionate as it gave them a false sense of security. In fact, pigmentation will rebound once they stop using such skincare products. This becomes a vicious cycle of continuous usage. Only when the patient's sensitive and thinned-out skin becomes too unbearable, their last resort is to stop using it. Sadly, the damage of years of the wrong usage has been done.
Generally, the skin on our face is very thin, unlike our palms and soles. No doubt potent topical steroids help to lighten pigments. But it is never used to treat hyperpigmentation. Simply because long term use of potent topical steroids on the face causes permanent thinning of the skin.
Hydroquinone is another ingredient that poses risk to skin health. Prolonged use of hydroquinone causes skin redness, and skin becomes hypersensitive. Aggressive use of hydroquinone prevents healthy formation pigmentation, and this reduces our skin's ability to protect itself against harmful UV rays. As a result, this increases one's risk of skin cancer.
Unscrupulous manufacturers caught peddling hazardous skincare products continue to get away with it by setting up a new company. They then repackage the detrimental product under a different name, but with the same ingredients. Therefore, it is very important that you only purchase skincare products from your dermatologist's office or reputable manufacturers.
Mercury is another ingredient you should avoid at all costs. Mercury is a "heavy metal" and is prohibited in cosmetics products because it is harmful to our health. It can be absorbed into our body, damaging the kidneys and nervous system.
Conclusion
Should you wish to enquire more about our skincare products, please call or WhatsApp us at 011-2288 2299. Alternatively, drop us an email at info@peterchngskinspecialist.com. Remember, we are always here for you, while you stay safe and healthy.
---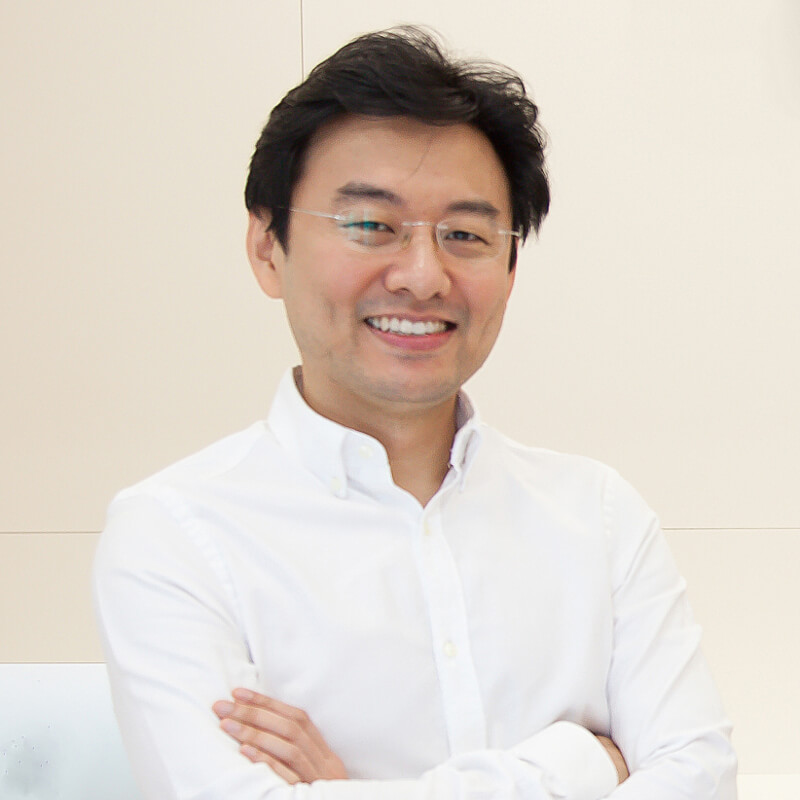 Dr. Peter Ch'ng Wee Beng
Dr Peter Ch'ng is a consultant dermatologist who always put his patients' safety and wellbeing as his top priority. As an esteemed dermatologist and skin specialist, Dr Peter prides himself in being able to treat acne patients of all types, with a 100% acne treatment success record.
If you'd like to ask more about your skin condition or have a discussion with Dr Peter, you can contact us at
+6011-22882299
,
Whatsapp
us, or
book an appointment with Dr Peter here
!
---
Treatments mentioned in this article :