Patient Mailbox: Hair Loss and Psoriasis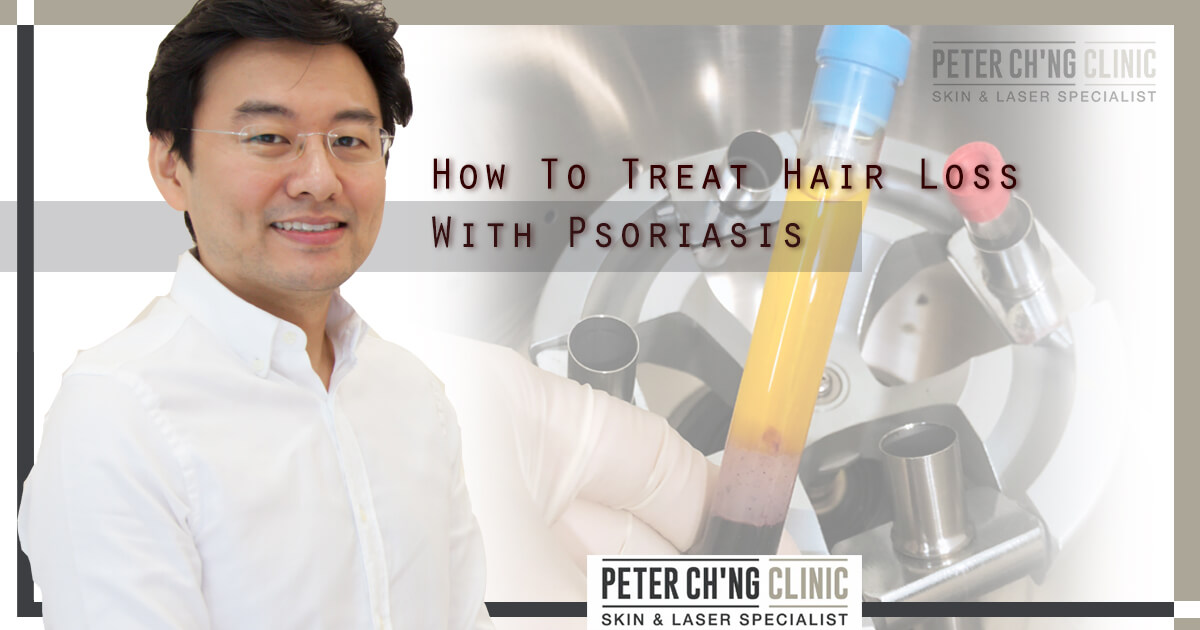 Hi! I'm Dr. Peter.
Here's Episode 30 of the Patient Mailbox series, where we collect handpicked questions submitted by patients suffering from various skin diseases and conditions, and personally answer them with our best efforts. I hope to help any one of you who faces challenges from similar situations.
Editor's Note: Dr. Peter Ch'ng is a Consultant Dermatologist actively involved in numerous talks and workshops. He is also an esteemed contributor to dermatology research and publication internationally. He practices at both Peter Ch'ng Clinic Skin & Laser Specialist in Desa Park City and Gleneagles Hospital Kuala Lumpur.
Question:
Hi Dr. Peter,
I'm Jason, 33, male. I manage to live with psoriasis for many years. The red and white patches usually only appear around my elbows and a little on my knees.
Recently, my hairline is receding fast and I'm losing a lot of my hair. I also found dandruff-like silvery sheen and dry scales on my scalp, I suspected that I have psoriasis around my scalp, but it is not really itchy if compared to those on my elbows. Could hair loss caused by psoriasis?
I've also heard people saying that stem cell shampoo care can be used for hair loss. Can stem cell scalp care shampoo help in hair regrowth?
Answer:
Ever since the 2012 Nobel Prize in Physiology or Medicine was awarded to John B. Gurdon and Shinya Yamanaka for the discovery on mature cells being able to be reprogrammed to become pluripotent, many marketers smelled the opportunity in promoting their products with the term "stem cells". The "stem cells" wording on shampoo bottles is really just another marketing trend.
In reality, getting cells absorbed into the root of our hairs' follicles in such a short period of time is impossible. Also, a tightly controlled storage bank environment is required in keeping harvested stem cells viable for medical use. The stem cells cannot possibly stay viable for long if kept in normal shampoo bottles under room temperature.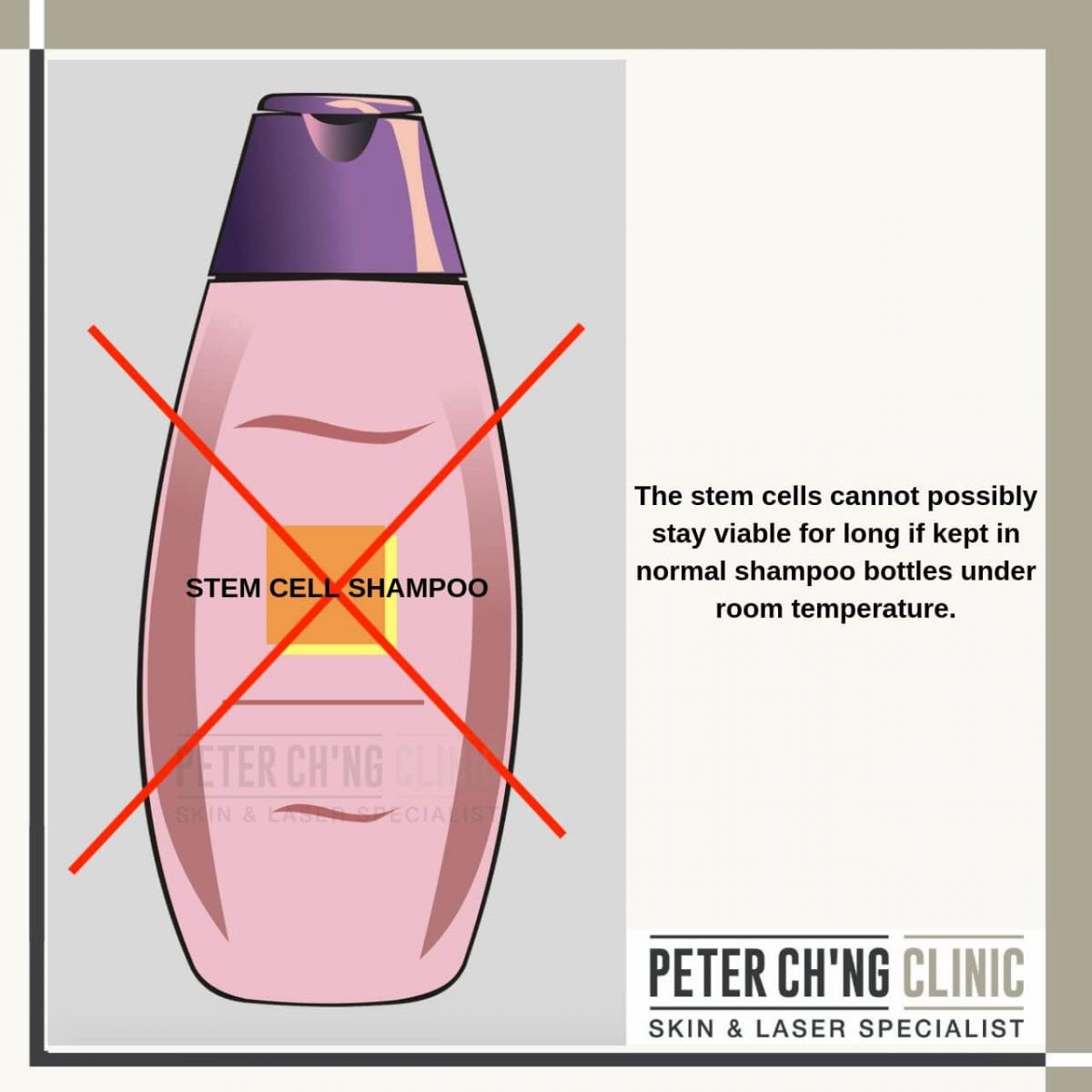 Now, let's get back to your first questions.
How to know if there is any underlying sickness causing hair loss?
The short answer is to get the right diagnosis.
First we have to examine your scalp under a dermatoscope or a trichoscope to determine the problem and rule out certain conditions. Then we need to ask the proper history regarding your hair loss including family history and medical history. Such as, do you experience a sudden weight loss without exercising?
Only then we start to find the underlying cause of your hair loss. Is it a classical male or female pattern hair loss condition? Is it due to an injury or trauma? Is it due to diseases like lupus, iron deficiency anemia, or thyroid disease? Sometimes, we also need blood test to accurately diagnose the problem if necessary.
However, it is not easy for a patient to tell if their hair loss is caused by another disease. Once a patient came to me and claimed to have psoriasis on the scalp, which he believed had caused him to experience hair loss for years. He was frustrated because he was unable to find a way to control his condition. After a thorough diagnosis, however, it turned out that it wasn't actually psoriasis, but rather an inflammatory condition due to head lice infestation. Once the infestation was properly managed, his condition improved significantly.
This is why the best way to find out is always to see a qualified dermatologist for a diagnosis.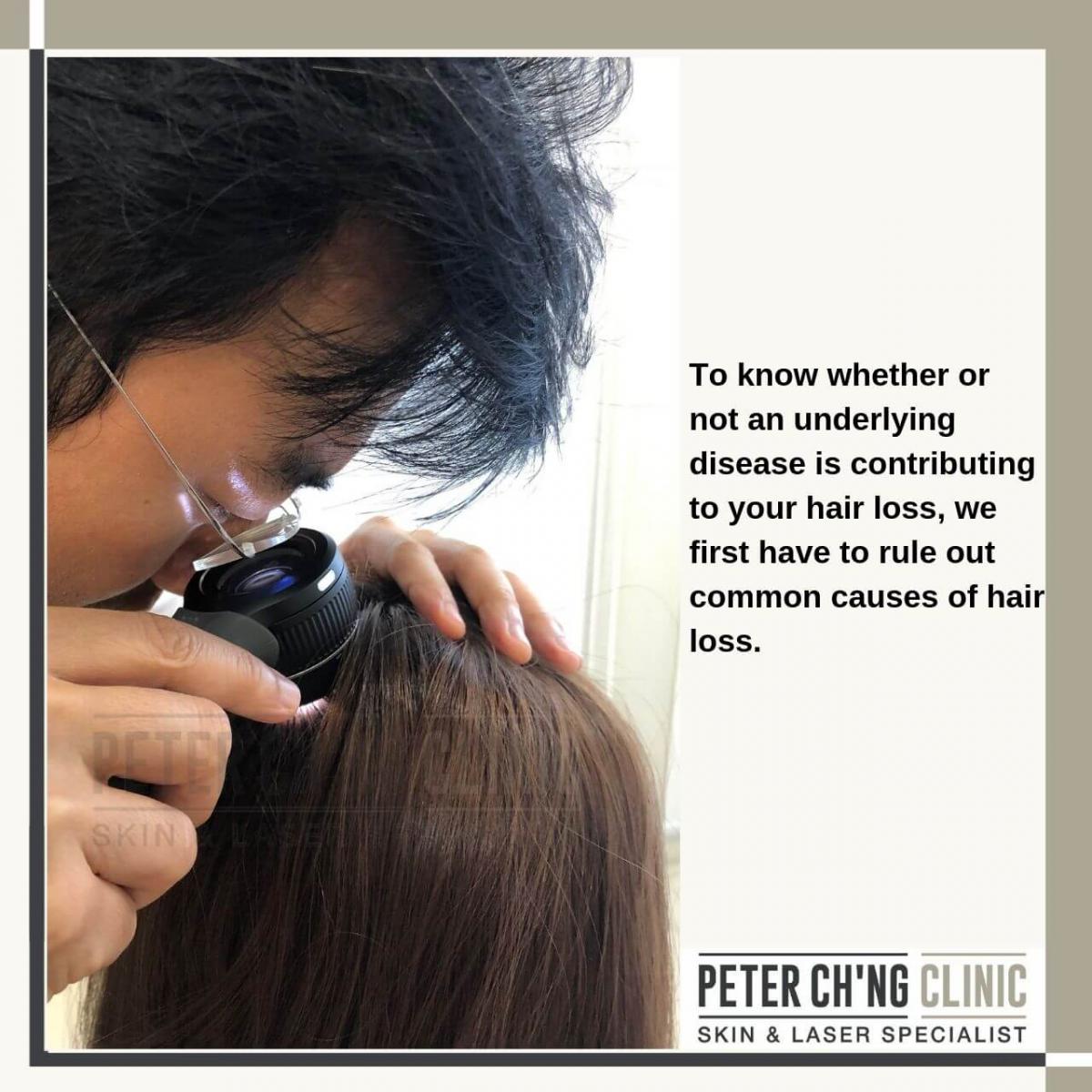 Now, let's take a closer look at the relationship between hair loss and psoriasis.
What are the possible treatments for hair loss with psoriasis?
Currently, evidence-based studies have shown that psoriasis can cause hair loss. Nevertheless, hair loss caused by psoriasis is usually reversible once the inflammatory response has been managed.
The best way to treat hair loss caused by any disease (not just psoriasis) is to treat or manage the underlying disease. So far, there's still no complete cure for psoriasis. However treatments using topical steroids, salicylic acid or an appropriate shampoo are able to remove the scales and manage the inflammation very well.
It is important to treat psoriasis early since prolonged poor management of the disease could cause permanent hair loss when the inflammatory response becomes chronic.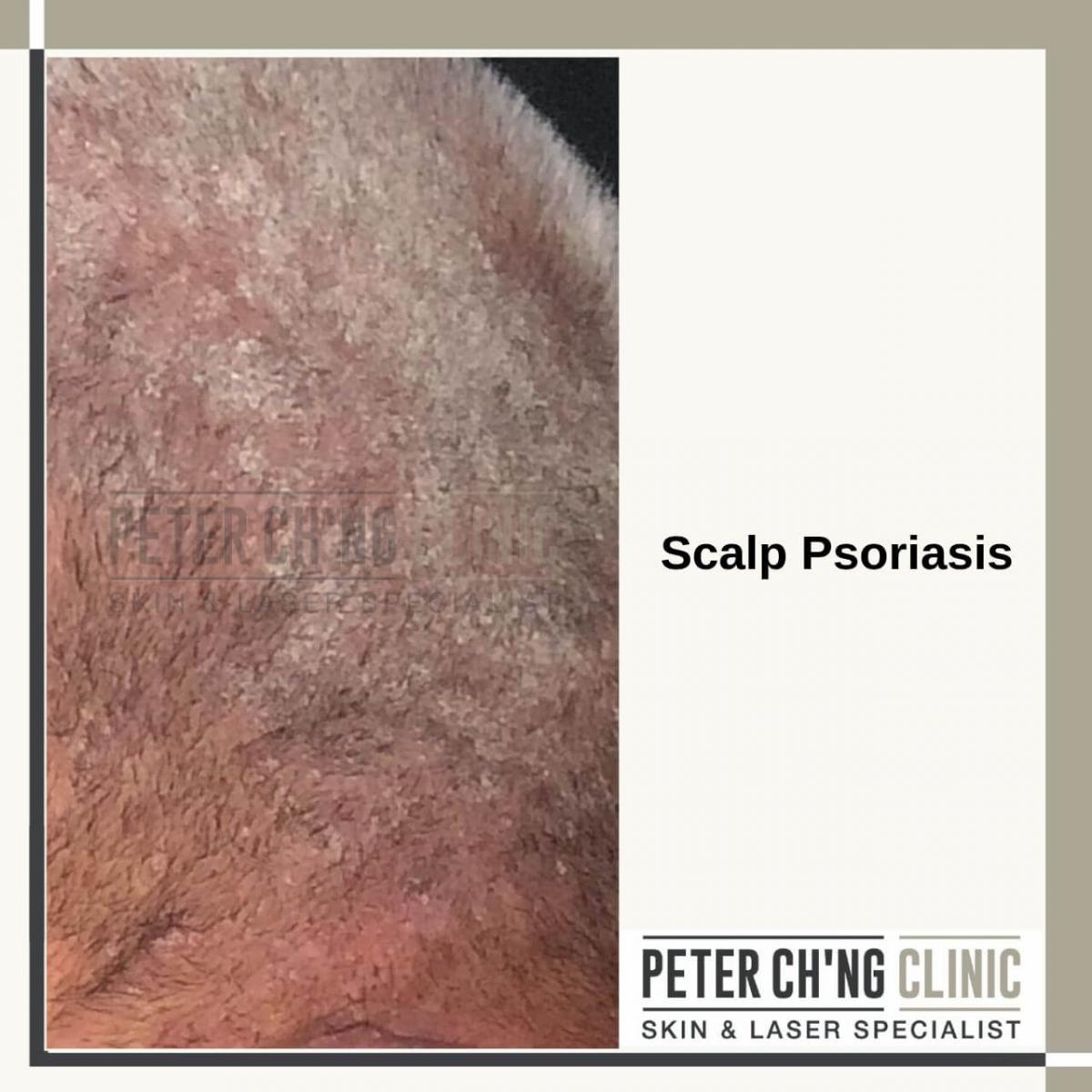 All treatments for hair loss go back to the diagnosis of the condition. Hair loss can also be treated by prescribed topical medications like minoxidil or a specific shampoo that contains copper to help with hair growth. Other than that, Platelet Rich Plasma (PRP) treatment can also help in hair growth.
We've previously discussed the treatments available for hair loss in detail here: Hair Loss Treatment
Beauty centres and hair treatment centres often focus on treating the symptoms. Without a proper diagnosis, however, the actual cause of your condition may never be revealed, and the most these effective treatments for your specific conditions may never be identified. It is therefore very important that you get help not only on treating your symptoms, but also on finding out the root cause of your symptoms so that the underlying cause can be properly treated, too.
Stay tuned as next week we will be looking into some ways to reduce hair loss that you have to know!
Cheers.
---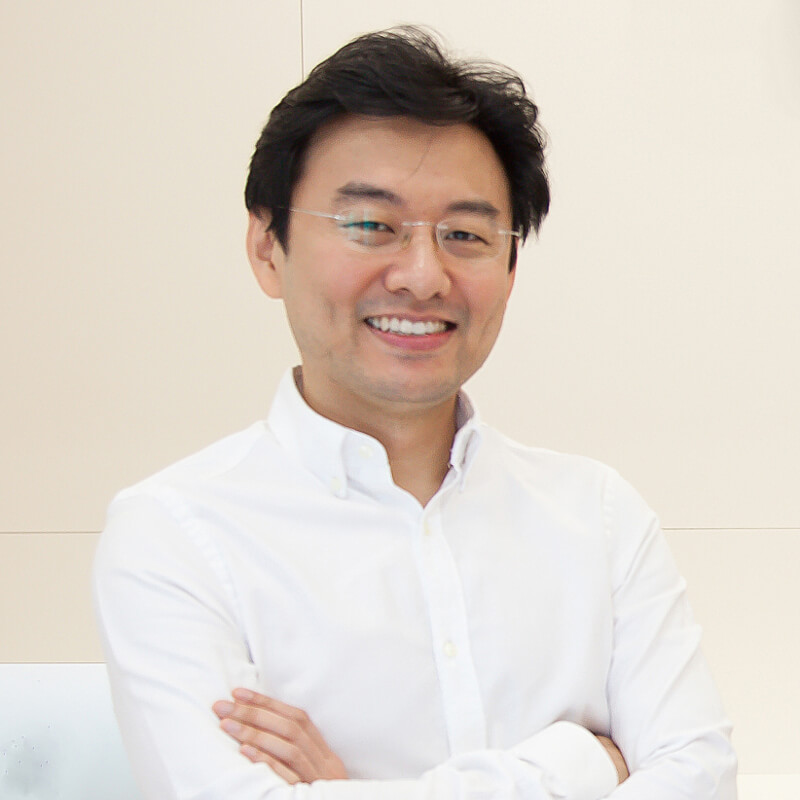 Dr. Peter Ch'ng Wee Beng
Dr Peter Ch'ng is a consultant dermatologist who always put his patients' safety and wellbeing as his top priority. As an esteemed dermatologist and skin specialist, Dr Peter prides himself in being able to treat acne patients of all types, with a 100% acne treatment success record.
If you'd like to ask more about your skin condition or have a discussion with Dr Peter, you can contact us at
+6011-22882299
,
Whatsapp
us, or
book an appointment with Dr Peter here
!
---
READ MORE ARTICLES
Treatments mentioned in this article :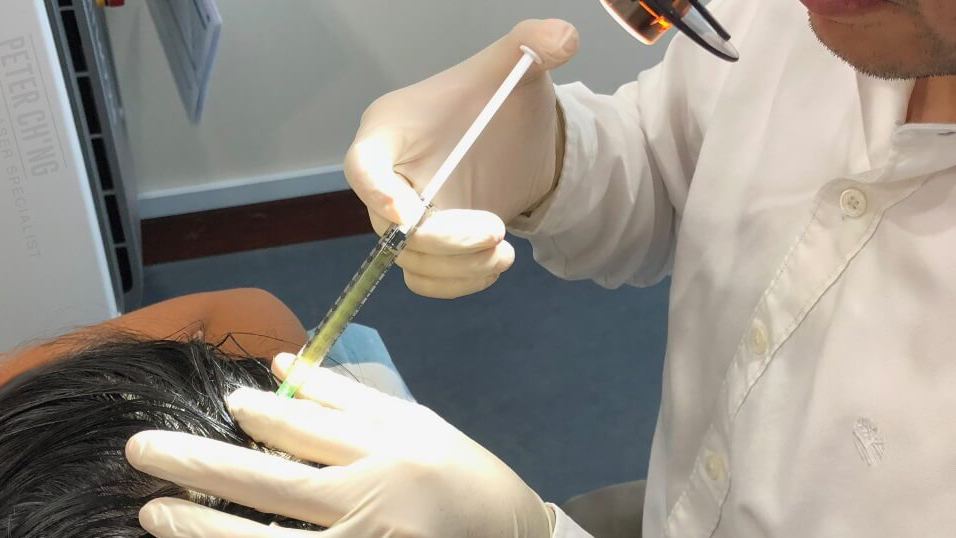 Platelet Rich Plasma (PRP)
Platelet Rich Plasma contains growth factor that is able to stimulate growth of collagen and healthy skin cells. It can be used to rejuvenate the skin, treat scars as well as hair loss.