Patient Mailbox: Ultherapy for Hooded Eyebrows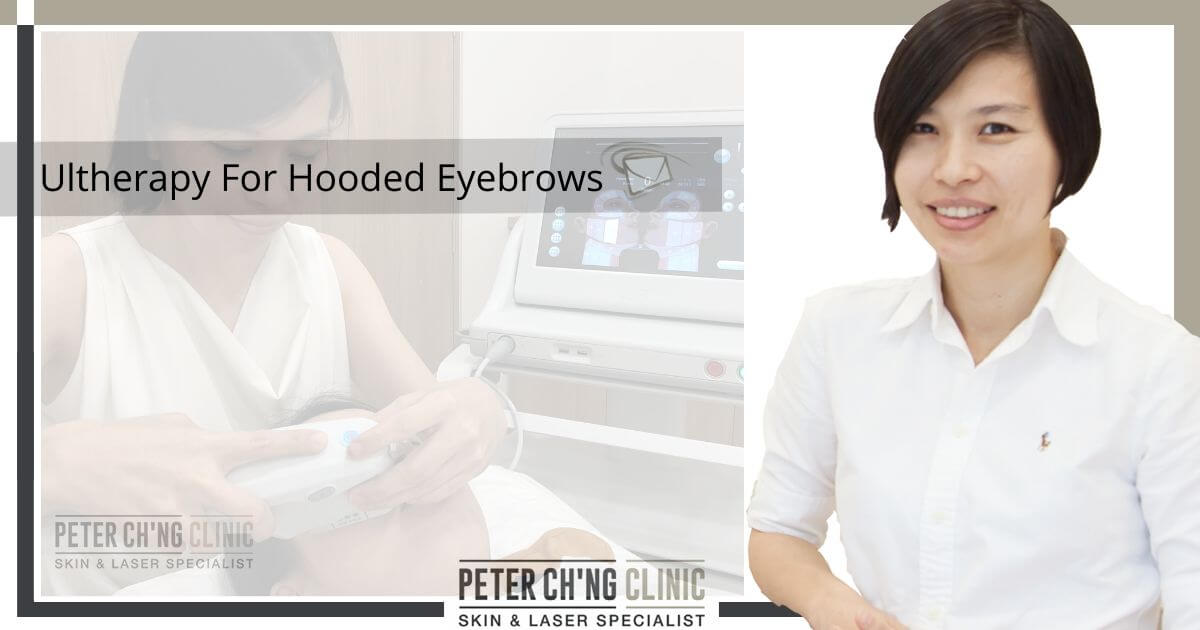 Hi! I'm Dr. Loo Keng Shien.
Here's Episode 37 of the Patient Mailbox series, where we collect handpicked questions submitted by patients suffering from various skin diseases and condition, and personally answer them with our best efforts. I hope to help any one of you who faces challenges from similar situations.
Editor's Note: Dr. Loo Keng Shien is a Consultant Aesthetic Physician with a special interest in Dermatology and Aesthetic Medicine. She has highly certified qualifications from the American Academy of Aesthetic Medicine, American Academy of Anti-aging Medicine, and in Practical Dermatology from Cardiff University. She currently practices at Peter Ch'ng Clinic Skin & Laser Specialist in Desa Park City.
Question:
Hi Dr. Loo,
I'm a 45-years old female working as a corporate communication manager. Looking groomed is part and parcel of my job. I noticed that my eyebrows seem to have drooped slightly over time.
I want to restore my eyebrows to its youthful position without surgery.
I heard about Ultherapy and I would like to find out if it is a suitable treatment option for hooded eyebrows. Please highlight its risk, safety, and side effects too. Thank you.
Answer:
Eyebrows do so much more than protect our eyes from sweat, rain, and moisture. Beyond its utilitarian function, our eyebrows accentuate our eyes and frame our face.
As we age, our skin loses strength and elasticity, causing our eyebrows to sit lower than before. In our forties, facial muscles start to weaken, resulting in hooded eyebrows. This makes our eyes look less awake, tired and even smaller.
If you're tired of hooded eyebrows adding years to your age, then perk up as Ultherapy will help to lift the weight off your brows.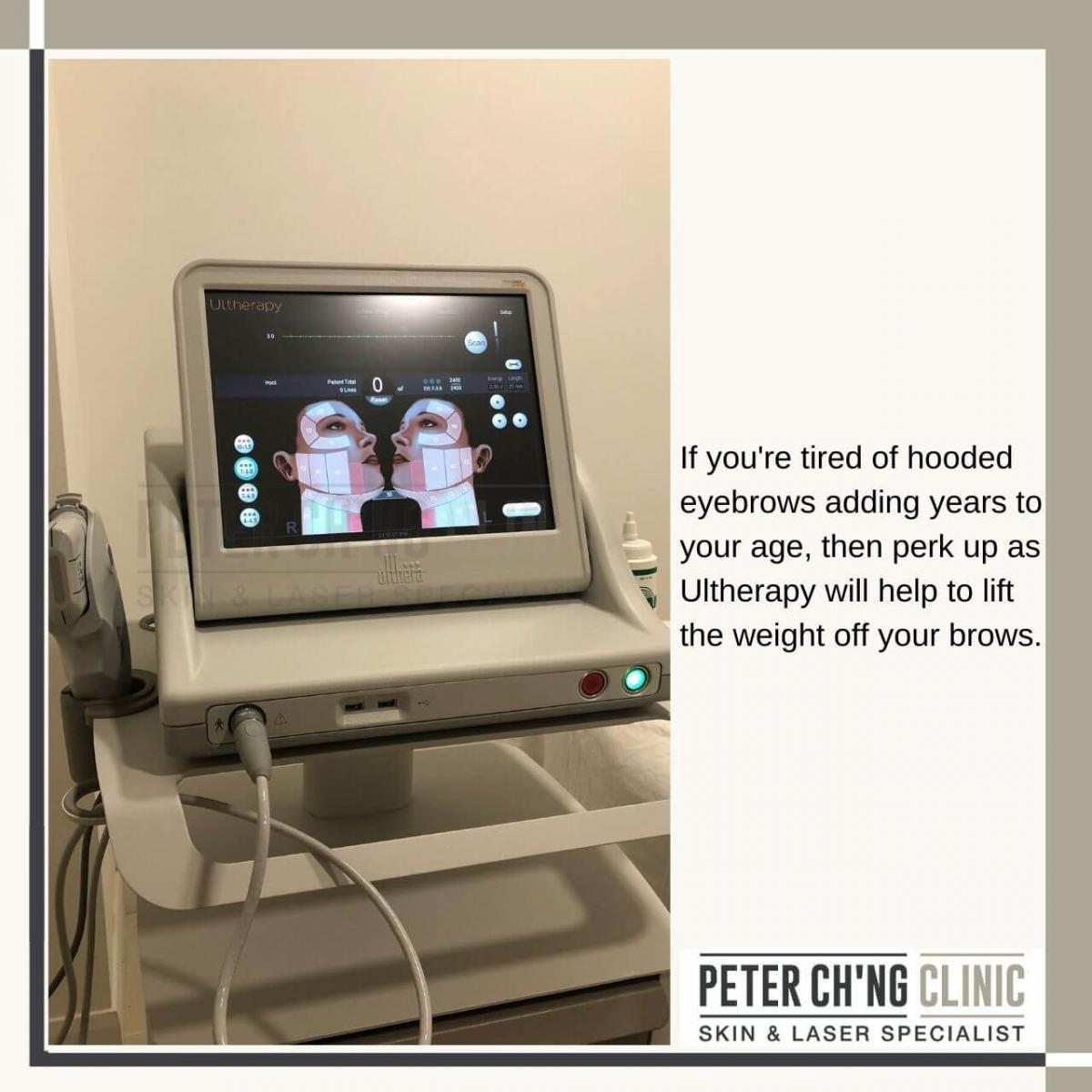 What is Ultherapy?
Ultherapy is a high-intensity focal ultrasound (HIFU) treatment that uses micro-focused ultrasound energy to enable direct visualization of the skin layers. Ultherapy is not only revolutionary. In fact, it is the only FDA-cleared, non-surgical treatment option that lifts skin and muscle.
Ultherapy's ability to penetrate the superficial muscular aponeurotic system (SMAS), the same foundational layer that could only be penetrated via surgery in the past, sets it apart from the other non-surgical procedures. During Ultherapy treatment, the SMAS is heated up to 60 – 70 degrees. In fact, a single treatment of Ultherapy can give you a lasting, lifting effect.
Am I a good candidate for an Ultherapy brow lift?
Patients with mild to moderate skin laxity at the eyebrow area are good candidates for an Ultherapy brow lift. Sometimes, patients with more laxity too can benefit from Ultherapy. What is important is a face-to-face consultation as this allows us to accurately diagnose your concern, and suggest alternative treatments based on your indications.
Besides, if you do not want to go under the knife to correct your droopy eyebrows, Ultherapy is an ideal non-surgical treatment. Simply because Ultherapy works on the SMAS which provides a visible lifting effect on the lateral eyebrow.
Furthermore, as a no-needle treatment, you need not worry about any down time as Ultherapy leaves no marks or visible entry points.
Can you share what happens before, during and after the Ultherapy brow lift treatment?
Firstly, we will assess the patient's appropriateness for the treatment and rule out any contraindications. If the patient presents with open wounds and severe or cystic acne in the treatment area, then we will advise other treatment options to lift the brow.
We recognize that every patient is unique. Thus, we will customize a treatment plan for each patient and treat the problem appropriately.
Once this is done, the skin is cleansed, before-treatment photos are taken, and the treatment area is marked. A layer of ultrasound gel is then applied to the brow area.
Using a handheld transducer, the Ultherapy energy is delivered into the skin at the exact depth to increase collagen production. One of the major advantages of Ultherapy is that its ultrasound monitor allows us to see where we are treating, visualize the connective tissue, and the right depth to treat to deliver optimal outcomes. As the treatment progresses, we continuously monitor your progress and adjust the treatment depth accordingly.
How does Ultherapy work to treat droopy eyebrows?
Ultherapy enables direct visualization and is customizable at different depths. Ultherapy can reach the dermis, deep dermis and muscle to promote collagen and elastin production. It also allows us to treat previous areas precisely. Averagely, each treatment takes 30 – 90 minutes, depending on the treatment area.
Because the Ultherapy technology bypasses the outermost layer of the skin, this procedure has no downtime. As such, you can resume normal activities immediately after treatment. This makes the Ultherapy brow lift an easy-to-schedule treatment, and a much sought after lunchtime procedure. For some patients, the treated area may be slightly red after treatment but the redness will disappear within one to two hours post-treatment.
Does Ultherapy hurt? And how does an Ultherapy brow lift compare against Thermage and PDO thread lift in terms of pain level?
Ultherapy does not hurt as its heat is micro-focus and penetrates deep into the SMAS level. The beauty of Ultherapy is that it bypasses the outermost layer of the skin and is a zero-downtime procedure.
As for PDO thread lift, local anesthesia must be applied before injecting to reduce the pain. With PDO thread lift, the points where the needle enters and exit the skin are visible. Thus, it comes with some degree of discomfort.
Thermage, on the other hand uses radiofrequency energy to generate heat to stimulate collagen formation. Since heat is used on the dermis, you can expect some slight discomfort from the build-up heat targeted on the brow area. Unlike Ultherapy, both Thermage and PDO thread lift does not provide the physician with direct visualization.
So if you have a low threshold for pain, then a brow lift with Ultherapy is a very comfortable procedure.
Comparing Botox, dermal fillers and Ultherapy, which treatment will deliver the best brow lift results?
Each treatment modality work differently and the results are dependent on the patient's concerns and severity of the concern.
By administrating the neurotoxin Botox, Botox treatments can relax the expression muscle and effectively lift droopy eyebrows. However, treatment results can only last between 3 to 6 months.
Dermal fillers can be used to plump up a sunken forehead, provide support beneath the drooping eyebrow and therefore lift the eyebrow upwards. On the contrary, dermal fillers typically last anywhere from 6 months to 1 year. Thereafter, follow-up treatment is required to maintain the desired results.
Ultherapy works on the subcutaneous layer and muscle. This micro focus ultrasound heats the tissue to 60-70 degrees to trigger collagen and elastin synthesis. With Ultherapy, you can expect to see improvements between 3 to 6 months. Results can be prolonged to last close to two years by maintaining a healthy and active lifestyle.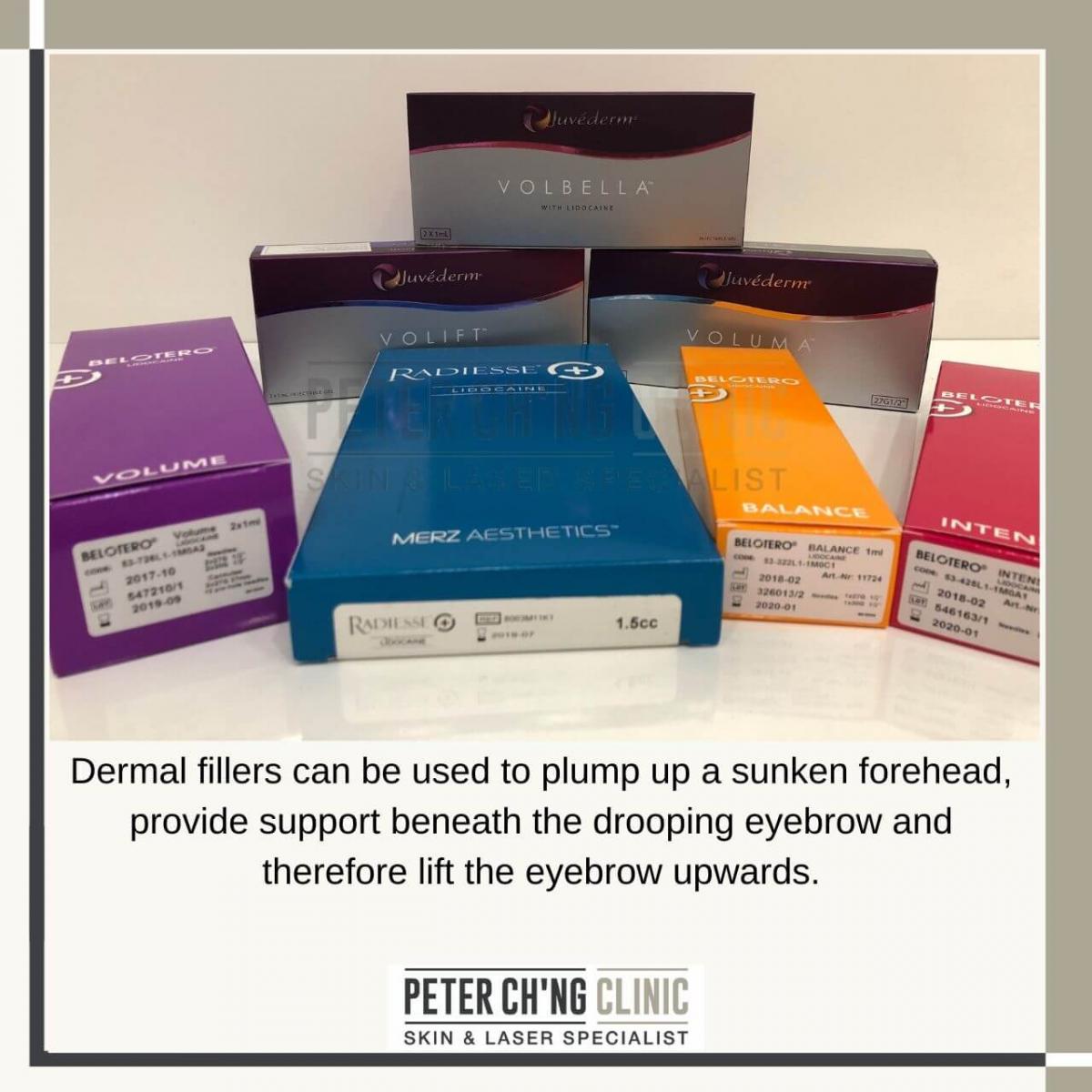 Is there any chance or risk of experiencing facial volume loss, or fat loss after Ultherapy treatment?
This is an unfounded worry and not a cause for concern. Ultherapy does not cause fat loss or structural damage to the skin as long as you are treated by an experienced practitioner. You should only seek treatment from a medically certified practitioner who is experienced in operating the Ultherapy machine.
Is Ultherapy permanent?
Just like any cosmetic procedure, we are fighting against the on-going aging process and time.
What this means is Ultherapy last until further aging sets in. Ultherapy unwinds the clock and restores your eyebrow to a higher position it was once at when you were younger. How long it lasts depends on how fast the individual ages and other lifestyle factors.
We do recommend patients to proactively combat the early signs of aging by repeating the treatment within 1 to 1 ½ years. This will help to stimulate collagen production and maintain its optimum lifting results.
Are there any risks or side effects related to this treatment?
In the hands of a skilled physician, Ultherapy is an extremely safe procedure with no risk. The ultrasound technology, which is the backbone of the Ultherapy treatment has been used for more than 50 years in various fields of medicine. As such, you are assured that this procedure is safe and risk-free.
---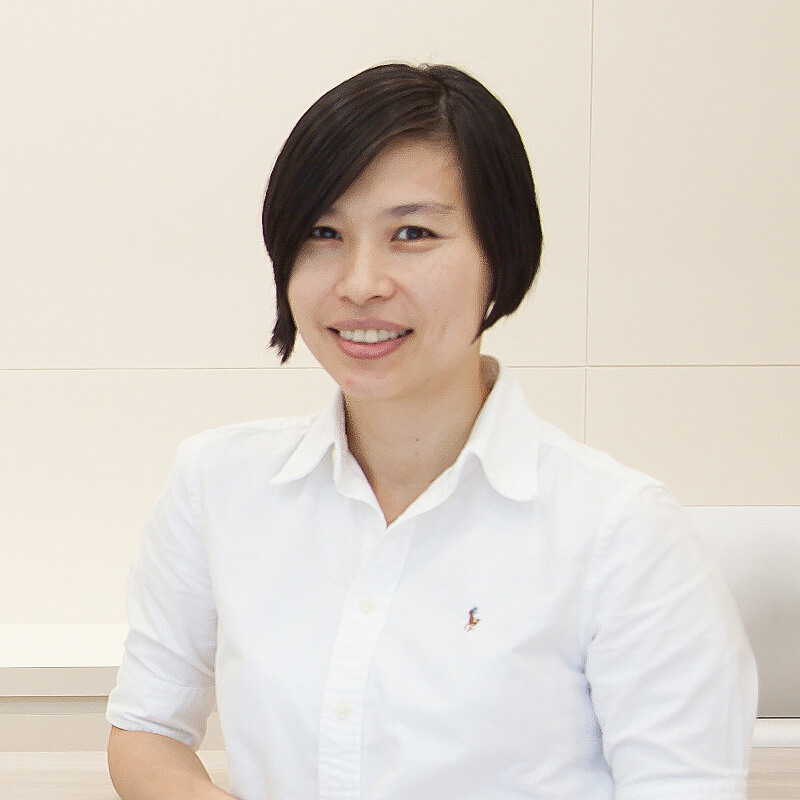 Dr. Loo Keng Shien
Dr Loo Keng Shien is a consultant aesthetic physician who loves to listen to patients' problems and find medical solutions to help in their skin and aesthetics journey. Dr Loo practises evidence-based medicine, and with her experience, she has listened to and helped numerous patients solve their skin problems or achieve their aesthetic expectations safely and effectively.
If you'd like to ask more about your skin condition or have a discussion with Dr Loo, call us at
+6011-22882299
,
Whatsapp
us, or
book an appointment with Dr Loo here
!
---
Treatments mentioned in this article :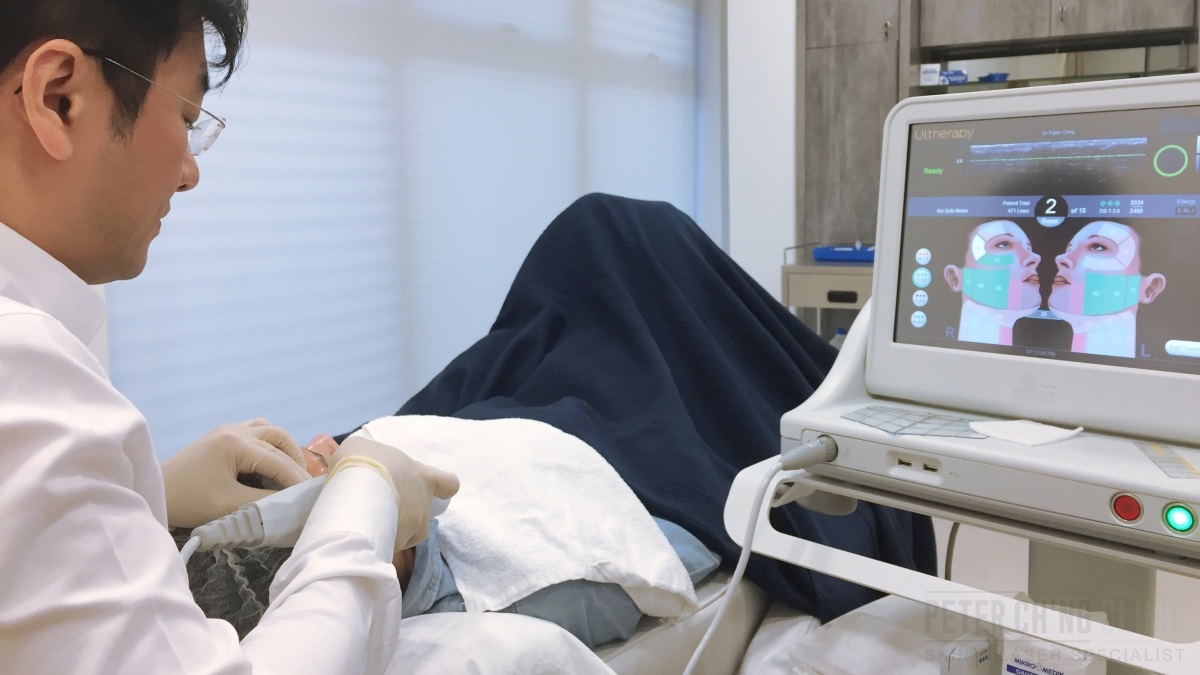 Ultherapy
Ultherapy is a medical treatment that uses HIFU (High Intensity Focused Ultrasound)to detect areas where sagging skin is present and lift the skin to tighten it without any invasive surgery.