Patient Mailbox– Treating Hair Loss with Stem Cells Treatment and Platelet Rich Plasma (PRP)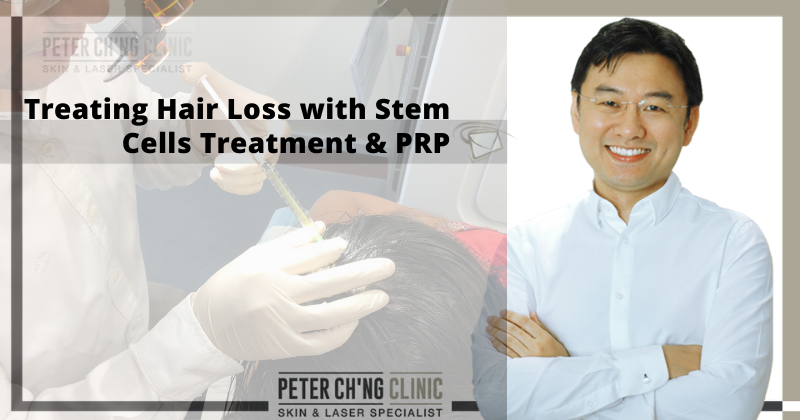 Question
Hi Dr. Peter,
As an oil and gas consultant turning 50 this year, I've been experiencing hair loss in the past few months. My hair line is starting to recede, and it's starting to look more like an M-shaped hairline. The hair at the crown is also thinning. From what I've read, I may have male pattern baldness.
Some of my friends who sought treatment for androgenic alopecia showed promising results. As such, I would like to find out more about hair fall solutions such as stem cell treatment and platelet rich plasma (PRP).
Could you also share how effective are vitamins for hair loss? And do these vitamins help in any way? Thank you.
Ben
Answer
Androgenic alopecia is a hair loss condition that affects both men and women.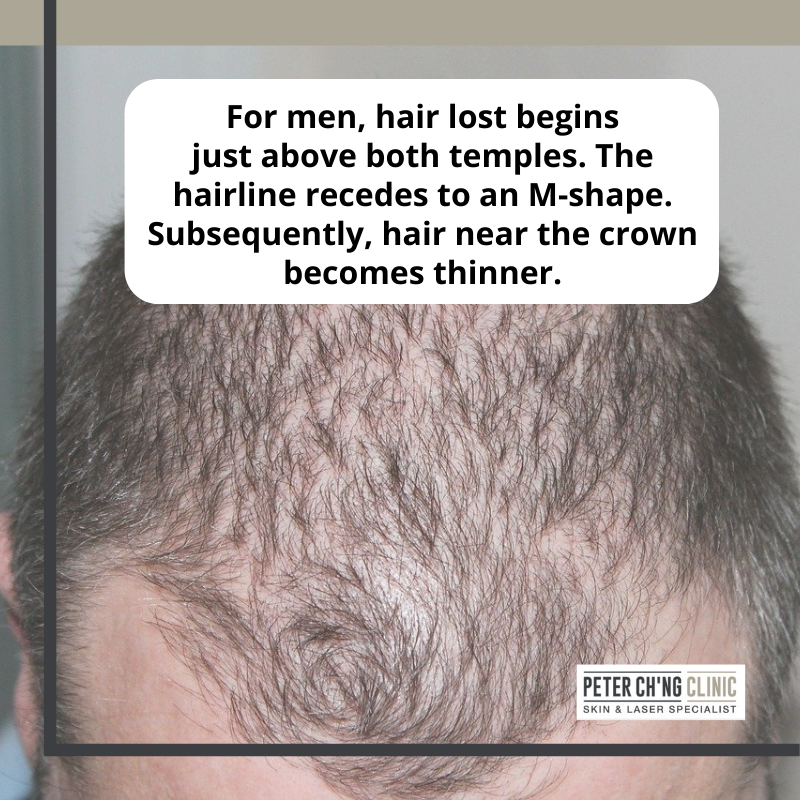 In men, hair lost starts in a well-defined pattern, and tend to begin just above both temples. Over time, the hairline recedes to an M-shape. Hair near the top of the head will thin, often progressing to partial or total baldness.
Unlike male pattern hair loss, women's hair fall starts from the midline and spreads laterally. The fairer sex has it easier as women's hairline does not recede.
Hair loss is best treated using a multi-prong approach as topicals, medication and aesthetic treatments complement one another to reinvigorate hair growth.
As we talked about topicals and medications the previous week, let's address your query on stem cells treatment, platelet rich plasma and vitamins for hair loss.
Stem Cells Treatment for Hair Loss
During a stem cell treatment, I will extract several hair follicles from the back of the scalp. I would normally harvest 7 graft units behind the ears as this area is more discreet.
Before extracting, local anesthesia will be administered to ensure that the patient remains comfortable throughout the procedure. Once the anesthesia has kicked in, a special instrument is used to carefully harvest the hair follicles.
Thereafter, the hair follicles are placed into a centrifuge which will isolate the concentrated stem cells from fat cells and adipose tissue.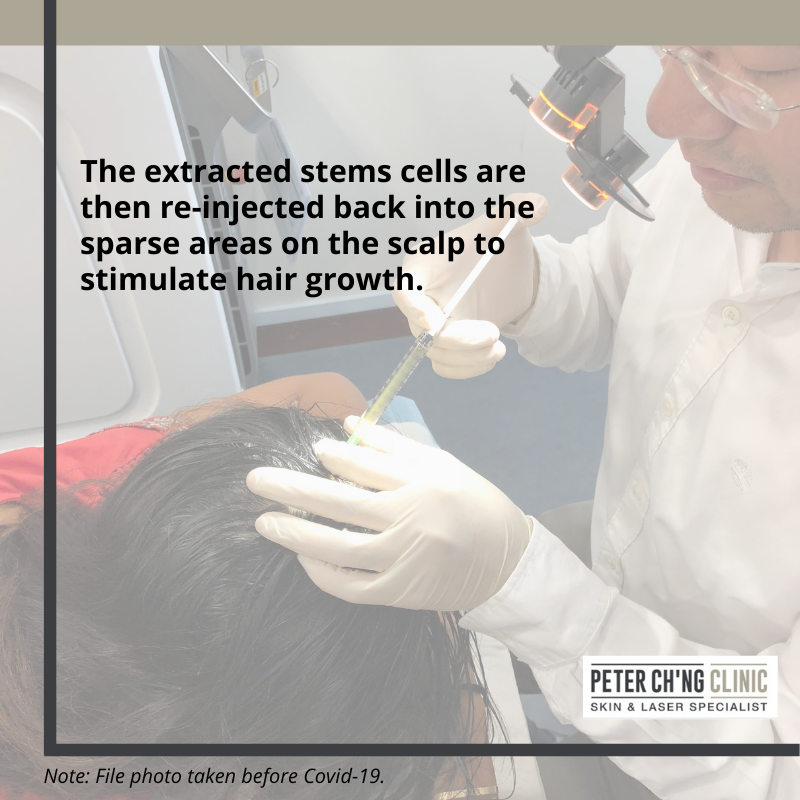 The extracted stems cells are then re-injected back into the sparse areas on the scalp. Stem cells are rich in growth factors and can help to stimulate hair growth.
How soon can I expect to see improvements after stem cell treatment for hair loss?
Within the first month of treatment, you will notice less hair fall. From the second treatment onwards, most patients will experience new hair growth.
You are also required to come back in 1 month for a follow-up and for the subsequent treatment.
Are there any dos and don'ts after stem cell treatment for hair?
I would advise that you do not to wash your hair for the first four hours after the procedure. There will be little scabs on your scalp. These scabs are temporary and will peel off naturally as you wash your hair.
Apart from this, there is no other precaution to adhere to.
As this is a zero downtime procedure, painkillers are normally not prescribed as it is unnecessary. Furthermore, patients will not experience any complications as the stem cells originate from their own body. Thus, this nullifies any potential for incompatibility issues.
Rest assured that the procedure is straight forward, painless and does not cause any scarring.
Platelet Rich Plasma (PRP) For Hair Loss
Could you describe the PRP procedure to treat hair loss?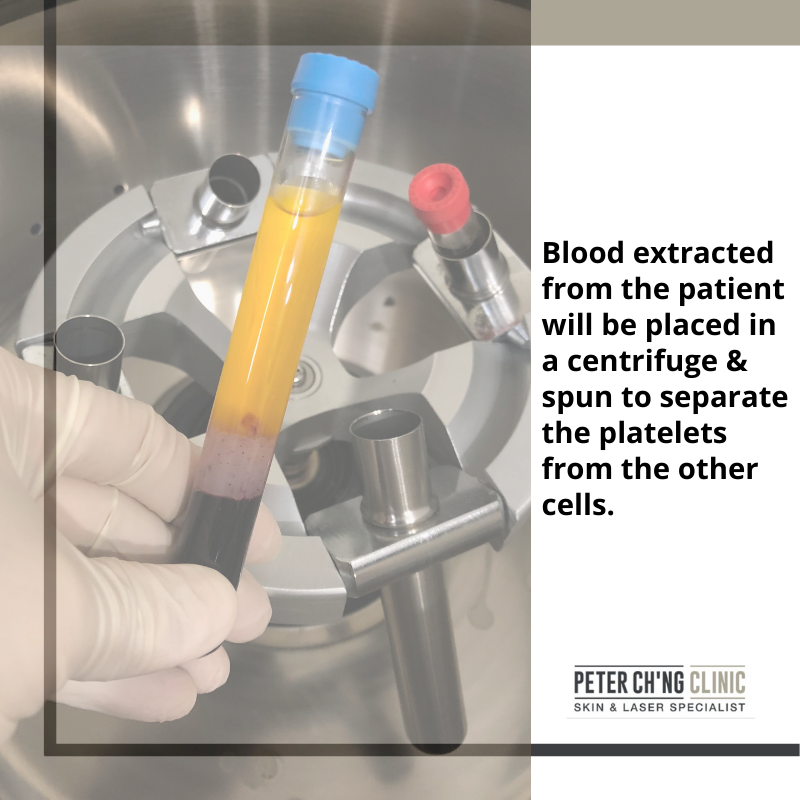 PRP for hair loss begins with drawing some of your blood for the treatment. The blood will then be placed in a centrifuge and spun to separate the platelets from the other cells. After 10 minutes of twirling, the "spinning machine" would have separated your blood into 3 groups based on fluid densities: - the red blood cells, platelet-poor plasma and platelet rich plasma.
The isolated platelet rich plasma is infused with growth factors that aid healing. Plus, the enriched protein plasma can stimulate the growth of new hair folicles.
A numbing cream will be applied onto the sparse area on the scalp. After that, the PRP is injected into the scalp using a tiny needle.
The whole process takes approximately 20 minutes. You can resume work immediately after treatment.
How soon can patients expect to see improvement in hair density after PRP?
How soon a patient can expect to see improvement in hair fullness depends on the person's age, gender, cause of hair loss and how severe the hair loss is prior to treatment.
As hair restoration results with PRP vary significantly from patient to patient, it is hard to predict accurately how many sessions are needed.
As a rule of thumb, we would recommend three initial treatments spaced out between 4 to 6 weeks apart. And thereafter, PRP can be administered every 4 to 6 months for maintenance purposes.
For patients with scarring or no hair follicles on the scalp, PRP and stem cells treatment will not help to restore hair loss.
Are the results of PRP for hair loss permanent?
While you will see improvements in hair density and thickness, periodic treatment at intervals of every 6 months is required to maintain your results.
What is the difference between stem cells and PRP therapy for hair loss?
Stem cells are the basic-building cells with the unique ability to develop into specialized cell types. Essentially, stem cells can repair and heal rapidly. Stem cells are harvested from your own fat tissue and injected back into the scalp to promote hair growth.
On the other hand, platelet rich plasma is a concentration of platelets and plasma obtained from the patient's blood, and not fat. PRP is rich in specialized proteins teeming with growth factors and cytokines. These elements can promote hair growth and healing.
Do hair loss vitamins really work?
There is little evidence that vitamins help with hair loss.
Today, you would find many multivitamins positioned to restore hair fall and revitalize hair growth in the market. If hair loss could be treated with vitamins, no one in the world would be bald.
Plus, there is no one-size-fits-all treatment for two patients with the same type of hair loss. So when it comes to treating hair fall, getting the right diagnosis and being treated medically is very important.
Conclusion
Hair loss is not just about having a bald spot or having less hair, as it can adversely affect one's quality of life too. A widening hair line, or an increasing number of hair fall in the wash sink can weigh anyone down.
Should you have more questions about hair loss and hair growth, please write to us at info@peterchngskinspecialist.com. Alternatively, connect with us via WhatsApp at 011-2288 2299.
---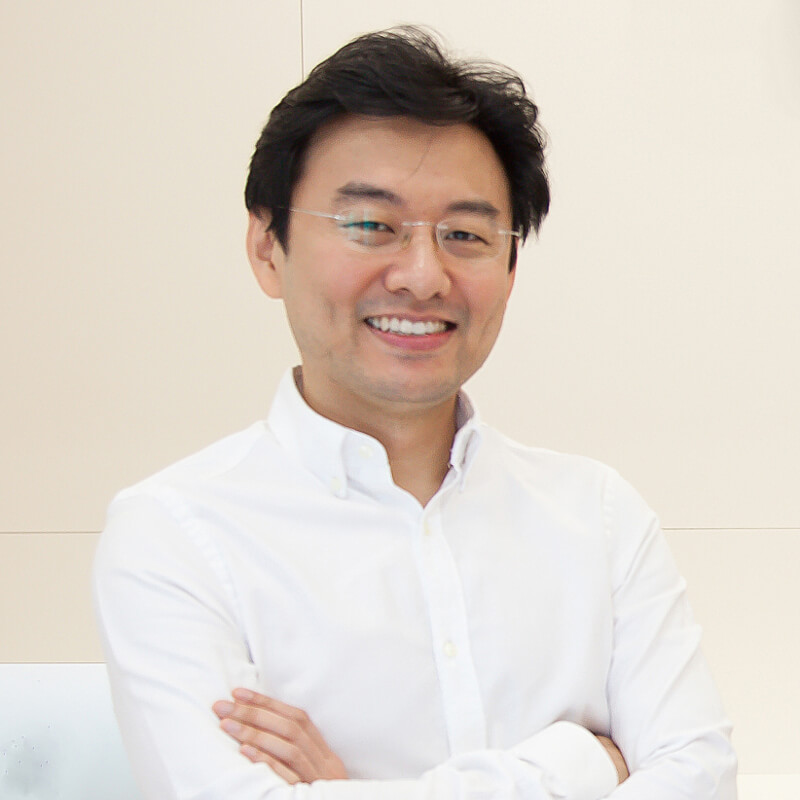 Dr. Peter Ch'ng Wee Beng
Dr Peter Ch'ng is a consultant dermatologist who always put his patients' safety and wellbeing as his top priority. As an esteemed dermatologist and skin specialist, Dr Peter prides himself in being able to treat acne patients of all types, with a 100% acne treatment success record.
If you'd like to ask more about your skin condition or have a discussion with Dr Peter, you can contact us at
+6011-22882299
,
Whatsapp
us, or
book an appointment with Dr Peter here
!
---
Treatments mentioned in this article :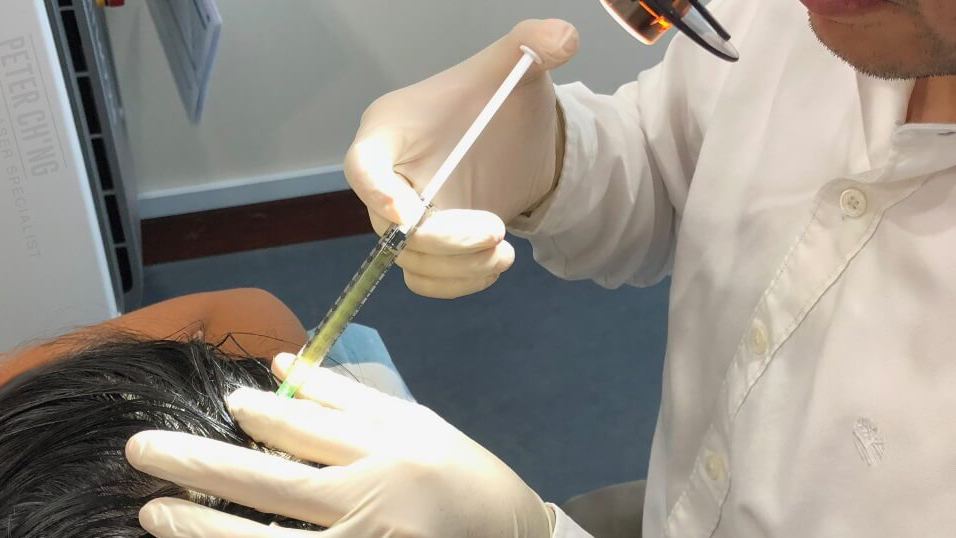 Platelet Rich Plasma (PRP)
Platelet Rich Plasma contains growth factor that is able to stimulate growth of collagen and healthy skin cells. It can be used to rejuvenate the skin, treat scars as well as hair loss.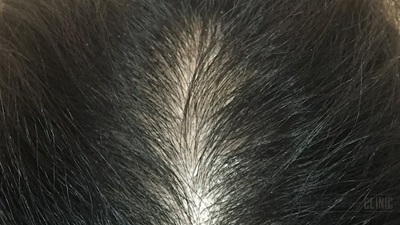 Hair Loss Treatment
Too many or too little hair is not good for your skin or scalp. There are many causes of hair loss or excessive hair growth. Identifying the cause is very important in order to prescribe the accurate treatment for the condition.