Patient Mailbox: Treating Hair Loss with Topicals and Medication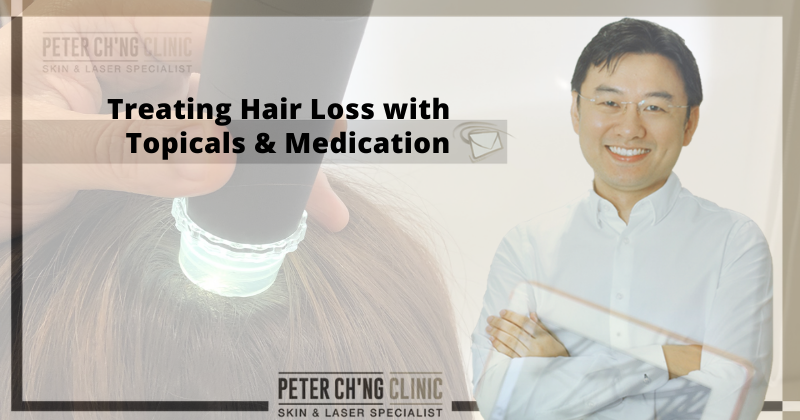 Question
Hi Dr. Peter,
I am an oil and gas consultant and I turned 50 this year. For the past few months, I've noticed that I have been losing a lot of hair! There are clumps of hair left on my comb after a shower. I have an M-shaped hairline and it is starting to recede. The crown of my head looks sparser as the hair loss there is more obvious.
This gradual loss of hair is making me worried and uneasy. I've tried several hair loss shampoos but it does not seem to address the excessive hair fall. The thought of balding soon makes me depressed. I would like to first start with less aggressive hair loss treatment options such as topicals, shampoos, and medications. Could you advise treatment options along these lines?
Can you also enlighten me about other medical hair loss treatment options such as platelet-rich plasma, and stem cell treatment? Thanks.
Ben
Answer
For most of us, our hair is our crowning glory. It is an extension of our personality, it accentuates our character, and completes our appearance.
With age, our cell turnover rate and immune system become less efficient, unlike our younger years. This means that we will need longer recovery times. Thus, less hair on the head is part and parcel of the aging process.
Having to experience hair loss can be worrying and depressing. Some chose to embrace hair loss by letting it run its course and leave it untreated. Others shave their heads bald and proudly flaunt this new stage in life.
Most of us are less gregarious. More often than not, patients will reach out for hair loss treatment alternatives to halt the shedding and restore hair growth.
Thankfully restoring your hair to its former glory with hair loss treatments is possible – with good results.
As there is so much to cover on hair loss and its' treatment options, I will address your question on topicals and shampoos in this article. Before that, let's talk about the types of hair loss and what causes hair loss.
What are the common types of hair loss? And how is hair loss categorized?
Hair loss or alopecia can be classified into two categories, namely scarring hair loss (or scarring alopecia) and non-scarring hair loss (non-scaring alopecia).
Let's deep dive and understand what each category of hair loss entails.
What is Scarring Alopecia or Scarring Hair Loss?
A normal, healthy scalp has many hair follicles, denoted by tiny little holes on the surface. A patient with scarring alopecia, on the other hand, has no hair follicles on the affected area. Essentially, the scalp appears smooth and clean. In some cases, the scalp can be red, scaling, or may have raised blisters or pus.
Scarring alopecia and its severity can be determined by examining your scalp using a dermatoscope. During this process, I will ascertain if the hair follicles are destroyed. I will also identify how deep is the scar tissue, and if there is inflammation of the hair follicles.
If there are zero hair follicles in the affected area, then it is safe to say that the patient has scarring alopecia.
Scarring alopecia may be caused by an injury or trauma to the scalp. It can also be triggered by autoimmune diseases like lupus and can lead to permanent hair loss.
What Is Non-Scarring Alopecia, or Non-Scarring Hair Loss?
Non-scarring alopecia means that your scalp still has hair follicles, but no hair is growing out of it. Non-scarring alopecia is a natural response when your body is subjected to physical stress or trauma. To exemplify, this can happen after a viral infection, if you have recently undergone invasive surgery or post-partum delivery.
During such circumstances, I usually tell my patients not to worry and no further treatment is required. Simply because your hair will grow back naturally in 3 months after the effects of the physical stress have dissipated.
Other causes of non-scarring hair loss include iron deficiency anemia, thyroid disease, anorexia, or a sudden weight loss without exercising.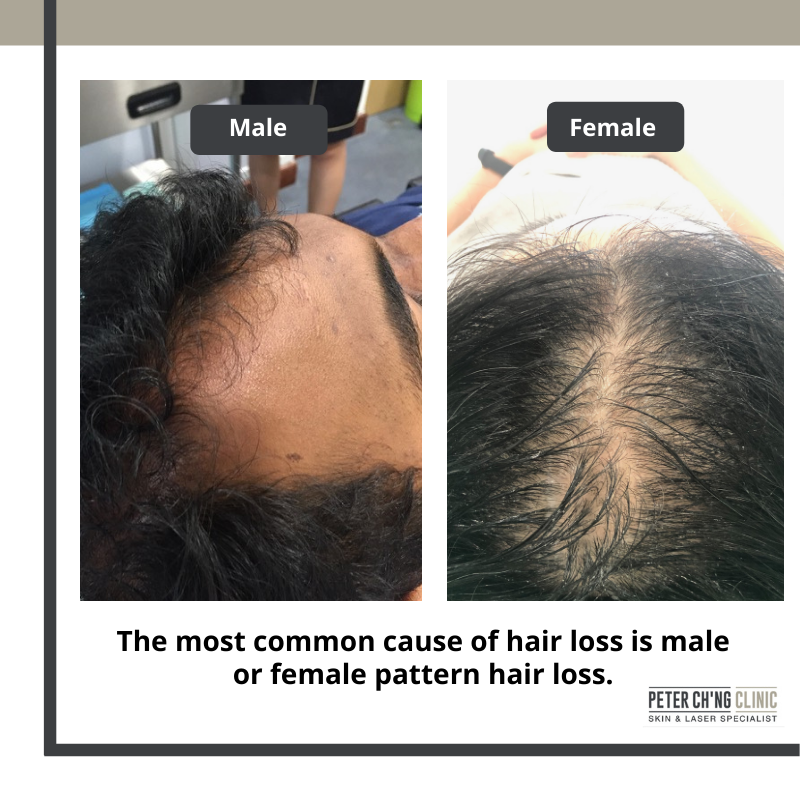 Nevertheless, the most common cause of hair loss is male or female pattern hair loss. While anyone can lose hair on their head, it is more prevalent among men.
There are many traditional and non-medical hair loss treatments available today. What should I look out for when selecting my hair loss treatment provider?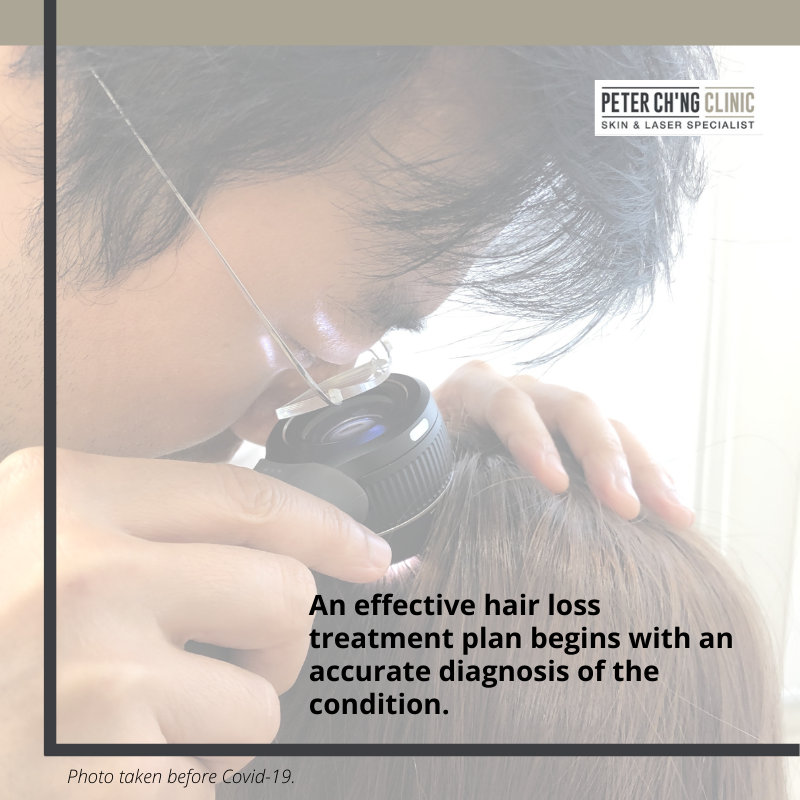 An effective hair loss treatment plan begins with an accurate diagnosis of the condition. We must ascertain the root cause of hair loss first. This is because the cause of hair loss will determine the type of treatment to cure the condition.
Plus, we want to avoid treating the hair loss symptom superficially. What we want to achieve is to ascertain its true cause. Because once this is correctly diagnosed, your hair growth can be restored and sustained for many months and years to come.
How would I know that my hair loss is severe? How is hair loss diagnosed?
Firstly, I start by examining the scalp thoroughly to determine the exact problem. Then I will gather the patient's background and history of hair loss including family and medical history.
Once this is established, only then can I determine the underlying cause of hair loss. If need be, I will also run a blood test to accurately diagnose the other underlying problems.
As a dermatologist, I undertake a methodological, medical, and holistic approach towards diagnosing hair loss. There are many traditional treatments and hair salons that claim to be successful in resolving hair loss issues. But services that don't deliver are the perfect storm for frustration. Sometimes, ill advice can aggravate the hair loss.
Our goal as a skin specialist is to treat not only your symptom, but to find out the fundamental cause of your symptom, and treat it from there.
What Are Topicals and How Do They Work To Restore Hair Growth?
Minoxidil is a type of medication used to treat male pattern baldness and women with thinning hair.
The topical Minoxidil works by causing vasodilation, resulting in improved blood supply to the hair follicles. This in return stimulates growth of new hair.
Although you can buy MInoxidil without a prescription, you will enjoy better results if you consult a dermatologist on its usage. This is because once we diagnose the exact cause of hair loss, we will customize the recommended concentration to arrest your hair loss concerns.
I would also recommend specific shampoo that contains copper to help rejuvenate hair growth. Alongside this, I may prescribe specific medications for male and female pattern hair loss. These are the scientific-based services that you will enjoy when you consult a medical practitioner.
Minoxidil is an easy-to-use topical available in foam-based and solution-based. Foam-based Minoxidil is preferred over the solution. This is because preservatives must be added to the solution-based Minoxidil. And the preservatives may cause irritation to the scalp.
Minoxidil, however comes with several limitations.
Bear in mind that not all hair loss conditions will respond to Minoxidil. Minoxidil is best used to treat male and female pattern hair loss.
Once you stop using Minoxidil or any topical treatment, you will lose all the hair that you've gain, putting you back to square one.
For patients who are almost or completely bald, Minoxidil is not effective. As such, I will recommend more targeted treatment approaches such as PrP and stem cell treatment.
Does Minoxidil cause any side effects?
To date, my patients have not complained of any side effects. As long as it is prescribed by a medical specialist, chances of any negative side effects are very rare.
Some rare side effects that can be triggered by minoxidil include burning, stinging, or redness at the application site.
Are there any lifestyle changes that will stop or prevent hair loss?
Yes, there are lifestyle changes that can help mitigate excessive hair fall related to aging.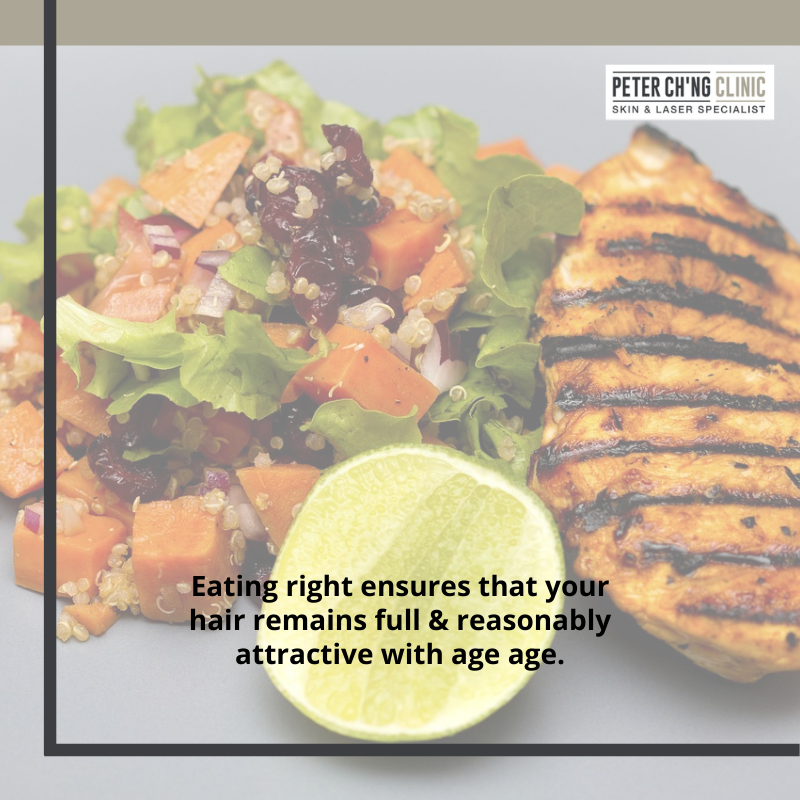 Eating right is fundamental in ensuring that our hair remains full and reasonably attractive with age. Do eat food with iron, zinc, and vitamin B. Inadequate zinc and iron in your diet can deprive your hair of the basic nutrients needed to fuel hair growth. By eating more leafy green vegetables, red meat, and yogurt, you can nourish your body and fuel it to stimulate hair growth.
Avoid harsh shampoos and opt for sulfate-free shampoos. This artificial ingredient can damage your hair and strip away essential oil that is needed for healthy locks.
Consider stubbing it out if you smoke. Smoking restricts the blood flow to your hair follicles and this robs them of all important nutrients.
Conclusion
Managing hair loss is a multi-prong strategy. Patients who present with male pattern hair loss will need a combination of hair-loss-management methods, from non-invasive to invasive restoration. Stem cell treatment is a more superior procedure in managing areas where there is no hair, particularly the receding hairline. Combining this with topicals and medication, patients will enjoy better results. After all, our optimal goal is to ensure that your hair looks good now and for as long as possible.
If you have more questions about hair loss and restoration, please write to us at info@peterchngskinspecialist.com. Alternatively, connect with us via WhatsApp at 011-2288 2299.
---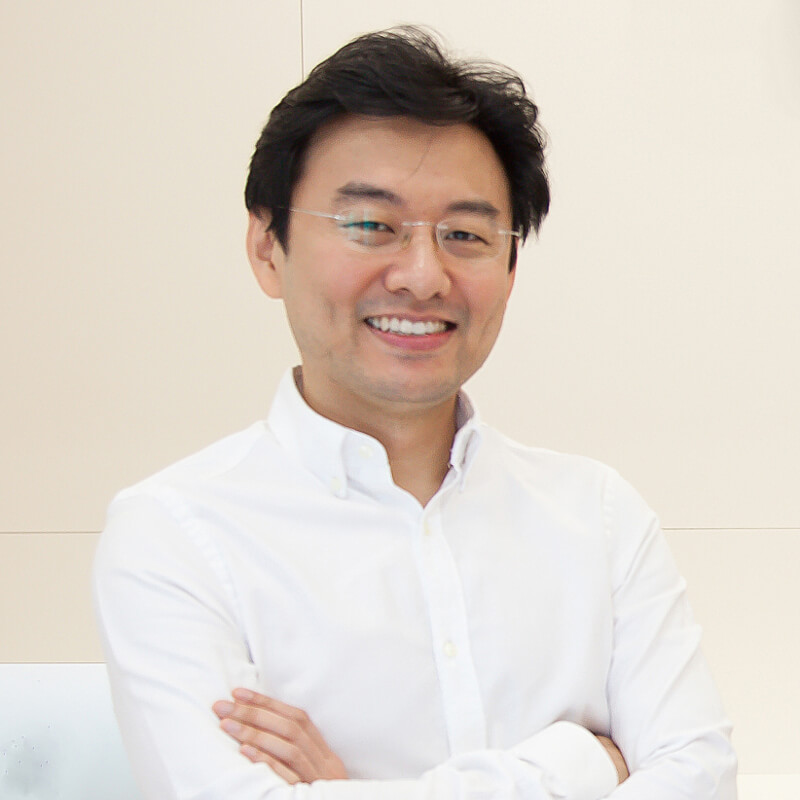 Dr. Peter Ch'ng Wee Beng
Dr Peter Ch'ng is a consultant dermatologist who always put his patients' safety and wellbeing as his top priority. As an esteemed dermatologist and skin specialist, Dr Peter prides himself in being able to treat acne patients of all types, with a 100% acne treatment success record.
If you'd like to ask more about your skin condition or have a discussion with Dr Peter, you can contact us at
+6011-22882299
,
Whatsapp
us, or
book an appointment with Dr Peter here
!
---
Treatments mentioned in this article :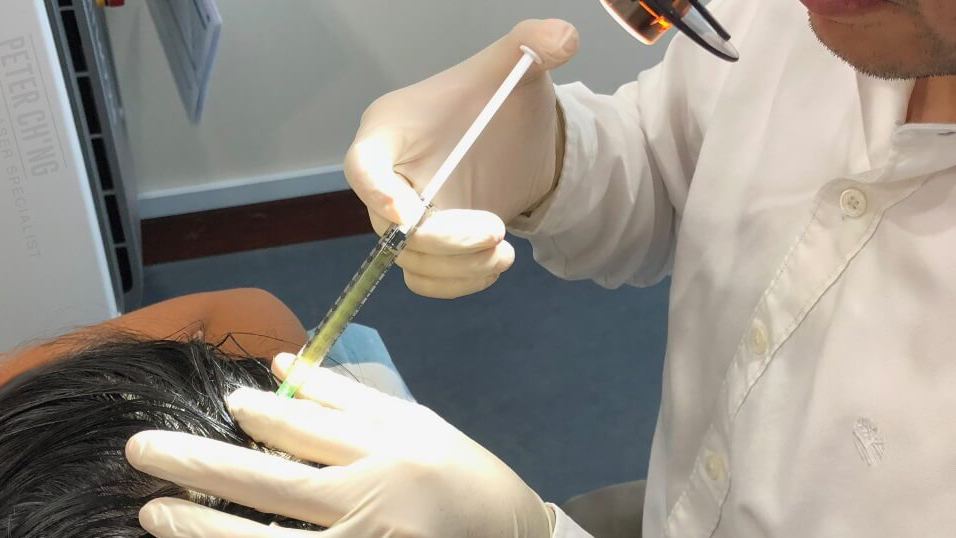 Platelet Rich Plasma (PRP)
Platelet Rich Plasma contains growth factor that is able to stimulate growth of collagen and healthy skin cells. It can be used to rejuvenate the skin, treat scars as well as hair loss.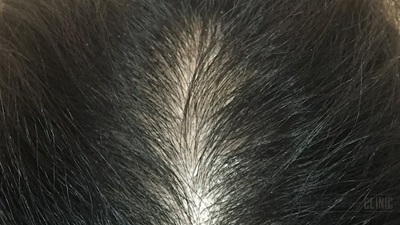 Hair Loss Treatment
Too many or too little hair is not good for your skin or scalp. There are many causes of hair loss or excessive hair growth. Identifying the cause is very important in order to prescribe the accurate treatment for the condition.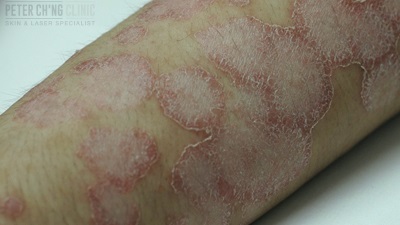 Treatment for Psoriasis
People with psoriasis know that this condition is no mere skin disease. Their skin forms red patches with thick, silvery scales, and these plaques are accompanied by itch, irritation and even joint pain.