Patient Mailbox: Treating Uneven Skin Tone
Hi! I'm Dr Loo Keng Shien.
Here's Episode 23 of the Patient Mailbox series, where we collect handpicked questions submitted by patients suffering from various skin diseases and condition, and personally answer them with our best efforts. I hope to help any one of you who face challenges from similar situations.
Editor's Note: Dr Loo Keng Shien is a Consultant Aesthetic Physician with a special interest in Dermatology and Aesthetic Medicine. She has highly certified qualifications from the American Academy of Aesthetic Medicine, American Academy of Anti-aging Medicine, and in Practical Dermatology from Cardiff University. She currently practices at Peter Ch'ng Clinic Skin & Laser Specialist in Desa Park City.
Question:
Hi Dr Loo,
I'm Miranda, and I'm pretty confused about my uneven skin tone, especially on my face.
My facial skin is inconsistently coloured, with some parts having darker patches and skin tone than others. I guess I should probably get my skin condition checked by a dermatologist, but before that, can I know what it could be?
Also, what sort of treatments should I get myself ready for? Are they laser treatments, chemical peeling, or some other therapies?
Because I wish to get the treatment as quickly as possible, but I need to prepare for any downtime or recovery period to plan my schedules in advance.
What are the types of uneven skin tones and how are their treatments like?
Answer:
Having an uneven skin tone is more often than not due to pigmentation on our skin. There are a few different types of uneven skin tone cases that I see on a daily basis here at the clinic.
1. Post-inflammatory hyperpigmentation or hypopigmentation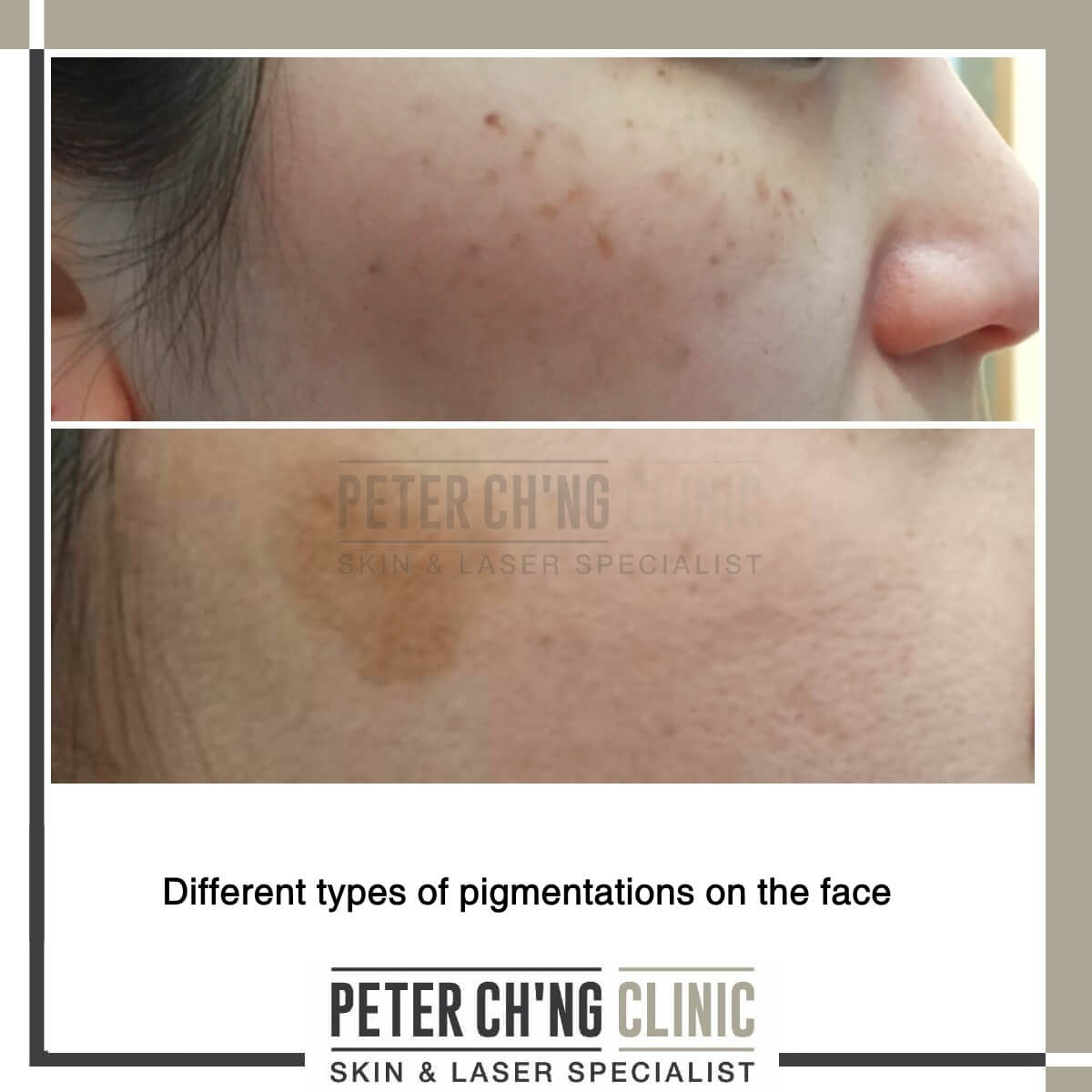 Hyperpigmentation is the appearance of dark pigments on the skin, while hypopigmentation is the lack of color pigments in the skin, causing skin discoloration. Depending on the cause of hyperpigmentation, these pigments can appear in large or small quantities on different areas of our skin.
Post-inflammatory hyperpigmentation and hypopigmentation can happen due to past acne, facial redness, eczema, or inflammation on the skin.
This means that the pigmentation appears after multiple occurrences of injury and inflammation to the skin due to acne and scars, which causes our skin to either become more pigmented (appearance of dark pigments, hyperpigmentation) or less pigmented (parts of skin have lighter tone, hypopigmentation).
2. Melasma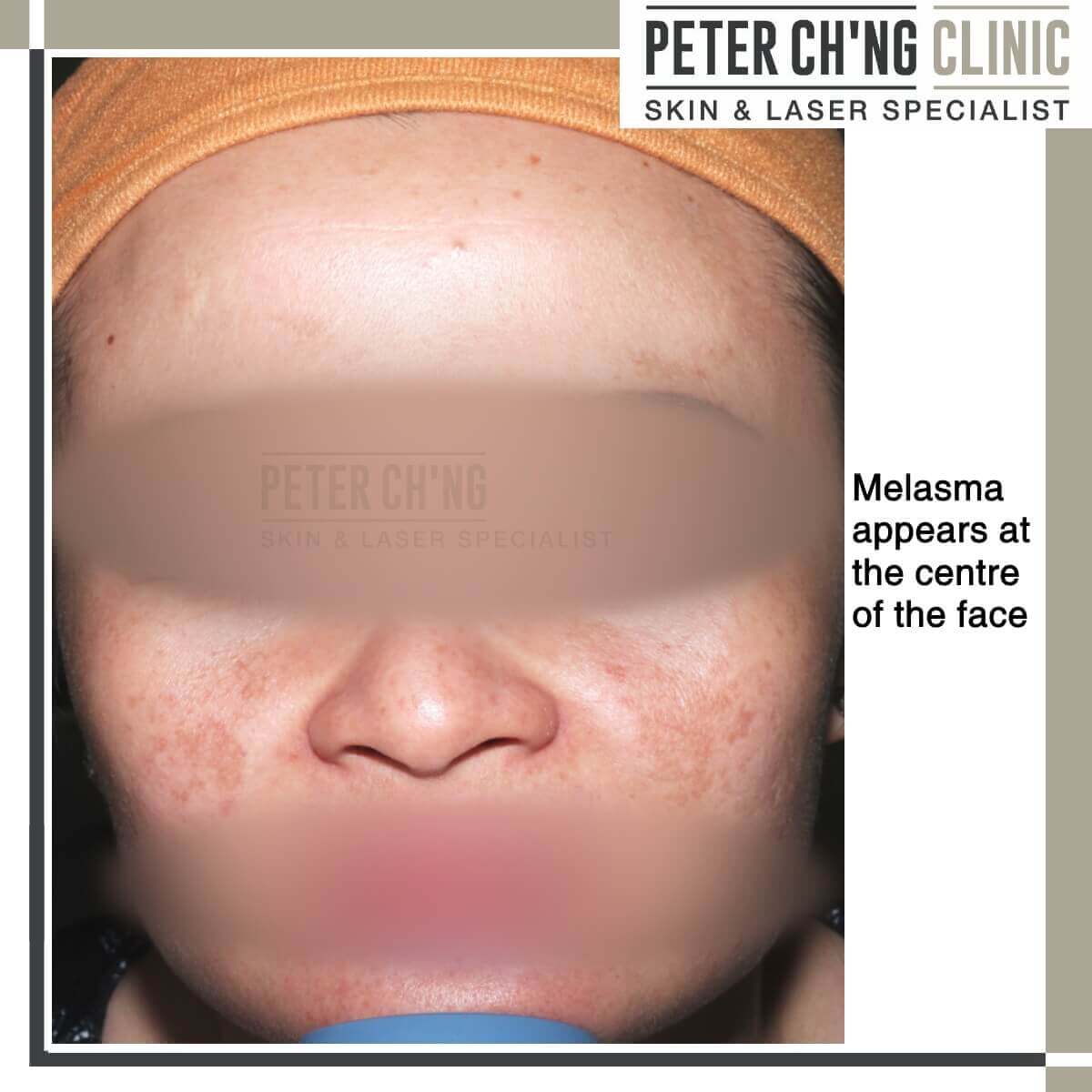 Melasma is a centra-facial condition, meaning that it is usually at the center of the face. And most of the time melasma happens bilaterally, creating symmetrical pigmentations on both sides of the face.
Melasma appears in tan or brown colour.
For melasma, the causes and risk factors include family history, being a female, hormonal imbalance during pregnancy or during the consumption of oral contraceptive pills, and the cumulative exposure of ultraviolet (UV) rays, which is why the older we get, the more cumulative UV exposure we have, and the more likely we can get melasma.
Melasma can also happen on patients with thyroid disease, because our thyroid also controls our hormones.
3. Maturational Hyperpigmentation
Maturational hyperpigmentation is the darkening of parts of our skin that happens in adulthood. It is more common in darker skin tone, and isn't related to any trauma or injuries to the skin.
This hyperpigmentation typically affects the lateral part or the side of the face, distinguishing it from melasma which appears at the central area of the face.
4. Pityriasis alba
Pityriasis alba is a common skin condition in children and adolescents around the age of 3 to 16 years old. It appears as white patches on the face, especially on cheeks and chin, and can be in round, oval or irregular in shape.
The cause of pityriasis is unknown, but it is often related to a form of skin inflammation and also eczema, although it can also occur to people who have no history of eczema at all.
5. Pityriasis versicolor
Pityriasis versicolor is also known as tinea versicolor. This is a common fungal infection that causes small patches of our skin to become discolored, and sometimes scaly.
Unlike pityriasis alba though, these discoloration patches are not necessarily in a lighter color than our skin tone, but may also be darker in color, or in red, brown, or pink.
Pityriasis versicolor commonly appears on the back, chest, upper arms, neck, and tummy.
How to treat uneven skin tone?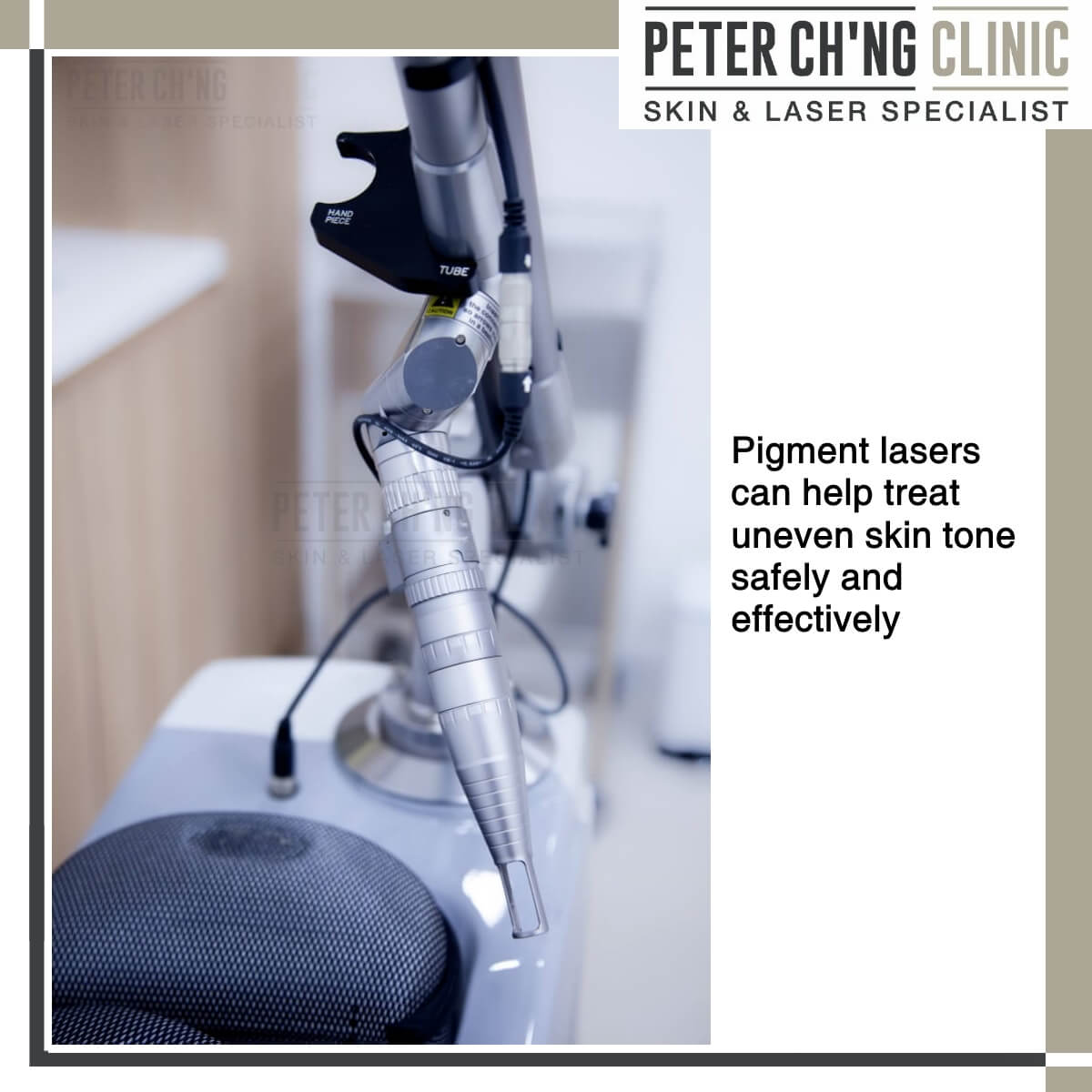 The treatment option depends on the causes of uneven skin tone. So it is important to get your skin condition diagnosed accurately by a verified skin specialist or aesthetic doctor first.
Treating post-inflammatory hyperpigmentation or hypopigmentation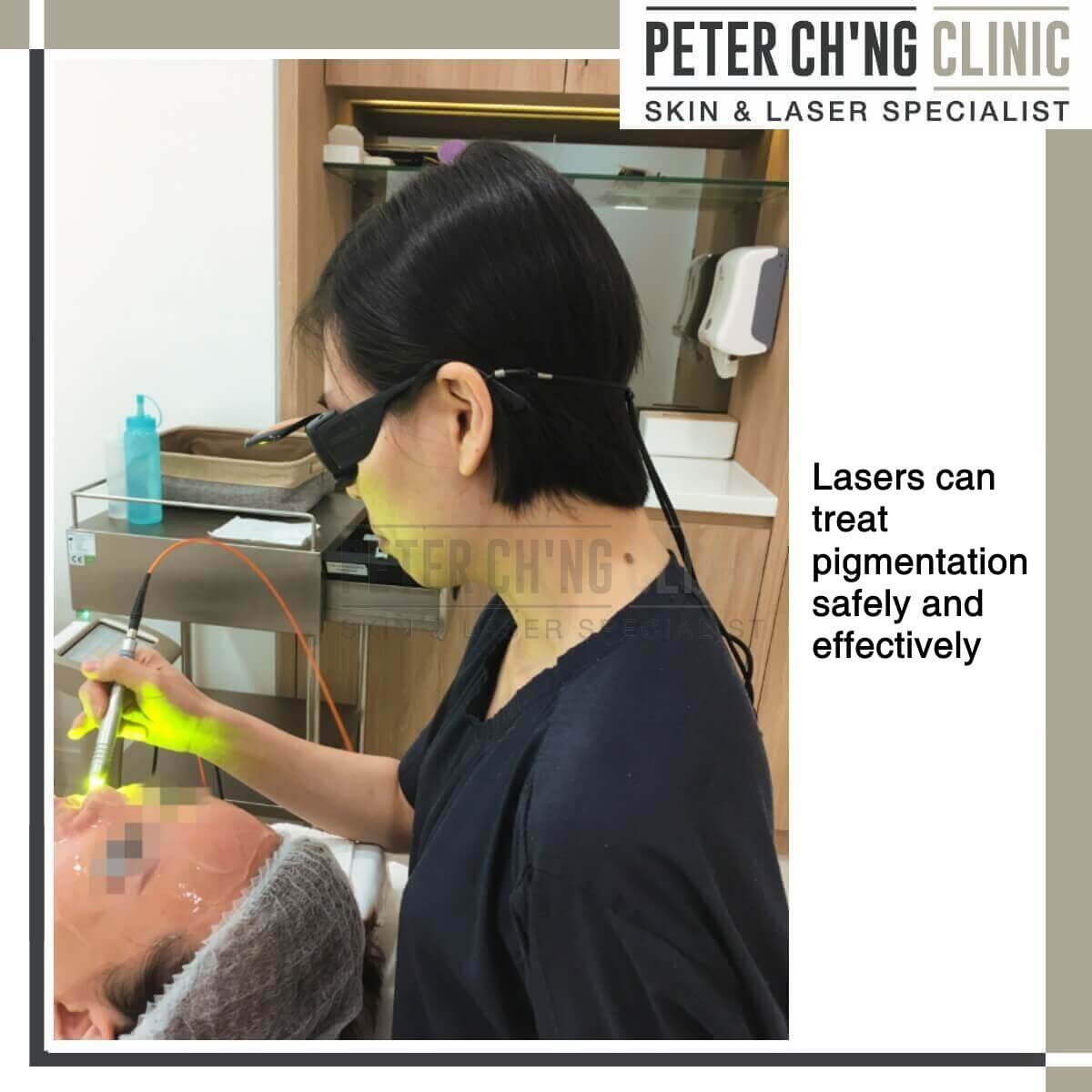 Post-inflammatory hyperpigmentation can be treated with pigment lasers such as Q-switched Nd-YAG laser, picosecond laser, and copper bromide laser.
Lasers can penetrate deep into the skin and remove the pigments beneath the skin to make the spots on the skin surface disappear.
If used by a skilled doctor, the laser can be adjusted to the best and most accurate position to target all the pigments accurately so that the results are precise and satisfactory.
Laser treatments are also quick, painless, and have minimal downtime.
However, post-inflammatory hyperpigmentation may take a long time to recover.
During the treatment and recovery period, sun protection is very important. We can go for a physical block like wearing a hat or long sleeves, carrying an umbrella, or just staying indoors during the peak sunlight hours of 11am to 4pm.
Or you can also go for chemical sunblock, use sunscreen or sunblock lotion with SPF of at least 30 or above to protect your skin. If you sweat a lot over your exposed skin or go swimming, reapply from time to time.
Post-inflammatory hypopigmentation, on the other hand, can recover on its own. However, repigmentation (to fill up the discoloured parts of skin) may take a long time, so light treatments like the narrow band UVB (Ultraviolet B) can be used to stimulate melanin (dark pigments) production.
Treating melasma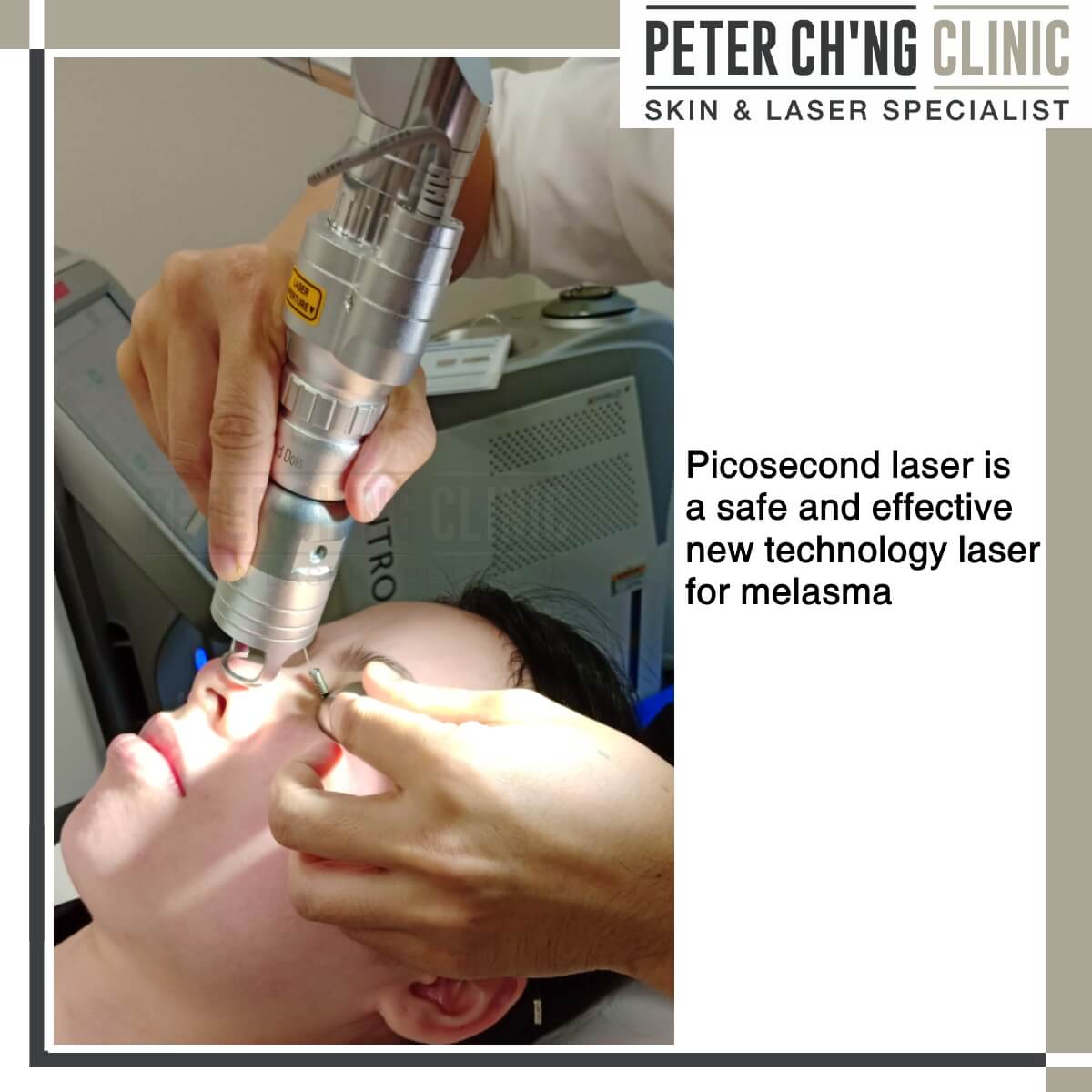 There are many types of lasers that can be used to treat melasma. One of the latest and most efficient lasers used for melasma treatment is the picosecond laser. A picosecond laser treats pigmentations by breaking down the pigments into small particles, in a process called a photoacoustic effect, where the laser uses both light and vibration effects to break down the pigments.
This is different from older generation lasers like the Q-switch laser, a nanosecond laser, which uses photothermal effect, which is light and heat, to heat up the pigments. When you heat up the pigments, it can cause more inflammation and a risk of side effect like post inflammatory hyperpigmentation.
Copper bromide laser is effective in reducing the vascular endothelial growth factors (also known as VEGF) which play a role in melasma formation. So it is also used to treat melasma.
Light treatments like the LED light therapy is also useful for the maintenance of the skin condition after laser treatments.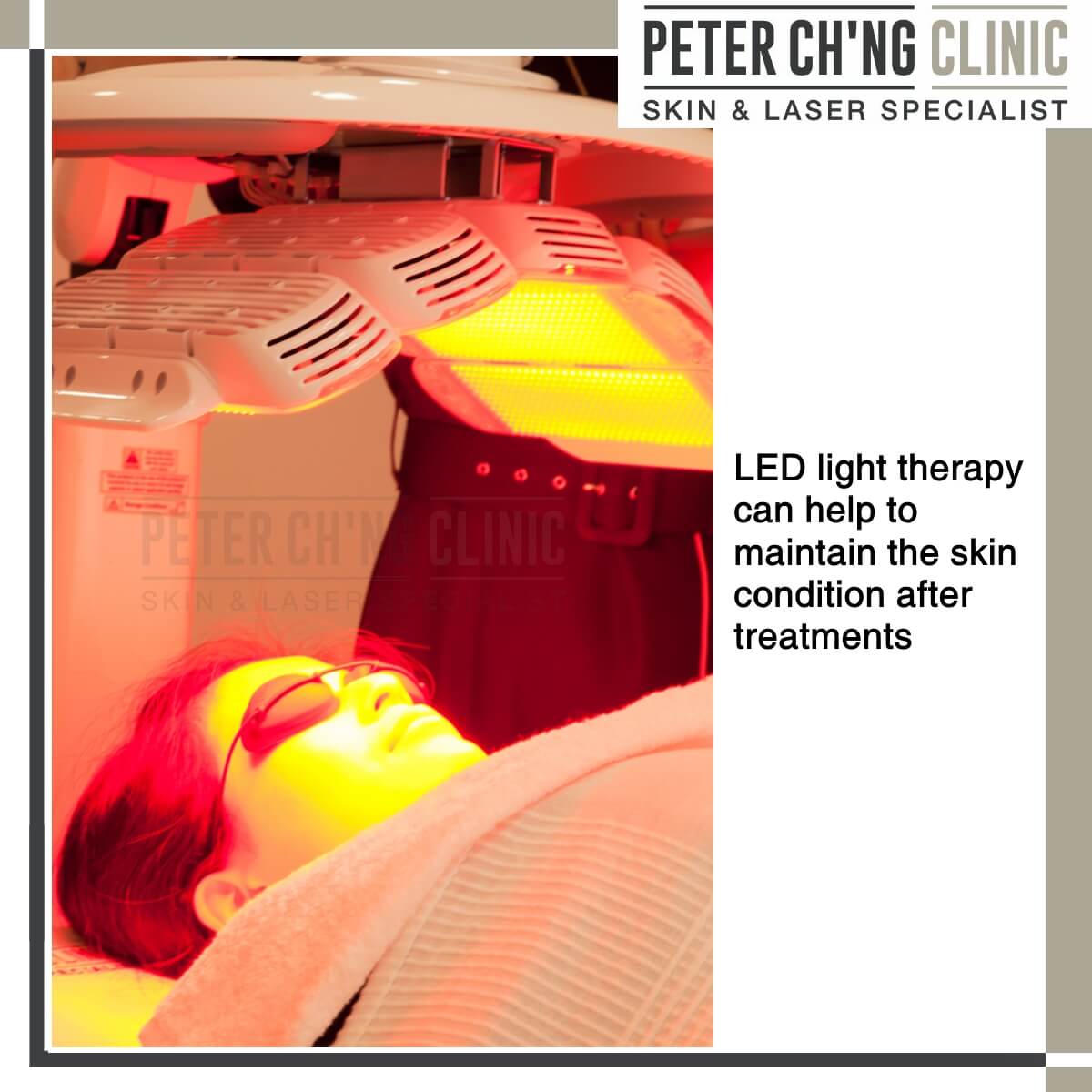 Unlike laser treatments for pigment on the epidermal (surface) layer of the skin, laser treatments for melasma don't cause any redness, swelling, or scabs and crusts on the treatment area. This is because melasma is usually present in the deeper layers of the skin, so the lasers penetrate through the skin to break down the pigments in these skin layers. So a melasma laser treatment comes with no downtime, and no post-treatment redness, swelling, or scarring.
Treating maturational hyperpigmentation
Maturational hyperpigmentation can also be treated via chemical peel or pigment laser. However, the relapse rate can be high if not treated properly. It is important that you get your hyperpigmentation condition checked by a verified dermatologist before undergoing any treatment.
Treating pityriasis alba and pityriasis versicolor
Pityriasis alba, common in children and young adults with symptoms of white patches on face, is usually self-resolved, meaning that it recovers on its own.
On the other hand, pityriasis versicolor is a fungal infection of the skin. So it must first be diagnosed by a skin specialist or a general practitioner with dermatology knowledge via skin scraping. Once the condition is diagnosed, treatment can be done via antifungal medications.
I wish to get the treatment as quickly as possible, but I need to prepare for any downtime or recovery period to plan my schedules in advance.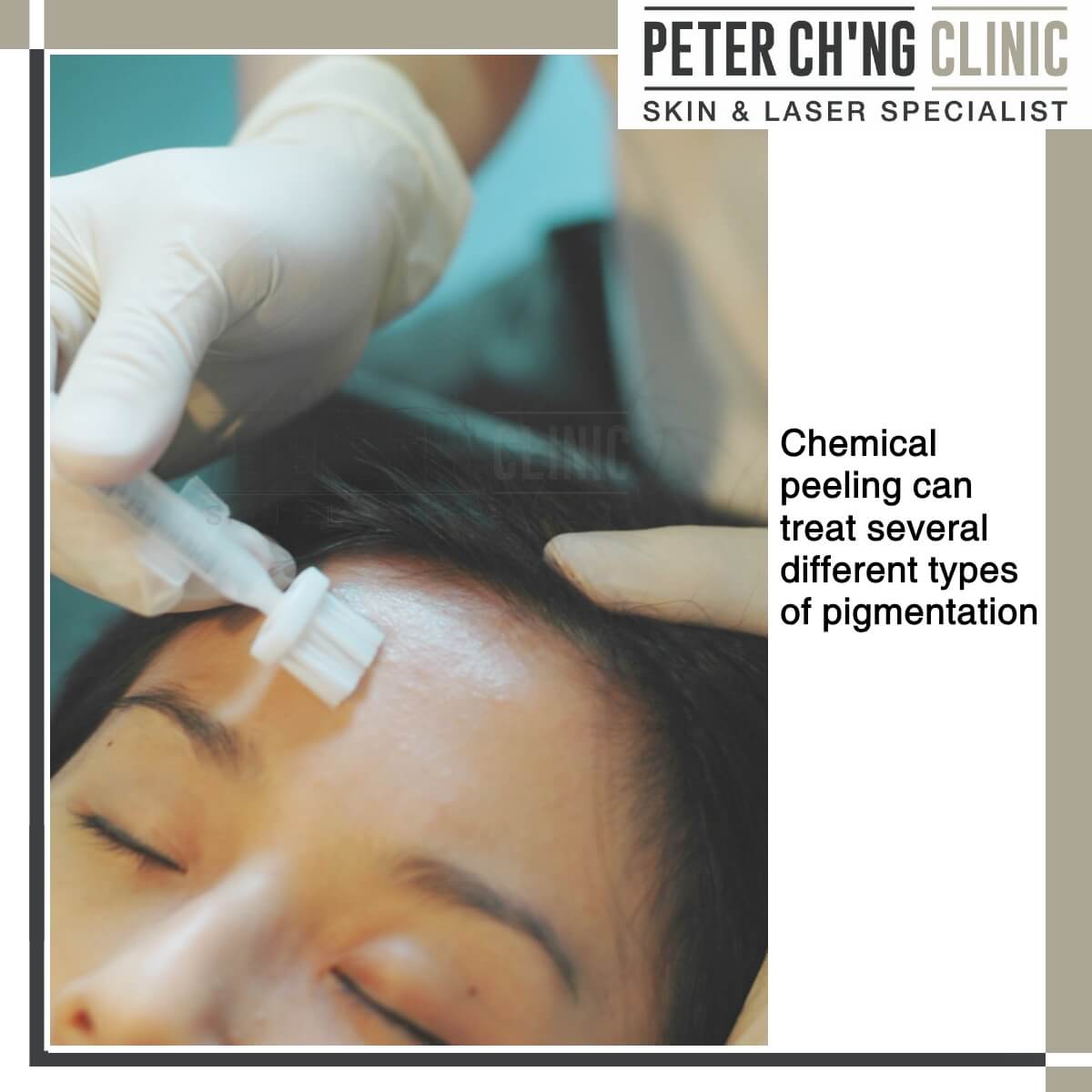 If you wish to rejuvenate your skin, you can consider chemical peeling on the superficial (outermost) surface of the skin and microdermabrasion.
Chemical peels are acids that are applied on the skin that causes the skin to peel. This process stimulates the skin cells to regenerate faster, and thus fastening the process of skin healing.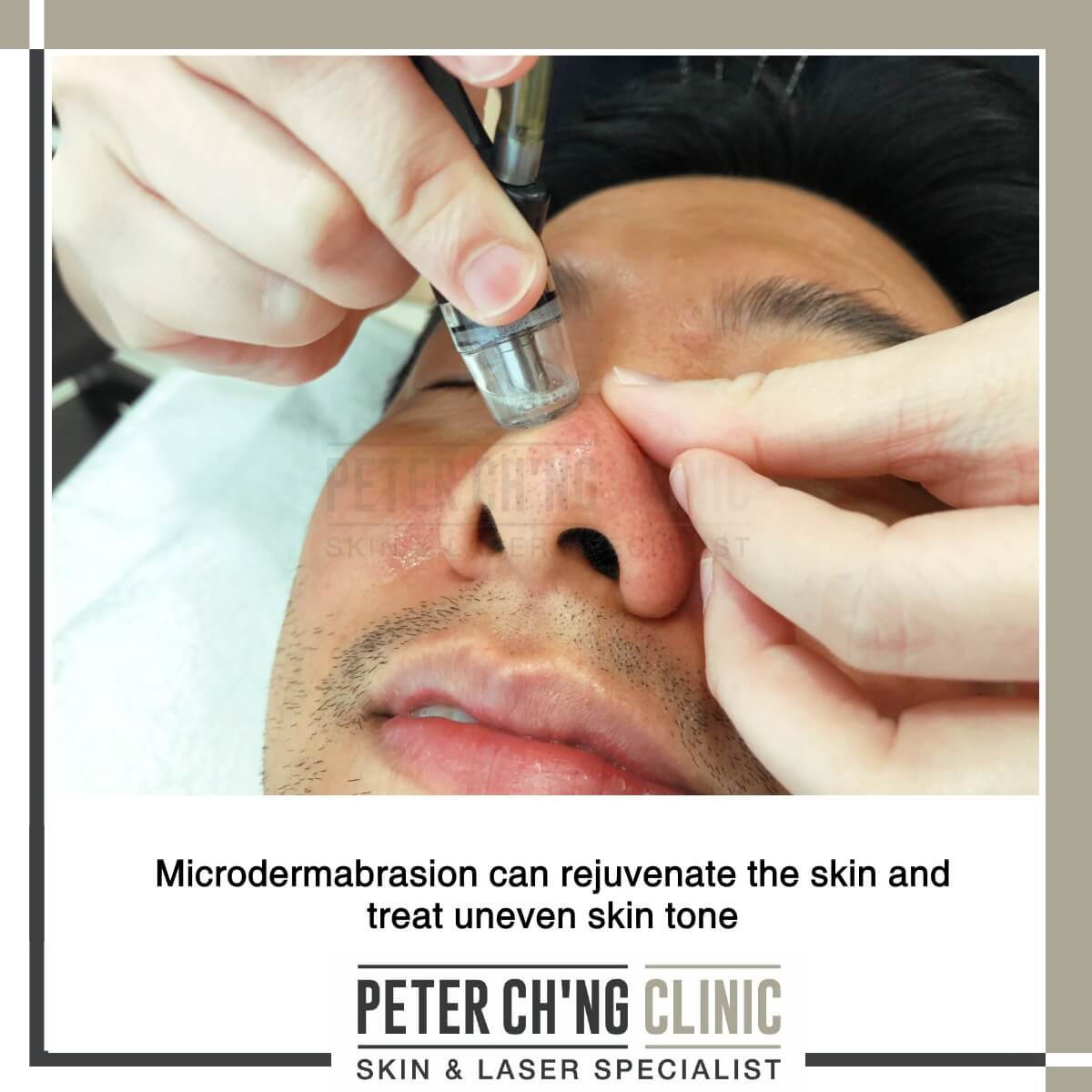 Microdermabrasion is a treatment that rejuvenates your skin by removing the dead skin on the top layer of the skin. In microdermabrasion, the handpiece used in the treatment is like a pen, and the tip is made from diamond.
This diamond slowly and gently scrapes off the dead skin, and at the same time, a vacuum is used to suck out this dead skin. A few chemical ingredients is infused inside the skin, including hyaluronic acid for skin hydration and salicylic acid to remove the oil on the skin.
You can also opt for laser treatments like Carbon Peel, Q-Switched Nd-YAG laser, and Copper Bromide Laser. These laser treatments can treat uneven skin tone quickly with minimal downtime, and are painless, too.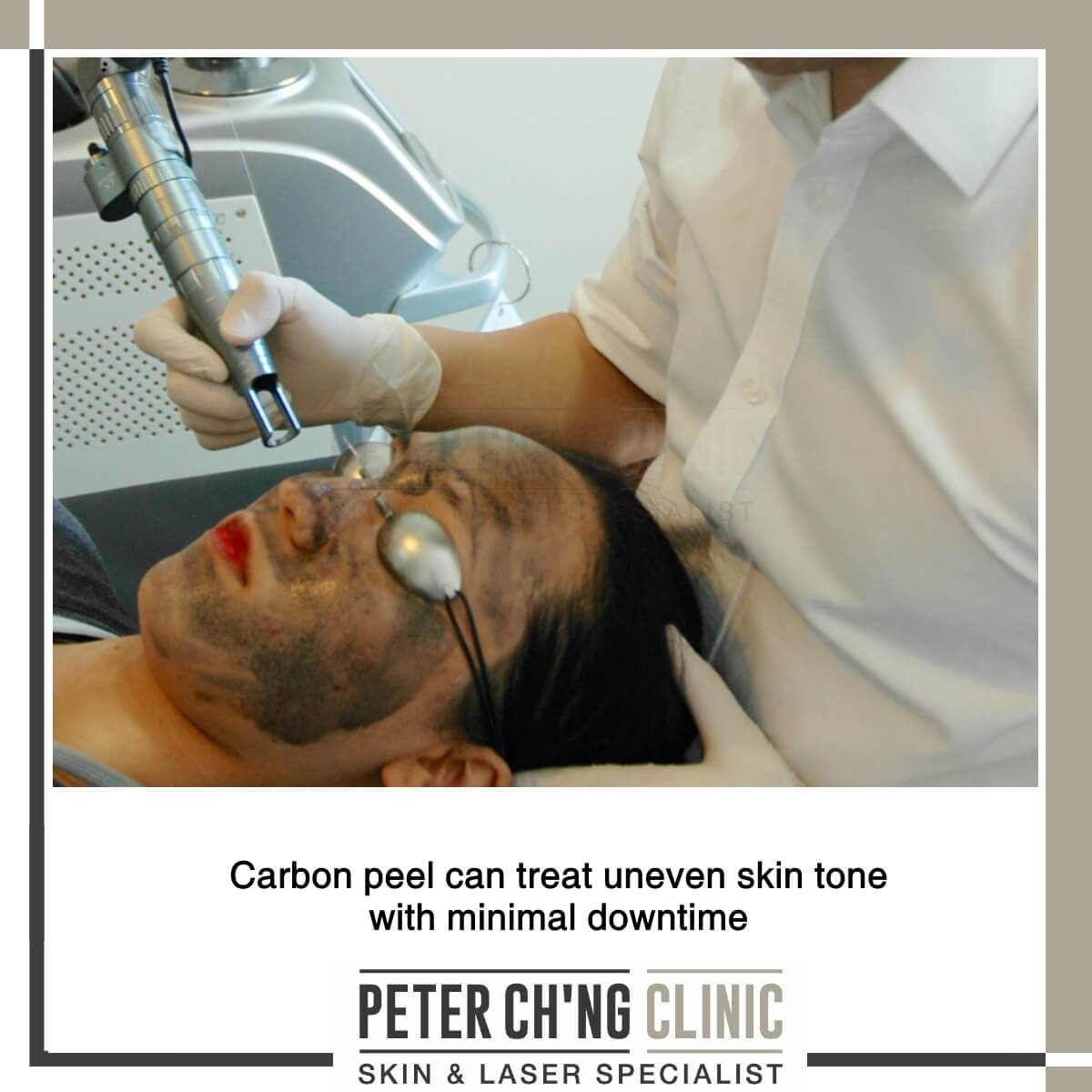 All these treatments can increase cell turnover and give your face a brighter look, with no downtime, too, popularly known as "lunchtime procedures".
All in all, you need to most importantly get your skin condition diagnosed accurately by a verified skin specialist or aesthetic doctor first, before choosing a safe and effective treatment by a certified and verified doctor.
Stay tuned as next week we're looking at why you shouldn't attempt to treat uneven skin tone at home!
---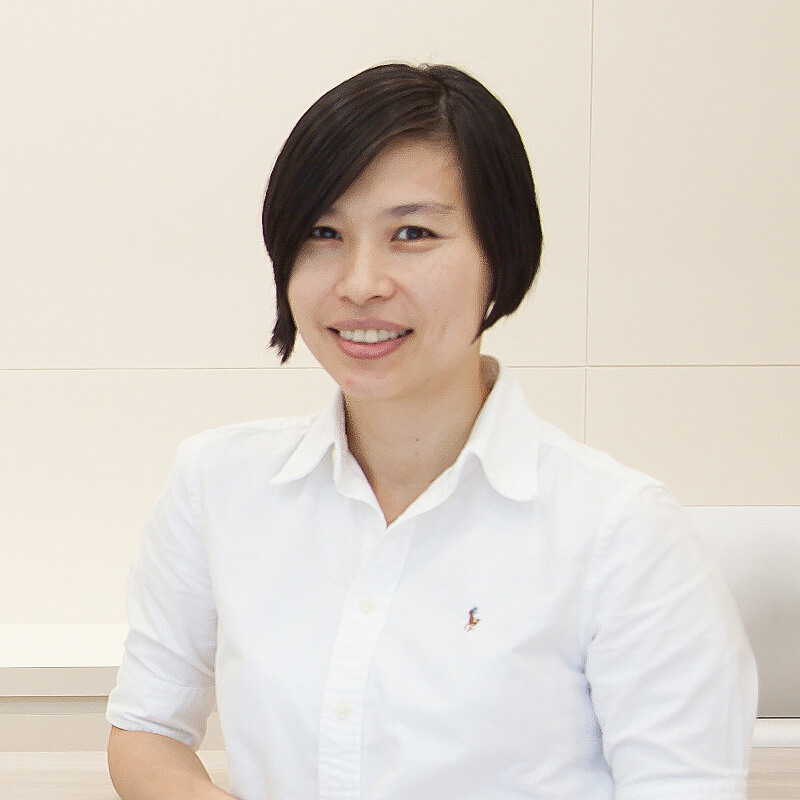 Dr. Loo Keng Shien
Dr Loo Keng Shien is a consultant aesthetic physician who loves to listen to patients' problems and find medical solutions to help in their skin and aesthetics journey. Dr Loo practises evidence-based medicine, and with her experience, she has listened to and helped numerous patients solve their skin problems or achieve their aesthetic expectations safely and effectively.
If you'd like to ask more about your skin condition or have a discussion with Dr Loo, call us at
+6011-22882299
,
Whatsapp
us, or
book an appointment with Dr Loo here
!
---
Treatments mentioned in this article :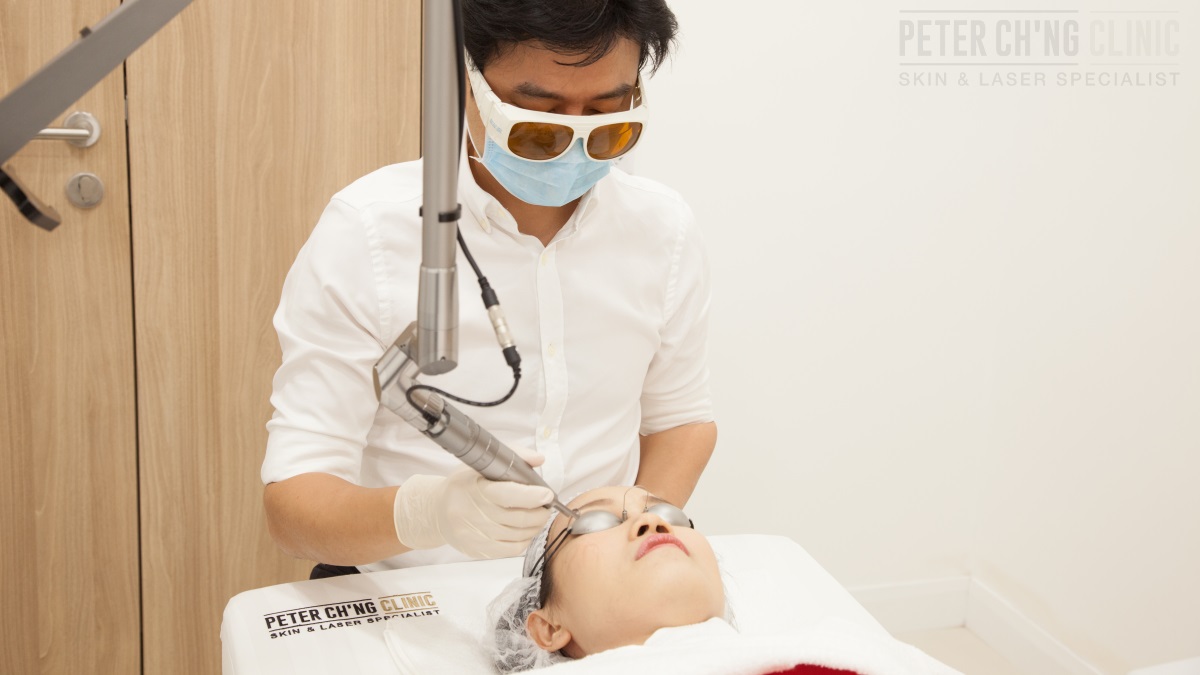 Pigment Laser
Laser treatments are always one of the most effective treatments to get rid of pigmentation on the skin. Pigment lasers can penetrate deep into the skin and remove the pigments beneath the skin to make the spots on the skin surface disappear.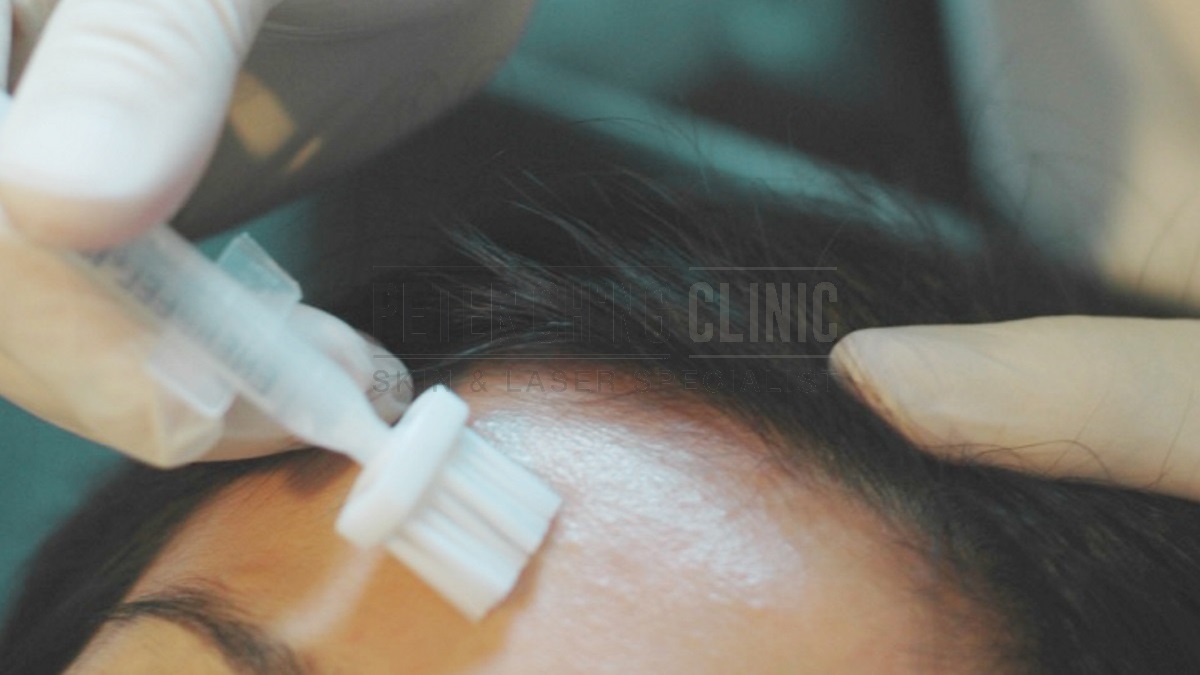 Chemical Peel
Chemical peels are acids that are applied on the skin to cause the skin to peel. This process stimulates the skin cells to regenerate faster and thus fastening the process of skin healing.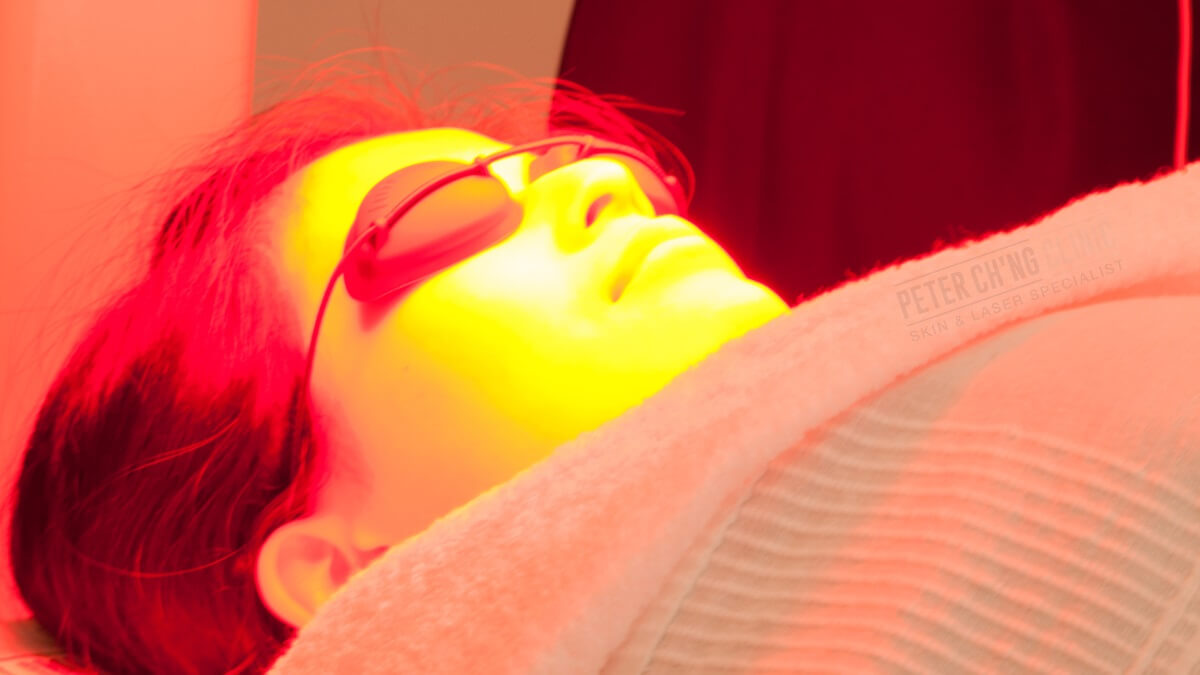 Phototherapy
Phototherapy is a skin treatment using light energy to penetrate the skin. Therefore, it causes minimal pain and discomfort throughout the treatment process.