Best Non-Surgical Procedures for Aging Skin Around Neck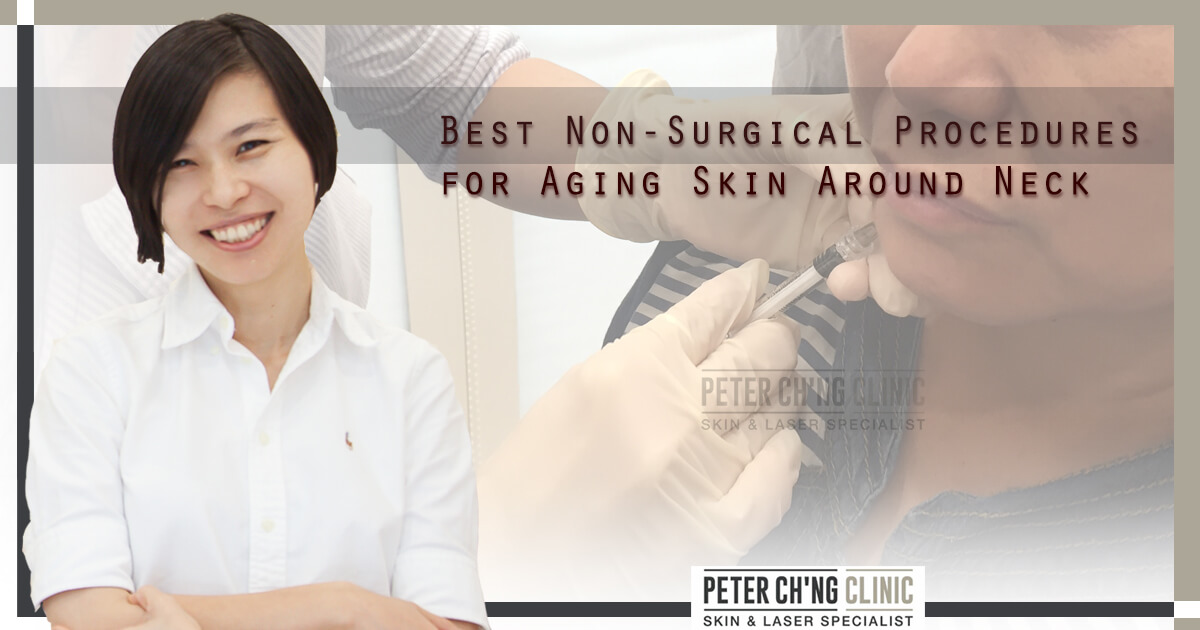 When you cannot see a distinction between your jawline and your neckline, you know age has caught up. Coupled with crepey skin, horizontal and vertical bands crisscrossing, and saggy skin around your neckline, we only have this to say. Welcome to the fourth–decade club!
Our neck is often neglected and does not get the same pampering our face receives. The best creams, serums, and laser treatments are reserved for our face. And our poor neck is left to deteriorate.
If you are showings signs of a "turkey neck" yet you're not ready for invasive surgical procedures, then read on. Join us as we countdown to the best neck lift treatment without surgery to fix your neckline woes.
How To Get Rid Of Saggy Skin Around Neck: Best Non-Surgical Procedures
1. Neck Lift with Botox
Patients who present with vertical lines and sagging skin on the neck can be treated with Botox. Botox is a neurotoxin that works by stopping our muscles from contracting. Essentially, Botox temporarily relaxes the underlying muscles that cause wrinkles and fine lines.
To treat a saggy neck, Botox works by relaxing the platysma muscle. This muscle comprises of a network of tiny muscles that spread from the chest up to the neck and ends at the jaw. By injecting Botox into the platysmal bands in the neck, the vertical lines can be corrected and smoothen out.
This lunchtime neck lift treatment takes only fifteen-minutes and involves several injections into the lower jaw and neck. Fast and with zero downtime, it's no surprise that neck rejuvenation with Botox is one of the favored procedures to get rid of lines on the neck.
2. Neck Rejuvenation with Fillers
If you have crepey skin on your neck, then fillers can correct this imperfection. Wrinkled necks are triggered through the body's natural aging process. As we age, our body produces less collagen, thus weakening the subcutaneous structure of the skin. Over time, gravity takes its toll, causing loose skin to hang from the bottom of our jawline and neck. Coupled with environmental hazards such as sun exposure, horizontal lines are bound to show up as dry, crepey skin.
The good news is that hyaluronic fillers provide instant neck rejuvenation with remarkable results. These dermal fillers are effective in treating deeper, horizontal lines on the neck and can last up to 12 months. Neck rejuvenation with fillers is another fast procedure that takes up to 30 minutes. On the flip side, fillers injected by non-trained injectors can appear lumpy.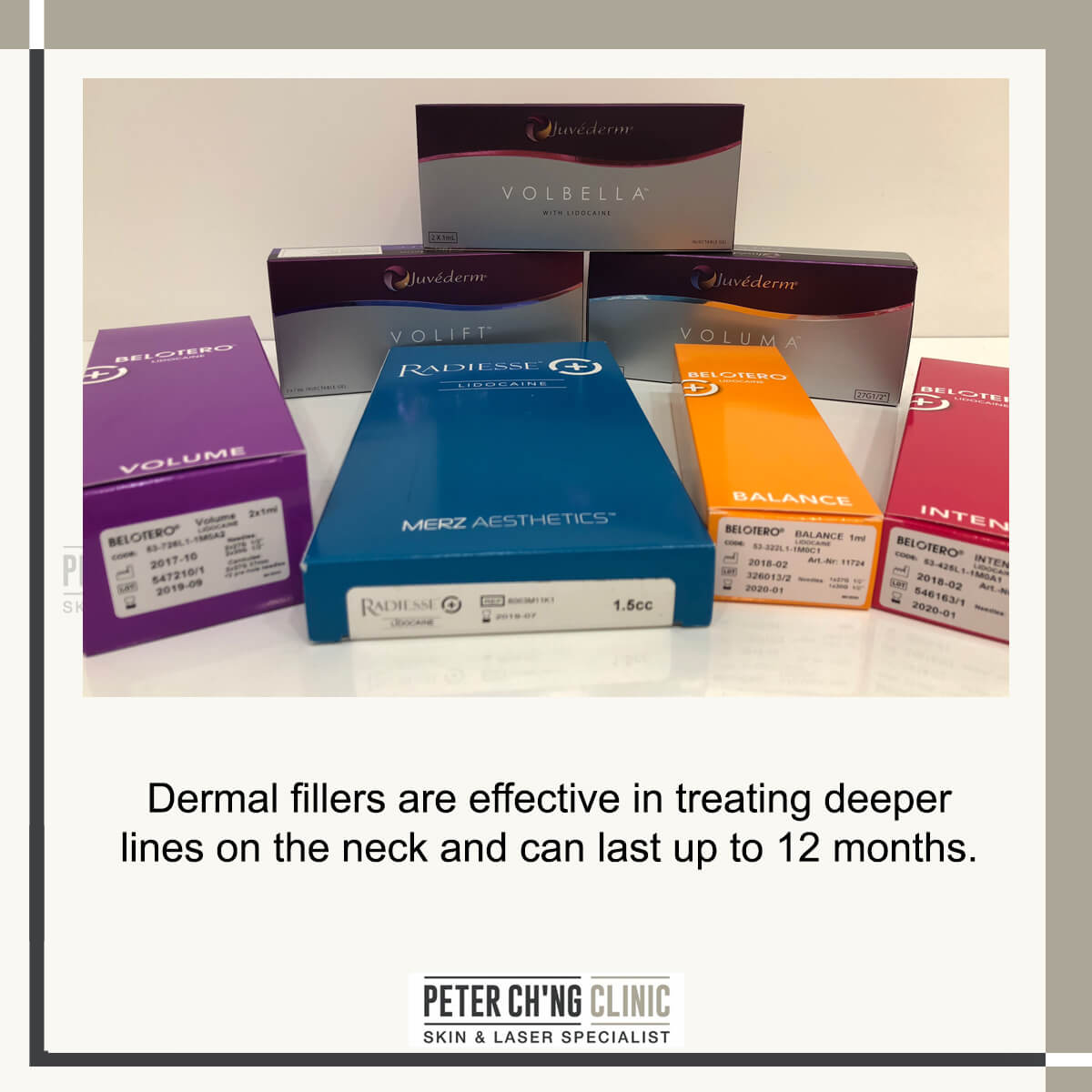 3. Neck Lift with Thread Lift
Facial bone loss occurs as we age, resulting in loss of mid-face volume and sagging of skin. With time, the once defined jawline is replaced with a blunt jawline and double chin. To make things worse, we often strain our necks forward subconsciously to read content on digital devices. Be it a laptop, tablet or mobile phone, this constant tilting is also guilty of causing "tech neck" or jowls.
Thanks to medical advancement, thread lift is another effective lunchtime neck lift that provides immediate reprieve for jowls. Thread lift is a minimally invasive procedure using surgical threads to reposition the underlying tissue. Comprising of small cones, the barb-like thread is then passed through the skin, thus lifting the skin by a few millimeters. As part of the body's healing response, our body produces more collagen around the thread and eventually absorbs it.
Through continuous production of collagen to heal the treated area, the neck looks lifted, plumper and rejuvenated. The effects of a neck lift thread lift can last between one year and up to three years.
4. Neck Lift with Ultherapy
For patients who present with both saggy and wrinkled skin, high intensity focal ultrasound (HIFU) treatment such as Ultherapy provides better results. An Ultherapy neck lift is a gold standard for non-surgical neck rejuvenation. Touted as one of the best neck tightening procedures, Ultherapy utilizes heat energy to induce collagen production and promote skin remodeling. As a result, skin becomes firmer, lifted and smoother.
The good news about Ultherapy is that it is non-ablative. By working on the muscles on the face (known as superficial muscular aponeurotic system or SMAS) first, and then the dermal layer just below the skin, patients can resume normal activity immediately after treatment. Some patients even return to work immediately post-treatment. Others may experience some soreness, but this usually resolves within a few days. Generally, an Ultherapy neck lift lasts up to one year.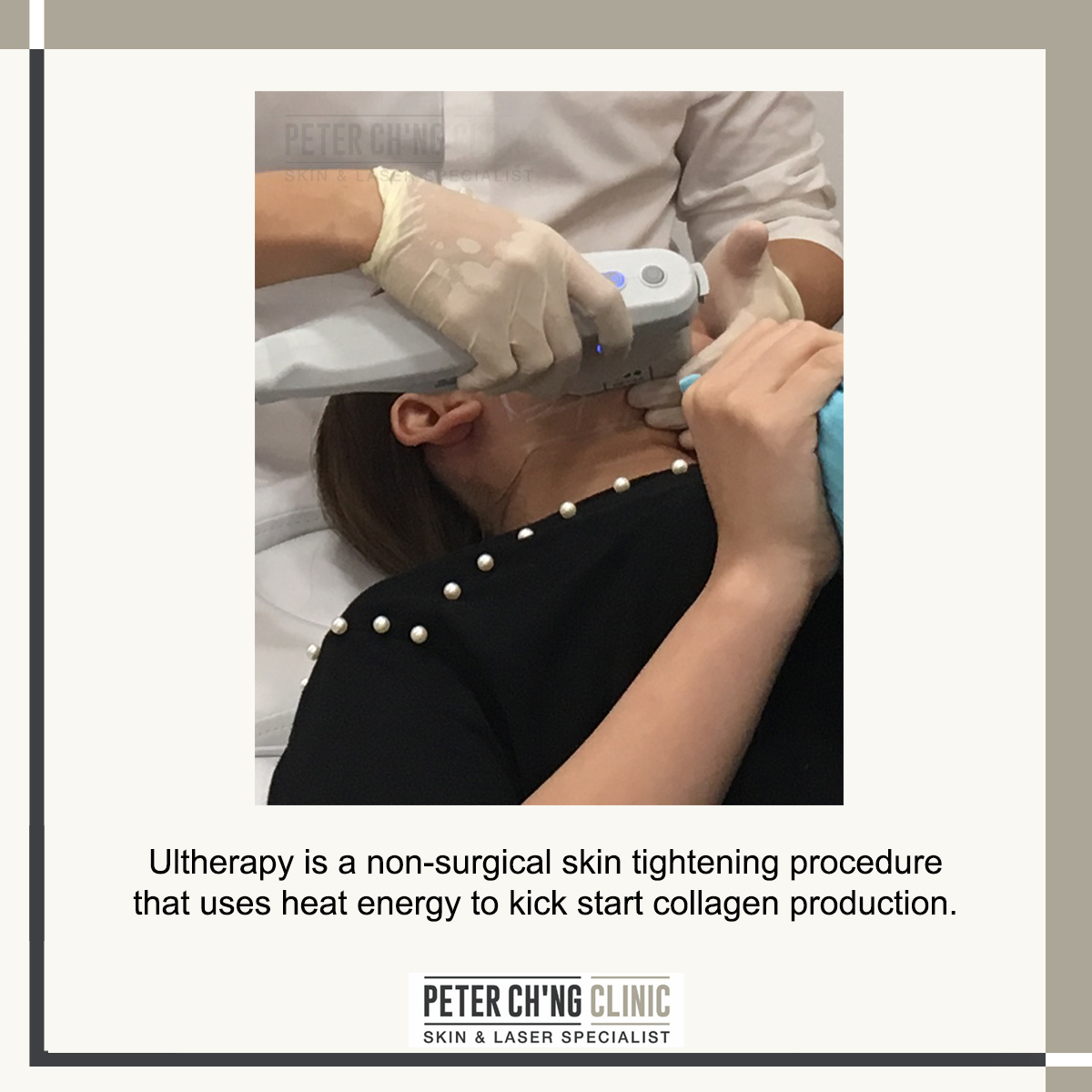 Conclusion
We can't defy gravity nor stop the natural aging process. What is comforting to know is that there are many safe and effective non-surgical approaches for a neck lift. Nevertheless, there are limitations to how much correction these minimally invasive procedures can achieve. In fact, a non-surgical neck lift can buy you some time to correct neck flaws, before you decide on getting a neck lift surgery.
So don't let those wrinkles be a pain in the neck for you. Speak to a board-certified dermatologist, aesthetic doctor or plastic surgeon to find out the best neck lift procedure for you. After all, once your neck is restored to its former glory, your emotional well-being will be lifted too.
---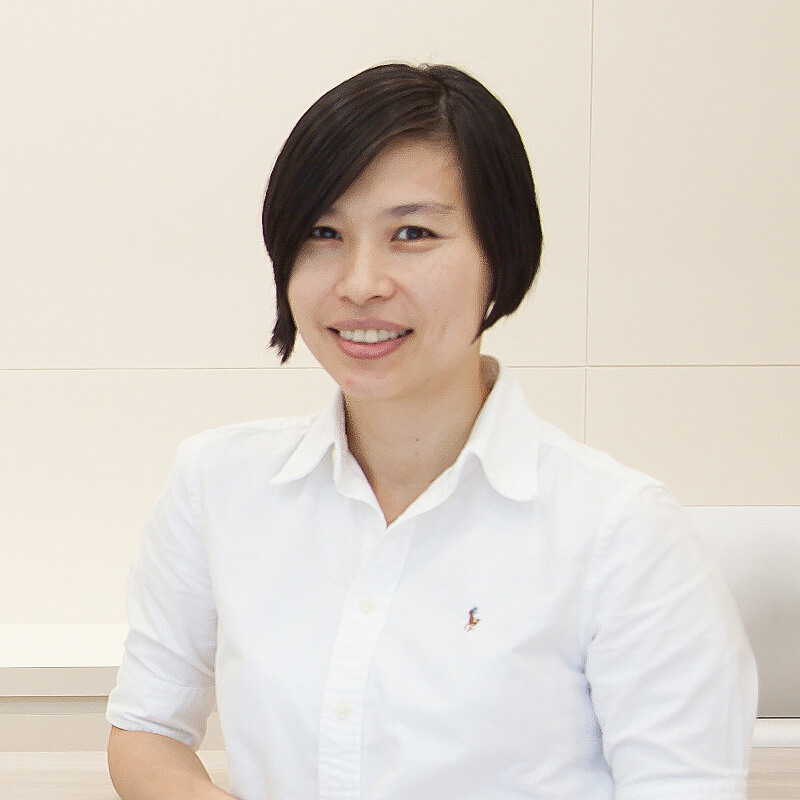 Dr. Loo Keng Shien
Dr Loo Keng Shien is a consultant aesthetic physician who loves to listen to patients' problems and find medical solutions to help in their skin and aesthetics journey. Dr Loo practises evidence-based medicine, and with her experience, she has listened to and helped numerous patients solve their skin problems or achieve their aesthetic expectations safely and effectively.
If you'd like to ask more about your skin condition or have a discussion with Dr Loo, call us at
+6011-22882299
,
Whatsapp
us, or
book an appointment with Dr Loo here
!
---
Treatments mentioned in this article :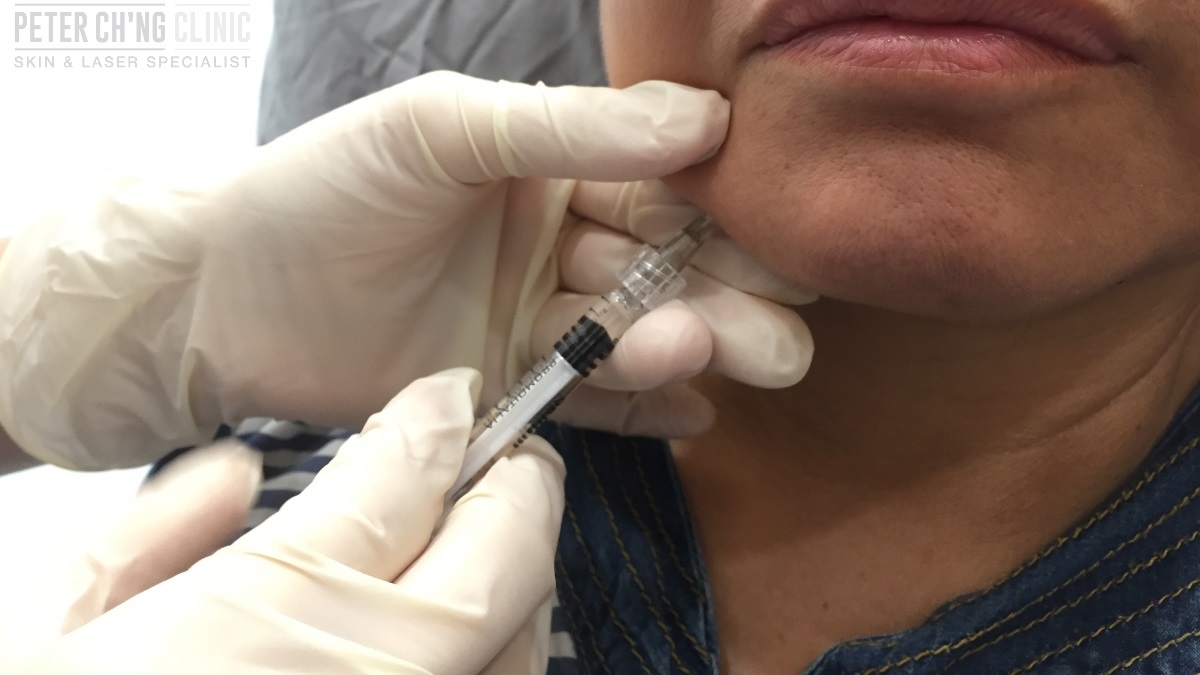 Filler / BOTOX Injection
Fillers like hyaluronic acid filler can be used to fill in the spaces in the skin where fat had been lost (the cause of the skin to sag) and volumize the skin to make it tight.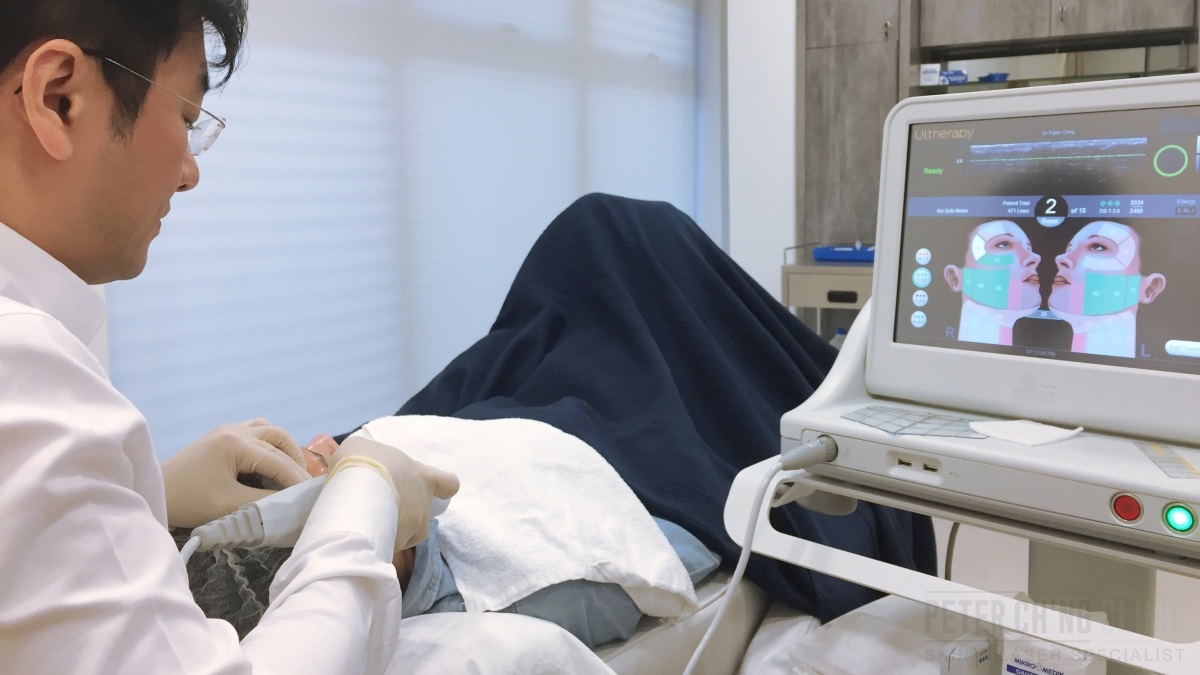 Ultherapy
Ultherapy is a medical treatment that uses HIFU (High Intensity Focused Ultrasound)to detect areas where sagging skin is present and lift the skin to tighten it without any invasive surgery.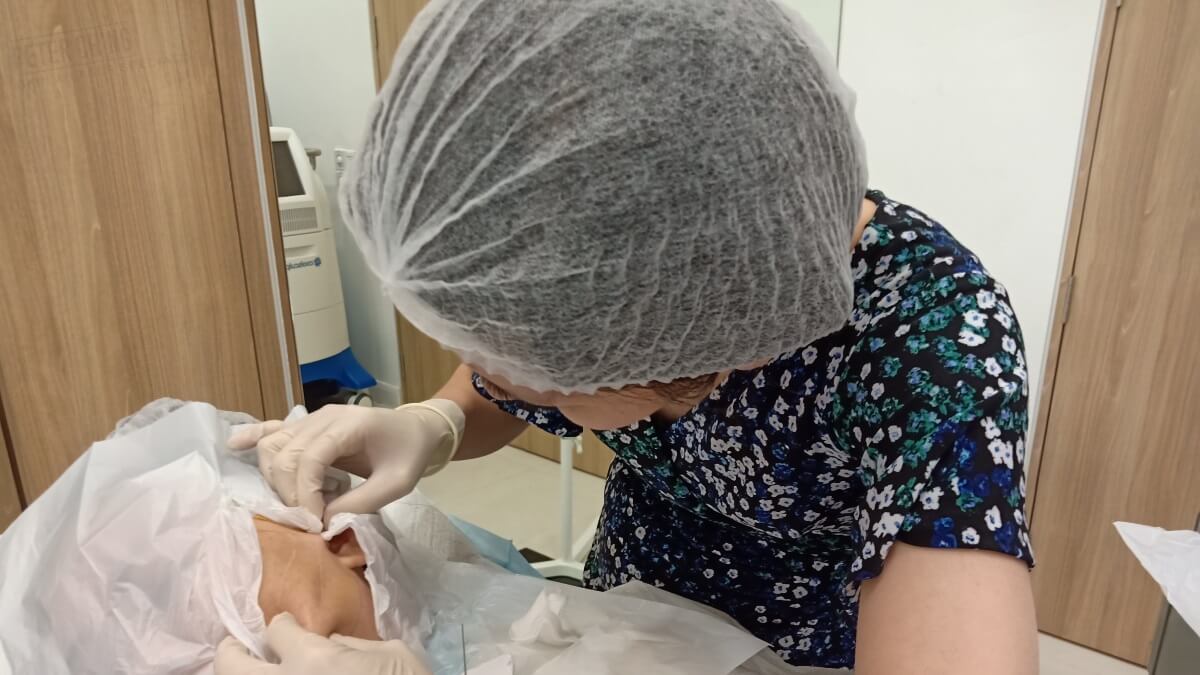 Facelift/Thread Lift
Facelift helps give your face a more youthful appearance. During a facelift process, some of the procedures involved are the removing excess facial skin, tightening tissues, and reshaping the skin on your face and neck.