How To Snag That Korean-Idol Look With Non-Surgical Facial Contouring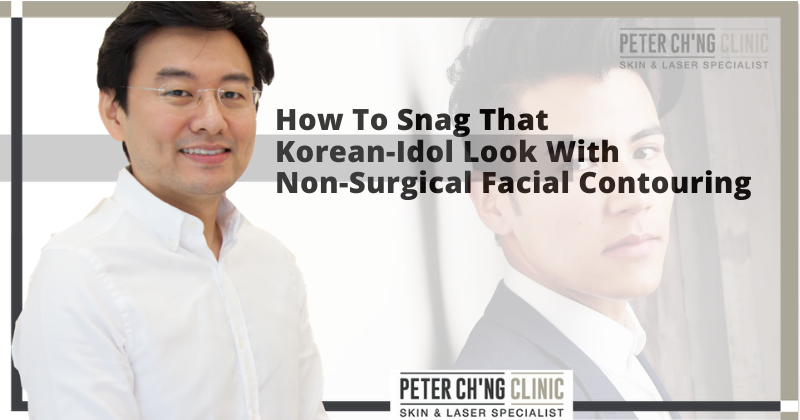 Ever wondered how humanly possible that your favourite K-Pop and K-Drama idols look so good? What are the odds that all of them are blessed with sheer good genes? It's almost impossible to be born so symmetrical and so perfect. The truth is - even these stars need aesthetic help to enhance their facial features.
You'll be amazed at how dermal fillers can help to improve one's appearance by creating volume strategically. By accentuating the cheeks, restoring volume to the temples, and defining the chin, these tweaks can create a facial canvas that is extremely pleasing.
So save your bucks because there is no need to leave the country to get the Hallyu (Korean) look. Armed with realistic expectations, these bladeless procedures will transform a flat face to a 3D face with curves at all the right spots. Read on to find out what non-surgical procedures are used to recontour the face to an ideal state.
Liquid FaceLift
Ever heard of a liquid facelift? A liquid facelift is a lunchtime aesthetic procedure that lifts and rejuvenates the face using dermal fillers and botulinum toxin.
Made of hyaluronic acid, dermal fillers can be used to plump up hollows under the eye, restore volume, define jaw angles, and lift sagging cheeks to its youthful position. Dermal fillers injected along the jawline improve its definition, lending to a more chiseled look.
Botox, a brand of Botulinum toxin is used to complement the liquid facelift procedure. Botox helps to relax facial line and soften wrinkles.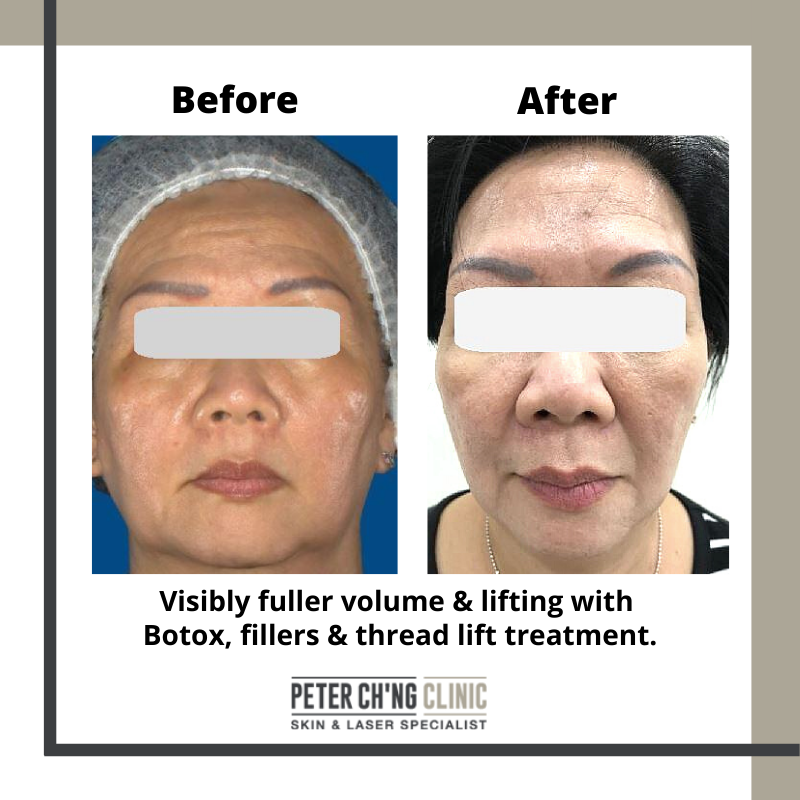 Liquid facelifts are popular among patients in their mid-30s onwards, where volume loss and flatter angles are seen on the face. Also referred to as the Y-Lift, liquid facelifts are bespoke cosmetic treatments that can be customized to suit your aesthetic concerns. Liquid face lifts are often sought by celebrities to rejuvenate their appearance before a grand event.
The result is dramatically breathtaking yet subtle. Often, people will wonder if you've secretly undergone any aesthetic procedures to look so refreshed. But they can't pinpoint what was done specifically! And this shall be your best-kept secret to cherish for the next 12 months.
So if you're thinking of reshaping your face from U-shape to Y-shape, then dermal fillers and botulinum toxins are worth considering.
Thread Lift
Anyone who understands the principles of makeup knows that blushes accentuate the apple of cheeks. By applying a hint of pink on the cheeks, cheeks look more prominent in minutes.
Sagging cheeks, on the other hand, makes a face look aged and less energetic. Thankfully saggy cheeks can be repositioned higher with thread lifts
A thread lift is a non-surgical procedure that lifts saggy tissue. During the treatment, threads with tiny barbs or cone are inserted beneath the skin's surface. Once correctly positioned, these barbs or cones grip the skin and repositions the fat higher to give the cheeks a more lifted and toned appearance.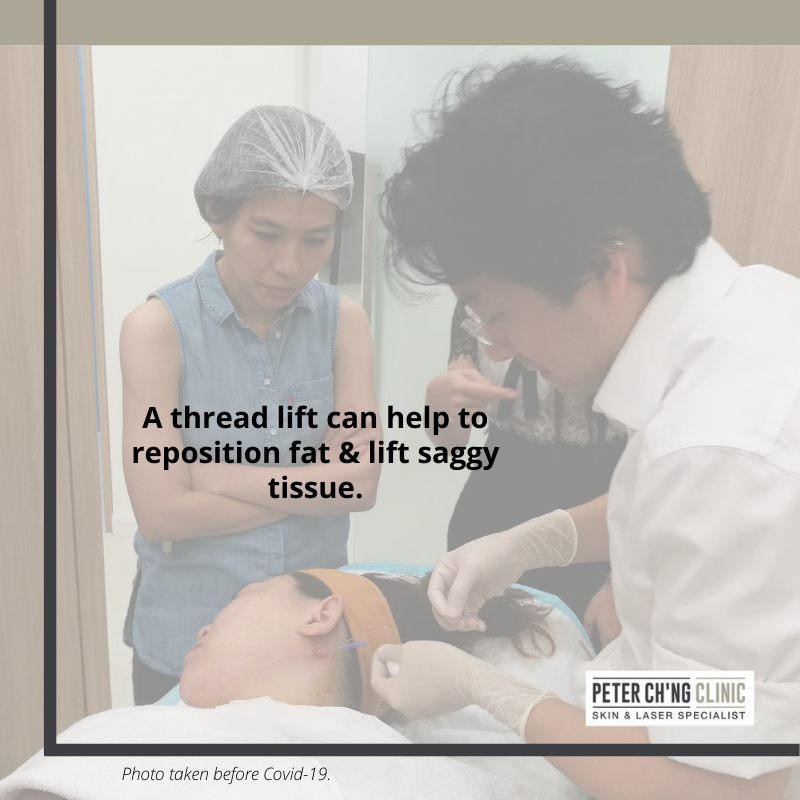 A thread lift can help to reposition the fat and treat saggy cheeks. Results can be seen immediately after the treatment. Plus, outcomes look better within 4 – 6 weeks when the initial swelling has subsided. The results of this lifting procedure can last for up to a year
Thread lifts can also be used to treat jowls, the jawline, neck, marionette lines and lift droopy eyebrows. So here's another facial contouring option that delivers perky results!
Ultherapy
If you cringe at the idea of injectable or needles penetrating your skin, then Ultherapy is a needle-free aesthetic treatment that can tighten and lift effectively.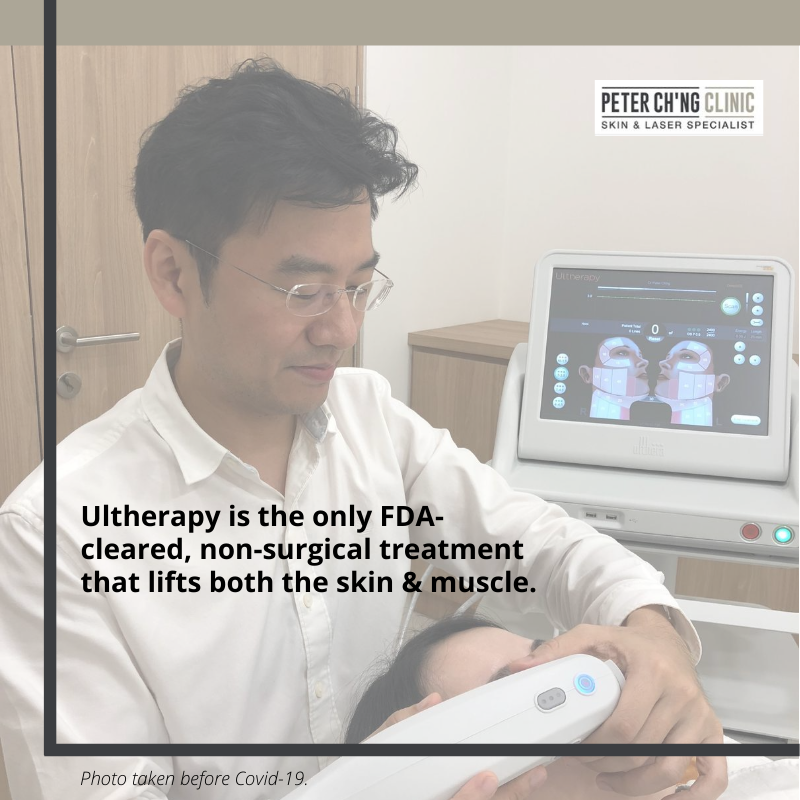 Ultherapy is the only FDA-cleared, non-surgical treatment that lifts both the skin and muscle. This non-invasive skin tightening procedure uses micro-focused ultrasound energy to provide direct visualization of the skin layers.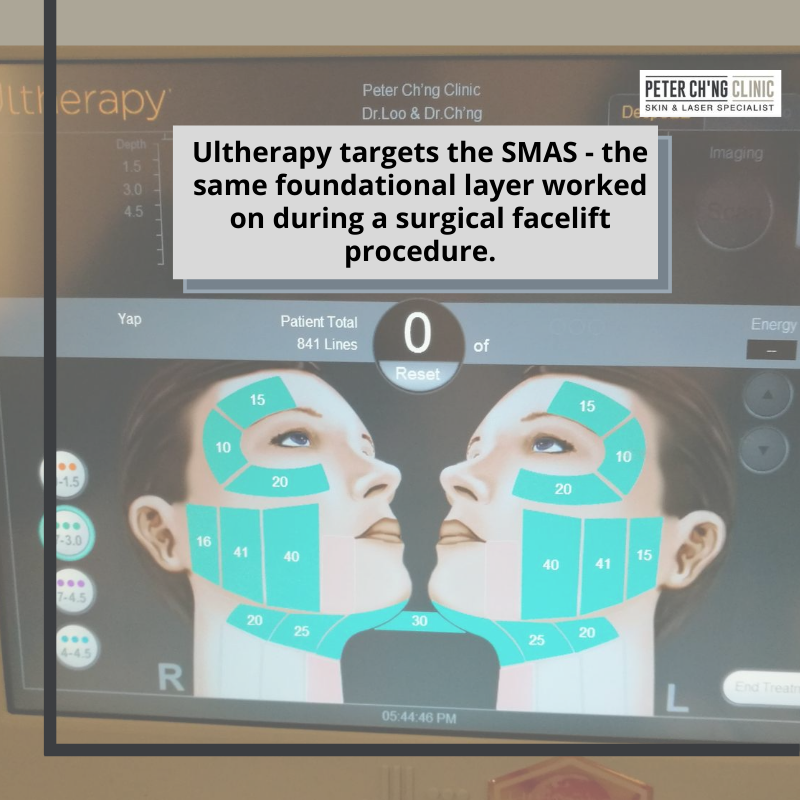 Ultherapy works by heating the superficial muscular aponeurotic system (SMAS). The SMAS is the same foundational layer that is worked on during a surgical facelift procedure. By heating the SMAS to 60 – 70 degrees, it stimulates the body to produce more collagen. As a result, visible improvements in overall skin tone and tightness can be seen in a single session.
So effective is Ulthera's lifting capability, it can delay the need for surgery for many years. Best of all, this is a zero-downtime procedure. Thus, you will look restaurant-ready within a few days from your treatment.
Conclusion
When you observe an ideal face, you will notice it has several common traits. High cheekbones, a tapered and pointy chin, and an oval face closely resembling a heart mirrors the golden ratio of beauty.
Thankfully, aesthetic technology has vastly improved over the years. Hence, looking good is attainable without having to go under the knife.
Now that you know the beauty secrets that shape the faces of many celebrities, looking K-pop or K-drama does not seem elusive after all. With a face-to-face consultation, we can plan and recommend treatment options that will meet your aesthetic goals.
Our lines are open for you. Let us know if you have other questions regarding non-surgical facial contouring. We're contactable at info@peterchngskinspecialist.com, or WhatsApp us at 011-2288 2299.
---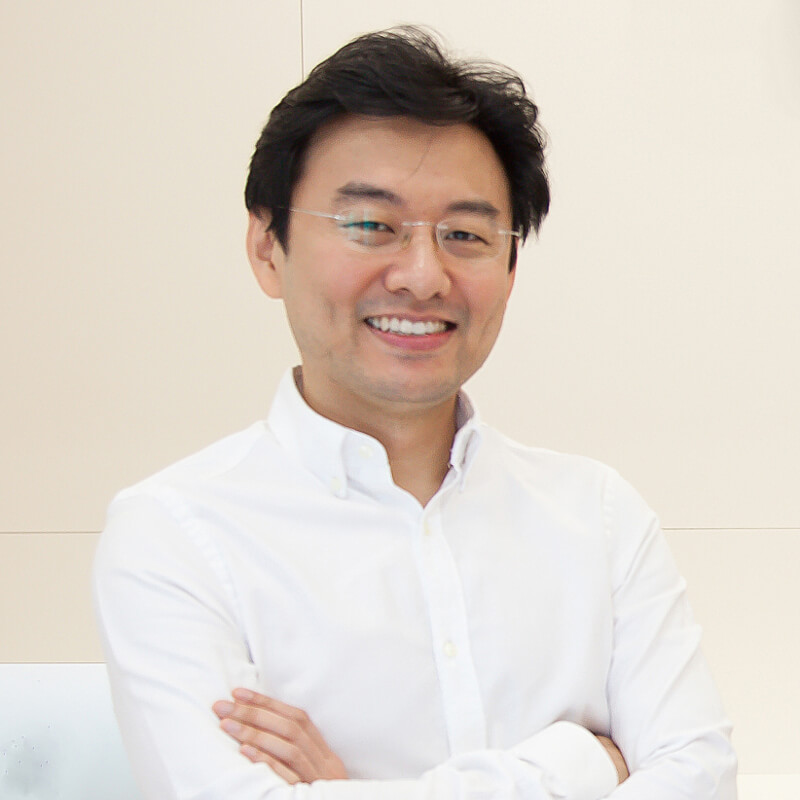 Dr. Peter Ch'ng Wee Beng
Dr Peter Ch'ng is a consultant dermatologist who always put his patients' safety and wellbeing as his top priority. As an esteemed dermatologist and skin specialist, Dr Peter prides himself in being able to treat acne patients of all types, with a 100% acne treatment success record.
If you'd like to ask more about your skin condition or have a discussion with Dr Peter, you can contact us at
+6011-22882299
,
Whatsapp
us, or
book an appointment with Dr Peter here
!
---
Treatments mentioned in this article :