Patient Mailbox: How to Get Rid of Marionette Lines Non-Surgically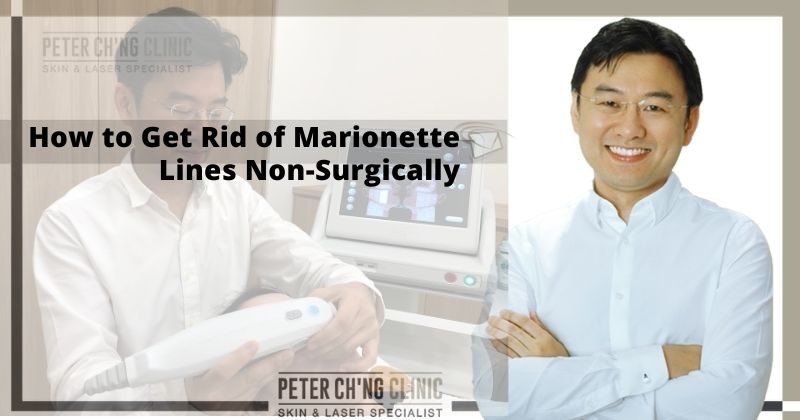 Question
Hi Dr. Peter,
As an advertising director in my mid-40s, looking my best when I meet clients makes me feel confident.
But the deep lines at the corner of my mouth seem to have deepened and this bothers me.
These marionette lines have worsened over the years, and my mouth seems to be slightly downward-turned.
I'm not ready for any surgical procedures, but I'm open to exploring non-invasive options with zero downtime. Could you share some of the best treatments to get rid of marionette lines non-surgically? And are there any anti-aging face creams that can help to soften these marionette lines?
Thank you.
Edward
Answer
With visible vertical lines originating from the corner of one's mouth downwards to the jaw, marionette lines can make a person seem perpetually angry. There are several causes of these unwanted smile lines.
Aging is the main reason why marionette lines form on our face. The loss of hyaluronic acid and collagen depletion causes facial volume loss at the cheek area. This flattening of the malar or cheekbone and weakening of supportive tissue causes the skin to sag, and hangover around the mouth area.
Other lifestyle habits such as smoking and excessive exposure to the sun can expedite the formation of marionette lines.
Thankfully, several non-surgical procedures can help to soften the marionette lines and reset our aging clock.
Let's run through some of the treatment options available.
1. Dermal Fillers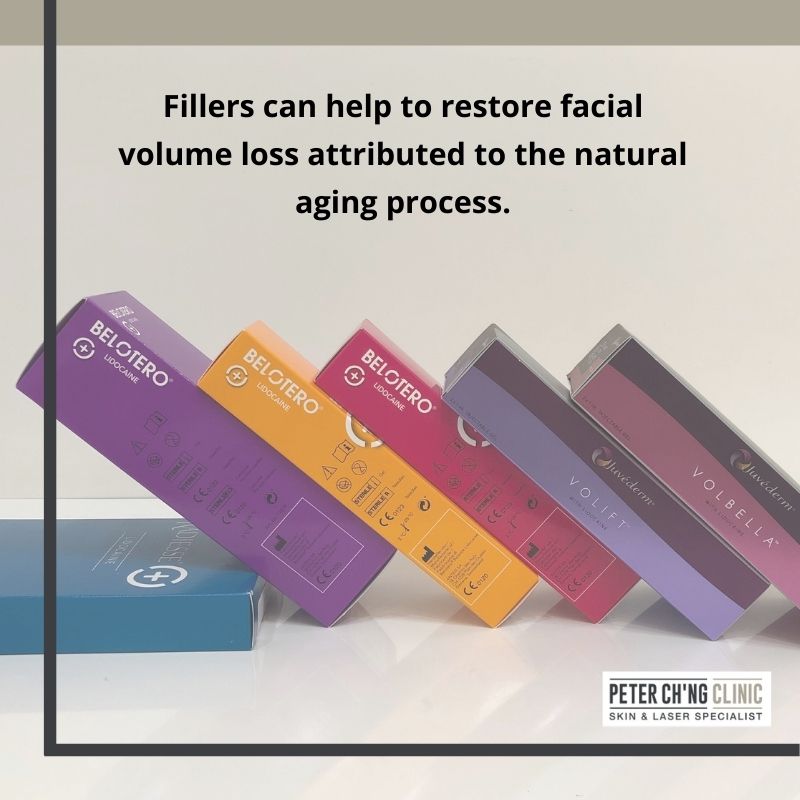 Fillers can help to restore facial volume loss attributed to the natural aging process. With advancing age, everyone experience bone loss, muscle atrophy, and thinning of the skin at varying intensity.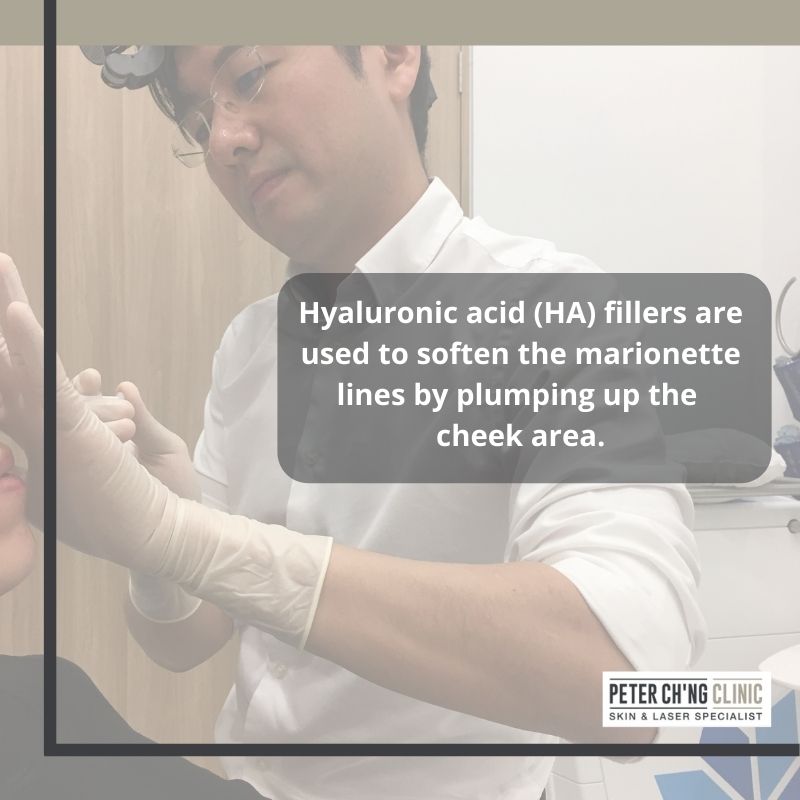 Here's where hyaluronic acid (HA) fillers are used to soften the marionette lines by plumping up the cheek area. Drawing reference to renovation work, think of fillers as scaffolding to hold up the cheeks. The fillers will provide support to the sunken cheek, and when injected close to the bone, dermal fillers help to lift the concave area.
This results in a smoother transition between the cheek and the upper corner of the nose.
When volumizing the cheek, I will use a thicker filler with higher cross-linkages. Simply because such dermal fillers are capable of lifting, contouring, and holding the shape of the cheek.
Apart from HA fillers, I would also use calcium hydroxylapatite (CaHA) fillers. Unlike HA fillers, CaHA stimulates collagen production over time. It also provides immediate volume-loss correction for a more rejuvenated appearance.
CaHA is made of calcium and phosphate materials which are mixed in a water-based gel carrier. CaHA is often used at deeper levels than HA fillers and will require less volume, unlike HA.
While HA fillers last anywhere between 6 – 12 months, CaHA fillers can last up to 2 years.
However, when CaHA and HA are correctly injected with the right volume, you should not see any significant difference between both results. That's why one of the most important factors to consider before getting a filler treatment is the skills and experience of the injector.
2. PDO Thread Lifts
Polydioxanone (PDO) threads are special, dissolvable sutures used during a PDO thread lift procedure.
The PDO thread lift treatment involves the placement of barbed or coned threads into the subcutaneous layer to reposition saggy tissue and lift it to its youthful spot.
The beauty of thread lifts is that it works harder for us even when the threads are no longer present. As we slowly metabolize the threads over time, the threads encourage our body to produce collagen. Thus adding volume to the treated spot while maintaining its lifting effect.
When the placement is correctly done, patients with saggy mid-cheeks will benefit from a tighter visage, hence reducing the appearance of marionette lines.
3. Ultherapy
Ultherapy is a high-intensity, focused ultrasound treatment that works by triggering deep collagen production.
Ultherapy delivers controlled minuscule trauma targeting the SMAS (superficial musculoaponeurotic system) layer, which is a thin muscle layer located below the skin. This activates our body's natural response to heal the treated area by contracting the skin and producing more collagen.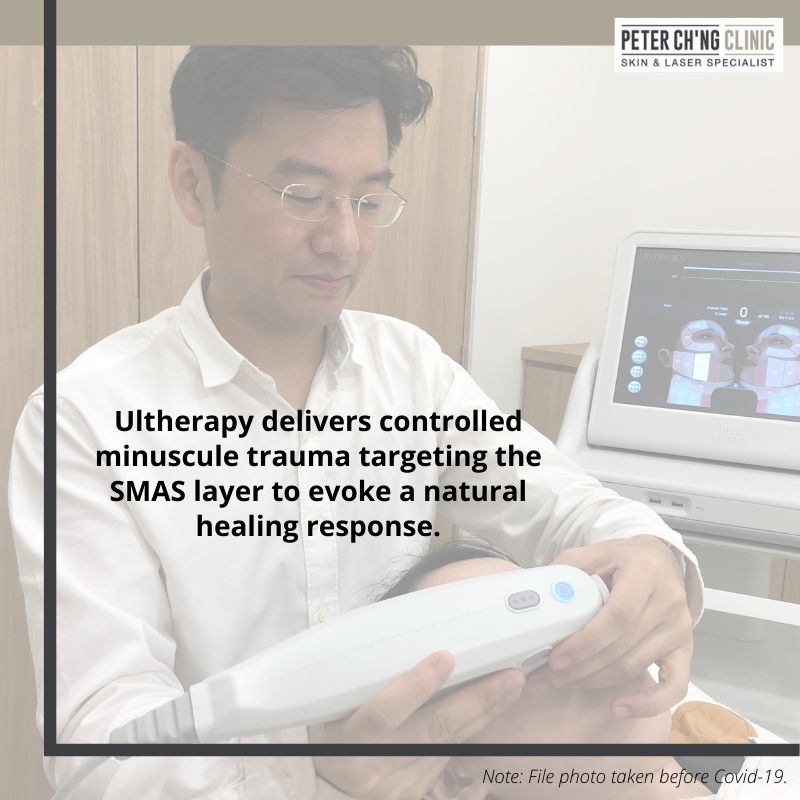 As a result, smile lines are softened, and lax skin is lifted as the depth of the crease is reduced.
Ulthera provides the practitioner with direct visualization of the treated area, and this level of precision targeting helps to deliver significant improvements in a single treatment.
Another plus-point of Ulthera is that patients feel more comfortable throughout the procedure. Although the heat from Ulthera treatment reaches 60 - 70 degrees, Ulthera is exceptionally tolerable because it targets a micro-focus area with acute precision.
Can marionette lines be removed naturally?
A lot of patients want to know if the best or most expensive anti-aging face creams in the market can help to improve marionette lines.
The answer is this:- skincare can help to slow down the formation of new smile lines, but it cannot undo or remove existing marionette lines.
In the same light, non-surgical aesthetic treatments and even surgical treatments do not stop our bodies from aging. It resets the aging clock by undoing the effects of aging. So while our skin looks rejuvenated, we must continue to maintain a healthy lifestyle to extend the longevity of the results.
Here's where skincare plays its role to preserve our skin condition and prevent it from deteriorating faster.
Patients with mature skin should include anti-aging products with topical retinoids as part of your skincare routine. Topical retinoids (such as retin-A / adapalene, retinols) can help to boost skin renewal, accelerate collagen production, and reduce the occurrence of acne.
All topical retinoids can only be prescribed by doctors, while oral retinoids can only be prescribed by a skin specialist.
Conclusion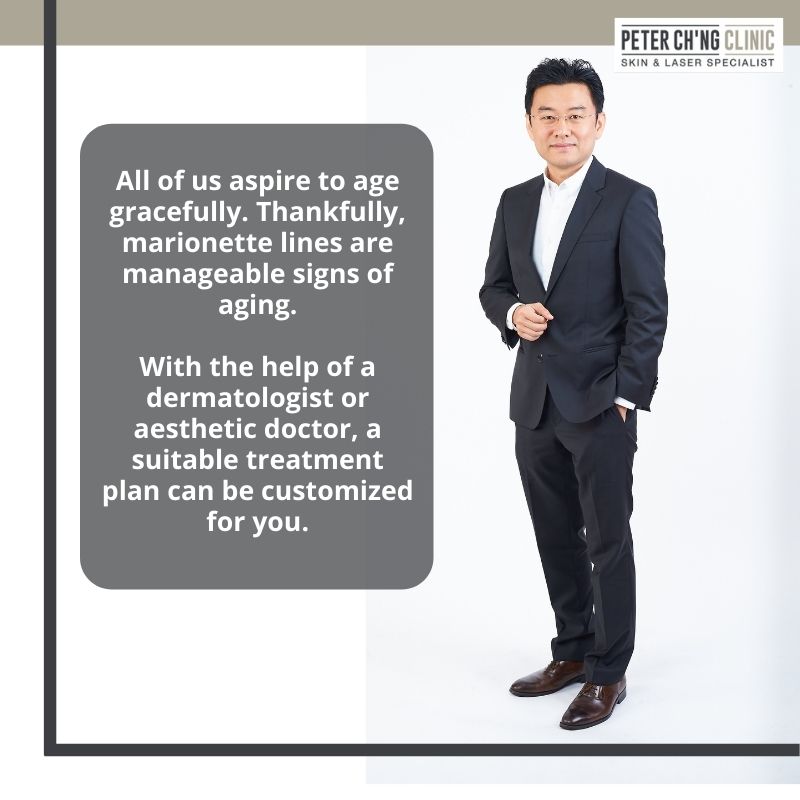 All of us aspire to age gracefully. Thankfully, marionette lines are manageable signs of aging. With different aesthetic treatments to smoothen the unsightly folds at the corner of our mouth, only a trained dermatologist or experienced aesthetic doctor will be able to develop the optimum treatment plan for you.
Under his or her professional care, a proper evaluation of your marionette lines can be done, and the best route can be jointly determined to improve your skin condition. Your doctor will also be able to evaluate your progress over time and recommend other supplemental treatments to match your aesthetic goals.
If you would like to know which non-surgical marionette line treatment is most suitable for you, we're just a phone call away at 011-2288 2299. Alternatively, do write to us at info@peterchngskinspecialist.com.
---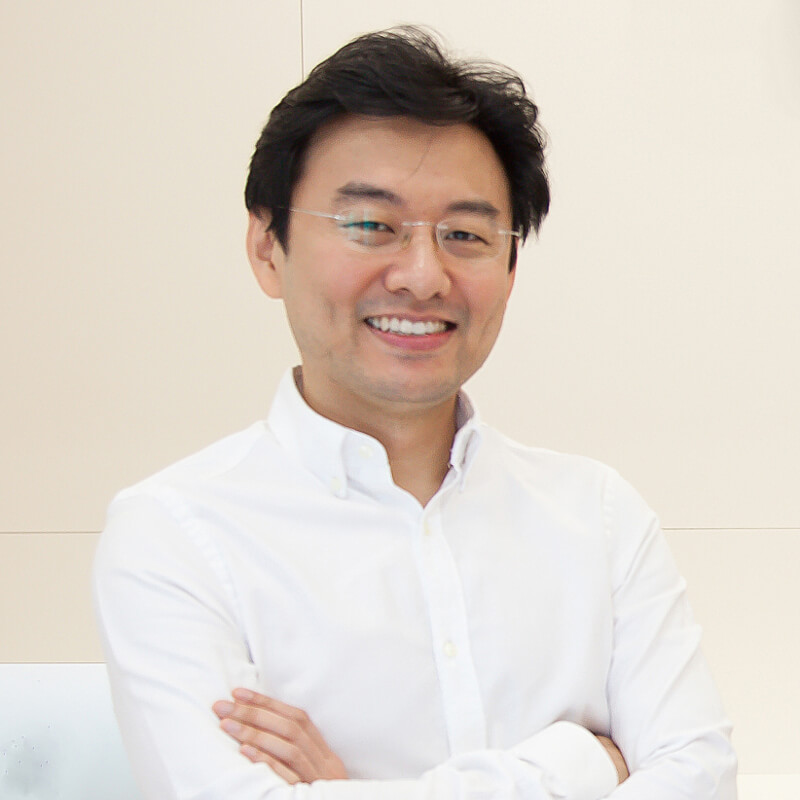 Dr. Peter Ch'ng Wee Beng
Dr Peter Ch'ng is a consultant dermatologist who always put his patients' safety and wellbeing as his top priority. As an esteemed dermatologist and skin specialist, Dr Peter prides himself in being able to treat acne patients of all types, with a 100% acne treatment success record.
If you'd like to ask more about your skin condition or have a discussion with Dr Peter, you can contact us at
+6011-22882299
,
Whatsapp
us, or
book an appointment with Dr Peter here
!
---
Treatments mentioned in this article :