Patient Mailbox: Reshaping A Flat Facial Profile Non-Surgically With Fillers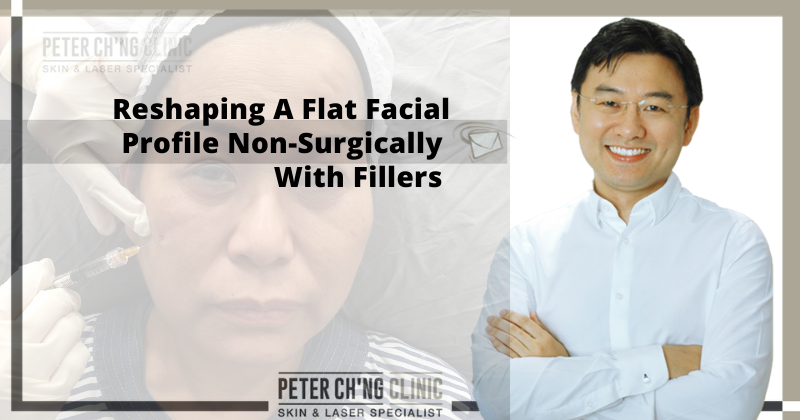 Question
Hi Dr. Peter,
I'm a 27 years old flight attendant. I have a flat facial profile which I dislike very much. Apart from deflated looking cheeks from the side view, my temples look flat too. Before I go to work, I spend a lot of time contouring my cheeks with makeup to create an illusion of volume.
I like the V-shape look whereby the cheeks are fuller, and the chin is defined.
Now that my schedule is not as hectic as before, I am considering non-surgical options to reshape my face.
Could you share what non-surgical techniques are used to achieve such a look? Thank you.
Wendy
Answers
It's not surprising to come across someone, young or old, with a flat looking face. A flat face is often characterized by sunken cheeks, less prominent cheekbones, and fewer angles that make one's facial feature appear two-dimensional.
Most of the time, if young patients present with a flat face, the facial traits are inherited from their parents.
As we age, our face will lose bone, muscle, tissue, and fat. These degenerations which start from our mid-30s onwards cause visible facial volume loss, resulting in a flatter facial profile.
Thankfully with the advancement in medical aesthetics, restoring volume loss and youth non-surgically can be achieved. The good news is if you cannot afford any downtime, it is comforting to know that facial contouring can be done in-office, without having to go under the knife.
How can a flat face be contoured non-surgically?
To address your concern of a flat face, a weak chin, and a flat forehead, we can improve volume, contour, and symmetry with well-placed facial fillers.
If there is sagging, jowling, and skin laxity, we can also use thread lifts to reposition the fat that has drooped. Thread lifts are used to tighten the jawline and create stronger angles. Lax jawlines and early signs of sagging can show up among patients in the mid-30s.
When you observe a youthful face, it is V or heart-shaped. Young people have faces that are wider at the top, and the face narrows as it progresses towards the chin. This chiseled V-shape face is indeed the epitome of youth. Guided by the beauty ratio, one is said to possess a perfect face if the length of the face is the same as the total length of three noses.
Many techniques can be used to achieve this Korean-inspired V-shape look. But which technique we apply very much depends on the individual patient.
To transform a flat face to one that is more dimensional, I will focus on three areas - the forehead, cheek, and chin.
Forehead
To reshape a patient's entire face, we will start from the top, beginning with the temple area. Our temples are one of the first areas of the face that will lose volume through aging.
By reinstating volume back in the temples, we can balance out the area with the rest of the face. In return, this will help to smoothen the transition between the forehead and the cheeks.
To fill out a concave temple, I would use hyaluronic acid filler. As our temples are a highly vascular area, the technique of injection is very important. Dense with important blood vessels, we would avoid the blood vessels by injecting into a layer that does not have vessels. Hence, a safe injection technique is of the utmost importance and essential when treating the temples with injectable fillers.
Before injecting the fillers, I would inject regional anesthesia to numb the forehead region. What patients can expect during the procedure is a slight sensation when the filler is maneuvered on top of the bone. The safest area to inject the forehead is just above the bone. Rest assured that you will not feel any pain during treatment.
For the forehead and temples, I prefer to use calcium hydroxylapatite to stimulate collagen and volumize the area. When these areas are volumized, the appearance of wrinkles can be improved, resulting in a smoother and plumper effect.
Cheeks
As we move down to the cheeks, I will build volume using thicker hyaluronic acid facial fillers so that I can lift, contour, and hold the shape of the cheek.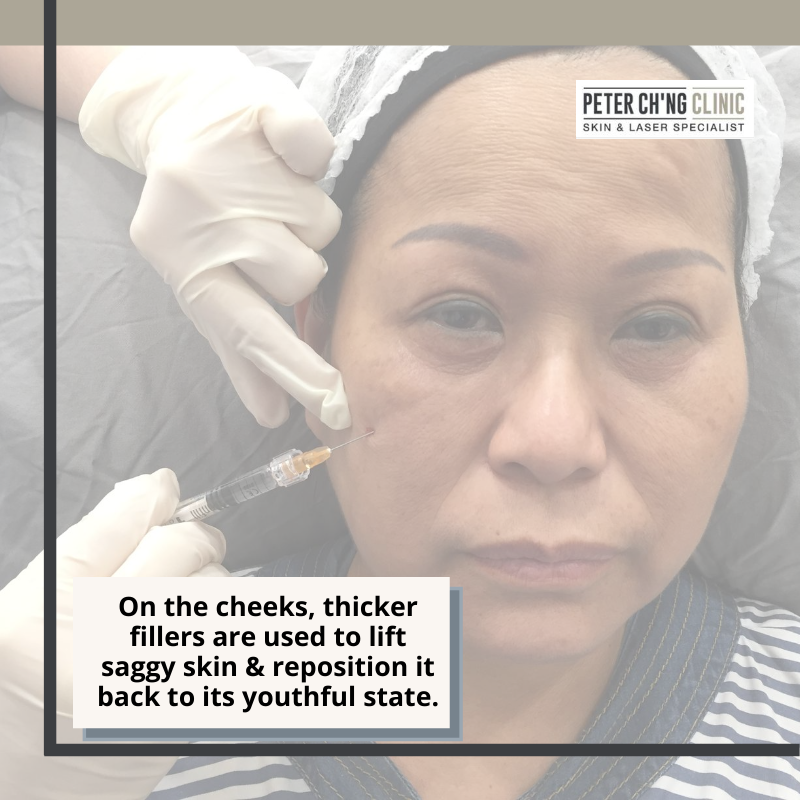 When we work on the cheek area, it is important to use fillers that are thicker and with more cross-linked molecules. This is because we need to lift saggy cheeks and reposition it back to its youthful state. Hence, the more cross-link the filler is, the firmer the filler feels, and the better it can lend shape to the face.
As such, a firmer and stronger filler is used. We will also superficially inject fillers that are thinner or more viscous. By injecting closer to the surface, this would help push the skin outwards for better projection and to create rounder, fuller cheeks.
Chin
The final area I will focus on is the chin.
To create a chiseled, V-shape face, I will lengthen a short chin and create angles with a sharper, pointier looking chin.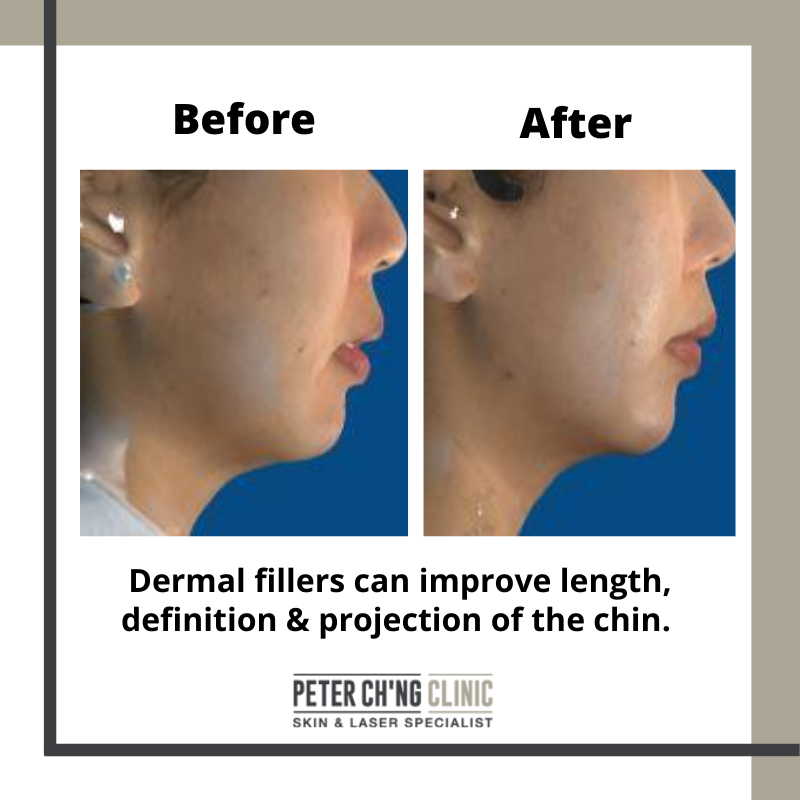 To achieve this, I will use hyaluronic acid fillers to add more length and definition. I will also inject close to the bone. This in return will improve chin projection.
Depending on your beauty goals, we can tailor the results by controlling the placement and volume of the filler injected. With fillers, patients can enjoy subtle and semi-dramatic improvements to the chin, depending on the amount of filler injected and the placement of the filler.
As you have read, there are many methods available to increase facial fullness and plump flat contours. To ascertain the method that will deliver the most satisfactory outcome, it is important to have a face-to-face consultation.
How much filler would I need for full-face filler contouring?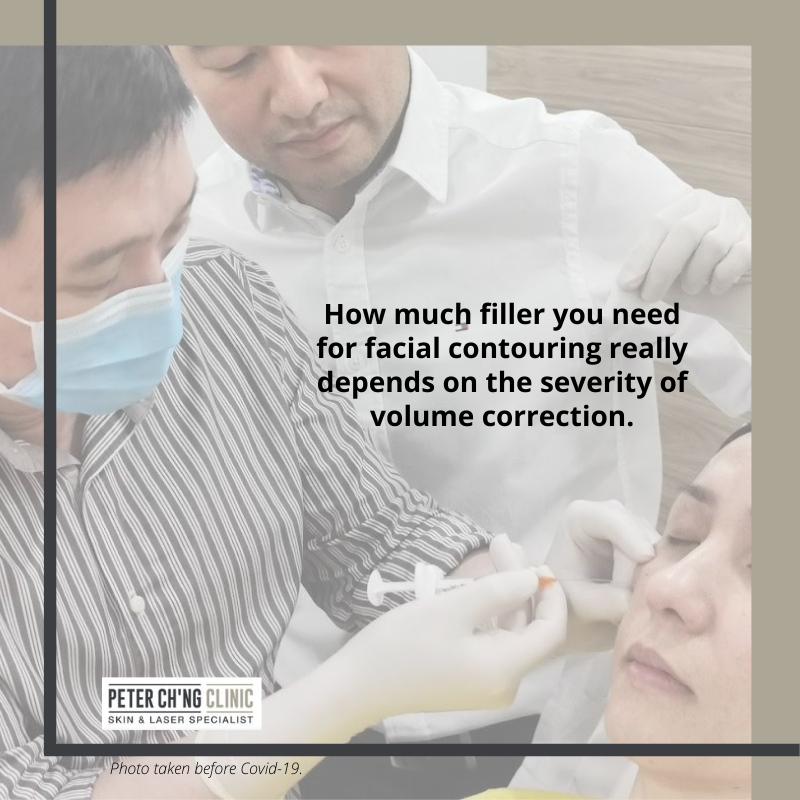 How much filler to be used very much depends on the individual patient. Of course, if the patient requires more volume correction, than more filler will be used.
Nevertheless, for first-timers or beginners, I would recommend starting with a low volume of fillers. Should the patient require more, we can subsequently top up the volume during the follow-up consultation.
I always believe that under-correcting is better than overcorrecting.
Are fillers painful?
Filler injection is not painful and very tolerable. We use a blunt cannula that does not pierce through the nerves.
A cannula is a needle with a blunt end. Unlike a needle with a sharp end, using a cannula significantly reduces any risk of penetrating through a blood vessel.
Furthermore, we will apply numbing cream before starting the treatment.
While the filler is injected, you will feel a sensation as the cannula is guided beneath your skin.
Other than this, rest assured that the facial contouring process is comfortable, painless and relatively quick.
How long do the effects of dermal fillers last?
Bear in mind that each person reabsorbs the different fillers at different rates. So it is also impossible to confirm with full certainty how long specific dermal filler will last.
As a guiding principle, the longevity of fillers depends on its degree of cross-linking.
Fillers that are superficially placed are normally less cross-linked. These fillers can last from anywhere between 6 months to a maximum of 1 year.
Fillers that are placed deeper and closer to the bone can last between one year and up to two years.
How soon will I see results from the facial contouring procedure?
Filler injections and thread lift deliver immediate results. This is also why these non-surgical treatments are so popular and rewarding.
There will be some swelling for 3 - 4 days. Within a week, most of the swelling would have subsided and you can expect to enjoy your final outcome.
What should I do and not do after facial contouring?
Post-treatment, do not rub the face hard and avoid facial massage. However, there is no restriction on normal daily activities. Feel free to sleep and wash your face as usual.
In addition, you need not sleep upright. In short, there is no downtime or inconvenience with non-surgical facial contouring
Conclusion
Facial contouring can do wonders to transform a flat facial profile to a 3-dimensional look in minutes. Best of all, this non-surgical, no-downtime procedure does not prevent you from resuming your daily activities post-treatment. Sometimes, all we need are little improvements that can go a long way to boost our confidence. And when we feel good inside, this positivity radiates outwardly, bringing out the best in you.
If you have more questions pertaining to facial contouring or fillers, please do not hesitate to write to us at info@peterchngskinspecialist.com. Alternatively, we're reachable via WhatsApp at 011-2288 2299.
---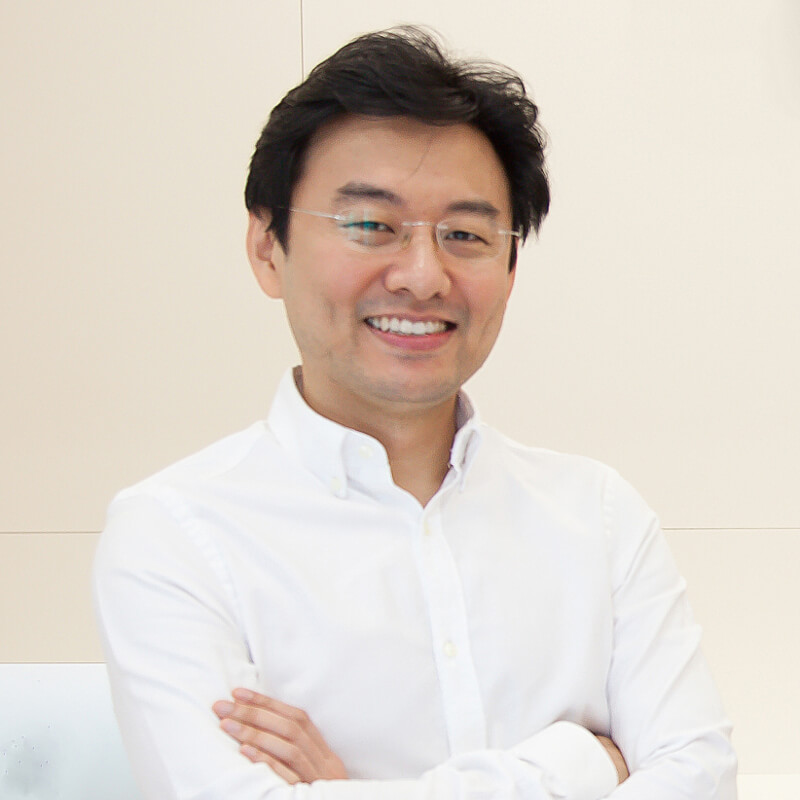 Dr. Peter Ch'ng Wee Beng
Dr Peter Ch'ng is a consultant dermatologist who always put his patients' safety and wellbeing as his top priority. As an esteemed dermatologist and skin specialist, Dr Peter prides himself in being able to treat acne patients of all types, with a 100% acne treatment success record.
If you'd like to ask more about your skin condition or have a discussion with Dr Peter, you can contact us at
+6011-22882299
,
Whatsapp
us, or
book an appointment with Dr Peter here
!
---
Treatments mentioned in this article :