How To Look Good On Zoom Meetings Non-Surgically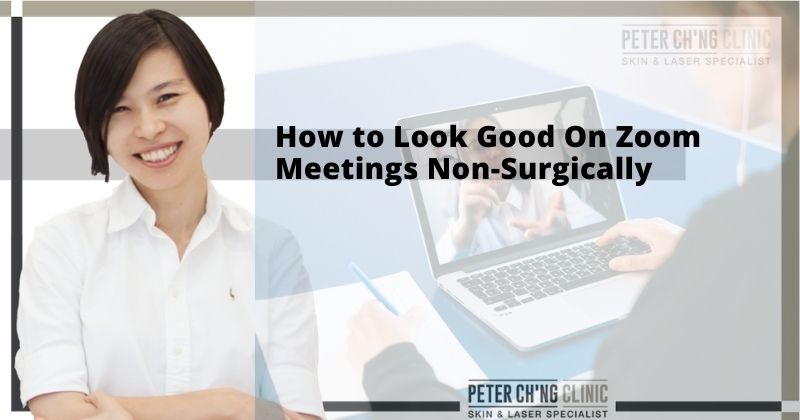 Have you wondered why you look so haggard on a Zoom video conference? Ever wished you could look more refreshed non-surgically during virtual meetings?
With the recent spike among workplace Covid-19 infections, working from home (WFH) is now a predicament for most of us. We love the convenience of WFH, but sometimes loathe the reflection of ourselves on Zoom.
The eye bags, the uneven skin tone, the droopy eyes, and saggy jawlines. If only Zoom had a powerful beauty filter to reset these signs of aging!
Worry not. Read on to discover how to look good on Zoom meetings non-surgically.
1. Eradicate Shadows with Light and Dermal Fillers
Notice the sunken hollow that makes the shadow under your eyes more prominent? That's a tear through.
The tear trough can make you look perpetually tired, even though you're acutely alert.
A tear trough is a concavity between the lower eyelid and the cheek. A tear through is mostly genetically inherited. Sometimes, loss in mid-cheek volume loss can weaken the support of the lower eyelid, making the hollow look more obvious.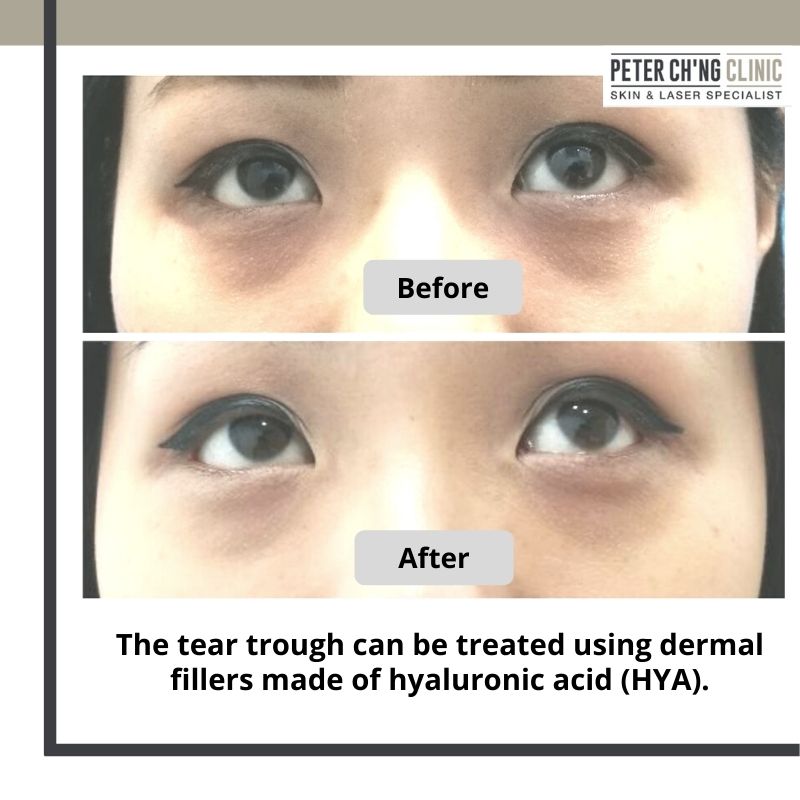 Tear trough can be treated using dermal fillers made of hyaluronic acid (HYA). The HYA fillers soften the transition between the cheek and the lower eyelid. Thus disguising the eye bag by making the under eye area appear slightly fuller.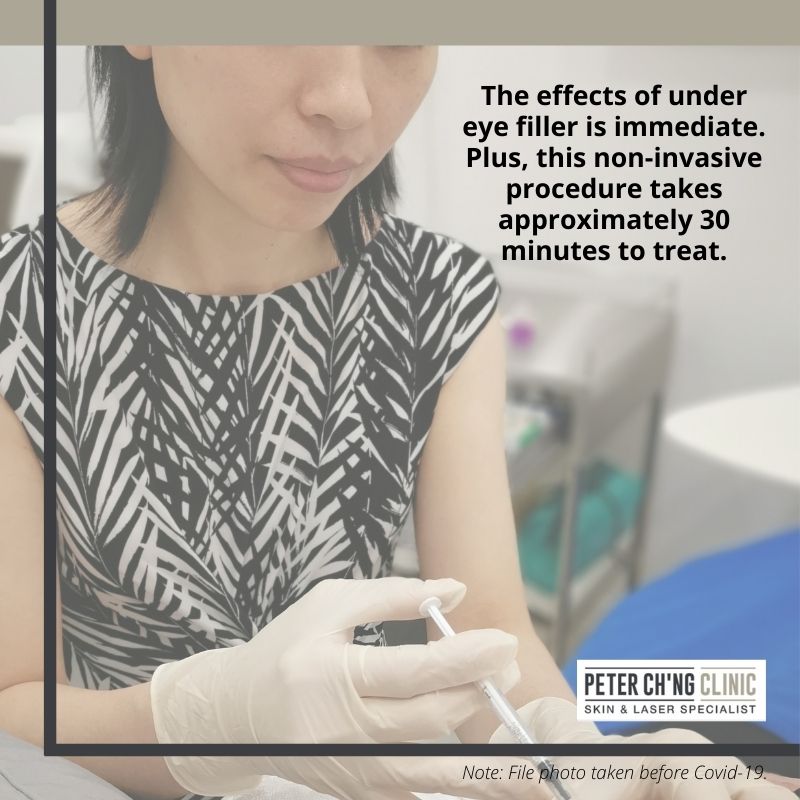 Under eye filler is a non-invasive procedure that takes approximately 30 minutes to treat.
To further enhance your appearance virtually, you can also place a portable light behind your laptop and in front of your face. Front-facing light brightens your features tremendously and diminishes shadows on your face. Scout for lighting that is similar to makeup-table lighting to illuminate your appearance.
2. Banish Oily Skin with Lasers and Microdermabrasion
Did you know that computer webcams tend to accentuate the shine on our face? Super oily-looking skin is much dreaded. But you can minimize looking like an oil slick during virtual meetings by blotting the access oil off your face.
For a longer-term solution, copper bromide lasers can be used to treat oily skin and reduce skin inflammation that causes acne. Comprising of two unique wavelengths at 511nm green and 578nm yellow, each wavelength has a unique role in delivering a clearer complexion.
Apart from treating vascular and pigmentation issues, the copper bromide laser stimulates collagen growth. Thus, lending an overall tightening and rejuvenating effect on the skin.
Thanks to its non-ablative nature, the surface of the surrounding tissues and the treated area is not vaporized. This makes it a very comfortable procedure with zero downtime.
Copper bromide laser can be complemented with microdermabrasion, also known as Silk Peel. Using a diamond-tip wand, the wand gently exfoliates the skin, cleaning out pores while infusing skin-specific serums to rejuvenate troubled skin.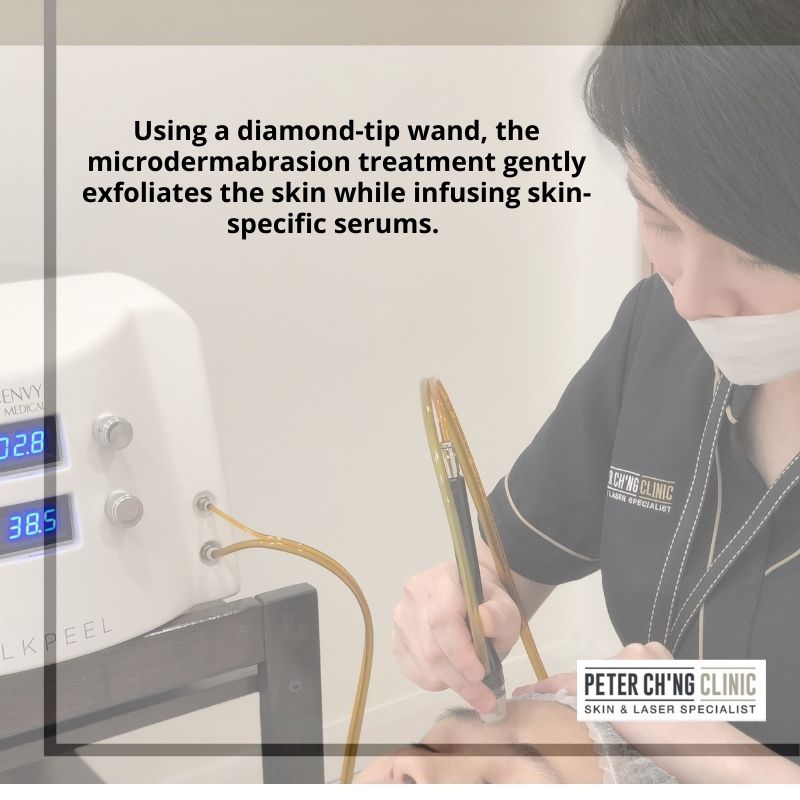 What you'll get post-treatment is glowing, glass skin that's Zoom ready!
3. Look Alert with Non-Surgical Brow Lift
You may have chalked up 8 hours of sleep the night before, but droopy eyebrows will still make you look sleepy.
Making positive first impressions can be trickier virtually as full-body language is not evident on screen. Your audience relies mostly on your facial expression to interpret non-verbal cues that would be present in person. Hence, sending the right vibes and looking alert shapes the audience's perception of you.
While drawing your eyebrows slightly higher, and accentuating your brow bone with highlighters can improve your brow shape marginally, having a non-surgical brow lift can do wonders for your appearance.
An Ultherapy non-surgical eyebrow lift helps to remedy sagginess and lift droopy eyebrows. Unlike other traditional machines, Ulthera enables practitioners to target the exact skin layers that require tightening, thanks to its direct visualization capability.
Another upside of this FDA-approved technology is that it is so micro-focused in its targeting, patients generally do not feel any discomfort throughout the procedure.
Apart from Ulthera, droopy eyebrows can also be tightened via other procedures such as Botox treatment, fillers, Polydioxanone thread lifts, and Laser Genesis.
4. Work The Angles and Tighten Saggy Jawlines
Avoid low angles at all costs and keep the camera at eye-level, or higher. Ideally, try to elevate your laptop by placing your laptop on top of a stack of books, short of a raised platform.
This is because shooting your video camera bottoms-up will make your face look wider than normal.
Plus, throw in some saggy skin around the neck and jawline, and you've turned on the spotlight on your double chin.
Saggy mid-faces and jowls can be lifted using Polydioxanone (PDO) thread lifts. PDO threads comprise of small cones or barbs that grip on the skin. After numbing cream is applied to the treated area, a long cannula with the thread is inserted into the skin. The threads are then passed under the skin's surface. Once pulled tautly, the PDO threads reposition the skin by creating tension.
This non-surgical facelift will give you a tighter, V-shape jawline in less than 30 minutes. Besides, this lunchtime facelift can last anywhere from 6 to 12 months.
5. Tuck Away the Double Chin with CoolSculpting®
Under the unforgiving lens of the webcam, a slight turkey wattle under the chin can look amplified. This is worsened if your webcam is placed below your chin level.
Fret not as double chins can be smoothened out with CoolSculpting®.
CoolSculpting® is an FDA-approved procedure that works based on the principle of cryolipolysis. During this procedure, stubborn fat cells are destroyed via freezing. Cooled to a temperature -10" C, the fat cells are destroyed and the body naturally expels the dead cells to reveal a tighter jawline.
To treat a smaller area like the chin and neck, a handheld applicator known as CoolMini is used. The device generates suction and cools the treated area simultaneously while it is moved around the skin.
Delivering promising results with 1 to 2 treatments, CoolSculpting® does not harm the neighbouring vessels, muscles, skin, or nerves.
Conclusion
With only your face visible during virtual meetings, people form perceptions in minutes based on how you look. When you feel good and comfortable in your own skin, that confidence radiates through your online and offline persona.
With various aesthetic options to restore symmetry and youth, anyone can now look good. Plus, aesthetic solutions can be customized according to your budget and desired outcomes.
If you would like to know which treatment option suits you, we're just a phone call away at 011-2288 2299. Alternatively do write to us at info@peterchngskinspecialist.com.
---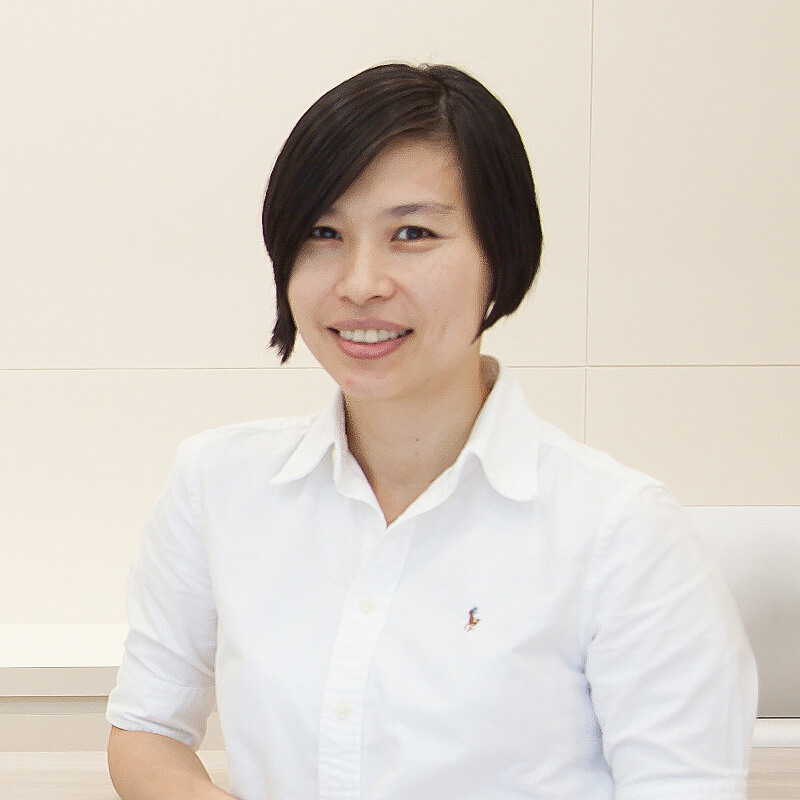 Dr. Loo Keng Shien
Dr Loo Keng Shien is a consultant aesthetic physician who loves to listen to patients' problems and find medical solutions to help in their skin and aesthetics journey. Dr Loo practises evidence-based medicine, and with her experience, she has listened to and helped numerous patients solve their skin problems or achieve their aesthetic expectations safely and effectively.
If you'd like to ask more about your skin condition or have a discussion with Dr Loo, call us at
+6011-22882299
,
Whatsapp
us, or
book an appointment with Dr Loo here
!
---
Treatments mentioned in this article :